If you love reading, then you know what an incredible impact books can have on our lives. They legit have the ability to change our lives forever. There are a gazillion books out there, which is why sometimes we tend to overlook some of the masterpieces in existence. Sure, we all have books that will forever be our favorites. But isn't it even more incredibly exciting when you discover some quaint book that just turns your whole world on its head and leaves you awestruck? Some of the most underrated books that we are going to be talking about today are probably books that you haven't even heard of.
---
Suggested read: Here Are The Best Books Of 2018 That We Are Looking Forward To Reading
---
Usually, a good book does become popular. It gets appreciation form the public and you get to know about it somehow or the other. However, there are some unrecognized classics in the book world hat didn't get the attention they so totally deserve, which us why today we have compiled for you a list of the most underrated books ever, so that you don't miss out on some amazing experiences!
1. Eleanor & Park by Rainbow Rowell
A lot of people are skeptical of YA or young adult novels, but if you get your hands on the right YA novel, then this genre too, could be an unforgettable experience for you. Even though there are a number of wonderful YA books out there, IMHO this is one of the best, simply because of the beautiful way in which it is written. It is full of feel-good humor, tear-jerking moments and breathtaking poetry which is going to make this one very special books for you. If you are still unsure of whether you should read this one, here is a quote from the novel:
"Eleanor was right. She never looked nice. She looked like art, and art wasn't supposed to look nice; it was supposed to make you feel something." 
2. A Kestrel for a Knave by Barry Hines
Whether you want to call it a coming of age narrative, or self-discovery novel, or a survival story, this is much is for sure that you will be left with a lot of feelings when you are done with this one. A Kestrel for a Knave follows the story of Billy, who lives in s a sad small town, and leads a sad life. He is unhappy at school and at home, and lacks motivation. He finds the missing passion in life when he finds a bird that he names Kes and then trains it, as though it were an extension of his own being. This wonderful story leaves you with raw emotions and a lot of food for thought. Here is a quote from the novel:
"It's fierce, an' it's wild, an' it's not bothered about anybody, not even about me right. And that's why it's great." 
3. The Art of Racing in the Rain by Garth Stein
The story is told from the perspective of an aged dog, belonging to a semi-successful race-car driver. Need I say more? Even though very few people know about the existence of this book which barely received any public attention, this is one of the top choices for underrated books. Not only does it present an incredible insight into the mind and hearts of human beings, but also tugs at the heartstrings because of the way it shows the often inexplicable connection between people and their pets. Don't believe me? Here is just one quote from a book brimming with beauty-
"So much of language is unspoken. So much of language is compromised of looks and gestures and sounds that are not words. People are ignorant of the vast complexity of their own communication." 
4. The Complete Short Stories of Truman Capote
Sure we have all read and seen and love Breakfast at Tiffany's and we are all obsessed with In Cold Blood, which are considered the two greatest works by Truman Capote. However, if you truly appreciate literature, then you should definitely get your hands on the short stories of Capote. All the stories are hard-hitting, insightful and beautiful all at the same time, leaving you excited to find out what might have happened next, but still giving you enough closure. (PS- check out stories like The Diamond Guitar and Children on their Birthday first! You can thank me later.)
---
Suggested read: "Once I Touched The Cover, I Was No Longer A Human Of This World": My Love Letter To Books
---
5. Why We Broke Up by Daniel Handler
If Daniel Handler sounds like an unfamiliar name, then you will probably recognize him from his pseudonym 'Lemony Snicket', which is much more popular amongst the public. While Snicket writes children's stories which are melancholy, witty and memorable, Handler writes similar stories, only this time for adults. Why We Broke Up is one of the most wonderfully candid and insightful story about the aftermath of a breakup, told from the perspective of several items like combs, tickets and sentimental knick knacks which are all affected by this incredibly raw human experience.
"The thing with your heart's desire is that your heart doesn't even know what it desires until it turns up. Like a tie at a tag sale, some perfect thing in a crate of nothing, you were just there, uninvited, and now suddenly the party was over and you were all I wanted. I hadn't even been looking, not for you, and now you were my heart's desire." 
6. Marbles by Ellen Forney
Even though mental health has been getting a lot of attention (of the good kind) recently, there are still not enough books which talk about how it feels to actually live with a mental illness like depression, bipolarity or anxiety. If you have been searching for a book like that, then search no more, for this graphic novel describes perfectly the journey of an individual through the world, all the while dealing with bipolarity. The story is Forney's herself, and it beautifully explores how sometimes, the lines between imagination and hallucination are often blurred.
7. Wild Seed by Octavia E. Butler
Octavia E. Butler is a widely read and well-loved author. She has written several books that you must have heard of and even read, such as Parable of the Sower or even Kindred. However, for those who are passionate about their authors, and especially fans of Spencer know that neither of her two popular works compares to the hidden gem that is Wild Seed. Not only is it wonderfully thrilling, with the narrative revolving around the love story between a shapeshifter and a vampire-like creature, but it is also very thought-provoking and beautiful in terms of its emotional quotient and language. This is the kind of book that you go back to again and again, just to learn something new about yourself every single time.
8. The Unbearable Lightness of Being by Milan Kundera
Milan Kundera has been described as one of the truly great authors of this generation, and you will wholeheartedly agree if you read some of his works. Even though he has written some amazing books, this one definitely takes the cake for the way he decides to tell the story. On the surface, it is a story about a girl caught in a romantic dilemma between two people, and while the book explores some pertinent moral grey areas when it comes to romantic relationships, it also gives valuable insight into life, and has some incredibly philosophical comments, which will leave you with quite a few thoughts when you are done. Here is one of many beautiful quotes from the book.
Anyone whose goal is 'something higher' must expect someday to suffer vertigo. What is vertigo? Fear of falling? No, Vertigo is something other than fear of falling. It is the voice of the emptiness below us which tempts and lures us, it is the desire to fall, against which, terrified, we defend ourselves.
---
Suggested read: The Ultimate Guide On How To Read More Books
---
9. Jitterbug Perfume by Tom Robbins
You know those books that have the ability to affect people in a way that they never forget it? Yeah. Jitterbug Perfume is exactly that kind of a book. If you think the title is weird, then it describes perfectly what the book is like. The book talks about beets. It talks about the symbolism associated with beets. It talks about the smell of everything. And it does all this with the most humorous, feel-good vibes. It's almost like The Hitchhiker's Guide to the Galaxy" because it talks about the secrets of the universe, but the unique way in which this is written is what makes it a must-read for all book nerds, and even for those who are just starting out on their reading journey. Here is a quote from the novel:
"The unhappy person resents it when you try to cheer him up, because that means he has to stop dwelling on himself and start paying attention to the universe. Unhappiness is the ultimate form of self-indulgence. When you're unhappy, you get to pay a lot of attention to yourself. You get to take yourself oh so very seriously." 
These were some of the most underrated books according to us! Let us know in the comments section below which books you feel deserves more attention than it got!
Featured image source: Instagram 
Summary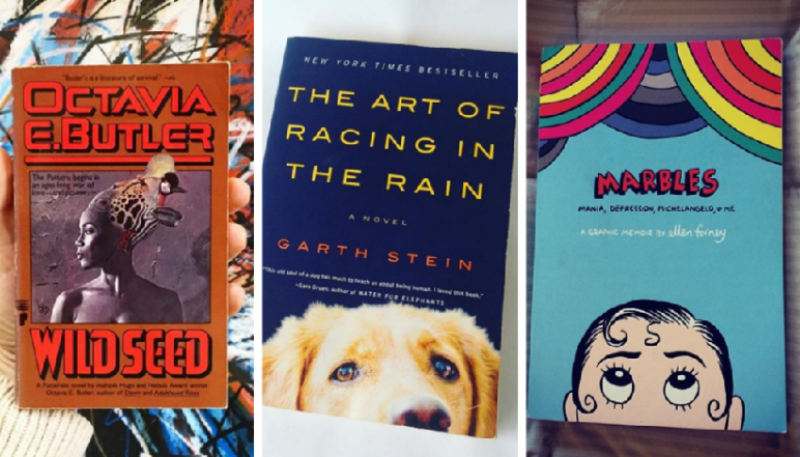 Article Name
9 Of The Most Underrated Books To Put On Your Reading List
Author
Description
If you love reading books, then you should definitely check out this list of the most underrated books ever to add to your reading list!