Disney fashion is out of the box but is also a classic trend in the current age. Right from the time you were a little girl, all of five years of age, to the time you started being your own boss, Disney fashion is the go-to pick for many.
Minnie Mouse has been a constant inspiration for all those cute little ladies out there. With the cutesy look, the completely girly avatar and the flirty eyelashes, this Disney character has been used as a motif on everything that is part of fashion. A tee shirt is an ideal example of how loved Minnie is.
Personally speaking, I believe that no girl grows out of her Disney fashion fetish. Beauty and the Beast has always been a critically and popularly acclaimed movie from the Disney land. The classic fairy tale with an integral message has inspired off-shoulder gowns like Belle wore on-screen. However, Disney fashion is truly ever honored when its characters move into the fashion world.
---
Suggested read: 10 awful love lessons Disney movies teach you
---
Let's take a look at some of the coolest and quirkiest picks from Disney fashion:
1. Shoe it up
Image source: Pinterest
Make sure you pick the right pair of sneakers whenever it comes to dressing in Disney style. With motifs such as classic Disney characters—Pooh, Mickey and the like, these shoes are indeed fashion savvy yet classy!
2. Skirt it up
Image source: Pinterest
With the tiny princess skirt, you know you can score a fashion home run. When you want something quirky yet fancy, Disney motif is the way to go. Comic strip style, way to go girls!
3. Jack Sparrow to inspire
Image source: DisneyBound
With Disney having added its touch to The Pirates of Caribbean franchise, the fashion statements from this movie is making enough of a splash. Try this look book for a terrace party, a theme party, or even for Halloween. This is enough of a dare to try, and the more confident you are of rocking it, the better you will look.
4. Bathed in Pooh
Image source: DisneyBound
Winnie the Pooh is one memorable character who inspires us even after our childhood is long past. With color palette dominated by yellow and red, this look comes alive. Fresh, off the track, and fun – Pooh-style fashion is just the right dose on a dull day.
5. What more does a girl need?
Image source: Pinterest
Some Princess treatment always goes down well with a girl. When you have a Disney classic character Cinderella to take cues from, you know that you are on safe fashion ground. You simply need to wear those stilettos right and rock a ball gown. In fact, for the more modernist fashion divas, prep the look by choosing  a cocktail gown.
6. Lady and the Tramp
Image source: Pinterest
This classic Disney movie from the 1950s is a cult today. With the most memorable characters from this flick printed in this teal skirt, you are sure to score a fashion home run. The teal color is poppy yet fresh. The style of the skirt is easy-going yet sexy. What more would you need for a rush-rush day look?
7. Sleep in style
Image source: Pinterest
Rock the casual boxy tee look as you go to bed. With the Sleeping Beauty motif, this is something that you need to swear by in terms of comfort and style punched into one whole. The outfit can also be made into a grunge look by throwing on a plaid shirt in red and finishing the look with a skin tight pair of denims or plain pants.
8. Tick tock with your heels
Image source: Pinterest
The lace embellished stilettos look like any girl's dream. With the hand-painted Rapunzel characters, this gets all the more edgy.
9. Jazzy Disney prints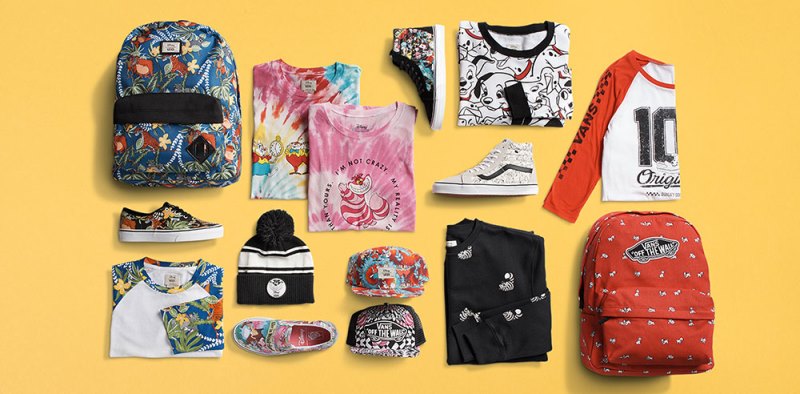 Image source: Disney
Use characters from The Jungle Book and more Disney flicks as motifs and prints on anything connected to fashion. You are sure to get a rocker result.
10. Disney-style home warming
Image source: Pinterest
Try this casual grunge look for homecoming parties or for simply lazing around when you miss home. The Disneyland motif is the stellar feature of this tee here.
11. Anastasia to inspire
Image source: Pinterest
Get inspired by the Anastasia look. Teal, vintage, prints, and neat couture – these elements combine to deliver a complete look that is perfect for any outing, to any place!
12. Bomb up with Bambi fashion
Image source: Pinterest
Bambi is our fave deer till date, and we have mostly cried during the times we watched this touching flick from Disney. How about stacking up some tribute to Bambi with this home-wear or sleepwear?
13. The perfect NYE pick
Image source: Pinterest
Rock the New Year's Eve party, or another winter party with this Frozen-inspired look. This is fun, flirty, and fashionable!
---
Suggested read: 15 amazing Disney-inspired wedding cakes that will make your big day truly special
---
14. Dapper look
Image source: Pinterest
The Haunted Mansion is not a huge Disney hit, but is memorable for the fashion inspirations it left behind. How about trying this awesome Goth-chic look?
15. Of polka dots and animal prints
Image source: DisneyBound
The most eternal looks are fused on the same look book here. Inspired by Pongo from 101 Dalmatians, this is one look we are dying to try out sometime soon.
Go ahead and get all dressy with these awesome Disney fashion picks, NOW!
Summary
Article Name
15 Cool And Quirky Picks From Disney Fashion
Author
Description
Disney fashion will NEVER go out of style. Take these 15 cool looks for example, and you'll know what I'm talking about. ;)