The one thing I remember about the fairy tales that my mother read to me was the end – 'and they lived happily ever after.' Be it Cinderella, Belle, Pocahontas, Snow White, Sleeping Beauty, Jasmine, or Ariel, all these princesses had their own versions of 'happily ever after.' But as I grew up, I came to realize that not everybody gets their happy endings. That sometimes, one person's happily ever after might be another person's nightmare. That real life and all its bubble-busters are always on the sidelines, happy to burst your happy bubble. That happily ever after would be a pretty boring and dull life to lead. That happiness is relative and also, a choice. You need to choose be happy. Nobody else will give you happiness. If your happiness is tied up with another person/thing, then you're not truly happy. You just think you'd be happy if you have that someone or something in your life.
---
Suggested read: Disney Princesses are not so 'good' after all – they're bada** too!
---
But having their very own happily ever after is a dream that almost everyone cherishes, but don't quite acknowledge – even if it's to themselves. And every time we watch a Disney movie, this dream is hammered into us over and over that it just might be possible. But, have you ever imagined what life would have been like for these princesses after they got their happily ever afters? Well, a Vancouver-based photographer, Dina Goldstein, has imagined it and has created a series of photographs, titled Fallen Princesses.
The series shows Snow White, Pocahontas, Belle, Cinderella, and other iconic princesses from fairy tales succumbing to illness, alcohol abuse, self-image issues, and even unhappy marriages.
The Tel Aviv-born Dina Goldstein explains,
"My Fallen Princesses series was born out of deep personal pain, when I raged against the 'happily ever after' motif we are spoon fed since childhood."
The events that inspired Goldstein to take up this project were two rather opposing occurrences – her daughter got interested in princesses, and her mother was diagnosed with cancer.
---
Suggested read: Unsexy Kama Sutra for married couples
---
She said,
"The two events collided and made me wonder what a princess would look like if she had to battle a disease, struggle financially or deal with aging." Further, she added, "I began to imagine what could happen to the princesses later in life and after the happily ever after. Naturally they would have to deal with challenges that all modern women face."
The talented photographer divulged that her first idea was to depict a modern Rapunzel, who had lost her very long blonde locks to chemotherapy. The image is a haunting one, with Rapunzel sitting dejectedly on a hospital bed, whilst she's hooked up to medicine intravenously, clutching her precious hair that has been fashioned into a wig.
In another photograph, Cinderella is shown sitting in a dingy bar, holding a shot glass in what is a clear indicator of her struggle with alcoholism. The image is dark, as the blonde princess contemplates her shot glass and a group of men look on.
One of the diseases that's ailing our current generation is obesity. And this is depicted in a picture of Little Red Riding Hood, who's plumper than she's little, sipping a cola and holding a basket full of sugary treats and another cola to sip.
Pocahontas, who fell in love with a white supremacist, John Smith, in the Disney movie, is seen watching television surrounded by a bunch of cats, with her lover nowhere to be seen. Looks like she chose being a crazy cat lady than John Smith's girlfriend/wife.
Then there's Belle from the Beauty and the Beast, with a pronounced cleavage, shown lying on a gurney with all the markings of a nip/tuck session in progress.
---
Suggested read: Spanish artist photoshops celebrities into their curvier selves to prove a point
---
In another of Goldstein's pictures, a glum Snow White is seen clutching two small kids while the third is tugging on her skirt, with her prince sprawled out behind her, watching television and drinking beer, with his feet resting on an ottoman. Seems like Snow was a victim of an unhappy marriage.
Ms Goldstein explained,
"I am a fierce realist so I wanted the Princesses to be in real life situations with problems of their own."
The photographs were shot in various locations around Vancouver, including a landfill, for her pollution-themed Princess and the Pea interpretation, where the model is perched on top of a stack of mattresses.
While Aladdin's lady love Jasmine is shown as a bada** warrior, carrying a huge gun with what is clearly a warzone in the background. This is one of the more controversial pictures of Ms Goldstein, as some people accused her of 'placing the Middle Eastern Princess as a terrorist.'
---
Suggested read: This photographer traveled to 37 countries to prove that beauty is everywhere
---
But Ms Goldstein disagreed and explained that,
"She is a warrior, fighting on the front lines, just as so many women are today in Iraq."
She also hoped that her thought-provoking pictures would stir the emotions of viewers.
"The series … [forces] the viewer to contemplate real life," she said. "Failed dreams, pollution and ocean degradation, war, obesity, the extinction of indigenous cultures, cancer and the fallacy of chasing eternal youth."
Well, this does put a realistic touch to the fairy tale lives of the princesses. Do be careful about showing these pictures to your little ones, and tell us what you think in the comments below!
Summary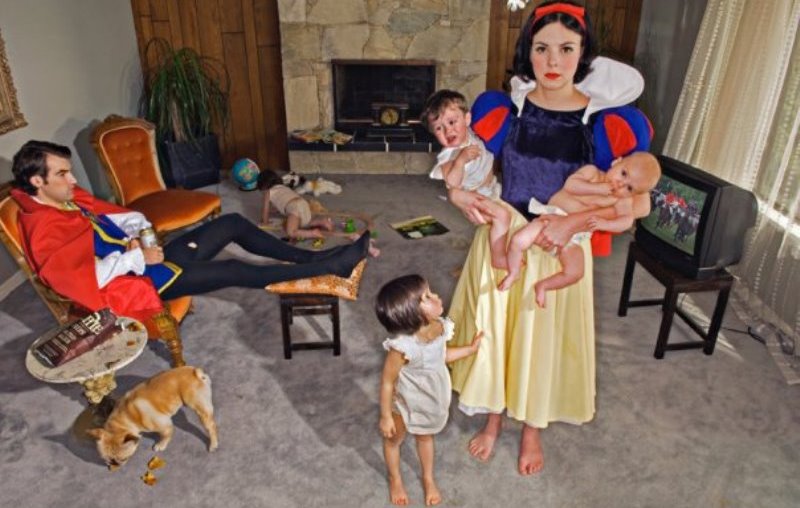 Article Name
Dina Goldstein's Fallen Princesses lived unhappily ever after
Author
Description
Dina Goldstein's 'Fallen Princesses' series of pictures are thought-provoking, and questions the whole happily-ever-after spiel that we feed our kids.