Every four years, comes a time like this, when you watch the Summer Olympics, fingers-crossed, praying, and hoping that your country bags some gold! This Olympics is no different! However, there is another reason why boys and girls are so excited about the Games: A chance to see some of the real hot-bod athletes participate and compete against each other!
Cutting the 'fore play' (;)) short, we present to you the 15 hottest Olympians who will sizzle your television screens this year!
*Grabs popcorn*
---
Suggested read: 15 all-time greatest Olympic movies to get you hyped up about Rio Olympics 2016
---
1. Ali Krieger  
US women soccer team's defender, Ali Krieger, was featured on one of the hottest photo shoots by ESPN Magazine's Body Issue. At the age of 31, she is a past master of the US national team. She played a vital role at the 2015 FIFA World Cup championship. Krieger also aided the Washington Sprint to set a record of 540 minutes without letting up a goal. She played in Germany for the FFC Frankfurt for half a decade before returning to her home country.
Though she participated at the 2012 qualifiers, a serious knee injury stopped her from contributing in the Olympic Games in London. Rio will be her first Olympiad, and we are sure she will kick some serious *ss!
2. Sam Mikulak
The American artistic gymnast, Sam Mikulak, is a seven-time NCAA champion. He was a part of the national team that participated in the 2012 London Olympics. To get his washboard abs, Mikulak was on a severe diet.
Mikulak gets a fair share of love letters from his fans. His fan following on Instagram is growing by leaps and bounds every hour! He is a sci-fi nerd who happens to get signs at home that read, "Marry me!" Doesn't happen to everybody, does it?
3. Sally Pearson
Debating between Sally Pearson and Brooke Stratton, for this spot, we finally agreed on the former. The choice was tough coz both of them are gorgeous, and you cannot go wrong with either! However, the nod went to Pearson as her success at the Olympic level supersedes Stratton's.
Pearson clinched a silver and a gold at the 2008 Beijing Games and 2012 London Olympics, in that order.
Sprinters usually have the best bodies in sports of all kinds, and so Pearson is no exception. Neck down, the star has the bod of an elite athlete, with carved six-pack abs and muscular legs. Neck up, she is a typical Australian golden-haired blonde!
4. Ashlyn Harris
Rumor has it that Ali Krieger and Ashlyn Harris, US National Women's Football Team's backup goalie, are an item! Well, let that spectacular piece of buzz sink in! Popularly called "Krashlyn," the two are often snapped together on and off the pitch!
Harris isn't one of the top goalkeepers on the Team, but she is, undoubtedly, one of the hottest Olympians! We are not taking anything away from the beauty, Hope Solo (who narrowly didn't make it to this list coz of stiff competition), but Harris should get more playing time at the Rio Olympics, even if it's only to show that platinum blonde mane and that pair of gorgeous eyes!
5. Michelle Jenneke    
The Australian hurdler, Michelle Jenneke, is making her debut Olympic appearance in Rio. Nonetheless, she has already earned herself a number of followers on Instagram, because of her high swag level!
Do you remember her video that went viral a couple of years back? The one in which she was dancing and bouncing around with a wide smile before a race at the 1AAF World Championship 2012? That video not only displayed her beauty, but also her athletic talent (she won the race, duh!). The Tonight Show made her an overnight sensation! She, then, parlayed into a booming modelling career with several sponsors betting their big bucks on her!
At 5'8'', this dark-haired, long-legged diva, shouldn't be taken lightly! At the 2010 Summer Youth Olympics, she won a silver medal for 100m hurdles, and she just might earn a gold in Rio!
6. Zsuzsanna Jakabos
Only at 27 years of age, Jakabos has already contended in 4 Olympiads. The Hungarian swimmer finished 6th in the 4x200m freestyle relay race in 2008 at the Beijing Olympics. However, at the same event, 4 years later, at the European Championships in London, she won a gold!
If you scroll through Jakabos' pictures on her Instagram account, you are sure to mistake her for a supermodel! Though she isn't still an athletic star at the global level, her fan following on social media is impressive, making her one of the hottest Olympians!
7. Natasha Hastings
Natasha Hastings made it to the US National Team for Rio after she secured the third position in the US trial with a timing of 50.17s for 400m. Hastings started her track career very early in life, and grabbed a gold at the USATF Junior Olympics in the Youth Girls division. She is all geared up to scorch the 2016 Rio Olympics, not just coz she has a magnificent track history, but also because she looks the part!
---
Suggested read: 11 best Olympic moments throughout history, that will leave you surprised
---
8. Morgan Mitchell
The 21-year-old athlete, Morgan Mitchell, is making her first appearance at the Olympics this year. Specializing in the 400m race, her best finish till now was at the IAAF World Relays in Nassau, Bahamas.
Inspired by the 2000 Olympics that took place in Australia, Mitchell's hometown, she decided that she wanted to become an athlete. She was only 6 then!
Though young and unproven yet, Mitchell is going into the Rio Olympics at her wildest speed. There is surely something in the air Down Under, since Australia has the most attractive bunch of female athletes in the world!
9. Michael Phelps
Rio is supposed to be Phelps' last Olympic appearance, and he has already grabbed his 19th Olympic gold! In his own words, "You can't put a limit on anything. The more you dream, the farther you get."
Well, he is a legend when it comes to swimming, but he is also one hell of a hottie! The Baltimore Bullet is 6'3.5'' and weighs 196 lbs. His body looks sculpted, and that stubble, makes our hearts flutter!
10. Usain Bolt
The fastest man on earth is also one of the hottest! Remember the Puma ad where he got into a hot tub? *Blushes*
The 29-year-old Jamaican is also the first man to hold world records in both 100m and 200m categories. Popularly dubbed the "Lightning Bolt," he has grabbed a number of prestigious awards including the Laureus World Sportsman of the Year thrice!
In Rio, all eyes will be glued to him as he already declared he will make history. And also because he is oh-so-hot!
11. Alex Ranghieri
Baywatch it is, when it comes to the Beach Volleyball star, Alex Ranghieri!
The Italian has played indoor volleyball for numerous clubs from 2004-2013. At the 2014 European Championship, Alex and his partner won the silver medal after they lost in the finals. 2016 has been really good for him so far, as he and his partner won the second tournament at the Doha Open. Here's wishing him luck (with loads of lip-smacking kisses!!!) down the air waves!
12. Cameron McEvoy
McEvoy has represented Australia in both the 2012 and 2016 Summer Olympics. In 2011, at the World Jr. Championship held at Lima, Peru, McEvoy won 2 gold medals in the 50m and 100m freestyle categories. In the 200m freestyle, he managed to get a bronze for his country.
McEvoy is a physics and mathematics student (how hot is that!), who became a heartthrob after he recently wore a swimming cap with two merging black holes to commemorate the first observation of gravitational waves! Nerd is the new sexy, people!
13. Aly Raisman
Aly Raisman, at 22, is amongst the most accomplished female acrobats in American history. She helped her team earn an overall gold, while she won a gold for herself in floor exercise and a bronze in the balance beam.
She is also EXTREMELY ATTRACTIVE!! Though overshadowed at times by McKayla Maroney (remember how she stole the spotlight at the London Olympics medal ceremony with her pouty face?!), Raisman deserves to be recognized as one of the fieriest athletes in the world.
With her toned body, she looks like she was carved out of stone! Words can do no justice to the beauty that she is! Make sure to follow her on her Instagram account.
14. Simone Biles
The 19-year-old, Simone Biles, is from Ohio and is currently one of the best gymnasts in the world. Holding a record for the maximum World Championship gold medals, she is way too good in her game!
She already has 3 overall World Championship wins, and five overall United States national wins. That's remarkable, considering she will be making her first Olympics appearance this year, which she will, most definitely, dominate!
---
Suggested read: 10 most bizarre, weird Olympic sports you never knew existed!
---
15. Leryn Franco
Whether this will be her year or not, we aren't quite sure, but Leryn Franco is already in news because of her hotness! Though her Olympic performance so far has not been what is expected of her, Franco knows she has already won us over with her style!
That's a wrap from us. This list is of course not an exhaustive one. So if your favorite (and hot!) athlete was not included, feel free to write about them in the comment section below! Ciao!
Summary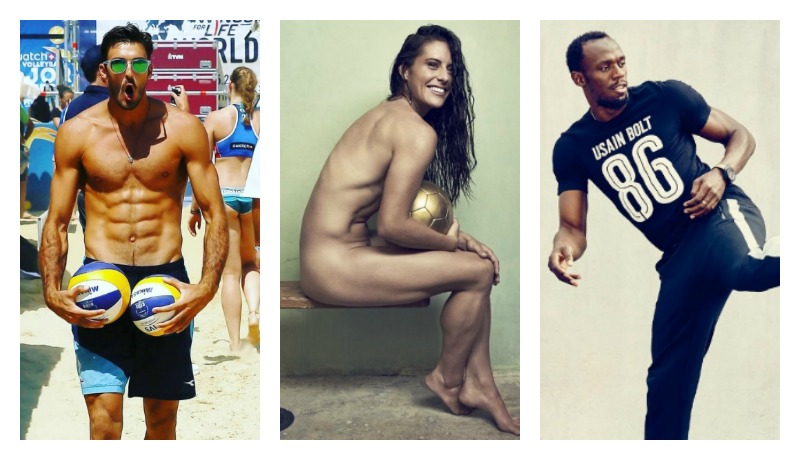 Article Name
15 Hottest Olympians All Set To Scorch Your Screens At Rio Olympics 2016
Author
Description
We present the hottest Olympians who will set your screens ablaze at the Rio Olympics 2016!