If there's one place in the entire world where you are free to be yourself, free to be anyone else you want to be and free to be a nobody too- it is the shower! You can ponder over life's big, unanswerable questions, question the world, think on where your life's headed or even flip out about the doody stain in the pot! Your thought train picks up immense speed when you are in the shower and you can cover all grounds from everything lying on the bathroom counter to what's situated light years ago- in a matter of seconds! Don't believe me?
Here's what an average shower thought-train looks like, for a girl:
1. Yeh kahan aa gaye hum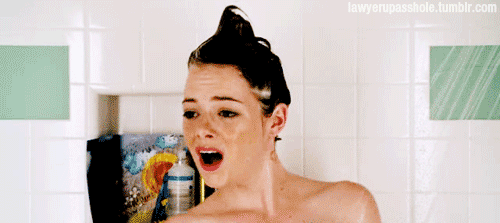 Image source: wifflegif
Yes, showers are the best place to analyze how awesome or sh**ty your life is. Every great (or not-so-great-in-hindsight) decision is taken here. Period.
---
Suggested read: 12 things you want to tell the scumbag who cheated on you
---
2. THAT guy!
Why isn't that hot, hot hunk who walks through you like you were air stopping in the tracks to take notice, eh? Shower some mercy, Shower! Okay- I have gone mad- but seriously- why isn't that guy interested?
3. I am so hairy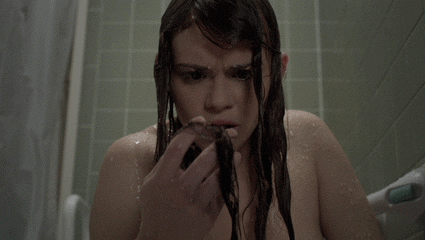 Image source: metro
Is it because I have so much hair on places hair has no business to be in- but hey, I was wearing jeans that day- that can't be it! He hasn't seen me naked yet- so he doesn't KNOW! And my face looks quite alright..
4. What say- mirror, mirror on the wall??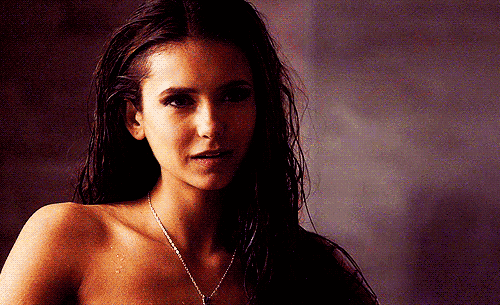 Image source: wifflegif
Yeah- I am pretty..even with that lather sitting on my head, I look like I was the queen of some latherdom…then, why isn't that HOT guy interested..huh?
5. Whoa! See that – flab…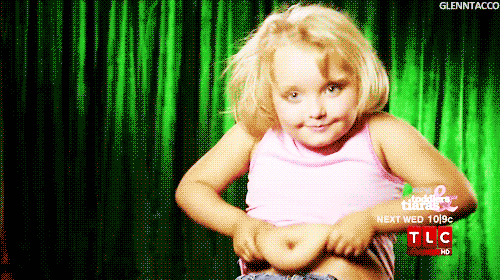 Image source: shesjustpleasantlyplump
Oh! Guess this mirror has some magnifying capacity or something- how can a fab face as this have such flab on the tummy..thighs..ankles…wait- what- is this ME?? I see what he sees now..
6. My world is over…
Yep, now that I am not as fab as I thought I was- what with all the flab I tug along- the world is over! It might not be long before I find some ugly zit on my buttcheek and hair in my buttcrack too! <slides hand to the butt..and> wait..what's that…oh NO! FML!
7. I guess I should switch to a sad track now…
Coz that's what suits this situation…
8. But it isn't that bad- that guy in my class is always throwing love-darts in my direction- I can't be THAT bad..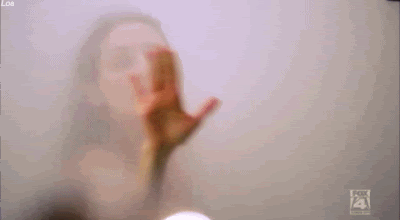 Image source: Giphy
<steps closer to the mirror> Yeah- that was the steam, definitely the steam- see- I am fit and fabulous! Life's good again. But I better do something about my b*tt pimple, though! <starts singing>
9. Atif Aslam, where art thou?

Image source: Tumblr
I am definitely going to list bathroom singing on my résumé! I don't think it is simply the better acoustics, I know it is me! *winking vigorously* Also, Atif, if you are listening, can we do a cover together, please- in the shower???? *winking uncontrollably now*
10. Life is so better in here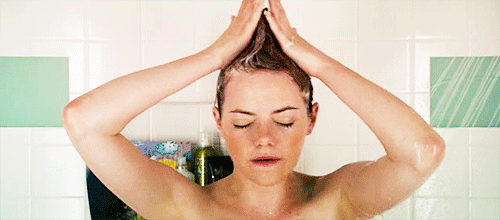 Image source: wifflegif
Switch to party track- check
Wash down the b*tt pimple with shampoo- check
Prim the b*ttcrack hair- check
Wash your hair- check
Condition- oh wait, that's remaining…which means more time in the shower! Hurray!
11. I am a scientist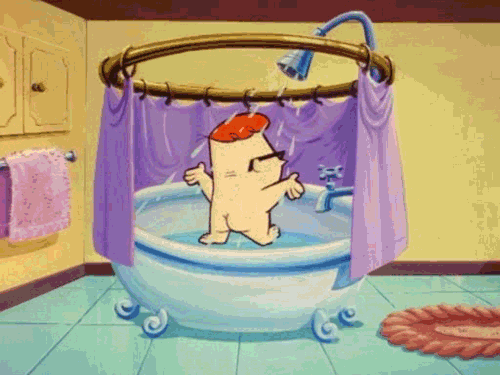 Image Source: Giphy
And now you need some more 'just-right temperature-d' water and that means turning those damn volves just right in the clockwise (or is it anti-clockwise?!) directions! Ahh- the woe!
12. Paise bachao andolan
Plus, you hope this conditioner works alright when mixed with water- coz you just overdid the shampoo time and your hair feels like friggin straw! After all, bachat ki baat hai.
13. And while I am at it, let's play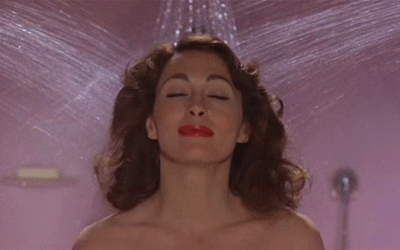 Image source: Giphy
What- nobody ruled out some self-love. That's not in any rule-book, is it? Even if it is, no camera's watching…so..
---
Suggested read: Thoughts every guy has when his girlfriend asks, 'Where is this going?'
---
14. But what if there were one…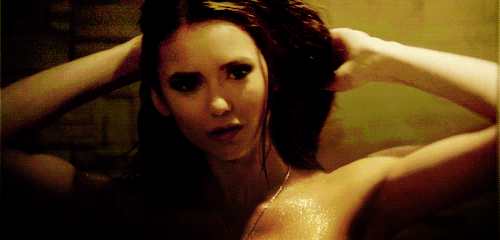 Image source: Tumblr
Well, then it should be KJo's- I wish he'd say lights, camera and action- and I'd emerge out of the shower like Poo does in K3G- all hot shot, glam diva-like….well, I am no less- am I? <saying the 'tumhe koi haq nahi banta ki tum itni khubsoorat lago, not fair' line to myself in the mirror> 😉
15. The shower is my love
Because hello, my shower listens to all my random ramble and showers me with love. I love you, shower baby…
Featured image source: newsnish
Summary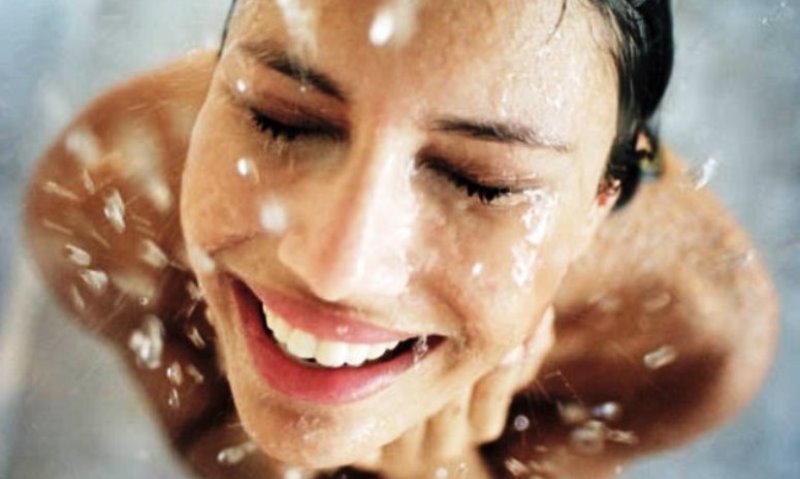 Article Name
15 Thoughts Every Girl Has In The Shower
Author
Description
Because if there's one place on earth where you have complete FREEDOM, it's in the shower!