Now don't get me wrong. I am all for the single, unmarried life. The motive of this article is not to pressurize you peeps into getting hitched, because let's be honest, we all have imaginary, fictional boyfriends in our heads that we are in a fully committed relationship with. However, that doesn't mean that we cannot be completely, obsessively preoccupied with weddings. How many of us have private Pinterest boards filled with inspirations and details of our imaginary wedding? I know I do.
Just like I have planned out every single detail of my imaginary future wedding, I have also spent countless hours of my life going through a gazillion wedding and pre wedding photo shoots. For the people in the photos, it is the perfect opportunity to get the perfect shot that will be framed forever. However, for those of us ogling at the photos, it is just another catharsis for the cheesy sap that is or true selves.
---
Suggested read: This Wes Anderson-themed Wedding Photo Shoot Is Truly Adorable!
---
When you are super invested in weddings (like I am), you need to up your game, even when it comes to wedding and pre wedding photo ideas. You can do anything you want, like have theme-based shoots, and completely nerd out with your partner. You can also get hold of some super amazing photographers who have some insane skills when it comes to taking pictures, and can make you look like some super celeb couple descended from Heaven.
I realize I am rambling, so here's bunch of wedding and pre wedding photo ideas that are literally going to make you want to get married ASAP.
1. The color palette
If you are all for hipster, pastel, color-palette pictures which captures the essence of your love and looks pretty much perfect at the same time, you could take inspiration from this colorful and super loved up couple, captured by one of the most sought after wedding photographers in the world.
2. Dance-y candids
get you a photographer who can take super fun candids like this on your wedding day, or for your pre-wedding shoot, where you just get to frolic around in the great outdoors with your soul mate while there is a super talented person capturing each and every blissful moment.
3. The firecracker
The perfect shot consists of a gorgeous play of light and dark and a couple of very happy faces, which makes for one of the most memorable and beautiful wedding photos ever. Case in point: this gorgeous couple who took their crackling sendoff to a whole new level to get this gorgeous, fun yet peaceful picture.
4. The soul mate silhouette
Silhouettes are something that is never going to go out of fashion, when it comes to romantic photos. There is something just so incredibly exciting and intimate about these kinds of pictures, and tbh, I would like to get married just so that I have an excuse to ask a professional to take pictures of us like this.
5. Bird's eye view
An aerial shot of you and your beloved in rolling fields makes for the most incredible pre-wedding shoot ever. This is especially good when you have a theme-based wedding, or a rustic wedding, where you can play around with a drone and take the most perfect shot of you and your bae ever.
6. Old-school glam
Few things can trump the beauty of an old-school photo shoot, and if you and your partner like some over-the-top, extra behavior, whether you are chilling or getting married, then this is the best way to celebrate your union- with fun vintage props and a photographer who can make you look like beauties from days bygone.
---
Suggested read: 27 Lovely Garden Wedding Ideas That Will Make For An Unforgettable Ceremony
---
7. Smokey affair
If you and your soul mate have a flair for drama, then you can check out this super cool wedding photo shoot idea, where the bride and groom hold smoke flares and create their own magical and ethereal illusion. With the right lighting and the right photographer, you have the perfect frame, which you can preserve and stare at forever.
8. It's all about the fireworks
If you have something super special planned for your wedding, make sure that you get a picture with it, so that it is made memorable forever. Also, any kind of picture which has fireworks involved is going to be a great picture and you know it.
9. Shrouded in mystery
Everyone loves a little mystery, and I am a sucker for all these cutesy, intimate photos of couples cozying up to each other at the prospect of marriage. Whether you are planning a wedding photo shoot, or a pre-wedding shoot, you can try out something like this with your partner, which will make you both look super glam and sup loved up at the same time.
Summary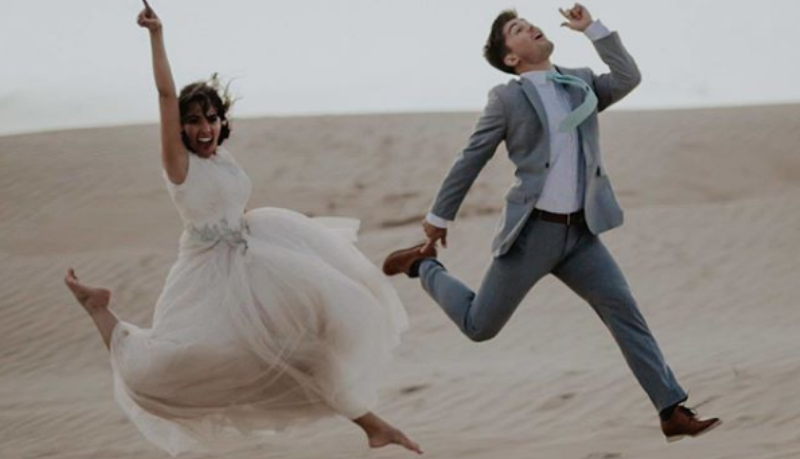 Article Name
17 Creative Wedding And Pre Wedding Photo Ideas
Author
Description
If you want your wedding to be as memorable as it deserves to be, then check out some of these wedding and pre-wedding photo ideas that would make for the best memories!
Read the rest of the article:
Next