Well, if you're in the right mind, get ready to get blown- coz I've got you the most thrilling list of texts your hangover just loves sending in. Enjoy!
1. When you wouldn't mind making your bed your grave, if that's what it takes to keep you there forever!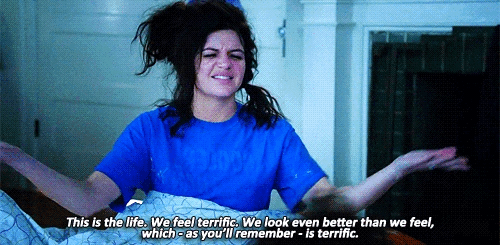 Image source: eonline
Your hangover: Rise and shine, sleepy head
or maybe after an hour…
maybe not today…
maybe never, LOL…
2. No freshener could fade the foul smell from the night. Neat, isn't it?
Your hangover: What's that smell
something fishy?
Let's make it swim in more beer 😀
3. When you can't help but keep tasting it all over and over again (and again, and again, and again) SOMEBODY PLEASE STOP IT!!!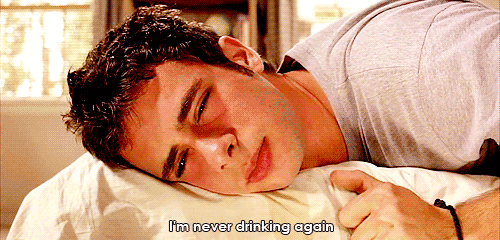 Image source: eonline
Your hangover: Let's have it AGAIN!
and, once more – there you go…
Liked it? No… what's that face you make… ahh, let's have that on for a while…
And again…
4. Suddenly vampirism starts sounding like just the deal for you… Get drunk and go Goth. Why not!
Your hangover: It's dark again, nightcrawler!
let your fangs out – it's drinking time…
5. A day with sweatpants and shades wouldn't hurt anybody, would it?
Your hangover: Sweatpants or hotpants, just wear a fabric that cleans off easy
If you know what I mean 😉
6. And just when you were about convinced that the hours of horror were over for good (just about convinced!)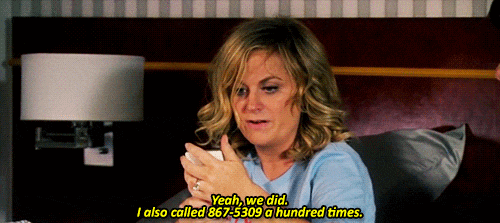 Image source: cosmopolitan
Your hangover: No sweetie, not so soon!
7. When you find yourself capable of doing nothing but curse the sources unknown for this hardship you never asked for (Ouch!)
Your hangover: Should have stayed under 25, friend
look what the growing up got ya! LOL
8. When you simply have no clue of what happened – stuck in black out zone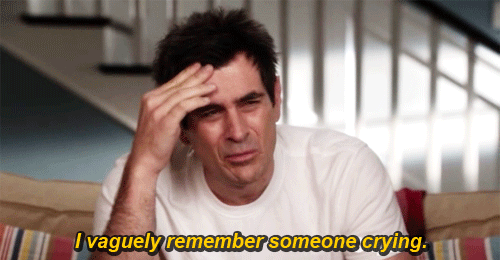 Image source: newscult
Your hangover: Remember last night?
Or do you?
FYI: I do, they do, and YOU ARE SO DONE!
9. Let's not even get started on what a terror the unexpected posts and tags could be  – Oh, the horror!
Your hangover: They asked you to SAY cheese, not puke
But what a moment!
#PicturePerfection *claps*
10. Leaving as the prince of the world, but coming back walking like you're from the kingdom of ruin?
Your hangover: Where's the pageant you're so hung up on?
---
Suggested read: 10 romantic text messages from you she should be waking up to
---
11. And you could even trade your very soul for trading the clock with a timeless anarchy
Your hangover: If the alarm blares again
jump off the cliff and just get it over with!
12. The apology appreciation!
Your hangover: Pray to God to cure it with a promise of never drinking again
FYI: apologize in advance, for that's never gonna happen! And RIP… lol!
13. When every bit of sound drills deep right in your head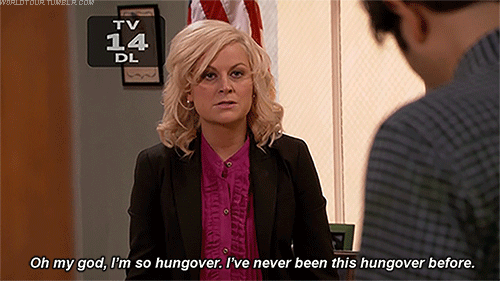 Image source: Tumblr
Your hangover: Hush… shhh… not so loud!
Silence – dead silence it is.
14. The essentials check out
Your hangover: So, have you still got your cards, keys, license, ID, your shame?
1, 2, 3, oh, OH NO!
15. Refreshing the late night conversations you wish you never had!
Your hangover: You promised to set the 'auto record' off, didn't you?
Oh, sorry, my bad 😀
16. When no one can endure standing by you with the smell of all the bad decisions from last night
Your hangover: Everyone's left already?
No worries bud, I'm here to stay (For…e…ver…!)
17. When who you wake up in the morning is not someone but the bottle(s) from last night
Your hangover: Good morning, sunshine!
You…
Oh shoot!
18. And when you've got something severe than the hangover to worry about
Your hangover: Remember telling her how fat her thigh is?
Chill bro, I'm just kidding
Or am I? 😀
19. When she called to tell you NOT to drink again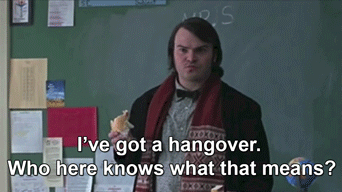 Image source: Tumblr
Your hangover: Breakup, dude
We don't want that negativity now, do we?
20. When all pills and tricks fail, this is the last thing you are left with; ta ta tada – stay drunk forever!
Your hangover: Here's your cure for the hangover
Bottoms up! Drink up!
Featured image source: hexjam
Summary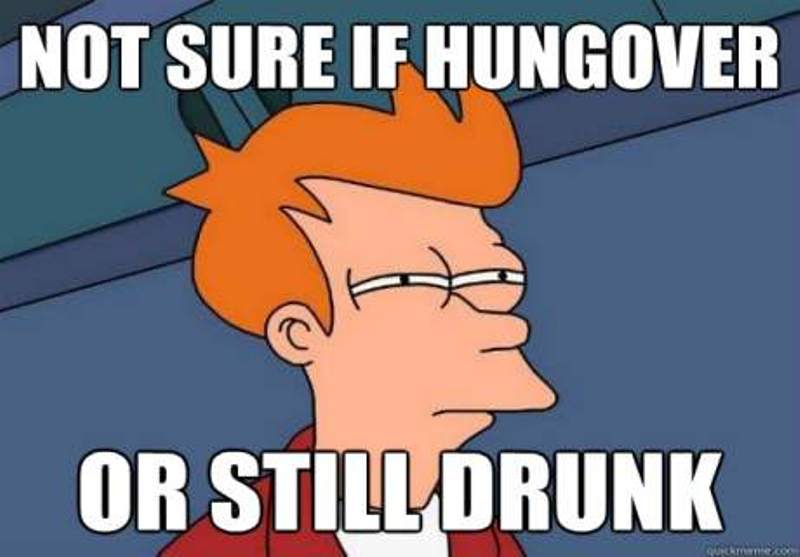 Article Name
20 Cruelly Irritating Texts My Hangover Enjoyed Sending Me
Author
Description
When your hangover refuses to budge...