One of the most potent emotions that human beings go through is heartbreak and pain caused due to failed love. Although most people find solace in company, and any emotion is best expressed when shared, this is the one emotion which is only your own. Ironically, a lot of people have been through the same experiences and ordeal, but when it comes to sharing, no one seems to understand exactly what you are going through, which, on some level, might add to the despair.
In times like these, you can find a friend in books and quotes about heartbreak, which can show you that you are not alone in your struggle. Quotes might not be lengthy handbooks on how to handle your grief, but when you find the right words that express exactly what you are going through, it sure makes you feel a certain kinship with the writer of quote.
---
Suggested read: 30 troubled relationship quotes that will break your heart
---
On that note, let's take a look at quotes about heartbreak that perfectly express your pain:
1. "But you see, the measure of hell you're able to endure is the measure of your love." – Ayn Rand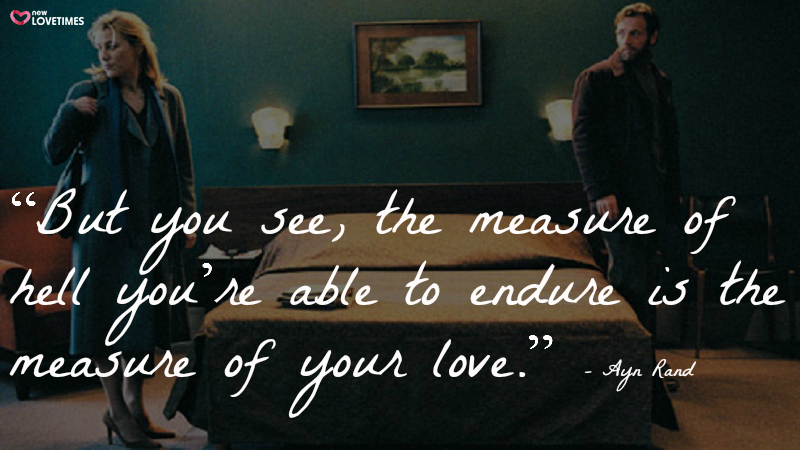 Ayn Rand's book Atlas Shrugged is all about a dystopic future and her philosophy –  objectivism. But amidst all that, she has managed to slip in certain words of wisdom, including the above quote, which perfectly summarizes the extent of the pain that is felt after heartbreak.
2. "Someday you're gonna look back on this moment of your life as such a sweet time of grieving. You'll see that you were in mourning and your heart was broken, but your life was changing…" – Elizabeth Gilbert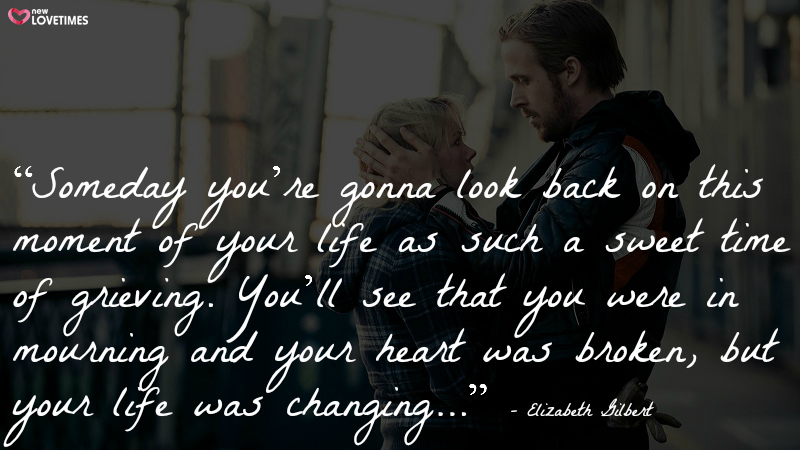 When you are suffering from a broken heart, some encouragement is desperately needed. The present can perhaps be handled better with the hope of better prospects in the future.
3. "Perhaps this is what the stories meant when they called somebody heartsick. Your heart and your stomach and your whole insides felt empty and hollow and aching." – Gabriel Garcí­a Márquez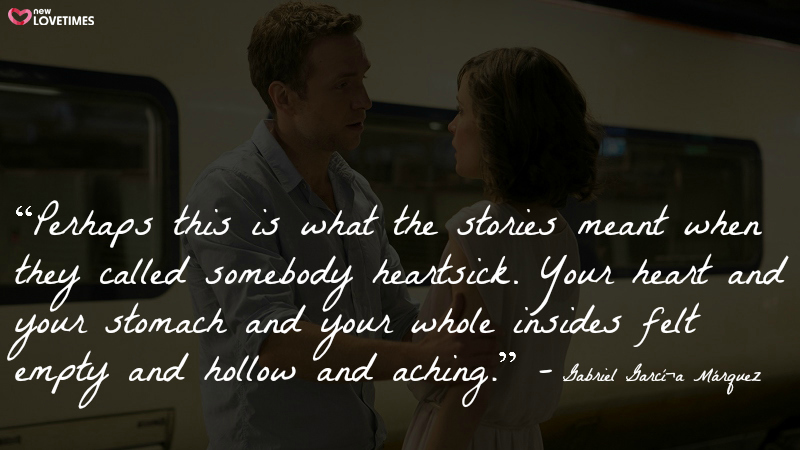 Marquez is one of the greatest literary figures of all time, and he has described the feeling you experience after you suffer from heartbreak with the most simplistic, yet profound term – heartsick.
4. "The saddest thing about love, Joe, is that not only the love cannot last forever, but even the heartbreak is soon forgotten." – William Faulkner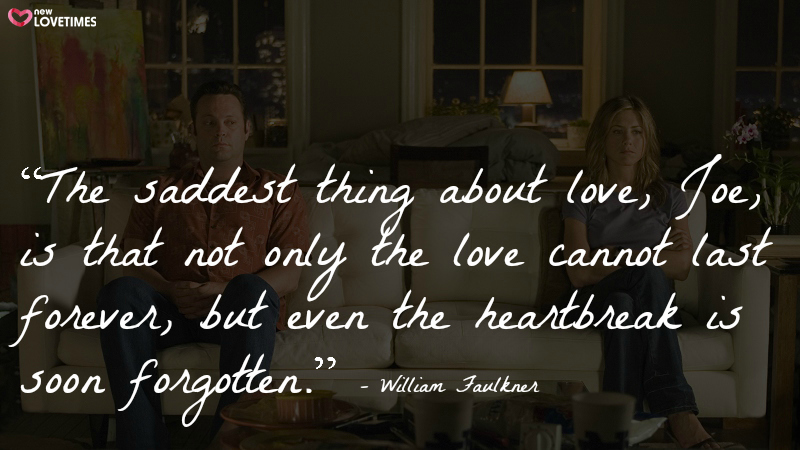 Sometimes, you just need the inevitable truth shoved in your face. The quote is nonetheless bound to come true in the future.
5. "I took a chance, I took a shot, and you may think I'm bullet-proof, but I'm not. You took a swing, I took it hard. And down here from the ground I see who you are." ―Taylor Swift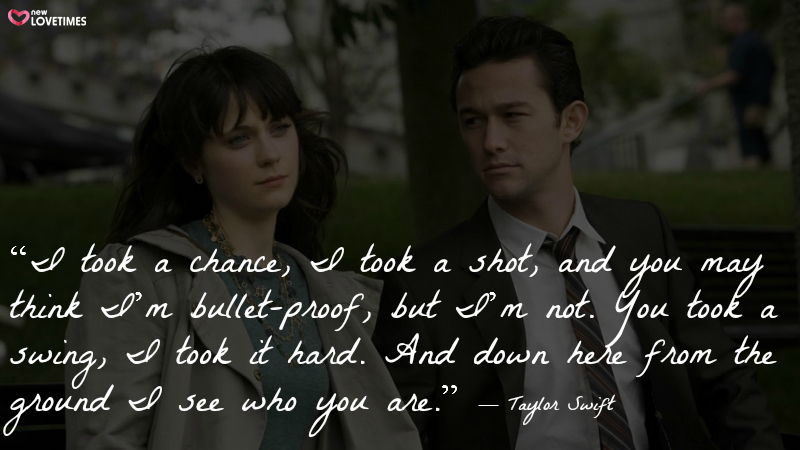 Taylor Swift might be a pop singer, but some of her lyrics are frighteningly relatable. Only when you have been heartbroken do you understand that you were not as strong as you thought you were.
6. "I wish I was a little girl again, because skinned knees are easier to fix than a broken heart" – Julia Roberts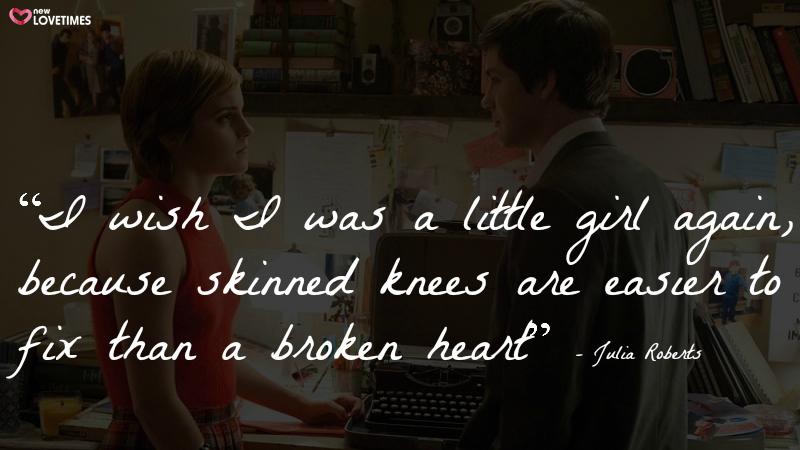 Now, skinned knees and cuts and bruises from childhood, which seemingly caused so much pain at the moment, are almost welcome compared to the heartbreak that you feel now when you're all grownup.
7. "Let go. Why do you cling to pain? There is nothing you can do about the wrongs of yesterday. It is not yours to judge. Why hold on to the very thing which keeps you from hope and love?" – Leo Buscaglia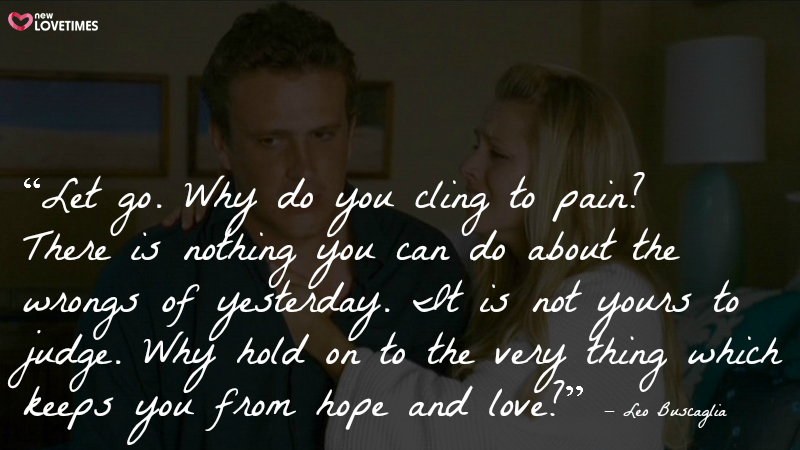 This is one of the quotes about heartbreak which is more about picking yourself up, because it is true that you feel separate from hope and love in every form when you are suffering from a broken heart. But, eventually, you do get over the pain and learn to love again.
8. "The beauty of the world has two edges, one of laughter, one of anguish, cutting the heart asunder." – Virginia Woolf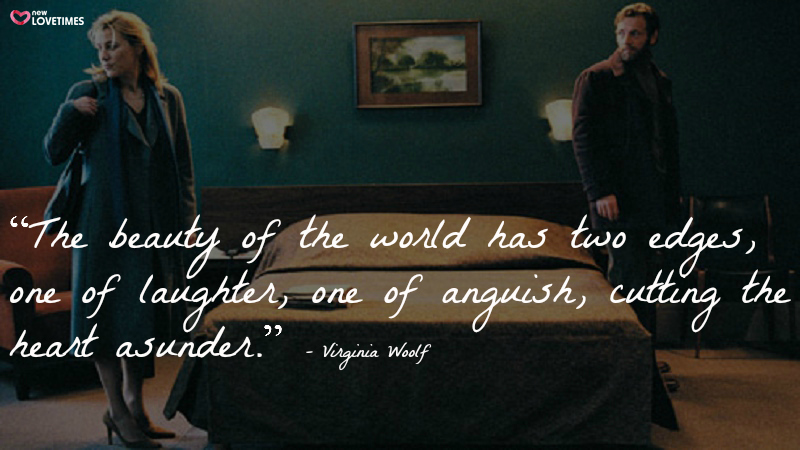 Virginia Woolf reinstates the two-sides-of-a-coin theory with her quote, where if there is laughter in the world, there is bound to be pain as well, which will leave the heart broken and destroyed.
9. "That is the thing about pain, it demands to be felt." – John Green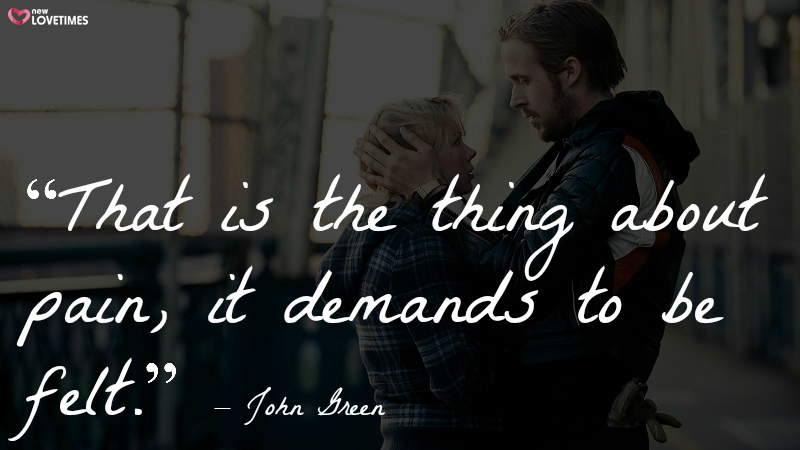 One of the most underrated quotes about pain, John Green's quote is as profound as ever, which tells you that the pain that you are feeling cannot be suppressed and will be expressed in some form or the other.
10. "I want so badly to believe that there is truth and love is real."- The Postal Service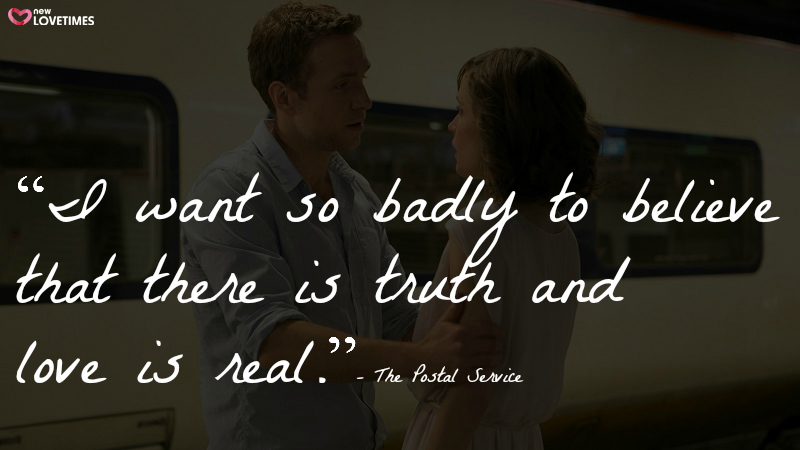 When you are heartbroken, there is nothing you can relate to more than sad songs, and this song might sound deceptively happy, but then it has lyrics like this, which perfectly expresses your inner plea.
11. "Hearts can break. Yes, hearts can break. Sometimes I think it would be better if we died when we did, but we don't."- Stephen King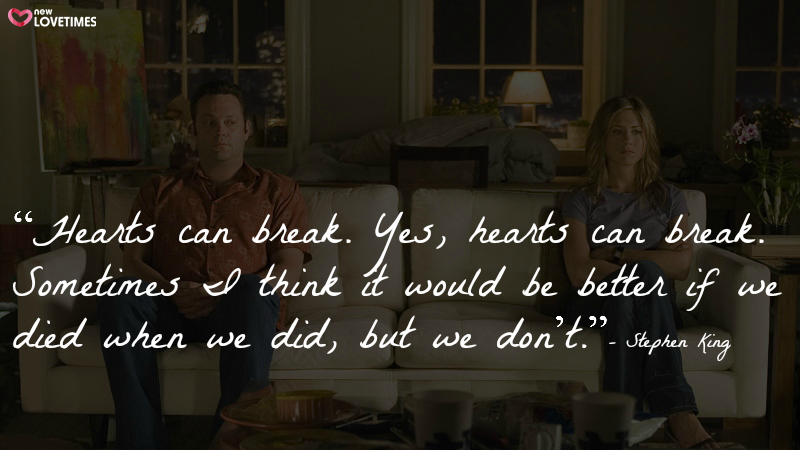 Sometimes, when you are heartbroken, you feel like you will never been able to get up again. However, scores of other people have been in your position before, and they are still living. Somehow.
12. "Lonely is the room, the bed is made, the open window lets the rain in. Burning in the corner is the only one who dreams he had you with him. My body turns and yearns for a sleep that will never come. It's never over, a kingdom for a kiss upon her shoulder." – Jeff Buckley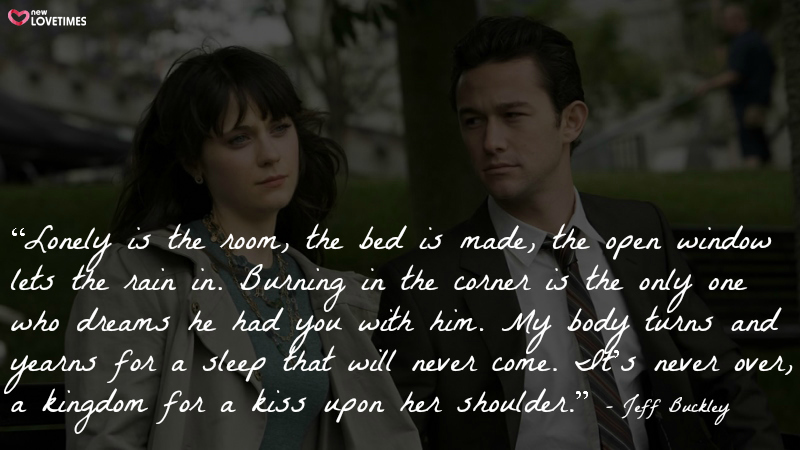 Another song's poignant lyrics which speaks to you because it is exactly what you are going through. You don't feel like getting up and doing anything, and everything seems dreary and you feel like you would give anything to be near that person again.
---
Suggested read: 25 timeless quotes about love and relationships
---
13. "Perhaps some day I will crawl back home, beaten, defeated. But not as long as I can make stories out of my heartbreak, beauty out of my sorrow." – Sylvia Plath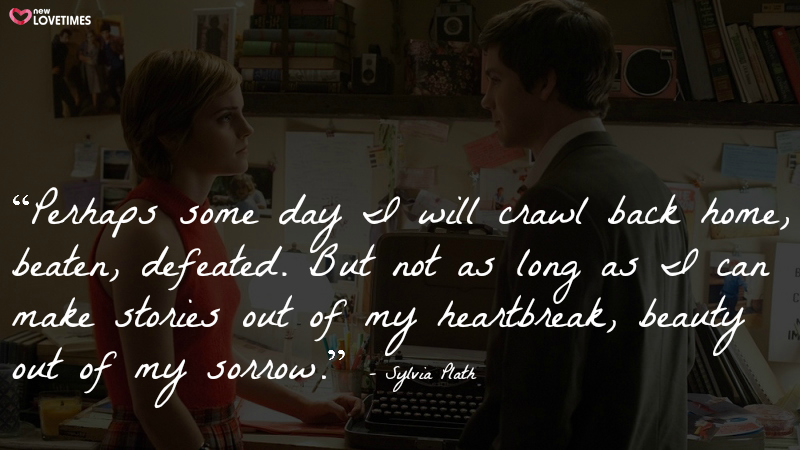 The queen of tragedy in the world of poetry left behind some words of wisdom for the broken hearted. It is important to find inspiration, even out of your despair.
14. "Rose leaves, when the rose is dead
Are heaped for the beloved's bed
And so thy thoughts, when thou art gone,
Love itself shall slumber on." – Percy Bysshe Shelley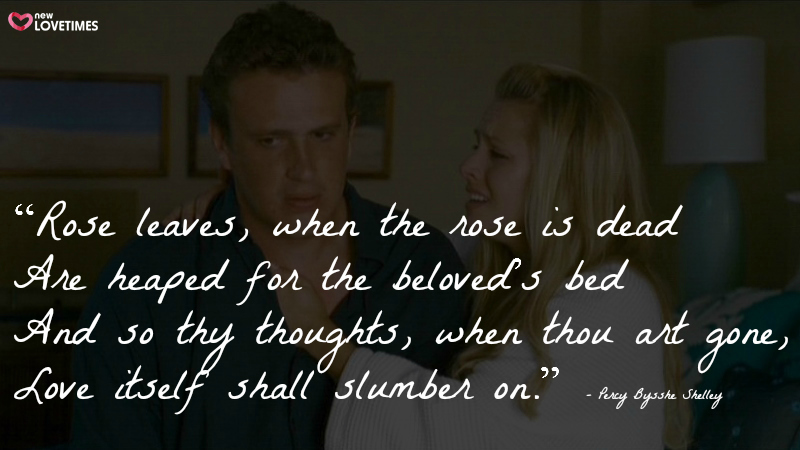 The romantic poets knew a thing or two about heartbreak, and this quote from Shelley's poem, Music when soft voices die shows exactly that. When you are suffering from a heartbreak, you feel like love itself will never resurface again. But, it does, my friend – with time.
15. "Love is like a puzzle. When you're in love, all the pieces fit but when your heart gets broken, it takes a while to get everything back together." – Author Unknown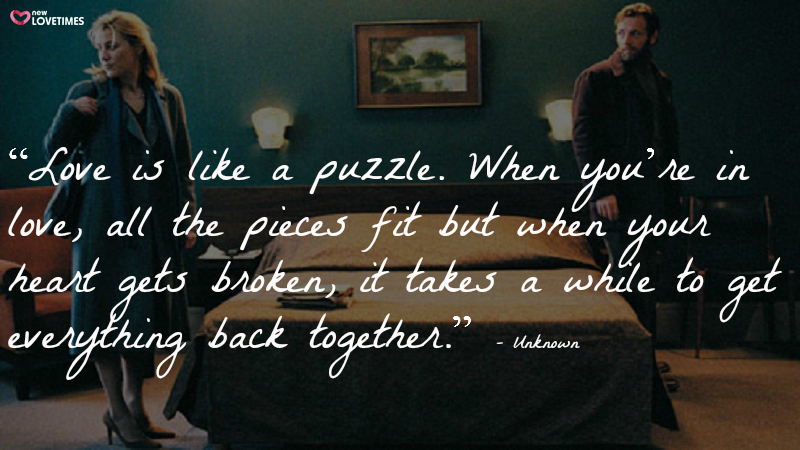 Relatable quotes often arise from anonymity, such as this one. Whether or not people admit it, their hearts literally get broken into a million pieces, and getting the pieces back together takes time and patience.
16. "She had loved him for such a long time, she thought. How was it that she did not know him at all?"– Cassandra Clare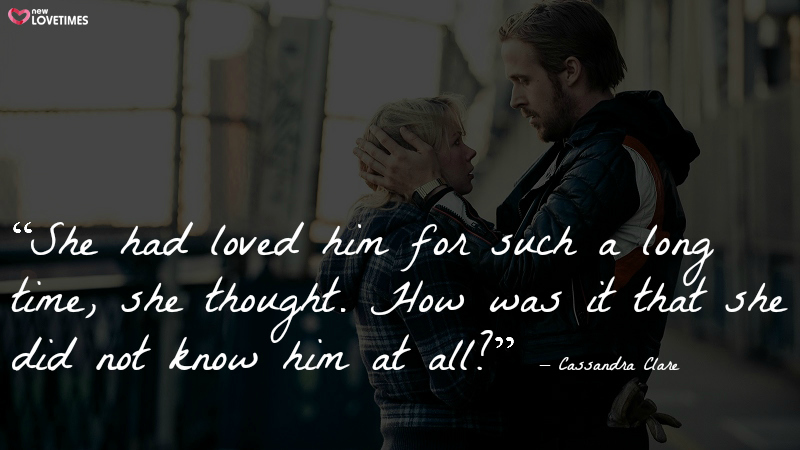 These are the kinds of questions that keep popping into your mind when you have suffered from a broken heart. How could you love someone for so long without even knowing who they actually were underneath?
17. "You not wanting me was the beginning of me wanting myself."–Nayyira Waheed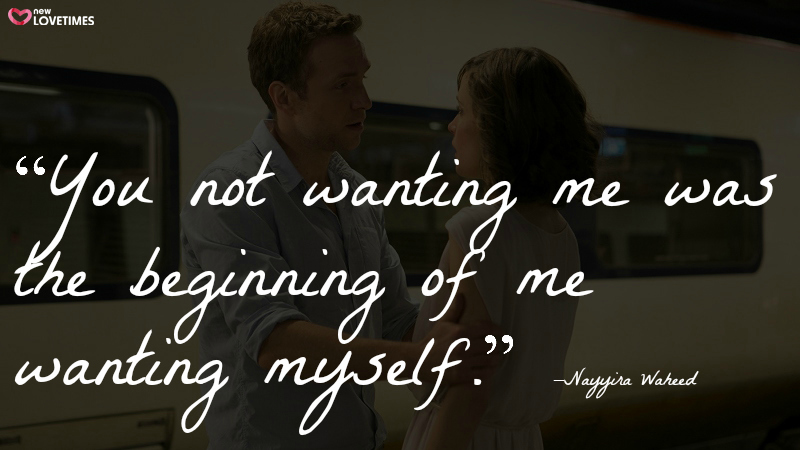 This is probably the goal everyone should aspire for, for selfless love when betrayed can be potentially dangerous. Love for the self should be the only consequence arising out of this.
18. "And so it is, the shorter story, no love no glory, no hero in her skies." – Damien Rice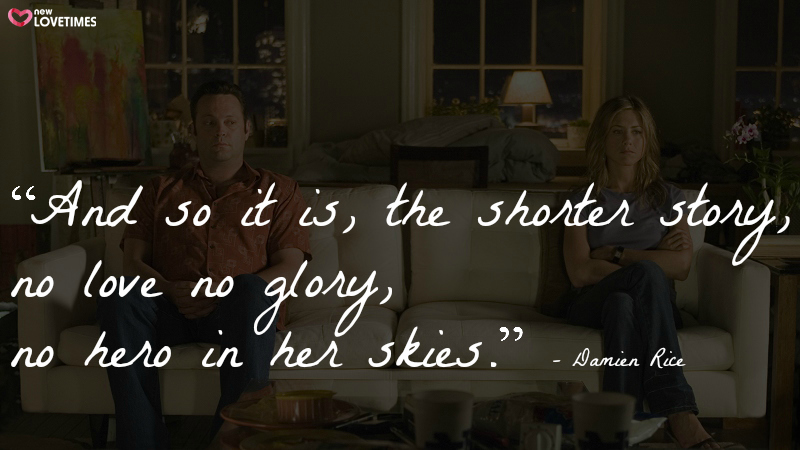 The empty dreariness and the loneliness that is felt after heartbreak, is perfectly summed up in this beautiful lyric from Damien Rice.
19. "Once you had put the pieces back together, even though you may look intact, you were never quite the same as you'd been before the fall." – Jodi Picoult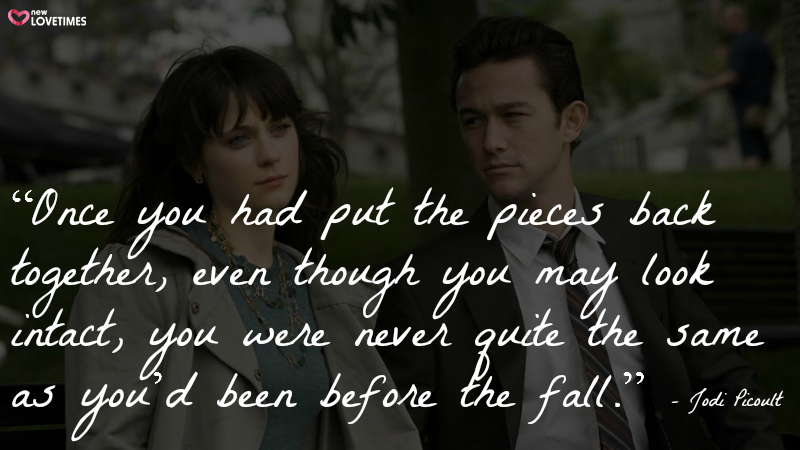 You can pretend to be strong-willed and iron-hearted, but only the person who is suffering knows that they will never be the same after they have been broken hearted.
20. "Less is less. Heartbreak is heartbreak. You think I'm sitting here gloating. Telling myself that my suffering beats yours? Hurt is hurt. You don't measure these things." – Stephanie Kallos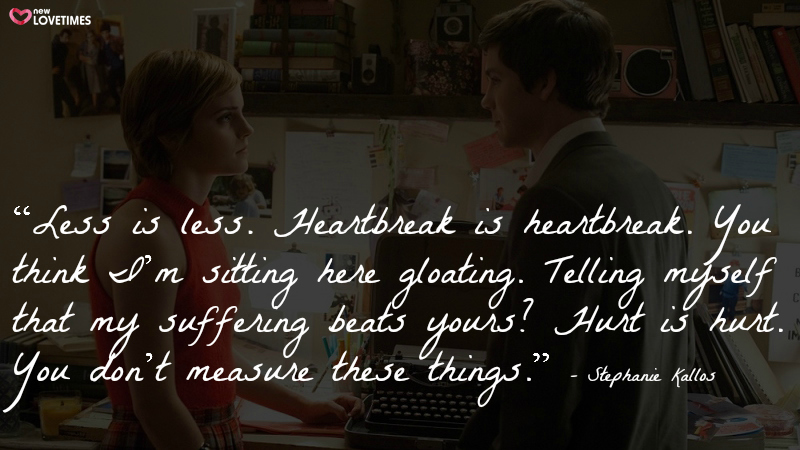 Reminiscent of another quote that says "My suffering is mine alone." Because these are certain things that other people just won't be able to understand, and heartbreak is one of them.
21. "You can love someone so much…But you can never love people as much as you can miss them." —John Green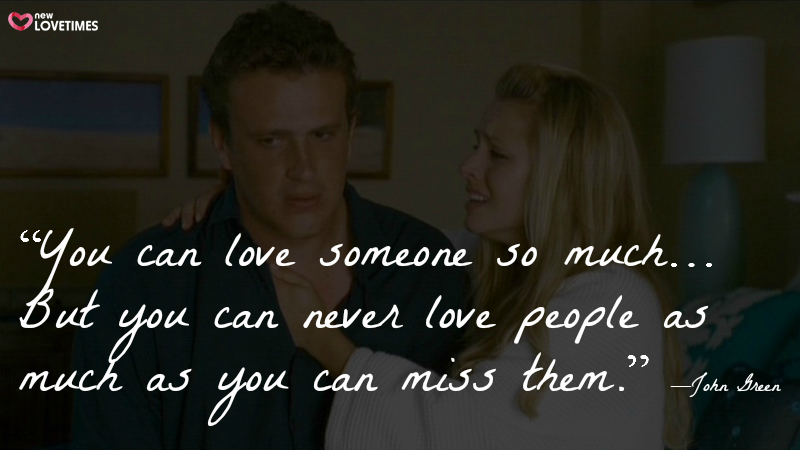 Another quote by John Green, this one enumerates how you understand the true value of your love only when it is gone from your life.
22. "The heart dies a slow death, shedding each hope like leaves until one day there are none. No hopes. Nothing remains." —Arthur Golden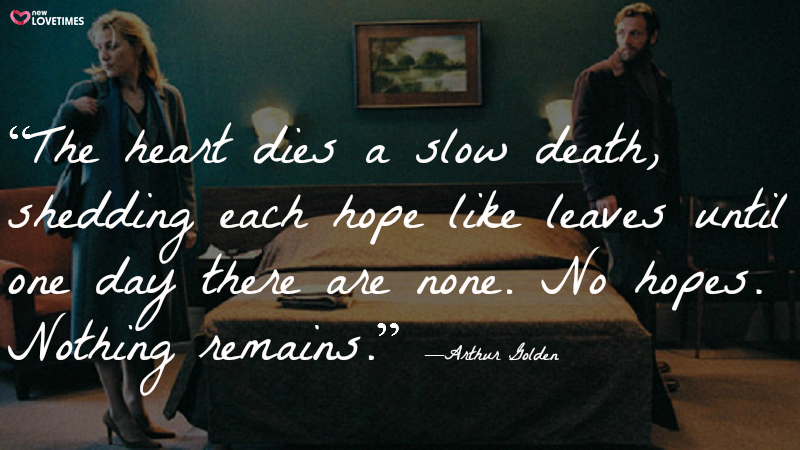 Taken from The Memoirs of a Geisha, this quote expresses exactly how people feel when they are suffering from a broken heart, where hope and happiness seem like distant dreams.
23. "It is a dull sensation, your heart breaking, like the sound of a pebble dropping on the sand. Not a shattering, not a tearing apart, there is nothing shrill or grandiose about the sensation. It is merely an internal realization that something treasured you never knew you had is leaving forever." ― Samantha Bruce-Benjamin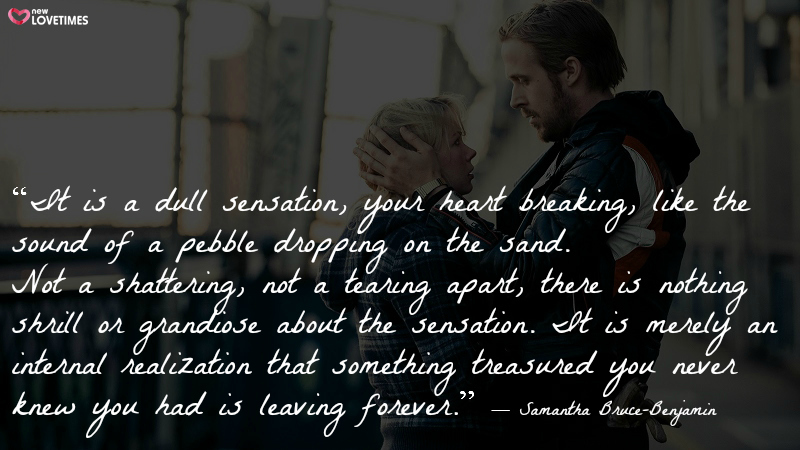 This is perhaps the most profound quote on the list, which explains exactly what the feeling of breaking your heart entails. The depth of the sadness and the despair felt is inexplicable.
24. "And anything that might hurt me would just make me stronger in the end." ― Elizabeth Eulberg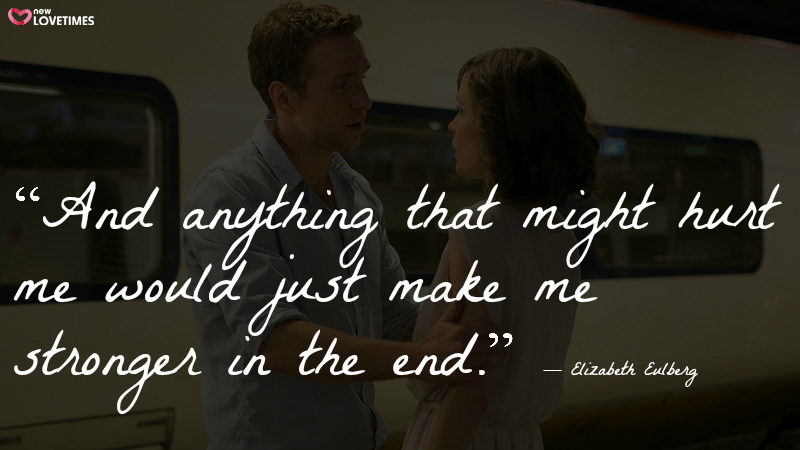 Even if you have broken your heart, it is important to pick the pieces up, albeit slowly, to emerge as a stronger and more aware individual.
---
Suggested read: 20 Lang Leav quotes that will reinstate your faith in love
---
25. "Ever has it been that love knows not its own depth until the hour of separation." – Kahlil Gibran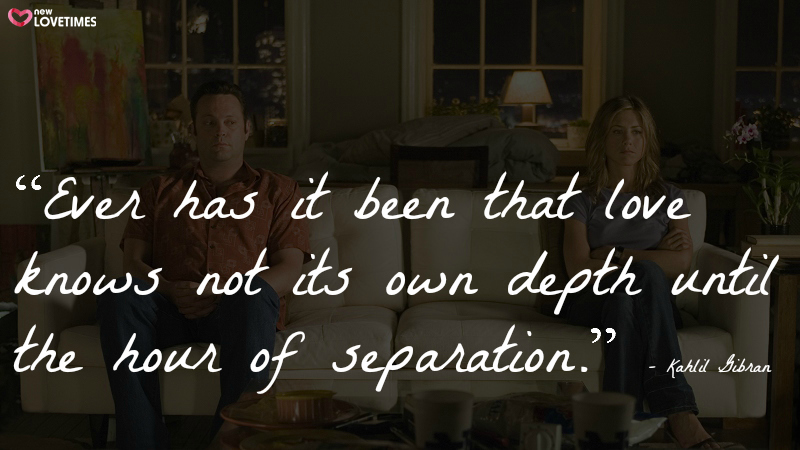 When you lose your love, only then do you realize how deeply you love because it leaves that big a void in your life and that is perhaps the most potent feeling ever.
When you are suffering from a heart break, you try to look for ways in which you can express your grief in the most eloquent manner possible, because even that is a form of expression, which allows you some respite from the pain. These 25 quotes on heartbreak are perhaps, the most relevant of them all.
Summary
Article Name
25 Quotes About Heartbreak That Will Resonate With Your Pain
Author
Description
When you're heart broken it seems like you can't find the right words to express the hurt you feel. These quotes about heartbreak might resonate with you.