If verse could sing to the heart and whisper to the soul, Lang Leav poems would.
Adept at distilling the raw feelings of love and loss into the words on the page in a simple, yet touching manner, Lang Leav makes her work leap out in throbbing spirals of emotions to envelope the reader. Anyone who has read snippets of the verse or been in touch with Lang Leav quotes from Love & Misadventure or Lullabies can vouch for the overwhelming flood of feelings that flow under her skin and come pouring out on the page.
Not only is Lang Leav's verse a journey into the depths of love, desire, passion, yearning, and loss, but Lang Leav quotes too are a standalone feat in evoking the same emotions – the breath between the lines, the rankling wounds in the ellipses, the hopes in a comma, and the ache in a period – are a marvel that will stay with you by your bedside, until you wear the smiles and tears to sleep and waken with a start by a dream that tells you to revisit your favorite lines.
---
Suggested read: The best snippets of love poems from Pablo Neruda
---
So, for everybody who has loved and lost and perhaps, found love again, and everyone else who wishes to find love in life, we believe these Lang Leav quotes will do a l'il something for your heart:
1. "It was a question I had worn on my lips for days – like a loose thread on my favourite sweater I couldn't resist pulling – despite knowing it could all unravel around me.
'Do you love me?' I ask.
In your hesitation I found my answer."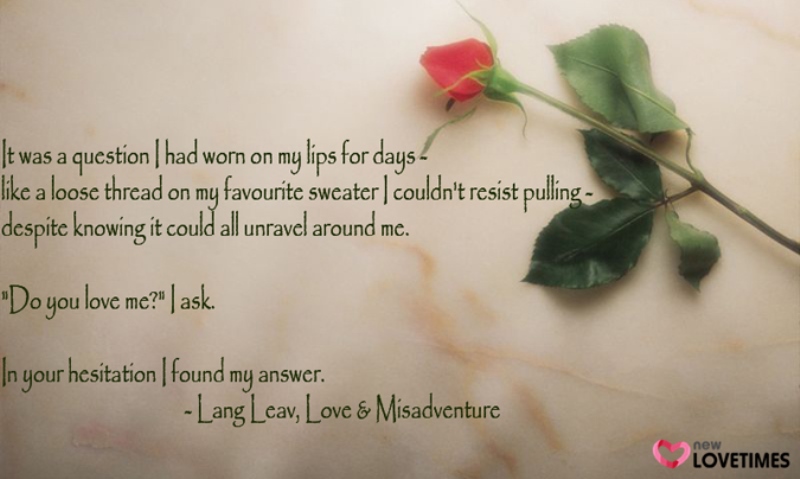 Coz when you love, you know…
2. "What was it like to love him? Asked Gratitude.
It was like being exhumed, I answered, and brought to life in a flash of brilliance.
What was it like to be loved in return? Asked Joy.
It was like being seen after a perpetual darkness, I replied. To be heard after a lifetime of silence.
What was it like to lose him? Asked Sorrow. There was a long pause before I responded:
It was like hearing every goodbye ever said to me—said all at once."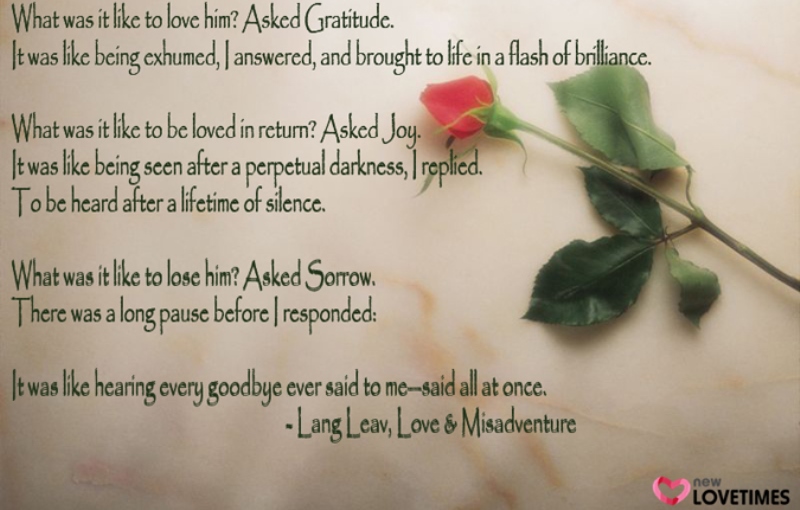 You can only feel this…
3. "You were you,
and I was I;
we were two
before our time.
I was yours
before I knew,
and you have always
been mine too."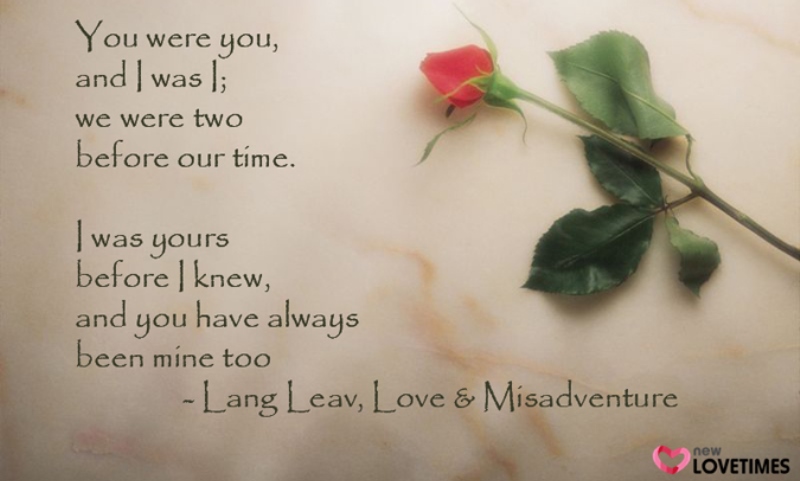 In you, with you, for you…forever…
4. "I don't know how you are so familiar to me—or why it feels less like I am getting to know you and more as though I am remembering who you are. How every smile, every whisper brings me closer to the impossible conclusion that I have known you before, I have loved you before—in another time, a different place, some other existence."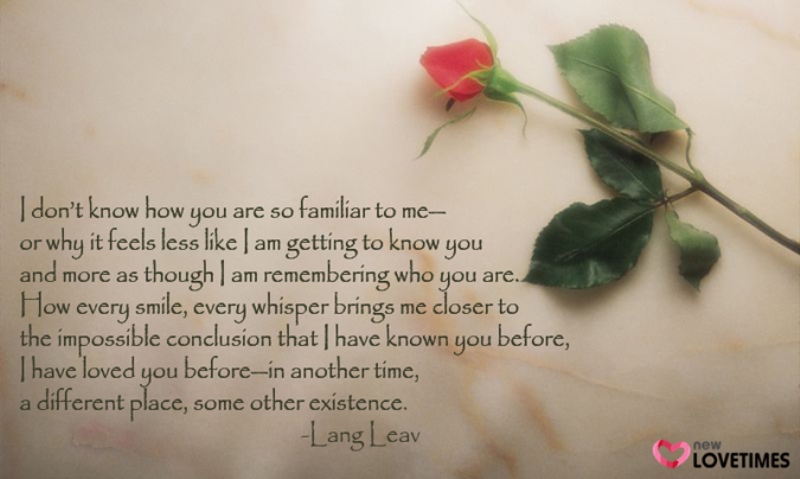 Coz soul mate…
5. "Before I fell
in love with words,
with setting skies
and singing birds –
it was you I fell
in love with first."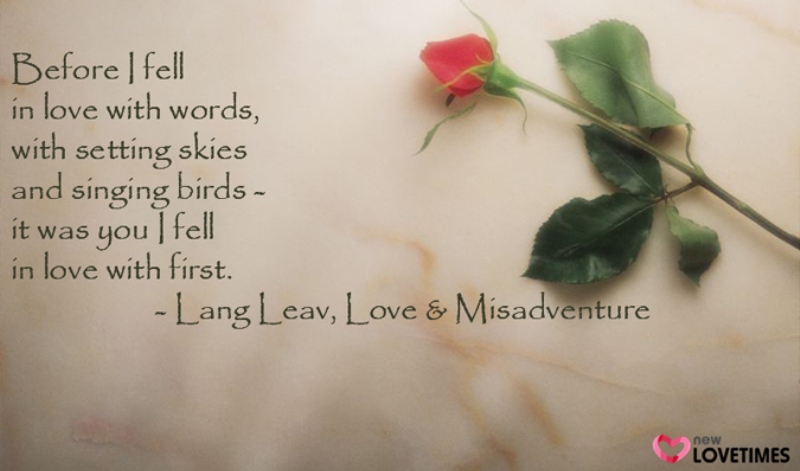 With love does the poet his pen fill…
6. "When words run dry,
      he does not try,
      nor do I.
      We are on par.
      He just is,
      I just am
      and we just are"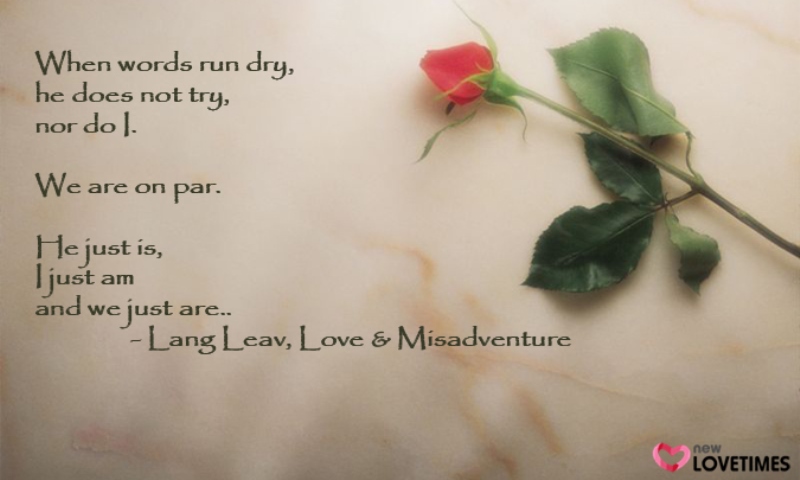 Sometimes, silence can bind…others, wound..
7. "We had no ending,
      no said goodbye.
      For all my life,
      I'll wonder why."
When a goodbye is said, without reason…
8. "Can I ask you something?
      Anything.
      Why is it every time we say goodnight, it feels like goodbye?"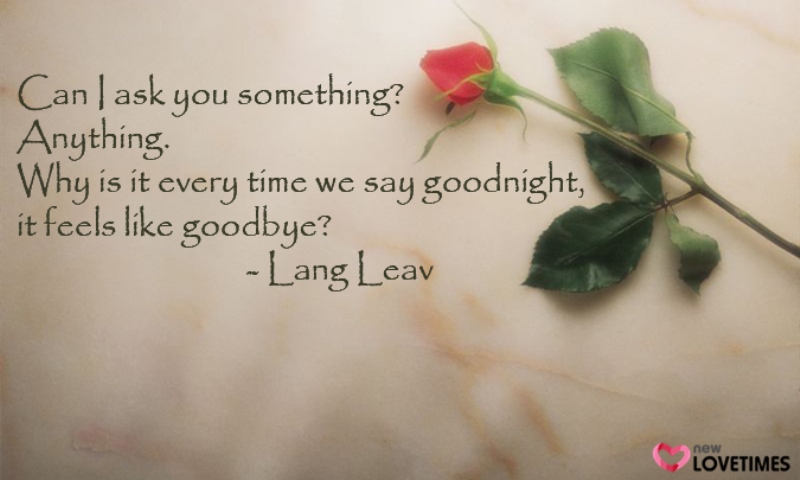 Love magnifies everything… the kisses, the his and even the goodbyes…
9. "You were the one, I wanted most to stay.
      But time could not be kept at bay.
      The more it goes, the more it's gone, the more it takes away."
Of memories fading…
10. "I know that I don't own you,
        and perhaps I never will,
        so anger when you're with her,
        I have no right to feel
        I know that you don't owe me,
       and I should ask for more;
       I shouldn't feel so let down,
       all the times when you don't call
      What I feel — I should show you,
      so when you're around I won't;
      I know I've no right to feel it
      but it doesn't mean I don't"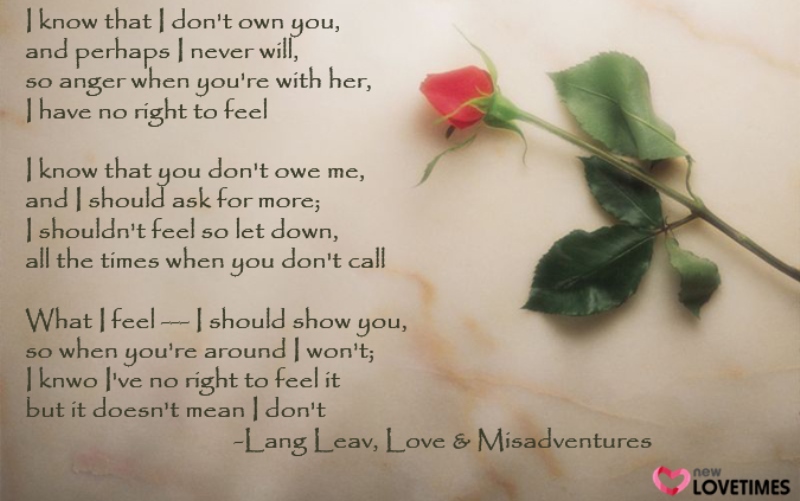 No true love can ever be undone…
---
Suggested read: 30 funny marriage quotes to tickle your funny bone
---
11. "I still search for you in crowds,
       in empty fields and soaring clouds.
       In city lights and passing cars,
       on winding roads and wishing stars."
Coz you never stop to hope… for love…
12. "Letting him go – There is a particular kind of suffering to be experienced when you love something greater than yourself. A tender sacrifice. Like the pained silence felt in the lost song of a mermaid; or the bent and broken feet of a dancing ballerina. It is in every considered step I am taking in the opposite direction of you."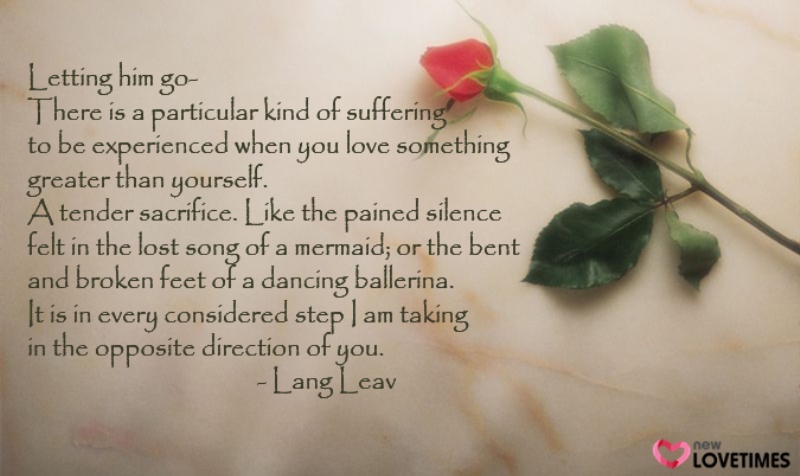 The heavy, crushing weight of tar traipsing about your insides… blocking every step you take to leave behind the heart you love…
13. "There is a love I reminisce,
        Like a seed
        I've never sown.
        Or lips that im yet to kiss,
        and eyes
       not met my own.
       Hands that wrap around my wrists,
       and arms
       that feel like home.
      I wonder how it is I miss,
      these things
      I've never known."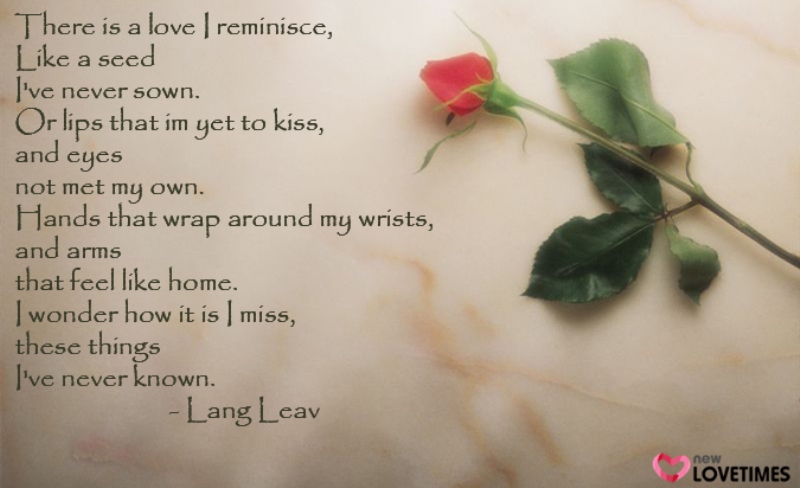 When love binds you, irrespective of time and space…
14. "A bird who hurt her wing,
        now forgotten how to fly.
       A song she used to sing,
       but can't remember why.
      A breath she caught and kept –
      that left her in a sigh.
      It hurts her so to love you,
      but she won't say goodbye."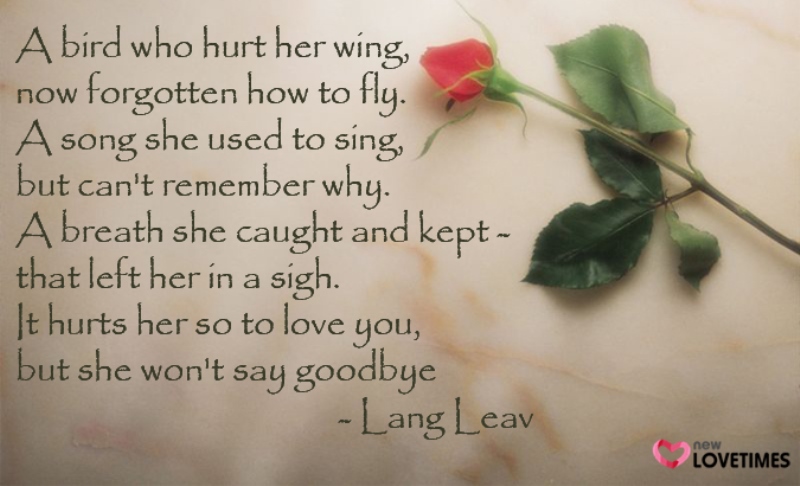 When you can't let go…even if it hurts…
15. "What is she like?
        I was told—
       she is a
       melancholy soul.
      She is like
      the sun to the night;
      a momentary gold.
     A star when dimmed
     by dawning light;
     the flicker of
     a candle blown.
     A lonely kite
     lost in flight—
     someone once
     had flown."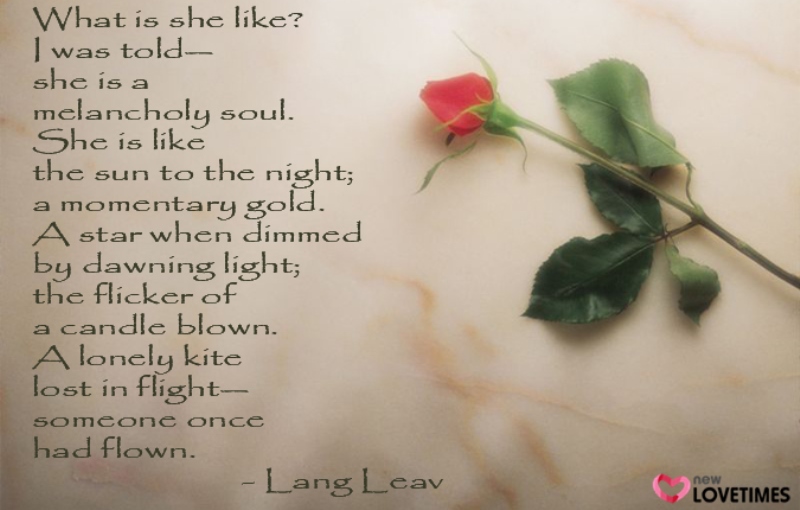 For all hearts who loved and lost…
16. "I love you, I do –
        you have my word.
        You have all my words."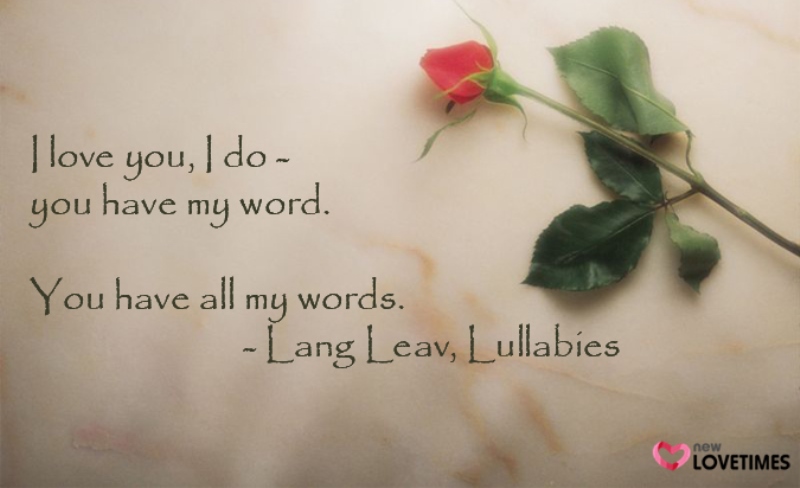 Ever had a writer love you? You shan't ever die…
17. "Slowly I am withering—
        a flower deprived of sun;
        longing to belong to—
        somewhere or someone."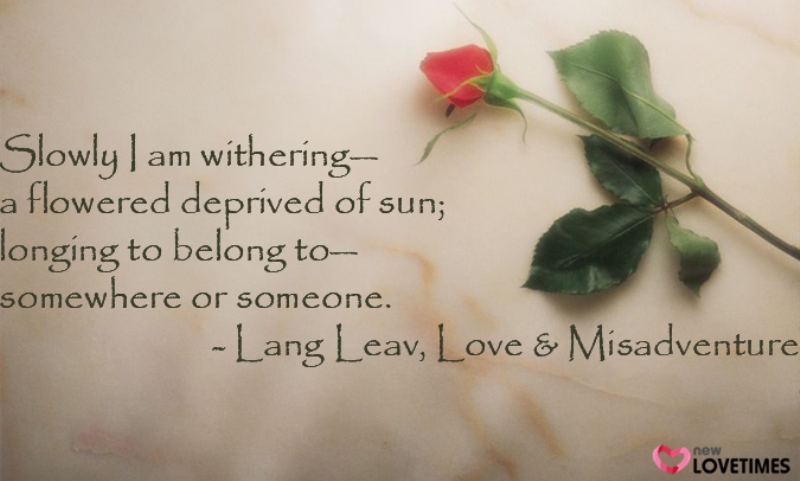 Coz love is the air that the heart breathes…
18. "Or that one person whom you rarely speak with, who can always be found right where you left them. You carry their smile with you like a talisman—for whatever reason, their presence in your life will always bring the promise of better days."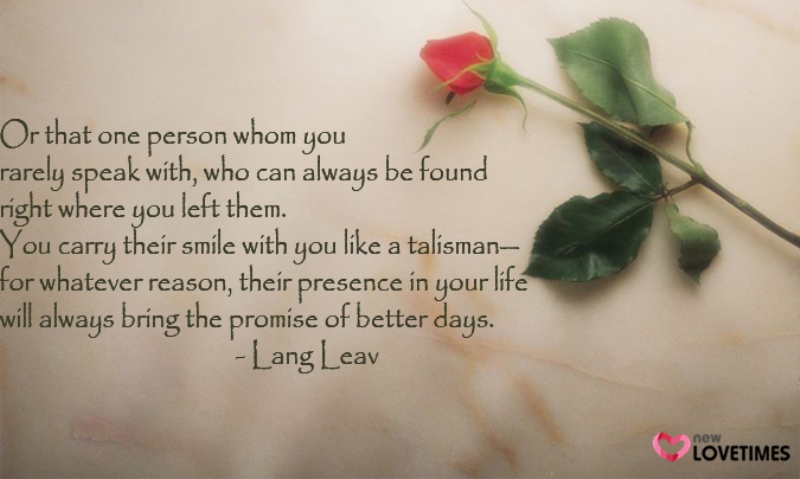 Because the heart cannot undo the love it felt…
19. "If you love my heart and mind, then you would love me, for all that I'm. But if you don't love my every flaw, then you mustn't love me— not at all."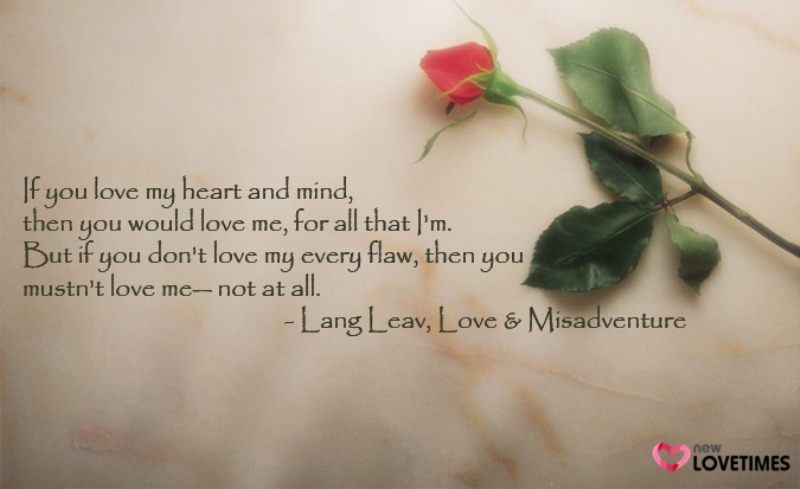 The special person whose wrongs you can love in just the right way.
---
Suggested read: 20 mushy marriage advice quotes to reinstate your faith in marriage
---
20. "I loved you more than love allowed."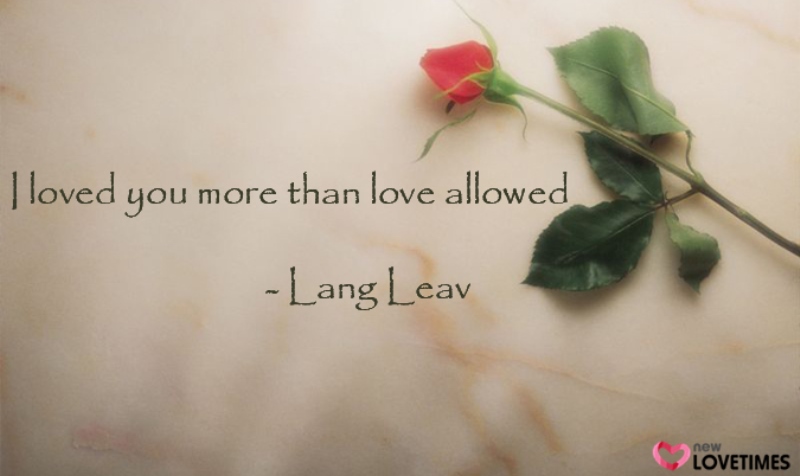 Coz you love that way or not at all.
Tell us which of these Lang Leav quotes tugged at your heartstrings in the comments section below.
Summary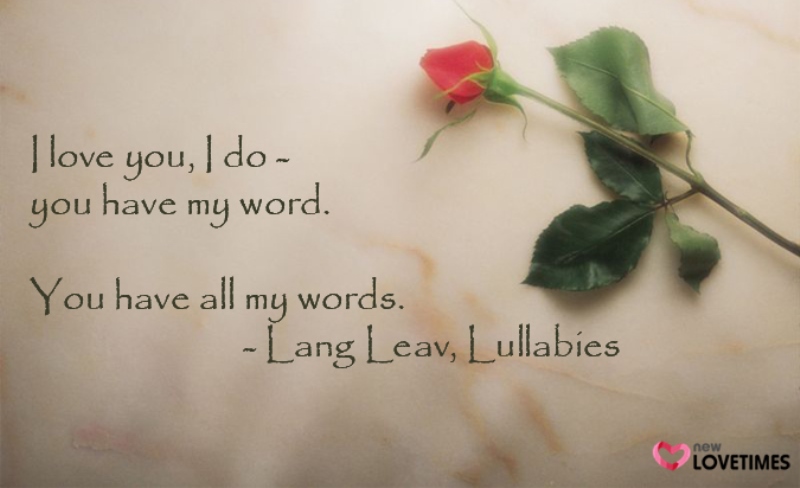 Article Name
20 Lang Leav Quotes That Will Reinstate Your Faith In Love
Author
Description
When it comes to love, Lang Leav perhaps gets the pulse best. Feel the heartbeat of Love itself - with these Lang Leav quotes.