Aditya Tiwari couldn't have asked for a better start to the New Year. His persistence paid off when he was given custody of Binney, a one-and-a-half-year-old toddler, who's has Down's Syndrome along with a hole in his heart.
Meet the youngest single parent in the country to adopt a kid at age 28. Aditya works in an MNC in Pune, and had been trying to adopt Binney, now christened Avnish Tiwari, for the past year. However, the adoption norms being rigid and not allowing single parents below the age of 30 to adopt, it was difficult for Aditya to get Avnish's custody.
Featured image source: indianexpress
Thankfully, all that changed, giving hope to Aditya, when the adoption norms were changed on August 1st, 2015, reducing the adoption age of parents down to 25. Despite this welcome change in policy, there was a delay of five months on account of the fact that the adoption agency dragged its feet in completing the formalities.
Last Friday, though, when Avnish was handed over to Aditya, finally, his joy knew no bounds. Speaking to TOI, Aditya said,
"We have named him Avnish Tiwari. He will now stay with me in my Pune home."
Aditya's case was furthered by the intervention provided by Union Women and Child Development minister, Maneka Gandhi, who had visited Matrchhaya, the place where Avnish stayed before adoption. The minister, apparently, had instructed the authorities to hand over the child to Aditya in a week, following the completion of all formalities. Despite the minister's nudge, it took five more months for Aditya to gain custody of Avnish.
---
Suggested read: GOI clears 'Stand Up India' scheme to fund women entrepreneurs at lower rates
---
Speaking about the delay in due process, Aditya said,
"Even after constant support and guidance from central and state WCD and Central Adoption Resource Authority (CARA) and State Adoption Resource Authority (SARA) officials, the adoption agency did not proactively support my case. This will deter single parents like me from adoptin children who need a home, unless the adoption agencies facilitate hassle-free adoptions."
This news is certainly heartening since the society doesn't frown anymore upon such brave individuals who want to become parents to such orphans, even kids with special needs. We, the people, as well the society, has come a long way since single parents were treated differently, just because they weren't part of a unit.
Although there are many single women who have adopted kids and have succeeded in giving them a stable home and life, not many cases of single fathers have been seen. This is certainly a step in the right direction to show that a single father is as much capable as a single mother, if not more, of taking care of a child. The rigid gender roles that our society has been clinging to, seem to be loosening the tight bounds as time passes.
The only thing that would be more heartening than turning the stereotypical gender roles on their head, is the fact that more and more such brave individuals take on the responsibility of a kid through adoption. Let's all hope that that day comes sooner rather than later. Happy fatherhood, Aditya!
Featured image source: indianexpress
Summary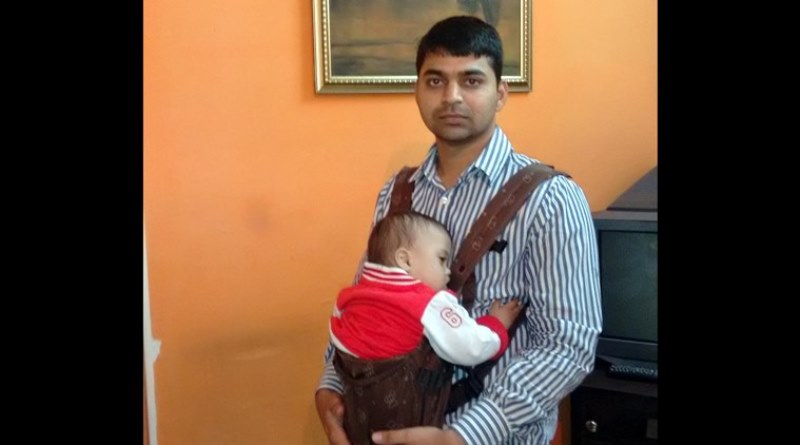 Article Name
Aditya Tiwari, 28, Becomes Youngest Single Parent To Adopt A Child
Author
Description
Aditya Tiwari became the youngest single parent to adopt a child with special needs when one-and-a-half-year-old Binney was handed over to him.