A kiss is the shortest distance between two people. Has there ever been a better way to cement your connection with someone? We don't think so! Kissing is one of the most intimate gestures you can have with your partner, and the perfect way to tell them how deeply you care for them.
Here are 35 romantic quotes about kissing that will melt your heart.
1. "One day you will kiss a man you can't breathe without, and find that breath is of little consequence." ― Karen Marie Moning
There's nothing quite so beautiful as finding your soul mate.
---
Suggested read: 16 foolproof kissing techniques for an earth-shattering kiss
---
2. "The sunlight claps the earth, and the moonbeams kiss the sea: what are all these kissings worth, if thou kiss not me?" ― Percy Bysshe Shelley
It's not a surprise that one of our greatest poets wrote the most romantic lines about kissing.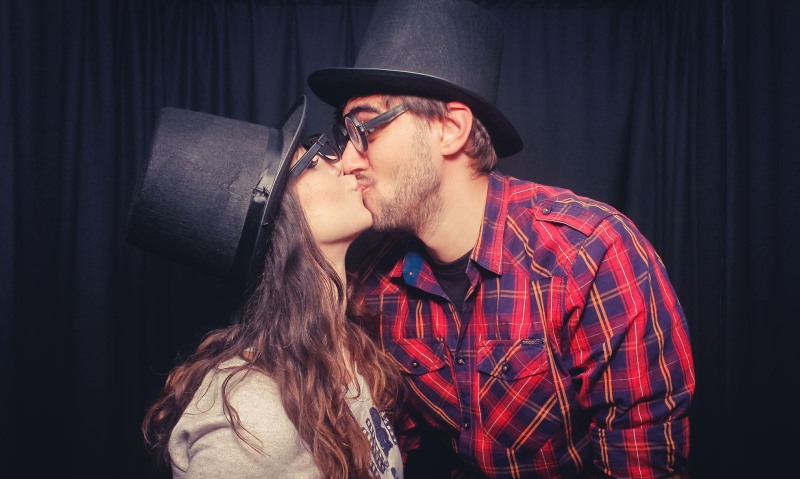 Image source: Pixabay, under Creative Commons License
3. "A kiss is a secret told to the mouth instead of the ear; kisses are the messengers of love and tenderness." —Ingrid Bergman
A gentle kiss is a great way to express how much you love someone.
4. "It's the kind of kiss that inspires stars to climb into the sky and light up the world." ― Tahereh Mafi
We've all experienced such a kiss, haven't we? We're so happy that it's as if the world itself is glowing.
5. "When I turn around, he cups my face in his hands and he kisses me so deeply that I don't know who is breathing for who, but his mouth and tongue taste like warm honey. I don't know how long it lasts, but when I let go of him, I miss it already." ― Melina Marchetta
This is one of those quotes about kissing that builds a vivid image in your mind. And oh, how lovely that image is.
6. "Our only kiss was like an accident – a beautiful gasoline rainbow."  ― Alice Sebold
Maybe it only happened once — but you'll never forget it.
7. "How did it happen that their lips came together? How does it happen that birds sing, that snow melts, that the rose unfolds, that the dawn whitens behind the stark shapes of trees on the quivering summit of the hill? A kiss, and all was said." —Victor Hugo
Sometimes there's really no need for words. The beauty of nature and a kiss is enough.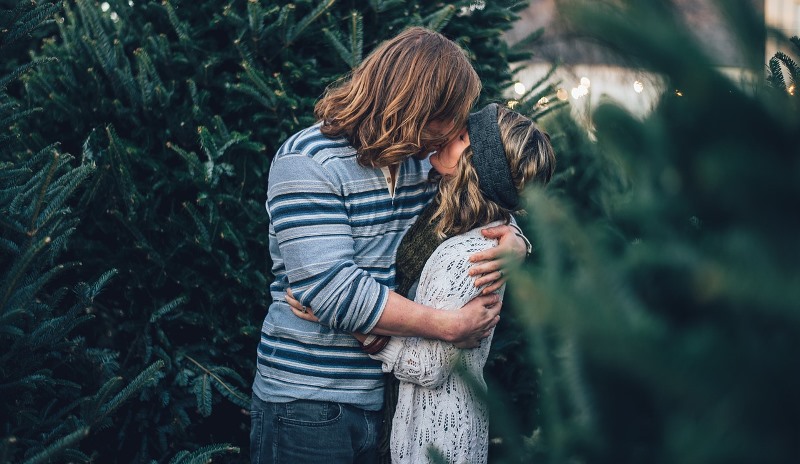 Image source: Pixabay, under Creative Commons License
8. "He's dozed off again, but I kiss him awake, which seems to startle him. Then he smiles as if he'd be happy to lie there gazing at me forever." ― Suzanne Collins
This is reminiscent of the lazy mornings you spend with your partner, content in each other's company.
9. "If we're going to kiss, it has to be book-worthy." ― Colleen Hoover
It has to be a wonderful, heart-stopping kiss, no?
10. "Those mornings when we kiss and surrender for an hour before we say a single word."  ― David Levithan
Oh my God, that sounds like a perfect way to start the day
11. "They were kissing. Put like that, and you could be forgiven for presuming that this was a normal kiss, all lips and skin and possibly even a little tongue. You'd miss how he smiled, how his eyes glowed. And then, after the kiss was done, how he stood, like a man who had just discovered the art of standing and had figured out how to do it better than anyone else who would ever come along."  ― Neil Gaiman
Some kisses change your life.
Image source: Google, copyright-free image under Creative Commons License
12. "Such a little thing really, a kiss… most people don't give it a moment's consideration. They kiss on meeting, they kiss on parting, that simple touching of flesh is taken entirely for granted as a basic human right." ― Sarah Kay
We take kissing for granted, but it's one of the most sublime experiences we can ever have.
12. "It was the best first kiss in the history of first kisses. It was as sweet as sugar. And it was warm, as warm as pie. The whole world opened up and I fell inside. I don't know where I was, but I didn't care. I didn't care because the only person who mattered was there with me." ― Sarah Addison Allen
First kisses will always be special.
13. "The decision to kiss for the first time is the most crucial in any love story. It changes the relationship of two people much more strongly than even the final surrender; because this kiss already has within it that surrender." ― Emil Ludwig
A kiss is the beginning of something new and beautiful!
14. "I will bathe in your warmth, ma petite. Roll you around me until my heart beats only for you. My breath will grow warm from your kiss." ― Laurell K. Hamilton
This made us swoon.
Image source: Shutterstock
15. "Then he kissed her. At his lips' touch she blossomed for him like a flower and the incarnation was complete." ― F. Scott Fitzgerald
When it's a kiss you've been anticipating, you melt for your partner.
16. "I'm going to kiss you now, and I don't know if I'll ever stop." ― Jamie McGuire
We don't want you to stop! Kisses are the best.
17. "The kiss itself is immortal. It travels from lip to lip, century to century, from age to age. Men and women garner these kisses, offer them to others and then die in turn." ― Guy de Maupassant
The kiss, as an expression of love, has existed for eons.
---
Suggested read: 16 secrets to having the most memorable first kiss
---
18. "We kissed for about
the thousandth time,
No promises,
no demands,
Just solid rebuilding
of shattered trust."
― Ellen Hopkins
A kiss is not always about what comes later. Sometimes it's about being in the moment.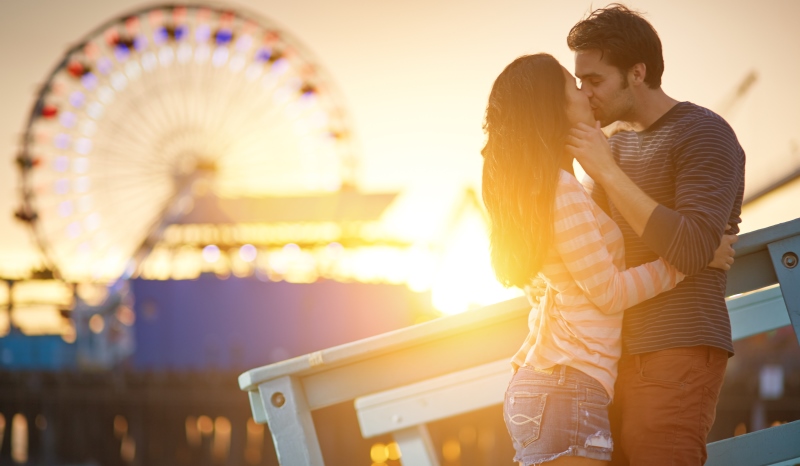 Image source: Shutterstock
19. "And yes, when he kisses you, the rest of the world disappears and your brain shuts off and all you can feel are his lips and nothing else matters." ― Jess Rothenberg
It really doesn't. Not for those few minutes, anyway.
20. "Kissing—and I mean like, yummy, smacking kissing – is the most delicious, most beautiful and passionate thing that two people can do, bar none. Better than sex, hands down." —Drew Barrymore
It's so much more intimate sometimes! And really, really fun.
21. "And when it comes, her kiss is like something not so much felt as found."  ― Libba Bray
And in the midst of it — you find yourself too.
22. "How she felt when he kissed her – like a tub of roses swimming in honey, cologne, nutmeg and blackberries." ― Samuel Sullivan Cox
This is such lovely imagery. A kiss is sugar and spice and everything nice.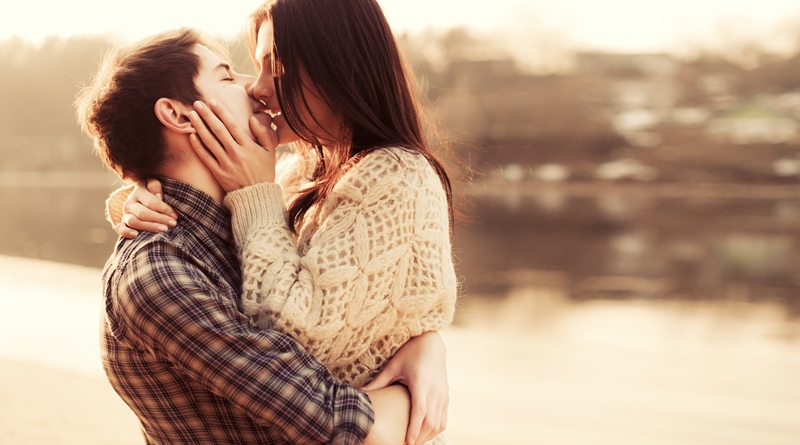 Image source: Shutterstock
23. "A kiss, when all is told, what is it? An oath taken a little closer, a promise more exact. A wish that longs to be confirmed, a rosy circle drawn around the verb 'to love'. A kiss is a secret which takes the lips for the ear, a moment of infinity humming like a bee, a communion tasting of flowers, a way of breathing in a little of the heart and tasting a little of the soul with the edge of the lips!" ― Edmond Rostand
Perfectly put. A good kiss is glorious.
24. "All you have to go on is the faith of a kiss." ― Whitney Otto
And sometimes — that's enough. All else is superfluous.
25. "His kisses tapped into deep mines of memory, and the years that had separated us fell away as if they were nothing."― Lisa Kleypas
You never really forget kissing someone. It's muscle memory.
26. "You and I, it's as though we have been taught to kiss in heaven and sent down to earth together, to see if we know what we were taught." ― Boris Pasternak
Sometimes you fit so well with your partner that it seems your bond is otherworldly.
Image source: Google, copyright-free image under Creative Commons License
27. "I've been kissed by men who did a very good job. But they don't give kissing their whole attention. They can't. No matter how hard they try parts of their minds are on something else. Missing the last bus—or their chances of making the gal—or their own techniques in kissing—or maybe worry about jobs, or money, or will husband or papa or the neighbors catch on. Mike doesn't have technique . . . but when Mike kisses you he isn't doing anything else. You're his whole universe . . . and the moment is eternal because he doesn't have any plans and isn't going anywhere. Just kissing you." ― Robert A. Heinlein
Mike sounds like a keeper. The best kisses are ones to which you give your full attention.
28. "Kiss someone like kissing is the only way you have to communicate. There is no conversation. There is no sex. There are only two sets of lips that are ravenous to be recognized and treasured." ― Roberto Hogue
Kiss as if there was nothing before this, and there's nothing beyond this. Only right now exists.
29. "I cupped her chin and tilted it back, deepening the kiss, wanting to somehow claim her very soul. Funny thing was, it was my soul that was being claimed, my breath that was being stolen, and my heart that was pounding crazy fast in my chest." ― Jennifer L. Armentrout
Sometimes a kiss steals your heart.
Image source: Google, copyright-free image under Creative Commons License
30. "lean in to kiss me
in all the places
where the ache
is
the most special."
― Sanober Khan
A kiss from the right person makes everything better.
31. "At the first kiss I felt something melt inside me that hurt in an exquisite way. All my longings, all my dreams and sweet anguish, All the secrets that slept deep within me came awake, Everything was transformed and enchanted, everything made sense." ― Hermann Hesse
Another of those kissing quotes that describes the shy, nervous beauty of the first kiss.
32. "He pulled her close kissing her mouth taking her by surprise. He stepped back passion smoldering in his eyes. She looked at him touching her mouth where his kiss still burned." ― Amanda Stephan
Some people's kisses leave a mark on you; you can't let go easily.
33. "Every day for a week, sitting in my idling car, saying goodbye without saying anything at all—the touch of his hand, his forehead pressed to mine, the way he brushed my hair out of my face, tucking it behind my ear. And still, he hadn't kissed me. Not once. Nothing but that brief brush of his lips. I was beginning to go a little crazy." ― Emme Rollins
Even the waiting and the anticipation are exquisite. It makes you mad, yes, but it is achingly sweet.
Image source: Google, copyright-free image under Creative Commons License
34. "'I'm falling in love with you.' As the words left his mouth, his lips pressed to mine, giving me the most intense and explosive kiss I had ever had. With the coldness of his lips and the warmth of his tongue beneath mine, I saw fireworks and felt them through every part of my body." ― Magan Vernon
A declaration of love can only add to a kiss.
---
Suggested read: 10 effective tips on how to get your boyfriend to kiss you
---
35. "Make me immortal with a kiss." —Christopher Marlowe
What a perfect way to end. A kiss lasts forever, at least in our minds.
If these quotes about kissing didn't make you swoon, or seek out your partner to indulge in one with them, then we don't know what will. Kissing remains a simple yet universal way of couples to maintain an intimate link.
Which of these quotes made you want to grab your partner and kiss them senseless? Share your kissy thoughts with us in the comments below!
Featured image source: Google, copyright-free image under Creative Commons License
Summary
Article Name
35 Of The Most Romantic Quotes About Kissing
Author
Description
'A kiss is a lovely trick designed by nature to stop speech when words become superfluous,' said Ingrid Bergman. Here are some other quotes about kissing.