Love them or hate them, online dating and the ubiquitous dating apps are here to stay. Whether you think dating apps are just a way to pass the time and look at a few semi-decent profiles for the express intent of finding the ever-elusive 'one,' or you're just addicted to the swiping game of making snap judgments based on a glamorous profile picture and a few hastily typed in words about themselves, online dating has become a way of life for many in their 20s and 30s.
With 65% of Indian population made up of people who are 35 or younger, it's a vast market for dating apps/services. And the current crop of startups is virtually leaving no stone unturned in their quest to come out on top.
---
Suggested read: Top 10 dating apps of 2015 that took the world by storm
---
But this misleading sea of Indian online dating is a vast one, with plenty of players on the field. How to make that all-important decision of signing up for a dating app/service so that you may strike off online dating as a way of finding 'the one'? Worry not, for we have all the things you need to make an informed choice of picking the right dating app/service in your quest for finding your true partner for life.
Let's take a look at India's best dating apps to help you find love in 2016.
1. Woo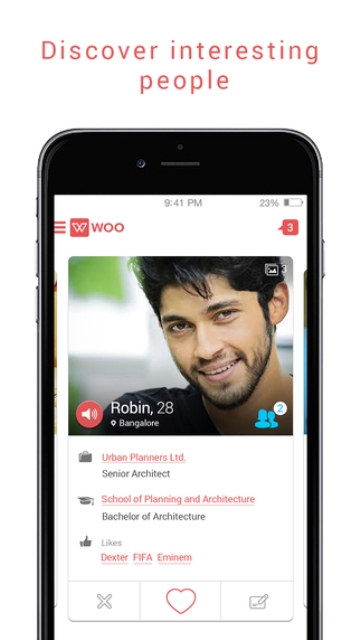 Image source: iTunes App Store
Woo is marketed as the dating app for the educated, young, single professionals between 25 and 35. With the word 'dating' still being seen as too casual, Woo calls itself 'a matchmaking app that helps you meet people who are similar to you in terms of lifestyle and interests, and are looking for meaningful relationships,' the stress being on meaningful relationships.
Similar to any other dating app, Woo asks a user to sign up by connecting their Facebook account, from which the app populates their Woo profile.
If a user likes someone, they can 'like' them using the heart icon and start messaging them if there's a mutual like.
The USP of Woo is that it allows a user to select a particular interest tag, and the search functionality lists all those users who have listed that same interest.
Another nifty feature of Woo is that a user can record and share a 7-second voice message on their profile. This is optional, of course. But this is a powerful motivator for those who want to connect with someone beyond the profile picture.
Woo, since its launch, has been marketed as a safe option for women, and it hasn't diluted this security concern with its rising popularity. The app displays only initials and not the full names for women. Kudos for this one!
To kickstart conversations between matched users, the app prompts a user to ask questions from its list of templates, or to type in their own question. The problem with this is the app pushes a user to really interact with the other user. And besides, it also asks you to invite friends to the app, which can get annoying really fast.
Woo is free only for the first 30 days, post which a user has to buy a pass. Monthly – INR 250/-; quarterly – INR 550/-; annual – INR 1500/-.
The app's interface is not user-friendly because it takes forever to go back to the previous screen from wherever you are in the app.
2. TrulyMadly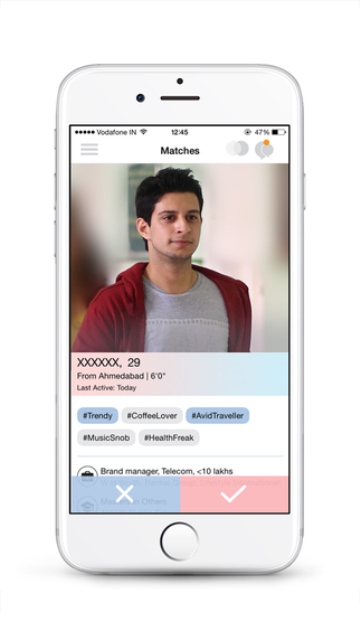 Image source: iTunes App Store
Positioned as the matchmaker of the modern times, TrulyMadly hopes that a user has fun while chatting and interacting with others on the app. Bringing in the concept to UnSingle together, the app invites users to 'meet, chat, date and UnSingle with interesting people on TrulyMadly.'
Stressing on verification to eliminate fake profiles, TrulyMadly asks its users to raise their 'Trust Score' by verifying their Facebook and LinkedIn profiles, their phone number and a photo id.
Each of these verification stages carry a percentage score, which when reaches 30 percent, is when a user is allowed to start interacting with other users on the app.
The app asks a user to fill in their profiles from a series of hashtags like #MovieBuff, #Foodie, #Bookworm, or even add their own hashtags.
A user can set their preferences based on age, city, state, height, and the matches shown are pretty accurate.
A user can either 'tick' or 'cross' in lieu of swiping right or left. TrulyMadly also allows a user to 'Unmatch' with another user, if they're being harassed or simply not interested in continuing to chat.
TrulyMadly's USP has got to be its thorough verification process along with its profile visibility feature, which a user can opt to keep on or off, to choose who they want to interact with.
The biggest turn off of the app is the trust score, which decides whether you get to interact with others on the app or not. If a user's trust score isn't 30 percent, they are just there. Nothing for them to do!
---
Suggested read: 11 types of guys you tend to meet on dating apps
---
3. Aisle.co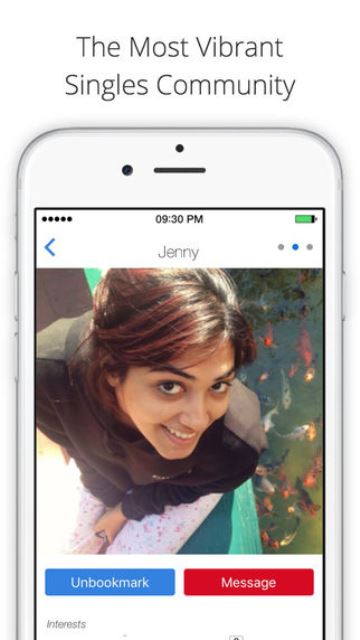 Image source: iTunes App Store
At first glance, Aisle.co comes across as a snobbish version of Tinder, because they stress the fact that 'Aisle is not for everybody. We are a closed community of handpicked, urban, like-minded Indians from around the world looking to have meaningful and long lasting relationships.' And they go on to reiterate the fact that Aisle is not for everybody, because a user has to shell out INR 2000/- for 3 connection requests.
Aisle is another app that boasts of stringent measures for the verification of profiles, especially for male users.
Profile creation and populating it with a user's interests and expectations are easy enough. But a user needs to shell out INR 2000/- for sending out three connection requests. This amount gets deducted only when the user on the other end of a connection request accepts it.
Aisle's USP is no doubt its stringent verification process and the need to pay up if you have to send out connection requests to someone you like. The former gives the latter justification, in a way.
The payment request of two grand surely makes the case for only serious individuals who are looking for 'meaningful and long lasting relationships.'
Although Aisle boasts of an 'aesthetically designed user interface,' there are some technical glitches that still persist.
With a round of funding under their belt, there is definite scope for introduction of new features.
4. Tinder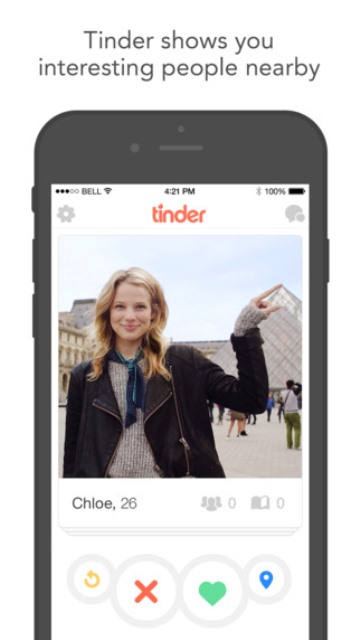 Image source: iTunes App Store
You can take online dating out of Tinder, but you can't take out Tinder out of online dating! Since its launch some three-plus years ago, Tinder and online dating have become synonymous. It's like Tinder has become the template with which dating apps either add or tweak new features. It's one of the first location-based dating apps to be launched.
Tinder asks a user to sign up using their Facebook account, from which it populates their Tinder profile. Then it's just a matter of swiping right to like someone and left to reject someone. The good thing is that this swiping process is anonymous.
An additional feature is the option of 'superlike,' which is a way of showing that one user is really interested in the other user.
A nifty feature of Tinder is to turn off the discovery option so that a user can continue to chat with their matches and get to know them better.
A user can set preferences of age, sex, and distance, so that only those profiles that match these criteria are shown.
If a user is being harassed or annoyed by someone they matched with, they can 'Unmatch' with them and discontinue chatting with them.
TinderPlus is the premium service which has some really cool features up its sleeve with monthly and yearly subscriptions available at different prices for people above and below the age of 30. A user can manually set their location instead of the app picking up your location automatically.
TinderPlus offers 'Rewind,' which basically undos a left swipe. Its 'Passport' feature is to help frequent travelers to connect on-the-go.
Although Tinder has nifty features, its reputation as a hookup app works against it. And since its verification is just having a Facebook account, anybody and everybody can have a Tinder profile, which is really a big turn off, especially for women.
5. OkCupid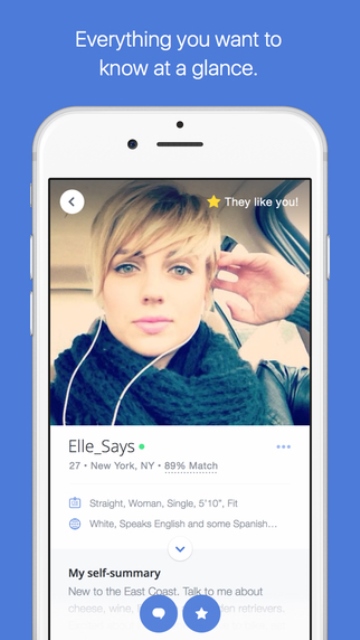 Image source: iTunes App Store
OkCupid seems like it's been there since the dawn on online dating. OkCupid caters to a much larger customer base, since it doesn't have any restrictions on age, gender, or sexual orientation. It boasts of being 'the only dating app that finds you matches based on what you really care about… and it's 100% free.'
OkCupid has a seemingly never-ending list of questions that it asks a user to fill in, based on which it coughs up matches. Although these questions are optional, the more a user answers, the better their matches are going to be, is the implied message from the app.
A user's hobbies and interests play a major role in them getting appropriate matches from the algorithm. The app also asks questions pertaining to the user's personal preferences like smoking and drinking habits, body type, relationship type, religion, and so on.
A nifty feature of the app is the match percentage with the profiles that are listed based on interests and distance.
OkCupid is not just for dating, however. It can also be used to find new friends.
It's USP is its most elaborate search filter. A user can narrow down their search for a potential mate/friend with criteria like drinking habits, income, job, ethnicity, and even diet!
It's most off-putting feature is its seemingly endless questionnaire that a user must fill. It's kind of addicting to see what questions pop up next on the screen.
OkCupid's paid version is called 'A-list,' where a user can view all those who visited their profile and also see who liked them. Apart from its basic search option, A-list offers more filters based on body type and attractiveness. A user can even go incognito to browse through profiles that catch their eye.
---
Suggested read: 14 uber-cool dating apps we wish existed
---
6. Coffee Meets Bagel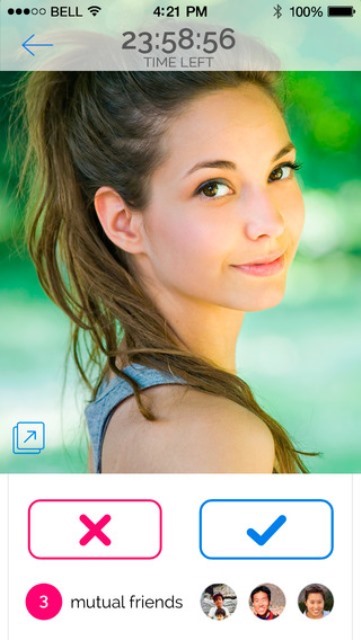 Image source: iTunes App Store
Coffee Meets Bagel was created by three sisters – Arum, Dawoon, and Soo, who wanted to create something that people looked forward to. Coffee Meets Bagel is targeted at busy young professionals, who are looking for real relationships.
Creating a profile on Coffee Meets Bagel is pretty straightforward by connecting with Facebook.
A user then needs to fill up their profile with stuff like, 'I am,' 'I like,' and 'I look,' which can be answered with a word, a sentence, or even a long-winded paragraph.
The USP of the app is its one 'bagel' a day which is given at noon every day. And this precious bagel will stay on a user's profile for the next 24 hours only, during which time the user has to decide to either 'like' or 'pass' on it.
The one a day bagel, aka matched profile, is sourced from a user's friends of friends' network on Facebook, and is surely a far better way of going about dating than to swipe through hundreds of profiles in a day.
However, this one a day bagel is also its negative, since it's a waste of time if a user doesn't 'like' their bagel of the day. That's a day wasted.
Another feature of the app that forces users to go offline is the chat line with a matched bagel. This chat line is open for just seven days from the day of 'liking' each other.
The app's focus of 'quality over quantity' is a refreshing take on online dating and swiping mindlessly at hundreds of profiles every day.
Although Coffee Meets Bagel is new to the Indian market, it's making its mark by getting young Indians hooked on to the idea of quality over quantity and stress on offline interactions.
This is our list of India's best dating apps you can use to find 'the one' in 2016. While some have great features, others are still struggling to get them right. While some have acquired funding from investors, others are surviving on their own, which is hard in the competitive world of online dating.
Have we missed any other Indian dating app from this list? Tell us in the comments below.
Summary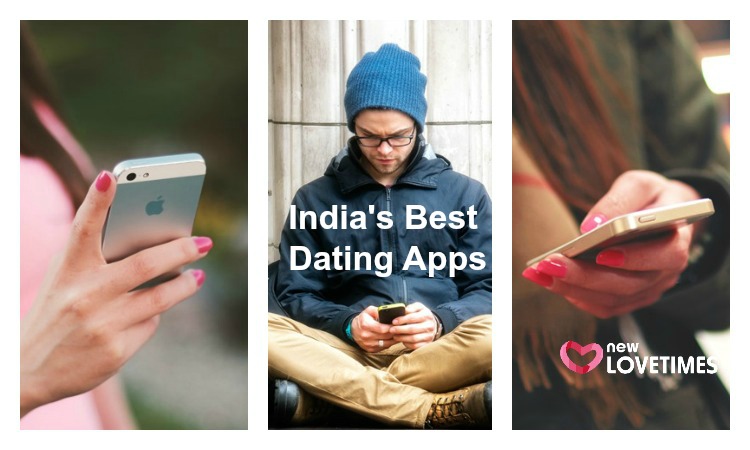 Article Name
India's Best Dating Apps To Help You Find Love In 2016
Author
Description
With our list of India's best dating apps, you can take your pick to find 'the one' in 2016.