"there is a loneliness in this world so great
that you can see it in the slow movement of
the hands of a clock.

people so tired
mutilated
either by love or no love.

people just are not good to each other
one on one.

the rich are not good to the rich
the poor are not good to the poor.

we are afraid.

our educational system tells us
that we can all be
big-ass winners.

it hasn't told us
about the gutters
or the suicides.

or the terror of one person
aching in one place
alone

untouched
unspoken to

watering a plant."
I read, Love Is A Dog From Hell, this weekend. For those of you who don't know me, Charles Bukowski is my God! And for those of you who don't know Bukowski, well, I won't kill you, but yes, I'm so judging you right now.
Okay, so let's start with a little introduction about the man who I love like you love a man you never touch, only write to and keep little photographs of… If you got the ref, then you are my best reader!
Henry Charles Bukowski was a German-American poet, novelist, short story writer and columnist. Almost everything he wrote was motivated by the situation (social cultural and economic) in Los Angeles, his home city. Have a look at this for instance,
"alone with everybody
the flesh covers the bone
and they put a mind
in there and
sometimes a soul,
and the women break
vases against the walls
and them men drink too
much
and nobody finds the
one
but they keep
looking
crawling in and out
of beds.
flesh covers
the bone and the
flesh searches
for more than
flesh.
there's no chance
at all:
we are all trapped
by a singular
fate.
nobody ever finds
the one.
the city dumps fill
the junkyards fill
the madhouses fill
the hospitals fill
the graveyards fill
nothing else
fills."
Though Charles Bukowski left school and moved to New York City to be a writer, he was not a publishing success. As a result, he abandoned writing in 1946, and started a 10-year long stretch of alcohol abuse. Quite obviously the man developed a bleeding ulcer, and thank god for that (how horrible am I?!), he returned to writing.
Bukowski had to work different jobs to support his passion for the written word. He worked as a dishwasher, truck driver and loader, mail carrier, guard, gas station attendant, stock boy, warehouse worker, shipping clerk, post office clerk, parking lot attendant Red Cross orderly, and elevator operator. He worked at a dog biscuit factory, slaughterhouse, cookie factory and hung posters in the subways of New York City.
His writings talk about the ordinary lives of poor Americans. He also wrote extensively about writing itself, about alcohol and relationships with women (Love Is A Dog From Hell is a perfect example), and the grind of work.  He published over 60 books, wrote thousands of poems and hundreds of short stories. The FBI kept tab on him because of Notes Of a Dirty Old Man, his column in Open City, an LA antiestablishment newspaper.
Bukowski was published in small literary magazines from the 1940s till the early 1990s. According to a reviewer,
"Bukowski continued to be, thanks to his antics and deliberate clownish performances, the king of the underground and the epitome of the littles in the ensuing decades, stressing his loyalty to those small press editors who had first championed his work and consolidating his presence in new ventures such as the New York Quarterly, Chiron Review, or Slipstream."
In 1986, Bukowski was called a "laureate of American lowlife" by Time. Adam Kirsch of The New Yorker, speaking of Bukowski's popular appeal that lasted almost a lifetime, said,
"the secret of Bukowski's appeal. . . [is that] he combines the confessional poet's promise of intimacy with the larger-than-life aplomb of a pulp-fiction hero."
Bukowski died on March 9th,1994, and till today, his life and work have not lost their charm.
In today's post, I will share with you my favorite quotes from Love Is A Dog From Hell. Hope you will enjoy reading them as much as I did compiling the list.
---
Suggested read: 23 Gorgeous Literary Tattoos Every Book Nerd Will Love
---
1. The illusion of safety
"there is always one woman to save you from another and as that woman saves you she makes ready to destroy" 

2. Women with asses that forget to get old
"you boys can keep your virgins
give me hot old women in high heels
with asses that forgot to get old."

3. Ashamed of possible love
"I drive around the streets
an inch away from weeping,
ashamed of my sentimentality and
possible love."

4. You are doomed
"I'm going, she said. I love you but you're
crazy, you're doomed."
5. Could have I saved her?

"she is no longer
the beautiful woman
she was. she sends
photos of herself
sitting upon a rock
by the ocean
alone and damned.
I could have had
her once. I wonder
if she thinks I
could have
saved her?"

6. Some of us die better
"in this land some of us f*ck more than
we die but most of us die
better than we f*ck"
7. All lovers betray
"your letters got sadder. your lovers betrayed you. kid, I wrote back, all lovers betray. it didn't help. you said you had a crying bench and it was by a bridge and the bridge was over the river and you sat on the crying bench every night and wept for the lovers who had hurt and forgotten you." 
---
Suggested read: Turtles All The Way Down by John Green Is The Best Way To Break Your Heart
---
8. We don't get along on this bed anymore

"and you invented me
and I invented you
and that's why we don't
get along
on this bed
any longer.
you were the world's
greatest invention
until you
flushed me
away.

now it's your turn
to wait for the touch
of the handle.
somebody will do it
to you,
bitch,
and if they don't
you will –
mixed with your own
green or yellow or white
or blue
or lavender
goodbye."
9. Listening to you I wasn't sure
"we know God is dead, they've told us, but listening to you I wasn't sure." 

10. Manuel never again smoked long slim cigars

"one day Manuel returned to the place, and
she was gone –
no argument, no note, just
gone, all her clothes
all her stuff, and
Manuel sat by the window and looked out
and didn't make his job
the next day or the
next day or
the day after, he
didn't phone in, he
lost his job, got a
ticket for parking, smoked
four hundred and sixty cigarettes, got
picked up for common drunk, bailed
out, went
to court and pleaded
guilty.

when the rent was up he
moved from Beacon street, he
left the cat and went to live with
his brother and
they'd get drunk
every night
and talk about how
terrible
life was.

Manuel never again smoked
long slim cigars
because Shirley always said
how
handsome he looked
when he did."
I will leave you with a poem Bukowski wrote for his ex-wife. This is one of my favorite poems from the book.
"I know a woman
who keeps buying puzzles
chinese
puzzles
blocks
wires
pieces that finally fit
into some order.
she works it out
mathematically
she solves all her
puzzles
lives down by the sea
puts sugar out for the ants
and believes
ultimately
in a better world.
her hair is white
she seldom combs it
her teeth are snaggled
and she wears loose shapeless
coveralls over a body most
women would wish they had.
for many years she irritated me
with what I considered her
eccentricities-
like soaking eggshells in water
(to feed the plants so that
they'd get calcium).
but finally when I think of her
life
and compare it to other lives
more dazzling, original
and beautiful
I realize that she has hurt fewer
people than anybody I know
(and by hurt I simply mean hurt).
she has had some terrible times,
times when maybe I should have
helped her more
for she is the mother of my only
child
and we were once great lovers,
but she has come through
like I said
she has hurt fewer people than
anybody I know,
and if you look at it like that,
well,
she has created a better world.
she has won.
Frances, this poem is for
you."

---
Suggested read: 10 Hauntingly Beautiful Poems For Strong Women
---
That is all we have on today's post. Did you like what you just read? Let us know in the comment section below.
Keep your eyes on this space if you love books and tales they carry in them. If you want to contribute an article, then please feel free to do so.
See you again next time.
Featured image source: Instagram
Summary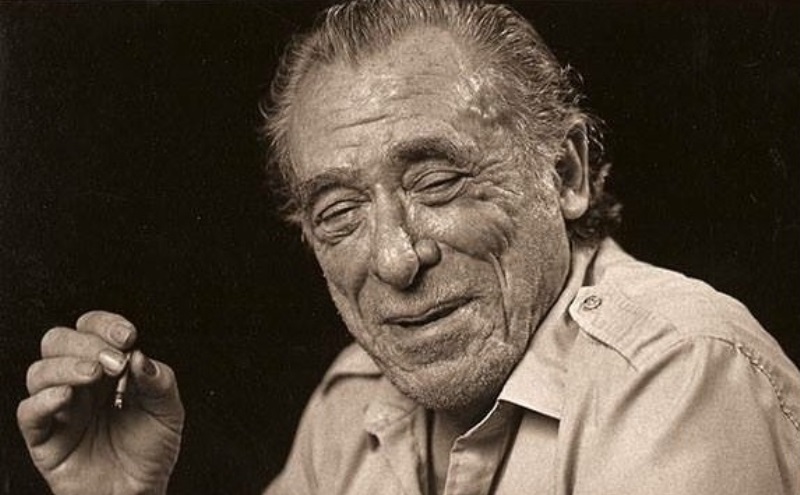 Article Name
Today's Book on #50BooksInAYear: Love Is A Dog From Hell By Charles Bukowski
Author
Description
In today's post, I'll share with you my favorite quotes from Love Is A Dog From Hell. Hope you will enjoy reading them as much as I did compiling the list.