During pregnancy, your body is continually changing, which means that your usual style might not work for you anymore. Many women take this time to experiment with their style; they try to venture a little out of their comfort zone to make the most of the pregnancy glow.
When looking for maternity fashion inspiration, we often turn to celebrities and their effortlessly flawless look as they rock their baby bump with all of the confidence in the world. Even mommy blogs can inspire you to pick ut something bold to wear when you are ready to buy your maternity wear!
---
Suggested read: How A Photographer United A Couple, Separated By Deployment, For A Maternity Shoot
---
When should you start looking for maternity wear?
While the answer may be obvious to some, others may still be wondering when they should look into maternity fashion 2018. The answer to this question is different for everyone as no two bodies or pregnancies are the same. You can start wearing your maternity clothes as early or as late into your pregnancy as you want, but the general tips for when you should start looking into renewing your wardrobe are:
When you only feel comfortable wearing clothes that are mostly made out of spandex
When your regular clothes are not enough to cover your bump
When your clothes feel tight around the edges
You feel like you are bloated all day and your clothes feel uncomfortable
When you see these tell-tale signs, you can start looking into maternity wear and start dressing up your bump!
What types of maternity clothes are out there?
Maternity fashion may not be something you are very familiar with even if you are quite fashion forward in general. Sometimes, it can be something that many people dread since they feel like its a time when they have to reinvent their style completely or make compromises because they think that there aren't many options out there.
However, maternity fashion has evolved quite a lot over the years, and hence, you can introduce maternity wear into your daily wear closet almost seamlessly. Not sure what to buy? Why not take a look at some of the maternity fashion 2018 that is out there?
Maternity tops that you will be comfortable in!
When shopping for maternity clothes, the first thing that most women look for is the comfort. Nothing fits the comfy yet stylish category than some soft tops that allow you to be able to move freely. When you are just running some errands, but still want to look great, tops are usually your safest bet. When picking out something for a casual outfit you can go for slogan tees, or you can even opt for a solid tee, whichever seems to be more in tune with your style
If you want to dress it up, however, but still do not want to say goodbye to the comfort of tops, you can opt for patterned blouses. A popular choice seems to be floral patterned blouses that work wonders for a smart look, but are not too uncomfortable to wear during extended periods outside your home!
Maternity pants and jeans: leggings aren't your only friend!
Leggings are something that all expectant mothers lean towards when they are dressing for comfort. However, jeans are essential in anyone's wardrobe and thanks to maternity jeans you will not have to say goodbye to them once your bump starts showing and you start to embrace maternity fashion 2018.
If denim is not more towards your usual style, then don't worry! You will be able to find some sleek maternity pants and even some stylish leggings that will offer you both comfort and a chic outfit to put together on a special night out.
Maternity Dresses: look your best at social events
Jeans and tops may be stylish and comfortable, but they aren't fit for social events. You may get used to declining invitations after a while since you are not really sure what you can wear to those events. But you cannot really decline to go to your own baby shower, can you?
While you can wear a cute top and flattering pants to any event, having a dress that you can wear is very uplifting, and in fact, they can be quite comfortable, and easy to handle.
Lace dresses, floral prints, and even sundresses, almost all types of dresses are designed for maternity wear. In fact, even a form-fitting maxi dress is something that you cannot go wrong with!
---
Suggested read: Sport That Bump In Style: Stylish Maternity Looks For The Must-Look-WOW Mommies-to-be
---
Swimwear: for when you go to the beach!
Whether you opt for a swimsuit or even a bikini, the key to wearing swimwear during your pregnancy is to be confident. There are many stores where you will be able to look for swimwear which will be flattering for you.
Tips to keep in mind when buying maternity clothes!
Comfort may be your top priority when it comes to maternity clothes, but there is a lot more to it. Buying maternity clothes can be a daunting task, and that is why we have curated a list of suggestions that you can look through, and some tips to consider when you are making new additions to the closet!
Be smart about your purchase decisions
Buying maternity clothes can be a lot like buying clothes that are very on trend at the moment, after a while, you will not even want to look at them.
Have you ever bought something because you were caught up in the latest trends but never looked at since? Well, maternity fashion can be a lot like that. In fact, most of what you buy may not be something that you like or be too flattering on your post pregnancy. Hence, when purchasing your clothes make sure you do not splurge too much, and try to look for the best deals which are out there. There is no better time to be thrifty!
Look for what you already have!
When buying maternity clothes, look through your closet and see what you already own which much be comfortable for you to wear. Most women do not even need to buy maternity clothes unless strictly necessary, and that too only during the last few months when their bump gets a little too big to handle. In general, if you are a fan of loose cotton tees or some comfy jumpers, you will be able to use them in rotation for most of your pregnancy. Don't feel the need to replace all of the clothes in your closet unless you absolutely have to.
Make sure it stretches
When buying maternity clothes, pick those which have a little (or a lot of) stretch to it. That way you will not be pushing it to the back of your closet after only wearing it for a month. Instead, you will be able to use it comfortably for an extended period of time. Additionally, if your maternity clothes offer a lot of stretch, make sure that they do not sheer out when they stretch!
Don't forget the shoes
When you are adjusting your closet to suit your pregnancy needs, don't leave your shoes out of the mic. When buying footwear, make sure to only opt for those which are comfortable. It is not fun to be earing uncomfortable and bulky shoes when you have swollen feet, and it is especially horrible when you have to adjust to the change in the center of gravity of your body. Hence, comfort should be the first and only priority for you when you are picking out shoes!
Keep the bump hidden (if you want to)!
While many expectant mothers cannot wait to flaunt their bump, some feel comfortable if they can hide it for a little longer. Wearing an open blazer or long coats is an excellent way to make sure your bump is not too apparent to many. You can even opt for some optical illusion with some vertical stripped dresses which are flowy which work wonders to hide your form!
Find out what works and stick up!
Depending on your body shape, there will be a few cuts of dresses and styles fo outfits which will be flattering on you, and be comfortable as well! Make sure you try to buy styles that are quite similar so that you do not have to spend too long getting ready each morning trying to decide which outfit looks the best.
Plan for longevity
Do not get rid of your maternity clothes the moment after you give birth. Most women find that hanging onto their maternity clothes is helpful since it can take a while for your body to get back to its older self, and when dealing with a newborn baby you want nothing than to be able to wear your comfortable and breezy clothes.
---
Suggested read: 30 Awesomely Cute Maternity Photo Shoot Ideas To Show Off That Baby Bump
---
Maternity fashion can be exciting, and does not need to be a dreadful task! With the help of these tips, you can make smart choices when you decide to go out and buy yours! If you find that clothes in the maternity section are not to your liking, you can simply bigger sized clothes and no one would know the difference!
Summary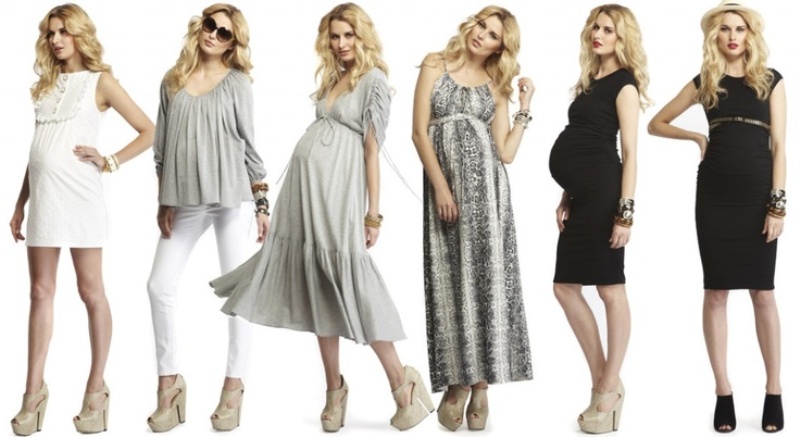 Article Name
A Guide To Maternity Fashion 2018
Author
Description
While the answer may be obvious to some, others may still be wondering when they should look into maternity fashion 2018. Let us help.