"Photography is a way of feeling, of touching, of loving." — Aaron Siskind
This is a story of how photography let a military couple, separated by deployment, unite. And what makes it even more special is that it is a real story.
Brandon Phillips and Veronica Phillips are pregnant with their first baby. However, the couple aren't together at the moment as Veronica is in Florida which is home to the couple, while Brandon, who is in the Air Force, is posted overseas at present.
---
Suggested read: 30 awesomely cute maternity photo shoot ideas to show off that baby bump
---
The fact that they are not together did not deter the couple from shooting their maternity shoot. Thinking about how this could be done, Veronica spoke with photographer Jennifer McMahon if her husband could be incorporated in one of the maternity pictures. McMahon agreed, and the shot was dumbfounding.
This photo created by Jennifer McMahon, of Jennifer Ariel Photography, is heartwarming and tells a story that will melt any heart.
As a magician should never give away his or her tricks, McMahon too will not be sharing the details of how she created this beauty of a picture. All that she told the HuffPost was,
"I had seen many photos where people were Photoshopped in, and I have Photoshopped siblings together before to look like one seamless photo. After playing around with several edits for a few days and many hours of editing, I posted the one I thought told the best story and would evoke emotion in all who saw it."
As soon as Jennifer McMahon shared the created image on her Facebook and Instagram page, it was liked by thousands of people, and loved by another thousand. Not being able to hold back her gratitude, she told the Huffington Post,
 "I am so honored that my photo could do that. I know it's not even the best photo, but it's the story that it tells that means so much to people."
What is astounding is not how flawless the conjured up image looks, but also how beautifully it evokes the feelings of the people in the photograph. It is because of this reason that the picture connects with the viewers.
Speaking of how honored she feels that the picture is touching people around the world, she says that she is pleased she got an opportunity like this to highlight how military families have to deal with separation even during such moments, which comes but once in one's life, for the sake of duty.
She told the Huffington Post,
"It is very common it seems for military husbands to miss pregnancies or births of their children. It broke my heart when Veronica told me her story. I couldn't imagine. And to think it's a regular occurrence. This is what it means to serve our country."
And did the Phillips like the image? They loved it! McMahon said,
"Brandon said he was 'happy my wife gives military women a voice through pictures.'"
This story reminded us of a similar heartwarming tale of another military couple that was connected through a maternity shoot. A Texas photographer, Traci Fugitt, of Tracy Lynn Photography, came to the rescue of Nicole Bedwell and her husband, Wesley, a soldier deployed in Japan, 7000 miles away from home. What Traci created is nothing short of magical, with a heavy dose of human magic, that is love.
Image source: Facebook/Tracy Lynn Photography 
Fugitt told the Huffington Post via email,
"We planned to bring props to give a nod to him being away."
---
Suggested read: Stylish maternity looks for the must-look-WOW mommies-to-be
---
To create the image, Nicole asked her husband to send a photo of him with outstretched arms. He clicked the photo in Japan and sent it over to Fugitt.
"I put them side by side to show the difference between the locations in different countries," Fugitt told HuffPost. The final picture showed beautifully how the couple were together even though they were separated by 7000 miles.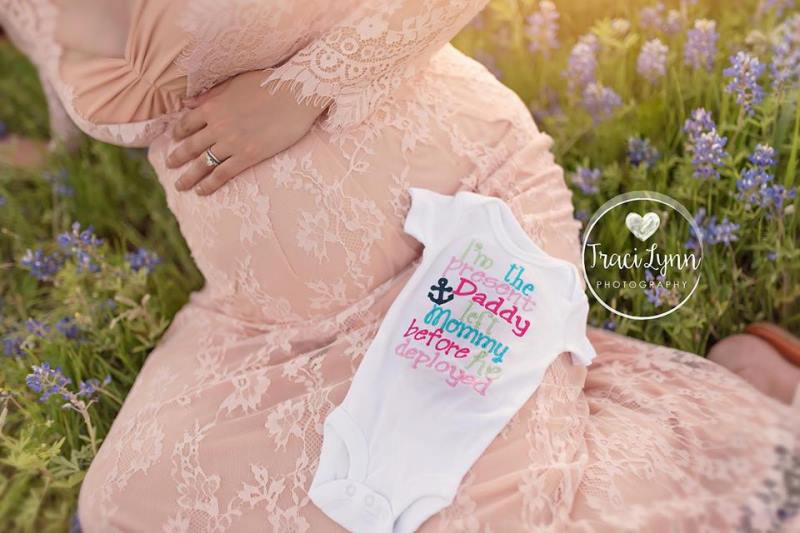 Image source: Facebook/Tracy Lynn Photography 
The pictures not only moved the family to tears, but also touched millions of people around the globe.
'In human relationships, distance is not measured in miles but in affection. Two people can be right next to each other, yet miles apart.'  After coming across these stories, the quote seems truer, doesn't it? We wish that this love overpowers all the hate that exists around the world, so that there is no war or fear of war, and these men can return home to be with their loved ones.
Featured image source: Instagram, Jennifer Ariel Photography 
Summary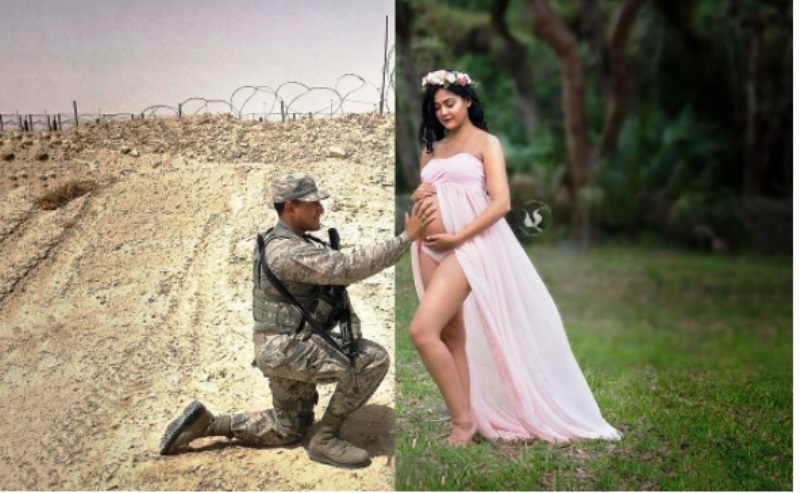 Article Name
With A Little Help From Jennifer McMahon, A Deployed Husband Co-starred In His Wife's Maternity Shoot
Author
Description
This photo created by Jennifer McMahon, of Jennifer Ariel Photography, is heartwarming and tells a story that will melt any heart. Read it now. :)