You, probably, already know that way before chemical conditioners and colorants were invented, plant products were used to soften and dye the hair. Among these natural products, henna (or mehndi) is, undoubtedly, the most popular, and rightly so. Here's why you too should choose henna for hair growth, among other benefits.
---
Suggested read: 8 easy ways to take care of thinning hair
---
You may say that our ancient equals had to go through the tedious processes of grinding and mixing since the luxury of off the rack beauty benefits in bottles and sashes weren't available to them. But what you are not realizing is that, by going through these tiresome routines, and using naturally-occurring colorants, they gifted their hair complete protection from the harshness of chemical and synthetic ingredients.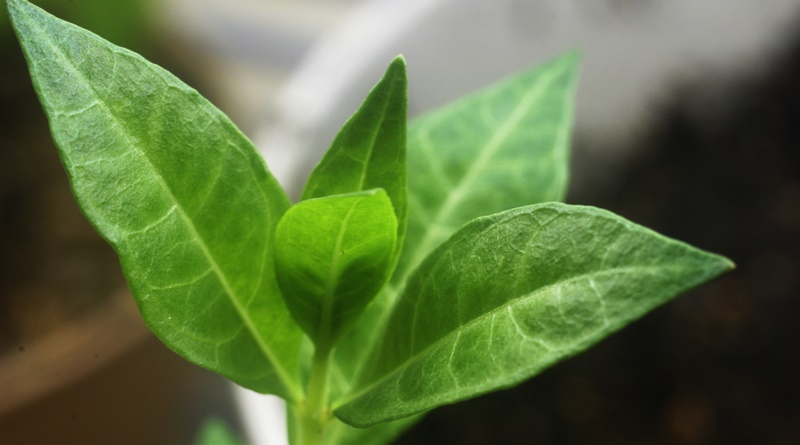 Image source: Google, copyright-free image under Creative Commons License
During those days, skin irritations from chemicals, and other similar after-effects of synthetic products, were unheard of. And yet, remedies like henna achieved better results than what was desired.
Where did henna application first start?
The use of Henna for hair growth and conditioning is traced back to pre-medieval Egypt. As it gained popularity because of the benefits it provided, the miracle herb was soon used in both the Middle-East and India. Since henna has qualities of cooling down the body temperature, it was initially used to that end alone. Whenever someone in the village was suffering from high fever, henna leaves were crushed, blended into a paste, and applied to bring down the temperature. It was also used as a remedy against sunstroke, which was prevalent in countries close to the Equator. Because of its versatile nature, people started using henna as a beauty aid.
In India, even today, henna is used to make intricate and very arty designs on palms and legs during weddings and other traditional occasions. In Egypt too, women apply henna to color their nails. That way, you can say, Henna is used as a nail varnish too!
Henna for Hair Growth
Image source: Google, copyright-free image under Creative Commons License
Though Henna is multipurpose, it is best suited as a treatment for hair, with a practically never-ending list of advantages. Aside from being a superb and safe alternative to chemical beauty products, it also has another pro over other hair products: As an exceptional conditioner, it is brilliant for hair growth.
Synthetic dyes damage your hair structure, whereas henna shields it. Henna coats your hair shaft, and by doing so, conditions and adds volume to your hair.
By applying henna, you are giving your hair the gift of health, beauty, body and bounce. Henna leaves your hair suppler, glossier and easier to manage.
Henna is also an efficient cleanser for your hair, and even your scalp. It is nothing like other shampoos because it protects the natural acid nature of your scalp, which is essential for the health of your hair.
Pro-tip: According to the Queen of herbal beauty therapy, Shehnaz Hussain,
"Henna paste, mixed with lemon juice, egg and yogurt, is probably one of the best known methods of cleansing and conditioning the hair. Regular use of this combination has been seen to promote hair growth and restore good health to the scalp."
The most obvious effect of henna is its hair-coloring ability. A query that people always have on their lips when it comes to henna application is, whether it will, invariably, turn their hair, red. This is because very few people know that henna only turns blond hair red. For those with dark hair, henna leaves a brown tinge. Dark hair will, leaving out exceptions, not turn red. In its place, henna will give your hair a gorgeous coppery tinge. This works as a highlight, making your hair look all lustrous and gleaming.
Methods of applying henna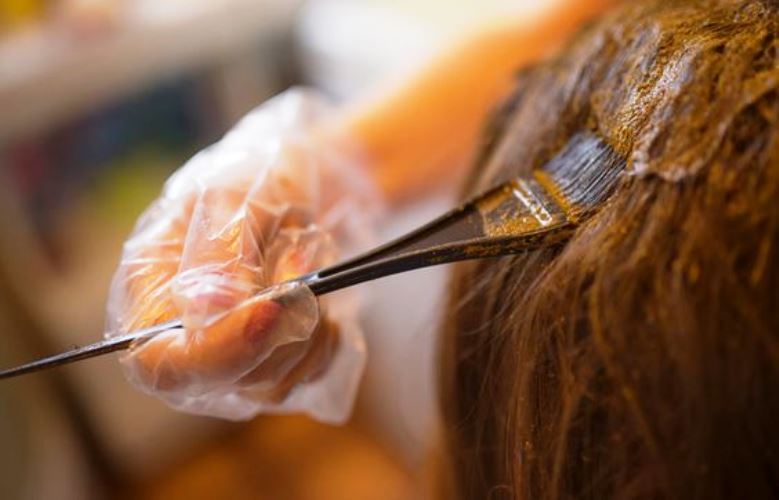 Image source: Pinterest 
The way in which you apply henna should be based on what results you desire. If you want it to work as a dye, add a spoon of strong coffee to give your hair the rich brown hue. Keep the paste on until it dries completely. Then wash it off.
Henna also helps you restrain greying. But remember if your hair is already grey, henna will not be able to bring back the original color, permanently. However, if you apply it regularly, immediately after you see grey hair surfacing again, henna will turn them brown and meld with the rest of your hair.
However, if your hair is completely grey, application of henna will lend it a reddish color. For this very reason, most women with grey hair fall back on chemical colorants. But what they are not recognizing is the damage they are doing to their hair texture and its overall health.  Even if you use synthetic products to dye your hair, it is crucial you give your hair a henna conditioning treatment at least twice a month.
Like other herbs, henna also has a therapeutic value. It helps as a cure to many beauty problems linked to hair, such as dandruff and hair loss.  You can use henna not only for hair growth, but also for healthily restoring the acid mantle of your scalp, which makes it a very efficient anti-dandruff solution.
Henna along with other ingredients like amla, brahmi, shikakai, lichens, kohl, arnica etc. are added to shampoos and conditioners today, and for evident reasons, obviously! But the henna powder on its own is a complete hair food, so to say. It also helps prevent scalp disorders and alopecia areata, which is patchy baldness.
---
Suggested read: The ultimate guide for picking the right hair care products for men
---
Things required for henna application:
3 tablespoons of henna
A medium-sized bowl of lukewarm water
A spatula
200 gm of yogurt
2 eggs, beaten
¼ cup of lime juice
2 teaspoons of coffee for conditioning (This is optional)
A cap-full olive oil
An old hand towel
A henna brush
A pair of plastic or rubber gloves
A shower cap
Things to do before putting on the henna mix:
At least 12 hours before the application, avoid washing your hair.
Just before coloring your hair, you need to dampen it a little.
Make sure you shake of any excess water that may stay in your hair before applying the henna.
Now massage the olive oil on the strands, lightly, but avoid the scalp.
Mix all the aforementioned ingredients in the bowl of lukewarm water.
To the paste, you can also add Amla (gooseberries), since it is known to lend the hair a radiance.
To enhance the fragrance, you can add oils like cinnamon, lavender, ginger or any other herb you prefer.
With your spatula, make sure you stir the mixture really well.
Take care that no lumps are formed, and so, keep stirring until the mixture is consistent.
The process of application 
To ensure that the henna paste does not leave a stain on your forehead or ears, apply a thin layer of lubricant or ointment on them. Then follow these steps:
Slip on the pair of hand gloves to avoid getting your hands stained.
The easiest method of application would be to divide your hair into neat sections using a comb.
Then apply the henna paste to each section with your hands.
As you put on the henna, wind each section into a large coil around your head to form a chignon.
Remember to twirl the sections alternately, that is, first section in clockwise direction, and the next section anti-clockwise. Also, make sure you don't miss out on the roots.
Keep working the same trick on all the neat sections until you see a pile on your head. You don't need clips or pins to keep your hair in place if you apply your henna paste this way.
Once done, wear the shower cap to prevent the paste from falling off and staining or discoloring your clothes.
Allow it to remain that way for about 30-odd minutes if you are only seeking to condition your hair. Leave it on for an hour if you want a light tinge. For a darker shade, you will have to keep the mixture on your head for about 3 hours.
Rinse your hair with cold or lukewarm water.
Try and avoid shampoo or conditioner for the next 24 hours.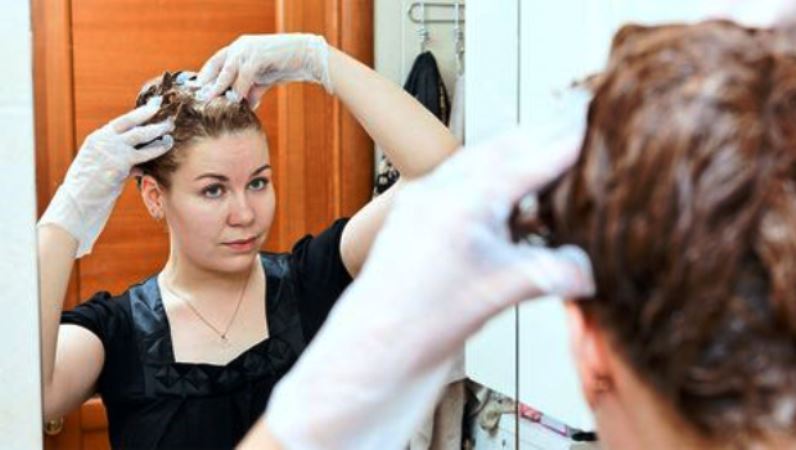 Image source: Pinterest 
Note: When left aside in the open for long, henna thickens and makes it very difficult to apply. Also, henna has a pungent smell that some people cannot tolerate. So if you have breathing ailments, you need to be sure whether or not you can bear that odor.
---
Suggested read: 7 winter hair care tips to keep your tresses damage-free
---
Whether it is for health or for beauty, used as prevention or as cure, henna is, without a shadow of a doubt, a wonder herb. And now that you are aware of that, we are most certain you will be trying your hands on it yourself! How about filling us in on the results? Also, if you have some unique henna methods for hair growth and treatment, sound off in the comments section below!
Liked what you just read? For more on daily care, beauty routines, and natural remedies for beauty problems, sign up for our newsletter today. Cheerio!
Featured image source: Pinterest 
Summary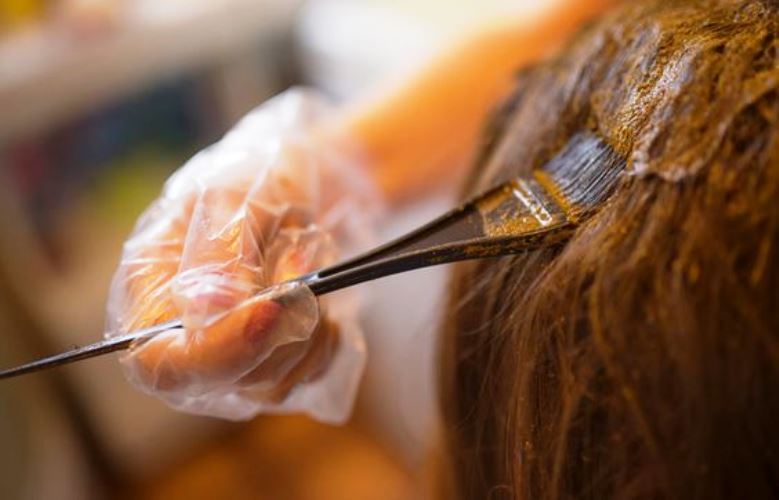 Article Name
Applying Henna For Hair Growth: Here's Why And How  
Author
Description
Henna is to hair, what water is to plants! Here's why you must apply henna for hair growth. Also we have a tutorial on how to apply the wonder herb! So read on!