Winter brings with it both the good and the bad. Along with the pleasant cold weather which necessitates snuggling on the couch with your significant other for warmth, it also brings with it harsh winds that rob moisture from your skin and leaves your hair dry, limp, and dull.
But, there are ways you can avoid these issues and make sure your hair enjoy the winter season as much as you do! Here are the top 7 winter hair care tips to keep your tresses from damaging.
1. Invest in proper Products for Hair Care
Buy a proper shampoo and a conditioner that not only protect, but also repair the damages. If you have your hair colored, choose a sulfate-free shampoo so that the color remains for a longer time in your hair. If your hair is already extremely dry in other seasons, consult a hair care professional and buy a medicated shampoo that would ensure the health of your hair.
Image source: Shutterstock
Oil your hair at least twice a week, make sure you warm the oil before application. This helps the oil to penetrate the scalp by opening up the pores and make it more healthy and moisturized. Use Argan Oil if you want added moisturization. This oil treatment would also curb the hair breakage as well as avoid dandruff issues.
You can also invest in a good humidifier as well as hair masks in order to give your hair that extra care. A humidifier helps manage the air humidity balance that is reduced due to the extremely cold weather conditions.
2. Heat Protection
Before you blow dry your hair, make sure you spray a good quality heat protectant serum through the strands. Nowadays, some heat protectants also have the added advantage of preventing frizz and also some that add shine. Use the blow drier only if you absolutely have to. Leave your hair to dry naturally instead. This would retain the natural hair moisture.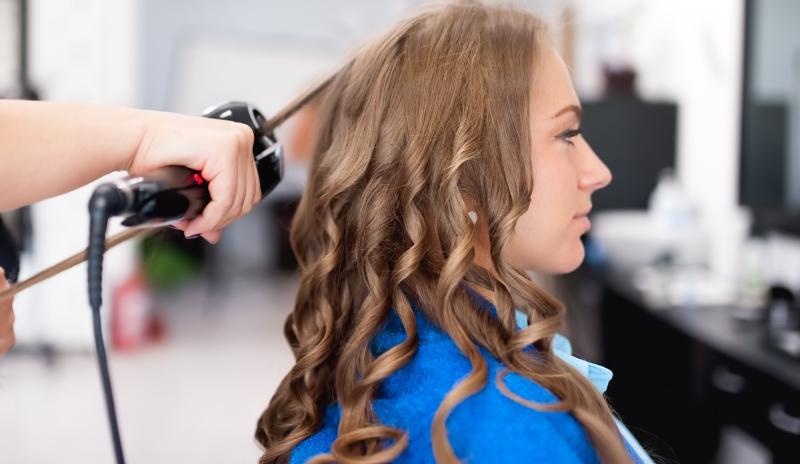 Image source: Shutterstock
Whichever way you choose to dry your hair, make sure that your hair is completely dry before you step out of your house. Wash your hair sufficiently early to ensure that it is dry before you have to leave your home. Not only does it make the hair more brittle, but your chances of getting a cold also increases.
3. Avoiding Split Ends
Winter causes the hair ends to split, making it dull. Using frizz serum regularly at the tips of your hair would avoid new split ends. Also, trim your hair regularly so the split ends that are there are cut off.
4. Maintaining a Proper Diet
To maintain the proper health of your hair, you need to eat at least five servings fresh fruits and vegetables in a day. The vitamins present in these would give a natural shine to your hair and make the hair roots stronger.
5. Cover your hair at all times
Make sure you cover your hair at all times when you're out in the open. Use silk scarves instead of woolen ones, as the silk ones would be more gentle on your hair. Woolen head scarves would get hair tangled and suck out the moisture leaving extremely dry, brittle hair.
6. Choose your Hairstyles Wisely
Image source: Shutterstock
Instead of straightening your hair, try keeping it as natural as possible. Using straighteners and curlers robs the hair of its natural moisture. Avoid leaving your hair loose; bind your tresses up in a ponytail or a braid.
7. Hair Wash Routine
Avoid washing your hair every day. When you do wash your hair, use lukewarm water instead of hot water. Make sure you apply a good conditioner after every wash. At the end of the wash, wash the hair ends with cold water in order to seal the cuticles.
Summary
Article Name
7 tips to keep you hair damage-free this winter
Author
Description
Winter robs the moisture from skin as much as from your hair. Here are top 7 winter hair care tips to keep you hair damage-free.