Personal safety is always a concern, especially if you're a woman. Whether it's entering an underground parking garage after working late at the office or walking across campus following an intense study session at the library, it's a matter of grave importance that you be aware of your surroundings – always. Towards this end, there are several tools and personal protection items you can keep on your person at all times, like mace, pepper spray, tasers, rape whistles (I hate the name for this thing, by the way), and even handguns.
Although these are very handy, they have certain restrictions attached to them as well. There are restrictions as to where you can carry some of these items and where you can't. Some of these are require legal permits and are rather expensive as well. Another aspect is that some people just don't feel comfortable carrying these around them in their handbags. And even if you do carry these around, they are inside your handbag, and it can be rather hard or even impossible to get to them in time, when you're actually being attacked.
Image source: RoarForGood
In order to counteract all these problems of the existing personal protection tools/gadgets, there's a new safety device available, called Athena. Athena is simple and easy to access since a user would be wearing the button on their person, in the form of a pendant around the neck or as a bracelet around the wrist, or clipped to the waistband of jeans, or even the handle of a bag you carry around all day, every day. The button emits an extremely loud alarm, thereby alerting others of possible trouble. It was named Athena, after the Greek goddess of wisdom, strength, and justice.
This is how it works. In the event that a wearer is attacked, all they need to do is press the button for 3 seconds. This will immediately activate the alarm which lets out a piercing sound, which the company describes is 'louder than a freight train.' This loud alarm is sure to scare off the attacker while also alerting others nearby of a possible dangerous situation. Another nifty feature of the button is that it sends out text messages and the exact location to the wearer's loved ones' cell phones alerting them as well. Further, the text messages also urge the wearer's loved ones to contact the police too. The main aim of Athena is to both stop the attack as soon as it's pushed, as well as notifying concerned people to get in touch with the police if the wearer is unable to.
---
Suggested read: Companion app lets you 'walk' your friend home
---
Athena is the brain child of Yasmin Mustafa and Anthony Gold, who founded a company called ROAR, which aims to arm women in an effort to stop them from becoming victims of violent sexual assaults and physical assaults. Athena is small, discreet, lightweight, and it's understated design makes it easy to blend in with one's chunky jewelry. It's not at all obvious if you've not seen them from up close. An added incentive to invest in an Athena personal safety device is that it will pass the security measures one is subjected to at airports, certain offices, and even concerts.
Although Athena is a commendable little safety product, it's a sad state of affairs when a woman has to arm herself against a possible (and probable) attack rather than be safe in the knowledge that men can control themselves and respect a woman just because. Arming yourself against possible threats is one part of the solution, while teaching young boys and girls to respect each other as individuals and human beings, and look beyond gender stereotypes is the other part.
Let's just hope that we'll witness that day sooner rather than later.
Check out the video for Athena here:
Featured image source: RoarForGood
Summary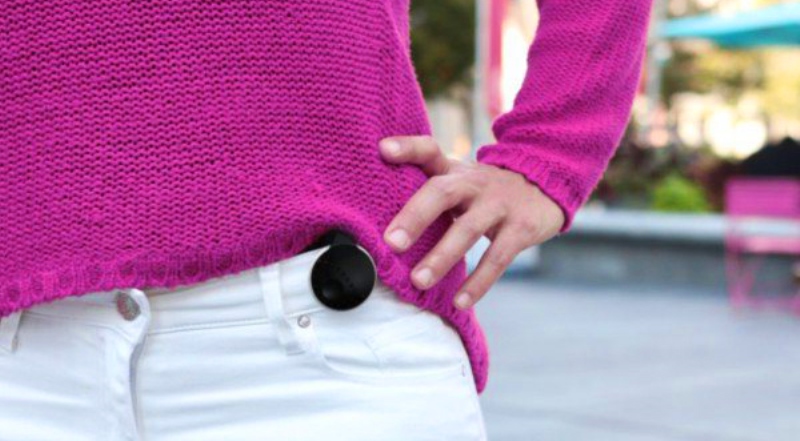 Article Name
Here's What A Woman Wearing Small Black Circle Means...
Author
Description
If you see a woman wearing small black circle, you can stop wondering because this is what it means...