Seeing the Seven Wonders of the World in their lifetime is a must on anyone's bucket list. But to see them all in one go – is truly a dream come true! That is exactly what this couple did.
Meet Megan Sullivan and Chris McNamara. While Megan is an advertising director, Chris is a professional rock climber and ex-wingsuit base jumper. They met in San Francisco, which is where they met too. The couple started texting each other about the rock climbing guide books that Chris wrote, and the rest, as they say, is history. No, truly, it is one for the history books.
When the two met, Megan said that there was an instant attraction. Then they went out on a handful of dates, which only solidified their attraction. Then, Chris asked her what her dream adventure was, to which Megan revealed her desire to do the Seven Wonders of the World in an individual journey, and to document it on video. Chris, whom she'd met not two weeks before, suggested that they do it together, she didn't think twice before saying yes.
---
Suggested read: Couple plans to get married in 11 countries in 38 weddings!
---
But there were powerful reasons for her seemingly impulsive decision to gallivant across the world with a relative stranger for 13 days to see all the Seven Wonders of the World. The month of November 2014 was one to remember for Megan. During the course of that single month, she had survived a 50-ft climbing fall, an unfortunate encounter of being hit by a Vespa, and being diagnosed with skin cancer.
"November pretty much gave me the push to take some much needed time off from work with the several near-death experiences I had," Megan said.
Further, talking about the planning they did, she said,
"It was Christmas time, so we really spent about three hours booking the flights which included only five nights in hotel rooms."
10 days after that, the couple set off on their epic round-the-world trip starting from Mexico and going all the way to China, with Peru, Brazil, Italy, Jordan, and India in between. The couple visited 12 countries in 13 days, took 15 flights, traveling an incredible 28,211 miles!
"It was amazing," Megan said. "The ability to experience that many different cultures, languages, and landscapes all in one go makes you realize just how small this world really is."

"It becomes a connected experience across humanity, knowing that we as people share many commonalities. Within days, normal communication styles were thrown out the window and you realized that it was pretty easy to communicate with just about anyone regardless of language by using common gestures … sketches … and so on."
The duo has documented their incredible and epic journey on video for anyone to see it and get inspired. Plus, the relative strangers who set out on that epic round-the-world trip are still together and all excited in planning their next trip.
"It was pretty cool to look through the footage and see how comfortable we became with each other from day one to 13. It was a unique visual being able to actually see our feelings grow for one another throughout the trip," said Megan. "Now, it could have just as easily been a disaster, but luckily it was probably the best way we could have ever gotten to know one another."
In a social media post about her epic adventure, Megan wrote:
"3 years ago I had envisioned a video project that captures the journey to the new 7 Wonders of the World.

"I could have sat on this trip forever making excuses … waiting for the perfect time to take it – but instead, while on a hike in Tahoe with a brown bag Coors Light in hand and with a guy I had known for 2 weeks, I decided to take the trip and we left 10 days later on what became an adventure of a lifetime.

"This video is not about the destination; it's about being in the moment and enjoying every second of your journey while learning from it.

"You can fantasize forever about the destination while missing out on what is staring you right in the face … the never-ending journey of your life."
Wow! That's really something. Check out the video here:
Not just that, Megan also summarizes her trip in beautiful words thus:
"If I could summarize with a key take away from this trip, it would be the marketing trademark coined in 1988 of Just Do It. In recent years, and it was made all too clear in recent months that life is short, and to live it with any kind of regret is not a quote that you embroidered into a pillow, but one that one must actually live by. I had a vision three years ago, and instead of letting it go by the wayside with self-indulgent excuses as to why I could continue to put it off, I decided to just do it. Life is complicated enough without having to confuse logistics for what is effortless. Therefore, take that vision or dream, simplify it, and live it."
Words to live by. Truly.
Summary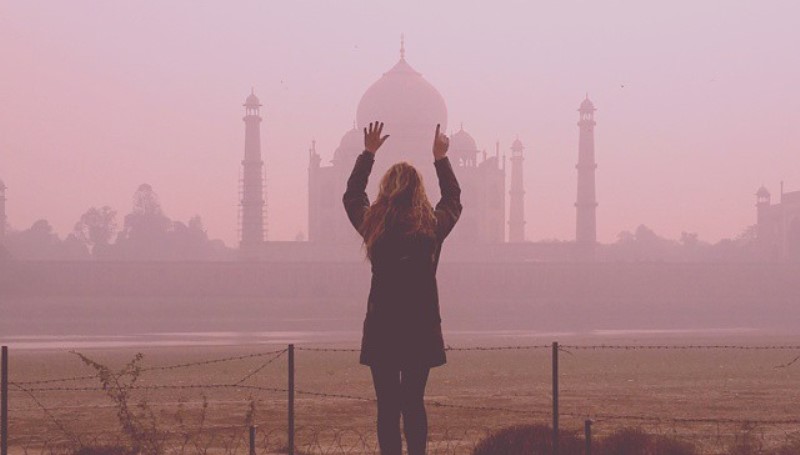 Article Name
Couple Visits Seven Wonders Of The World In 13 Days!
Author
Description
Megan Sullivan and Chris McNamara visited the Seven Wonders of the World in 13 days and 15 flights! Read about their epic journey here.