Honestly, how many dating apps will people come up with? I know that there are genuine, honest, and good people who are looking for relationships. But the number of apps being released left, right, and center, is kind of overwhelming. Which one to choose? Which one would have fewer creeps? Which one will bar users from sending lewd pictures and texts to women? Which one will have enough features in place to make women feel safe? Which one will lead you to your 'one true love'? Phew! Wading through the plethora of online dating apps to find 'the one' that will lead you to your 'one,' can certainly overwhelm anyone.
But, however many apps are released into the market, there is always that one app that catches the eye of daters. Here's one such app I found that claims to be 'different.' How different? You decide after reading this article.
How does it work?
The Grade claims to weed out creeps, and keep the interaction free of lewd and hostile comments. As the name suggests, the app assigns letter grades from A+ to F to users based on their popularity – how many times a user has been 'liked' on the app, how responsive is the user to messages from matches, as well as the content quality of those messages. Apart from lewd comments, the app also checks for spelling, use of slang, and inappropriate words. All these components are taken into account when assigning a grade, and other users can see how each score has been broken down, as well as the overall grade.
If a user gets an F, then their profile will be deactivated and blocked from using the app. Such blocked users can appeal to the app team to revoke their deactivation. And if a user's grade hovers around a C or below, they get a warning notification as well as advice on how to boost their grades. Just like makeup tests in school!
Liking a profile is pretty much the standard 'swiping' that has been embraced by almost all of the new apps; The Grade isn't any different. Once you find a match, you can start messaging that person and see where it goes.
How did the idea for The Grade come about?
The Grade is the product of Snap Interactive, whose CEO Cliff Lerner said, "My female friends were receiving anything from graphic images to downright hostile comments for absolutely no reason." He added, "I thought to myself, there's got to be a way to build a product where users are accountable for their actions." And that is how The Grade came into existence.
Those with poor grades will be given one or two weeks to improve upon their grades, either with or without taking the 'friendly' advice given by the app. If the users fail to do so, then their profiles will be deactivated.
"We believe we are the first to ever offer this function," said Lerner. "Our ultimate goal is to create a community of high-quality, articulate daters. We're committed to expelling low-quality users, not just because someone is offensive, but based on how responsive they are to others."
The makers of the app claim that The Grade was made after "substantial market research" showed that women on popular dating apps were "unhappy with the quantity of low-quality of daters and the frequency of inappropriate, hostile, and sexually suggestive messages."
The iOS app is already available in the Apple App Store, but there is no mention of an Android app.
It is good that app developers are waking up to the fact that there are creepy and abusive men out there, and are doing their bit to prevent it rather than doing something after the fact. But the thing is, as I mentioned in the opening paragraph, there are, literally, hundreds of mobile dating apps. Just promising women that they will be able to avoid creeps will be a hard point to sell as their USP in the cutthroat world of mobile dating apps.
At least these guys are trying. For that, we congratulate them and wish them luck!
Summary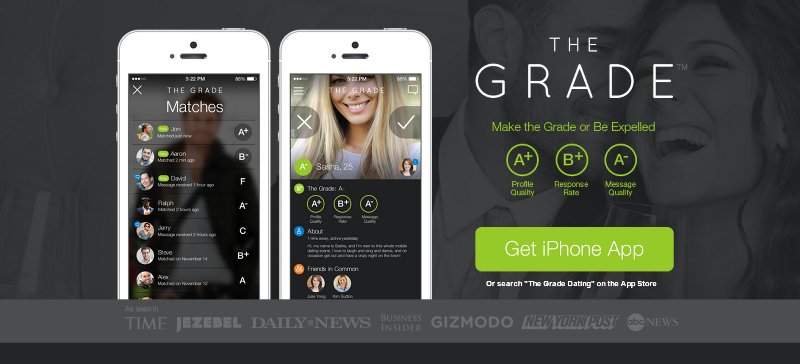 Article Name
Dating app, The Grade, promises to fail the creeps
Author
Description
Among the plethora of dating apps available in the market, The Grade, hopes to make a mark by failing the creeps from its database. Here's how it does it.