Brothers, especially elder ones, are very protective of their sisters. They are there since we sisters are in our diapers. They assume whatever role we need in our lives – a brother, a mentor, a guide, a protector, a friend, and sometimes even a parent – effortlessly. Till we find our own partners, they act as our knights in slightly-dented armors. They give us the push we need to realize our full potential. They help mend our broken hearts. They curse a blue streak when a guy so much as looks our way wrongly. They are there when we're feeling lonely and alone and hopeless, and need the reassurance that everything will be alright, even though they don't know that. In short, brothers are the best friends a girl could ask for.
There are brothers who epitomize the above description. And then there are brothers like Kyle Maalen.
Apparently, Sammy Maalen, 27, Kyle's younger sister, has had an unlucky streak when it comes to love. And she has been single for the past year. So, to 'help' her find her true love, Kyle, who should be given the title 'World's worst brother,' put her up for sale on eBay! If he makes some cash in the process, it's a win-win, right?
Kyle, 28, originally from London, put up an auction on eBay entitled, 'Date my sister 27,' with a starting bid of £50, to help find a man for his unlucky in love sister.
The advert in its entirety reads:
"Firstly this is a serious advert. My sister is 27-years-old originally from London but now lives in Cardiff and is slim and curvy, 5ft 4 blue eyes dark hair. Very bubbly and outgoing. She not a party animal and very faithful. No kids but would like kids eventually.
"My sister is unlucky with finding a real man. So me and my family are looking for someone who is a great guy who is genuine. Loving. Faithfull. Normal. And just very down to earth.
"Also musts are Must have a job. No bums please. Must have a car or be willing to commute if your far away. Must be decent looking." (sic)
That's not all, Kyle even went ahead and 'warned' potential bidders that his sister was a 'used' item. Ugh!
Apparently, the ad has been deleted since it was posted, probably because it's illegal to auction human beings, either on eBay or elsewhere! And as is her right, Sammy was livid with her brother for pulling such a stunt. She said, "Kyle has been threatening for years to put me on eBay but I never took him seriously, so I was shocked to see myself on there – it was quite scary. It was funny but listing me as used definitely wasn't – the cheek of it."
Well, at least the stupid and ridiculous bid was taken down the site, although that seems like too little, too late.
Summary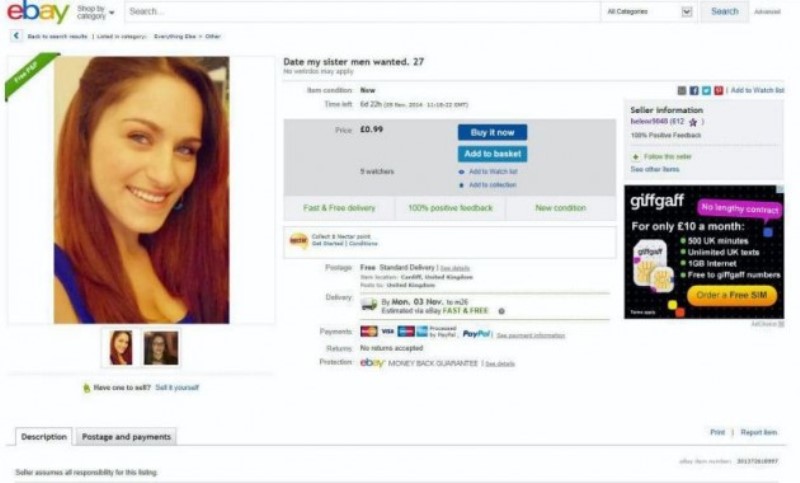 Article Name
And the award for the most bizarre use of eBay goes to ...
Author
Description
Kyle Maalen should be given the title 'World's worst brother.' Want to know why that is? Read on to know more about what he did.