According to electric literature.com,
"Ursula Kroeber Le Guin (1929–2018) was a celebrated and beloved author of 21 novels, 11 volumes of short stories, four collections of essays, 12 children's books, six volumes of poetry and four of translation. The breadth and imagination of her work earned her six Nebulas, seven Hugos, and SFWA's Grand Master, along with the PEN/Malamud and many other awards. In 2014 she was awarded the National Book Foundation Medal for Distinguished Contribution to American Letters, and in 2016 joined the short list of authors to be published in their lifetimes by the Library of America."
In today's post, we will be reading some of the best poems by Ursula K Le Guin.
---
Suggested read: The Best Ada Limón Poems To Cherish This #NaPoWriMo
---
Poems by Ursula K Le Guin 
Leaves
Years do odd things to identity.
What does it mean to say
I am that child in the photograph
at Kishamish in 1935?
Might as well say I am the shadow
of a leaf of the acacia tree
felled seventy years ago
moving on the page the child reads.
Might as well say I am the words she read
or the words I wrote in other years,
flicker of shade and sunlight
as the wind moves through the leaves.
Six Quatrains
AUTUMN
gold of amber
red of ember
brown of umber
all September
MCCOY CREEK
Over the bright shallows
now no flights of swallows.
Leaves of the sheltering willow
dangle thin and yellow.
OCTOBER
At four in the morning the west wind
moved in the leaves of the beech tree
with a long rush and patter of water,
first wave of the dark tide coming in.
SOLSTICE
On the longest night of all the year
in the forests up the hill,
the little owl spoke soft and clear
to bid the night be longer still.
THE WINDS OF MAY
are soft and restless
in their leafy garments
that rustle and sway
making every moment movement.
HAIL
The dogwood cowered under the thunder
and the lilacs burned like light itself
against the storm-black sky until the hail
whitened the grass with petals.
To The Rain
Mother rain, manifold, measureless,
falling on fallow, on field and forest,
on house-roof, low hovel, high tower,
downwelling waters all-washing, wider
than cities, softer than sisterhood, vaster
than countrysides, calming, recalling:
return to us, teaching our troubled
souls in your ceaseless descent
to fall, to be fellow, to feel to the root,
to sink in, to heal, to sweeten the sea.
Hymn To Time
Time says "Let there be"
every moment and instantly
there is space and the radiance
of each bright galaxy.
And eyes beholding radiance.
And the gnats' flickering dance.
And the seas' expanse.
And death, and chance.
Time makes room
for going and coming home
and in time's womb
begins all ending.
Time is being and being
time, it is all one thing,
the shining, the seeing,
the dark abounding.
How It Seems To Me
In the vast abyss before time, self
is not, and soul commingles
with mist, and rock, and light. In time,
soul brings the misty self to be.
Then slow time hardens self to stone
while ever lightening the soul,
till soul can loose its hold of self
and both are free and can return
to vastness and dissolve in light,
the long light after time.
---
Suggested read: "Beyond Speech, Beyond Song, Only Not Beyond Love" The Poetry Of Eavan Boland
---
McCoy Creek: Cattle
Long after sunset the afterlight
glows warm along the rimrock.
A wind down off the mountain
blows soft, a little chill.
I've come to love the quiet sound
cattle make cropping short grass.
Day and night are much the same
to them in the pastures of summer,
cows and calves, they crop and pull
with that steady, comfortable sound
as the light in the rimrock and the sky
dims away slowly. Now no wind.
I don't know if cattle see the stars,
but all night long they graze
and walk and stand in the calm
light that has no shadows.
The Maenads
Somewhere I read
that when they finally staggered off the mountain
into some strange town, past drunk,
hoarse, half naked, blear-eyed,
blood dried under broken nails
and across young thighs,
but still jeering and joking, still trying
to dance, lurching and yelling, but falling
dead asleep by the market stalls,
sprawled helpless, flat out, then
middle-aged women,
respectable housewives,
would come and stand nightlong in the agora
silent
together
as ewes and cows in the night fields,
guarding, watching them
as their mothers
watched over them.
And no man
dared
that fierce decorum.
Bats
i
When I used to see bats flying
in the California twilight
their intricate zigzag voices
went flickering with them
but they fell silent with the years
and without that tiny sonar static
to see them flicker
in and out of being
is a kind of blindness
ii
In the twilight in my dream
a little bat was flying
and awakening I wondered
if the bat that I remembered
flying in the twilight
of the dream of California
was in California or the dream.
Ancestry
I am such a long way from my ancestors now
in my extreme old age that I feel more one of them
than their descendant. Time comes round
in a bodily way I do not understand. Age undoes itself
and plays the Ouroboros. I the only daughter
have always been one of the tiny grandmothers,
laughing at everything, uncomprehending,
incomprehensible.
Looking Back
Remember me before I was a heap of salt,
the laughing child who seldom did
as she was told or came when she was called,
the merry girl who became Lot's bride,
the happy woman who loved her wicked city.
Do not remember me with pity.
I saw you plodding on ahead
into the desert of your pitiless faith.
Those springs are dry, that earth is dead.
I looked back, not forward, into death.
Forgiving rains dissolve me, and I come
still disobedient, still happy, home.
---
Suggested read: #NaPoWriMo Langston Hughes Will Always Be Remembered For His Simple Yet Powerful Verses
---
That is all we have on today's post on the best poems by Ursula K Le Guin. Did you like what you just read? Let us know in the comment section below.
Keep your eyes on this space if you love books and tales they carry in them. If you want to contribute an article, then please feel free to do so.
See you again next time.
Featured image source: Instagram 
Summary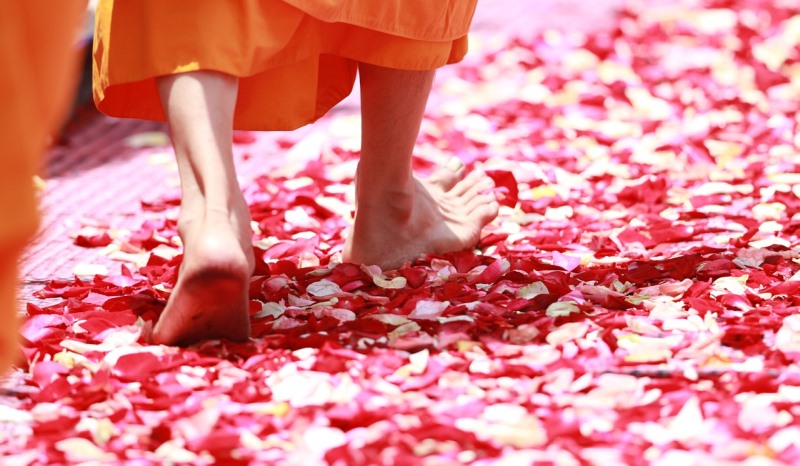 Article Name
#NaPoWriMo 10 Brilliant Poems By Ursula K Le Guin
Author
Description
A celebrated author of 21 novels, 11 volumes of short stories, 6 poetry volumes and 4 of translation, let us read the best poems by Ursula K Le Guin.