Even though the world of business and entrepreneurship has been primarily dominated by men over the years, recent times have gone on to prove that this pre-existing trend is not because of the shortcomings or better abilities of men, but because of the non-allowance of women to participate in such leadership ventures. However, there is no denying that times are-a-changin' and we are getting to witness more and more successful women entrepreneurs who are running empires.
---
Suggested read: Women In Leadership Roles Who Have Carved A Niche For Themselves
---
Even though it is the 21st century, and women have finally entered all possible professional fields, there are still odds to beat and challenges to overcome, including things like the wage gap, workplace harassment and the constant gender-bias they have to face when they are pitted against men who are competing for the same position.
In a world where gender identity and stereotypes take precedence over merit and caliber, these successful women entrepreneurs have shown the world that there is no dream too big to achieve when you set your heart to it. Here are some of these women entrepreneurs, which are successfully running some of the biggest empires in the world.
1. Sara Blakely (Spanx)
The story of Sara Blakely is one of the most inspiring entrepreneurship stories out there. She started by cutting out the feet from a pair of old pantyhose, the purpose of which was to make her butt look better when she wore white pants. After realizing what she had created had immense potential, she used the $5,000 she had saved from selling fax machines and filed for her patent.
After giving a buyer a live demo in a bathroom, Spanx became one of the most loved and talked about brands in the world, being flashed on red carpets and being used by women in almost every household, with new products being introduced every other year. Today, the net worth of Spanx is 1.19 billion in U.S. dollars.
2. Tory Burch (Tory Burch LLC)
Tory Burch is one of the most well-recognized names in the fashion world right now, because she is the owner of the billion-dollar brand in her name- Tory Burch- which is a pioneer in selling high-end bags, shoes, clothes and ballet flats. However, she wants born with a silver spoon in her mouth.
She started her career with fashion copyrighting, when she realized her dream was to start her own company, after which she established the Tory Burch Foundation, in 2009. The aim of the foundation was to help other women entrepreneurs make it to the top. Today, her company is worth $1 billion USD.
3. Arianna Huffington (Huffington Post)
Arianna Huffington is one of the most powerful women in the world, and is the owner of the Pulitzer-prize winning Huffington Post. Even though it is success that we talk about now, it is her struggle, which makes her so inspirational.
While studying and working in Greece, her home country, she decided she wanted to go to Cambridge, which seemed like an impossible dream at the time but she made it happen. Similarly, even though she felt she could never publish a book, she went out to write and publish over a dozen books. Today, she is owner of the Huffington Post, which is worth $1 billion USD.
4. Kiran Mazumdar Shaw (Biocon)
Kiran Mazumdar Shaw's story is one of the most inspiring entrepreneurship stories, for both men and women. She pursued medicine and zoology in India and wanted to study abroad in Scotland, but that didn't work out for her because she couldn't get a scholarship. However, she met the CEO of Biocon Industries who was based in Ireland, who wanted to branch out in India.
She took up the reins of Biocon India, and started it in 1978, which wasn't a smooth ride because she started with 10,000 rupees and several obstacles, with the garage of her rented house in Bengaluru doubling up as her lab and office. Today, her net worth is $1.2 billion USD.
---
Suggested read: How To Have More Women Leaders? By Starting Early!
---
5. J. K. Rowling (Harry Potter Empire)
J. K. Rowling is one of the most well-known people in the world, because she is the creator and author of the Harry Potter universe. These are not merely books, but a brand in itself now, with it's own theme park, book merchandize and several other by-products of the franchise. They also have their own films, produced by Warner Bros.
Joanne Kathleen Rowling however, didn't wake up a billionaire. She was raising her daughter as a single parent without enough money to even buy milk for her, when she started writing happy Potter in scraps of paper in a café and in the London underground. Today, she is worth $7.5 billion USD.
6. Cher Wang (HTC)
HTC is not Cher Wang's first venture. Before she got into the world of smart-phones, she had started another company called Via Technologies, which manufactured computer parts like the CPU, mother board and memory chips.
In 1997, she started HTC with her partner Peter Chou, with the aim of making hand-held computer accessible to the public. This led to the birth of one of the most popular smart-phone companies in the world. She has been named the 54th most powerful person in the world, with a net worth of $8.8 billion USD.
7. Beyoncé Knowles (House of Dereon)
Beyoncé is one of the most well-known people in the world because of her thriving music career, which began with her stint as part of the musical band- Destiny's Child, and then her super successful career as a solo R&B artist. However, she is also the co-founder of fashion label Derion, which she founded with her mother- Tina Knowles.
They started the company in 2006, keeping wearable fashion and the common people in mind, and is now one of the most well-loved and popular brands of clothing and fashion apparel available to the public. The company is worth $290 million as of March 2017, making her not only one of the most successful artists, but also an inspiration entrepreneur.
8. Vandana Luthra (VLCC)
Vandana Luthra is one of the most powerful women in India, and one of the first woman entrepreneurs than the country saw. She started her health and beauty institute- VLCC, in the small locality of Safdargunj in New Delhi in the 1980s, and saw unprecedented success afterwards.
Today, VLCC has centres not only in all parts of India, but all over South East Asia, East Asia and South Africa. They have a strong customer base which also includes celebrities, and is a brand to be reckoned with, even after tough competition has recently emerged in the market. The brand is worth $5 billion USD.
9. Oprah Winfrey (OWN)
Oprah Winfrey is an international star now, and her story has been one of the most inspiration and difficult success stories the world has witnessed. Despite facing all kind of physical and emotional hardships from her childhood, she managed to host her own talk-show after an extensive struggle in the media-verse.
Today, she is founder and owner of the Oprah Winfrey Network, Harpo Productions and the Oprah Winfrey Leadership Academy for Girls. Not only did she break barriers as a woman entrepreneur, but also as a woman entrepreneur of colour. Her net worth today is $3.1 billion USD.
10. Suchi Mukherjee (LimeRoad.com)
Before becoming the founder and CEO of one of the most popular lifestyle portals on the internet today, Suchi Mukherjee worked a ton of other jobs in companies like eBay, Skype, Virgin Media and Gumtree. After her stint in these places, she decided she wanted to do something of her, which is when she founded Limeroad.com.
Limeroad is a unique fashion and lifestyle portal which sells over 20,000 products, which are all designed and bought by the Limeroad community, which allows everyone to express themselves creatively and sell and curate their products. Today, Limeroad.com earns an annual revenue of $7.2 million USD.
---
Suggested read: The World Is Full of Wonder Women: Pregnant Women & Their Wonderful Achievements
---
11. Sofia Vergara (Latin WE)
Sofia Vergara is one of the most successful actresses in the world today, which is a considerable feat in a white-washed, male-dominated world. Being a Hispanic Latin woman, she is a regular face on prime-time television, and is especially known for her role in the popular sitcom- Modern Family.
However, Sofia Vergara also has a cut-throat entrepreneurial side, and is the co-founder and owner of the Hispanic talent and event management firm called Latin WE, which she co-founded with Luis Balaguer in 1994. Despite coming from a difficult family background, and becoming mother to her son at age 18, she refused to give up on her dream, and is now one of the most successful women in the world, with a net worth of $100 million. .
These are only some of the examples from countless other successful women entrepreneurs in the world today, who are taking on the patriarchy head-on and inspiring young girls and boys all over the world.
Featured image source: Instagram
Summary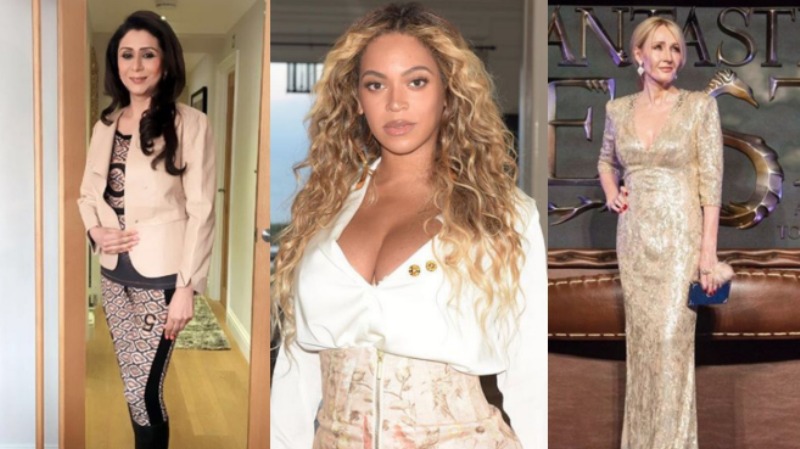 Article Name
11 Successful Women Enterpreneurs Who Are True Leaders
Author
Description
Women have managed to beat the odds and emerge as a force to be reckoned with. Here are the stories of 11 successful women entrepreneurs to inspire you.