The newest entrant into the mobile dating app milieu is Friendsy. Started at Princeton University by two seniors, Michael Pinsky and Vaidhy Murti, the duo believes that their new creation could change the way students made new friends and hooked up. The app, which was just accessible at around 40 campuses across the country, launched nationwide earlier this month. That means, Friendsy is now available at more than 1600 colleges and universities across the US. In the two weeks since, the app's user base has almost doubled to more than 45,000.
The USP of the app is that only college students are allowed to sign up, with their active .edu email addresses. Friendsy is being described as Tinder meets vintage Facebook.
"As an interested venture capitalist put it, we're trying to do to Tinder what Facebook did to Myspace," said Murti. "Make it exclusive and clean."
---
Suggested read: Tinder has updated its features with new ageist pricing policy
---
The other half of the duo, Pinsky, said,
"College students get stuck. They want to branch out, but it can be surprisingly difficult to meet new people on campus."
Pinsky and Murti opined that the current social networking/dating avenues like Facebook, Tinder, and YikYak, do not offer sufficient help to the students to branch out of their limited social circles.
---
Suggested read: Willow, a new dating app, focuses on a person rather than their looks
---
Just like in Tinder, a user swipes left to reject a profile. But when it comes to liking and accepting a match, a user doesn't just swipe right. The users need to select from a menu about what kind of a relationship they're looking for – friend, date, or hook up with another college student. The app matches a user, if the other party is also interested in the same thing.
The exclusive, private network of college students with .edu email addresses is Friendsy's main differentiator from other apps, where pretty much anybody who has a smartphone can sign up.
"This goes back to the roots of what first made Facebook viral," the company said.
---
Suggested read: Hinge – a 'classier' version of Tinder?!
---
Friendsy is out to give Tinder a run for their money by poaching college students, who are one of the biggest groups that forms Tinder's user base. Plus, unlike Tinder, Friendsy has many features that help narrow down the search or vice versa. On Friendsy, a user can filter profiles by gender, school, year, major or group. Another feature lets a user decide to be seen only on their campus or on other campuses as well. The app also lets a user refine what profiles they view, to the point where they can practically search for certain individuals.
---
Suggested read: 'High There' – Tinder for marijuana lovers!
---
Another new feature that Friendsy has is the 'hint' feature. Using this feature, a user can give hints, subtle nudges, so to speak, to people they want to get matched with. This automatically ups their chances of getting matched back. For example, a user can send a generic hint like, 'Someone from your school wants to go on a date with you,' to something more specific like, 'A guy from your school in the class of 2016 and Computer Engineering wants to go on a date with you.' If a user gets a general alert, they can request a more specific hint to narrow down the possibilities.
A new feature called ChitChat, matches a user with a random student who also happens to be online at the same time, allowing the user to have a live chat with him or her.
Friendsy, which was first launched at Princeton as a website in spring 2013, evolved into a mobile app, and then slowly spread to other campuses like Dartmouth.
---
Suggested read: SparkStarter offers a twist to online dating with matchmaking feature
---
A sophomore from University of Michigan, Lindsey Sholes, told USA Today,
"I definitely feel like Friendsy is a little safer because it is more like a peer group than Tinder."
Friendsy is being backed by Princeton University accelerator and angel investors from New York, raising more than $200,000 to prepare for their nationwide launch.
Summary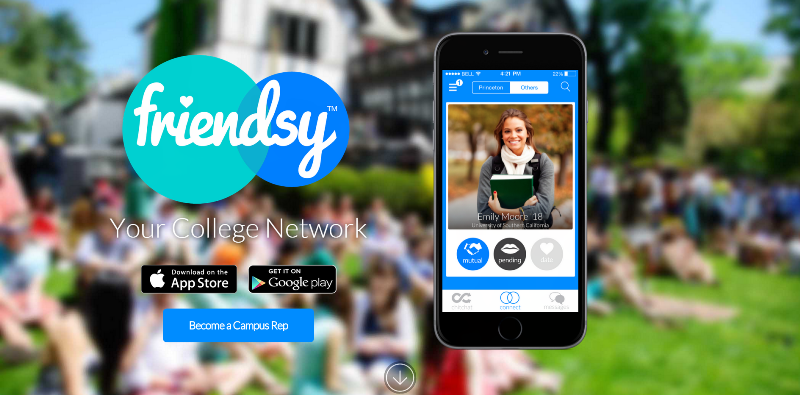 Article Name
Friendsy is the Tinder for college students
Author
Description
Friendsy, a new dating app exclusively for college students, is being hailed as the app which is out to give Tinder a run for its money.