Every bride aspires to look like a million bucks on her wedding day. On your wedding day, there are butterflies, jitters, nerves, stress, all this happening at once! But will these stop you from looking gorgeous on your D-Day? With the pre-wedding rituals taking a toll, brides have to tackle fatigue as well as cramped schedules all at once. The key to rock Indian weddings in this day and age is to dress and deck up in the minimalist way so as to look the designer bahu while ensuring you are not exactly frazzled.
---
Suggested read: How Bengali brides fuse simple and sexy in their wedding fashion
---
Here is a handy guide to attaining a minimalist look on your wedding day despite being on a budget.
1. The dress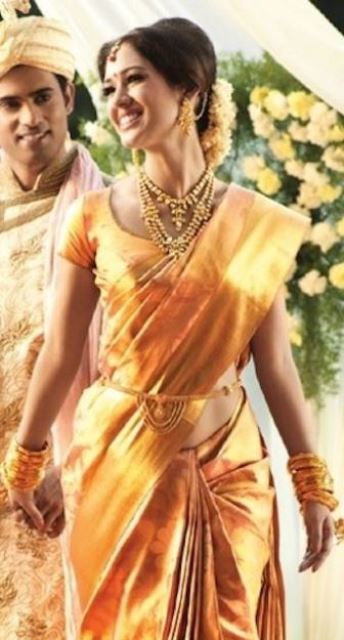 Image source: Pinterest
When it comes to choosing a dress to wear on your wedding day, most brides end up overdoing everything. This cuts out all your budget boundaries while also making you feel that you have chosen something too wrong and too heavyweight. The worst bit about choosing an excessively heavy dress is that you end up looking like you are carrying a load around. What's worse is that while picking a dress with lots of sequins and bling on, is that you look like an overdone doll. The best means to attaining a minimalist look is to go for a non-designer cut and silhouette. Buy dress material to your liking, play around with colors and styles, and once these are on your plate, simply get it customized. The best bit about going for clean lines, traditional breather necklines such as sweetheart, scoops and the like, is that you actually gain light-footedness.
2. The day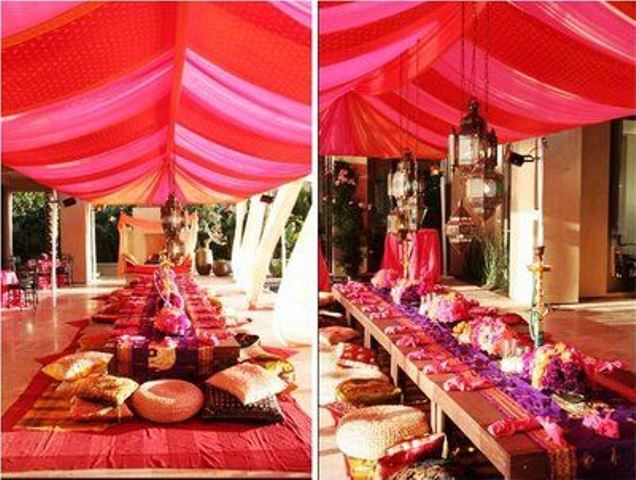 Image source: Pinterest
Make sure you have your D-day charted clearly. You need to talk to your mom and aunts to know how the day will go. You will always be excited about finally walking down the aisle but then again, you have to understand that not every wedding day is so picture-perfect! Yes, you need to know if you are allowed to eat at the beginning of the day or drink some refreshing stuff that can keep you energized through the rituals and customs that are to happen. Plan when to get up on the morning of your wedding day. Make sure you have your cousins or friends, as bridesmaids, to help you with that missing clip on the dupatta or the last minute adjustment of your bra strap. While you will feel very excited about all these chirpy things, you need to know that the day has to be imagined and planned so that you can sail through it properly. Keep the arrangements minimalist and try to cut out the elaborate bits off.
3. The makeup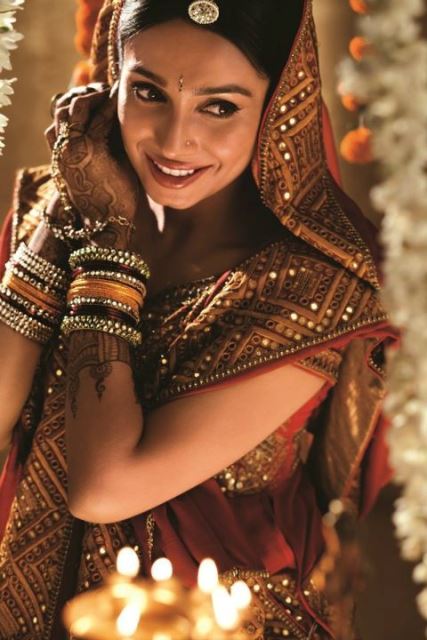 Image source: Pinterest
Makeup is no more cakey and powdery. Forget the rose powder and the white-wash like foundation. This is the age of skin serums, face primer, and high definition contouring. Invest in big brands because your skin is worth it. You don't want any skin complaints on your wedding day, do you? So, no compromise here! Unless you have selected the best brands for your makeup, there remains the chance of you looking too made up. Minimalism in makeup comes with an airbrush finish, a light impact, and proper strobing and contouring. Unless you max out your budget here, attaining a minimalist yet designer look is not possible. Avoid gaudy colors and tread the nude way!
4. The clicks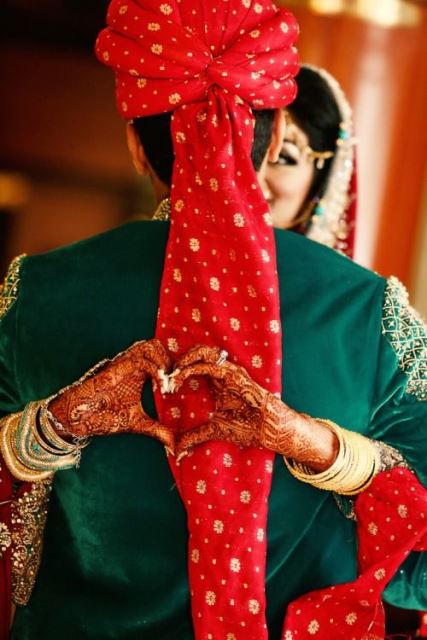 Image source: Pinterest
Hire a junior photographer or one from a start-up in the field. This is anyway less expensive than hiring a high end expert. After all, a buck saved in time can be maximized to better use! Candid photography is hot and happening right now. In addition, never think that this has to be expensive. Do your research on these amateur photographers by going through their work, asking them any questions you come up with, and even have a meeting or two to explain what you'd like your wedding pictures to look like. This will help you plan the pre-wedding or post-wedding shots well. The edited shots are all subject to be picked after mutual agreement with the photographer. The frame, the effects, and the poses you pick have to be minimalist instead of being overly dramatic. Once you are clear on these aspects, you will get a video film and album or slideshow that is designer-like in terms of finish!
5. The jewelry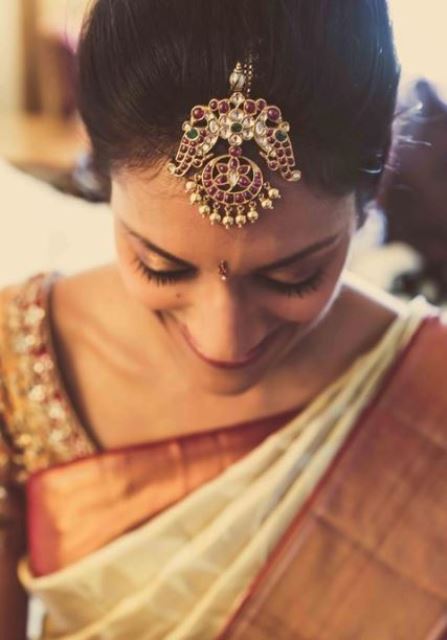 Image source: Pinterest
Forget the fact that you HAVE to go heavy on this aspect on your wedding day. Your wedding ceremony will need to have blessings and happiness and joy. In case you are a no-fuss person, you will end up looking choked in all the jewelry put together. The minimalist yet designer style bride will choose to go for a statement pieces that stand out. It could be a heavy jhoomar, an intricate matha patti, an exquisite neckpiece or even a bracelet. But then, these will never be seen together! You have to balance your attire with your jewelry such that your jewelry comes through as sparkly but not gaudy! So, one good piece instead of teaming up many gold numbers is a better option! That, dear folks, adds designer minimalism and designer touches at once! Try platinum or sterling silver with precious stones or semi-precious jewelry for an offbeat yet timeless effect. Traditional styles and yellow gold is passé, trust us!
---
Suggested read: 14 essential wedding makeup dos and don'ts that every bride MUST know
---
6. The hairdo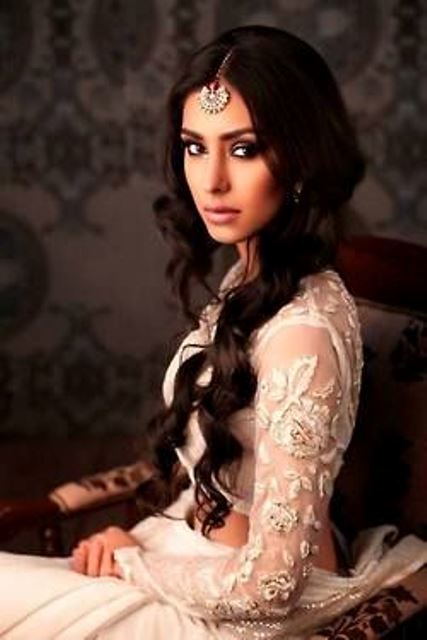 Image source: Pinterest
Forget the heavily decked braid or the traditional bun. Go for Grecian and European hairdos. This is what the latest age has brought for a bride. Your wedding day is all about looking good, looking hot, and being comfortable. And all this begins with your hairdo. Braids, flip styles, and floret-infused hairstyles are happening. These gel well with the minimalist picks for other categories while rendering a designer touch to the overall bridal hairdo!
When picking the accessories, go for sheen and shine but cut the shimmer or bling. The idea is to look fresh, not an overly done up doll. You need to be able to tap your foot and move around freely even though you are the bride.
So keep these handy tips in mind and get that designer look despite going minimalist.
Summary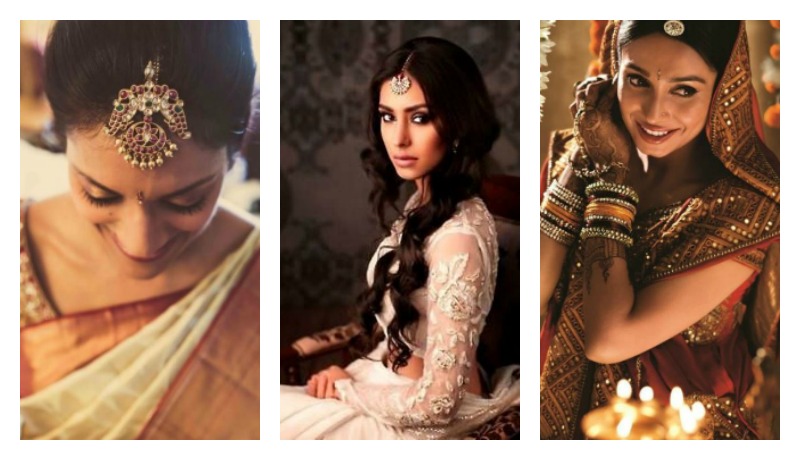 Article Name
How To Go Minimalist On Your Wedding Day And Still Get The Designer Look
Author
Description
Appearing too done up on your wedding day is passe. Now, it's all about going minimalist, yet achieving the designer look. Here's how.