The wedding day comes once in a lifetime, and every girl eagerly anticipates having a perfect wedding ceremony that stays in her mind, for life. Often considered the most pious and one of the best phases in life, marriage is for keeps. And our Indian society has never really managed to ward away typicality and traditional falsities. The obsession with fair, skinny, and simple girls still remains the main search criteria for most marriage-seekers. Times are changing and with couples choosing to settle down based on their own choices, not everyone is flustered with such embarrassing stuff.
In addition, curvy girls have managed to carve a place of their own in the fashion books and know how to rock wedding day fashion with élan. If you are curvy and have been thinking what to wear on your wedding, you have landed on the right page.
---
Suggested read: 5 decision making hacks for the indecisive bride
---
Check out this curvy girl's guide to what to wear on your wedding:
1. Stick to figure accentuating shapes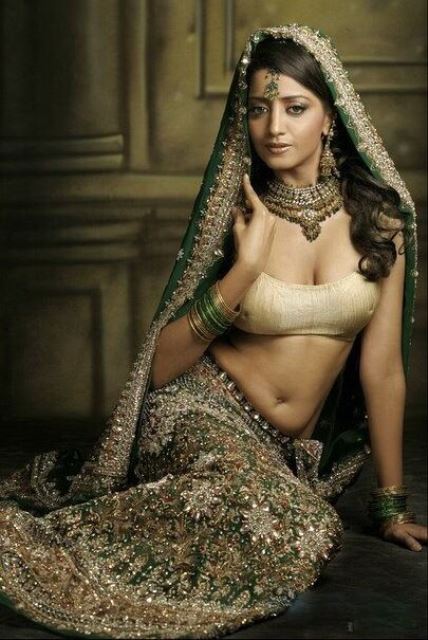 Image source: Pinterest
The question of what to wear on your wedding day is always met with a typical answer —saree or lehenga — in India. Curvy brides have to understand that the best wedding dresses will highlight their curves in a way that it looks sexy. There is no point trying to layer or block. Be confident of your natural shape and get going. A-line dresses work best, and a curvy bride must know how to accessorize her main wedding dress for the best effect.
2. Choose the right colors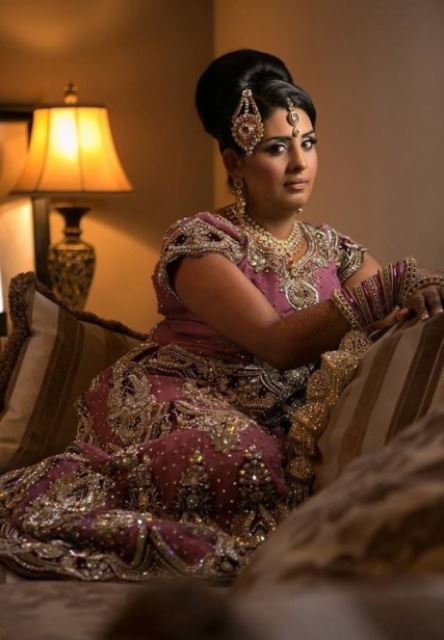 Image source: Pinterest
Stop choosing the same old boring colors such as reds and pinks. Experiment with different colors, or better still, ask you dress designer to customize a color just for you, that complements your complexion. As a curvy bride, you need to know that the right colors can actually bring about the best in you. Try flattering shades such as orange, turquoise, lavender, or aqua. Electric shades or shocking shades work best when they are color blocked against. Play a game of contrasts and make sure that your figure is flattered to the core. If you have it, flaunt it, should be your mantra!
3. Makeup tips
Image source: Pixabay, under Creative Commons License
Makeup can actually make or mar your overall wedding day look. As a curvy bride, you must focus on light makeup. In fact, nude makeup or light pastel shades work best. Use the right bronzer and blusher for creating a sculpted look. If you are chubby, it is best to work with colors that shift the focus to your best feature. Play around with the eyes or lips. Ensure that the focus is on one particular area. The idea is to create a lovely effect that makes onlookers get wowed by the sharpness of a feature and the overall simplicity of your look!
4. Understanding the modern vibes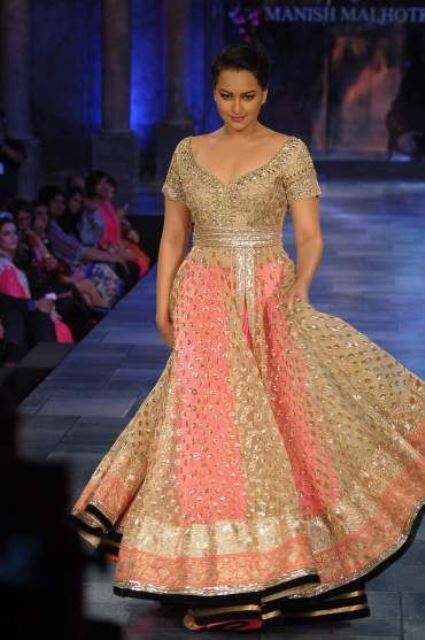 Image source: Pinterest
Wedding is that phase in life when nerves make any bride jittery. Yet, almost every girl wants to get married, experience a grand wedding, and say yes to spending a lifetime with her man. With wedding preparations getting more complicated and expensive by the day, wedding fashion too has changed avatars over the years. Today, we have seen how new age brides dress without a care for what others think. In fact, even curvy brides have this distinct fashion mantra to never go by convention and freely experiment with any style that they've comfortable with. If it suits you and you're comfortable in it, just go for it.
5. Check the comfort factor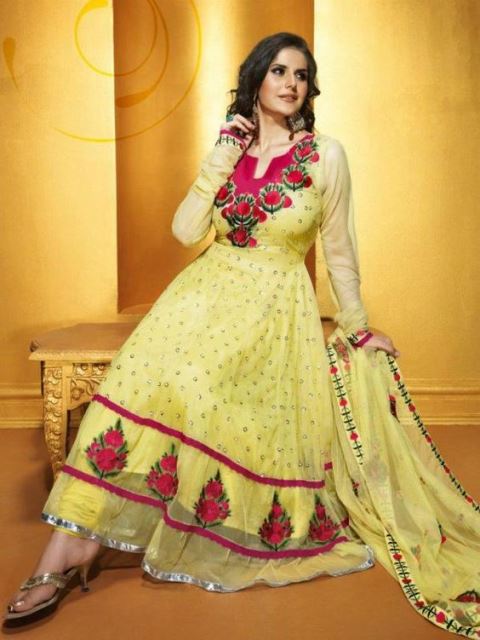 Image source: Pinterest
While being fashionable and trendy on your D-day is of utmost importance, you need to make sure the dress you pick for the big day is comfortable too. Wearing comfortable clothes on your wedding day is important. The cut and silhouette you pick must gel well with your body shape. There is no point trying to use shape wear or tights to tone your natural curves. Marriage rituals might need you to remain in one place for long. Therefore, keeping comfort and ease of movement at the top of your list is something you owe yourself on one of the biggest days of your life. Also, depending on the time that you are getting married at, choose something to wear on your wedding day that is made with a fabric that breathes and is comfortable.
6. Ensure the fit is snug
You need to feel that what you are wearing on your wedding is akin to second skin. Only then can you bear the huge pressure of looking fab and fantastic on your D-day. As a bride, you have a hundred other concerns than just the dress. Therefore, choose a dress that fits you snugly. Inadvertent peek-a-boo moments are not at all classy when they happen on your wedding day. Ensure that if you're wearing something traditional, you are comfortable with its fit, flow, and weight. In case you are going for modern cuts of contemporary styles, you must ensure that the fit is perfect. One essential tip for curvy brides is that while flaunting strapless and/or low cuts is haute, ensure that there is a tight fit involved.
---
Suggested read: Essential engagement day tips for brides-to-be for a hassle-free day
---
7. Movement issues to consider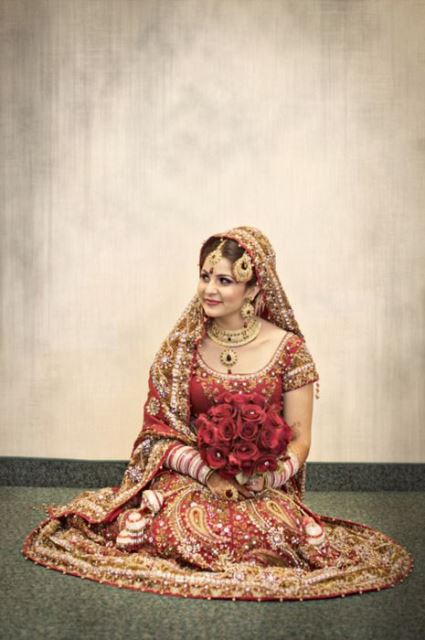 Image source: Pinterest
Your wedding will have loads of different colors. Make sure that the dress you've picked for the wedding is such that it allows you freedom of movement and ample space. You do not want to get caught tugging and pulling at your dress since the lens will always be focused on you on your big day. The best way to check whether what you are wearing on the day of you wedding is perfect for your curvy figure is to see how apt the dress is for shaking a leg! After all, what's a wedding without some dancing! 😉
With these awesome tips for dressing right on your wedding day, the curvy bride will always look like a million bucks!
Summary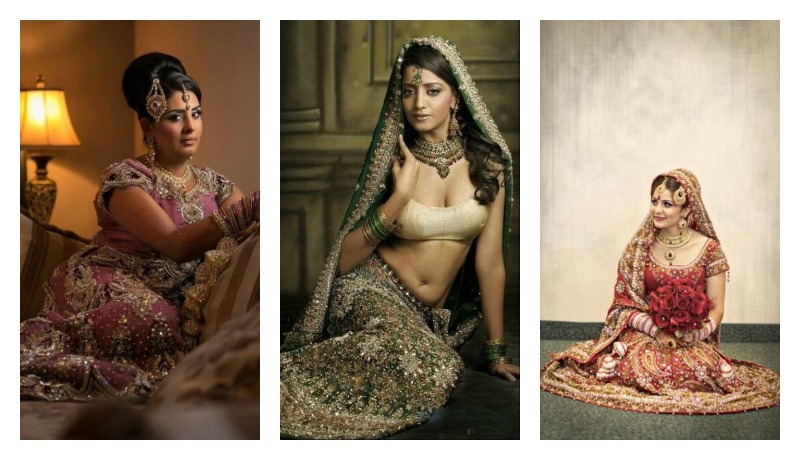 Article Name
Dressing Right On Your Wedding Day: A Curvy Girl's Guide To Looking Fabulous
Author
Description
If you're a curvy girl and are wondering how best to showcase your curves on your wedding day, you've come to the right place!