"Romance is the glamour which turns the dust of everyday life into a golden haze," says Amanda Cross… and I say that very few things are as romantic as weddings! Every wedding celebrates a love story and so it is special, extremely special! We are willing to do everything in our power to make sure the arrangements are perfect to the t! We go bonkers on the wedding theme, the DJ playlist, the attires of the bridesmaids, our own bridal gowns, the cakes… phew! The list just goes on and on! While most sites tell you about what to do on your wedding day, NLT thought that it would be more beneficial if we guided you with the don'ts! If you clear out these goof ups on your part, I am sure you will be able to focus more on the needs of the hour.
So, let's jump to the listicle straightaway, coz we know how pressed for time you are!
---
Suggested read: 10 worst songs to play at your wedding
---
1. Don't forget to have fun!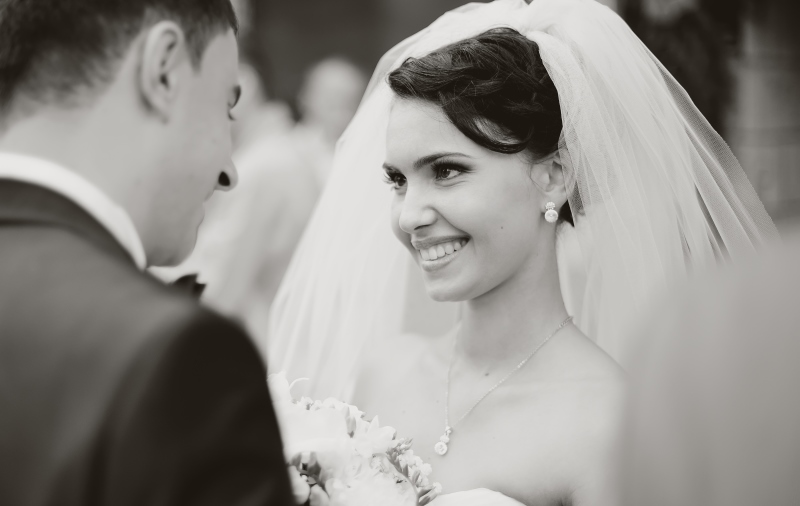 Image source: Shutterstock
Feeling torn between making sure your guests are enjoying themselves and relishing the party yourself? Well, you have shelled out all those dollars to plan this event and it is pathetic if you don't get to make it to the cocktail hour! If you are dying to join the ball, we suggest you don't restrain yourself! No one expects a lengthy conversation with you on your wedding day. So stop feeling guilty! Put on your dancing shoes and pour another glass of wine for yourself! But do make sure you are drinking less than enough! We don't want to make a scene, do we?
2. Don't underrate your schedule!
Your wedding is going to be a hectic event! So hosting a luncheon for the bridesmaids or a high tea in the evening is a terrible idea. There is just too much going on, with the list magically lengthening with time! Staying on schedule can be a bit of a challenge on your wedding day. You will simply not have the time or energy to allot yourself to an affair other than your wedding, which, of course, is your big day! I am not saying that you must leave your bridesmaids starving! Heck, no! But your lovely bridesmaids can just munch on mini sandwiches while you dress up! Managing time is very crucial on your wedding day!
You better not underestimate your schedule! Make certain you have allotted some grace period between doing your hair and applying makeup, and getting to the site of the photoshoot or the wedding ceremony. If you are marrying somewhere away from home, remember to consider traffic in your schedule!
3. Don't pack for your honeymoon on your wedding day!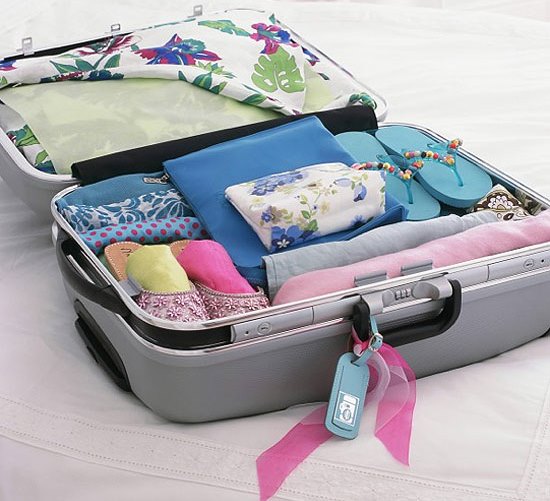 Image source: Google, copyright-free image under Creative Commons License
Ah, the best part of the wedding: the honeymoon! Ideally, you should pack for it well in advance; but if you haven't, we suggest that you assign the task to your best friend and not do it yourself. Stressing yourself will not only ruin your mood, but more importantly your makeup and hair! 😉
4. Don't get a massage or apply new cosmetic products!
Regular massages are heavenly, aren't they? Going to the spa frequently as the months lead up to your wedding day helps reduce stress, anxiety, and calm you down! But getting a rubbing the day before the wedding or the day of, can be a regrettable idea! You are risking sore muscles, mind you, which will be a major bummer on the floor! Moreover, do you actually think it's any worth, getting an expensive rub on a day that you will be way too distracted to even notice?!
Also, do not test out unused or new beauty products on your wedding day or even a few days prior. If there is a day when you must leave things in the hands of the pros, then it is on your wedding day! You may find this to be a ridiculous thought, but many horror stories have done the rounds about women trying to glue false eyelashes so that they don't fall off! They have been rushed to hospitals for such silly acts! I am sure you would not want a scalpel to cut you through on your wedding day?! Be safe and not sorry!
5. Don't skip meals!
Image source: Pixabay, under Creative Commons License
Don't starve yourself on your wedding day! Breakfast being the most important meal of the day, must not be compromised with! You will need a lot of energy to make it through your big day without passing out! Only good nutrition can give you good stamina. I am not implying that you stuff yourself with pancakes and pastries! But something light, like may be scrambled egg whites and toast, can also be a great source of protein and will not even make you feel bloated!
---
Suggested read: Top 10 hottest wedding trends of 2015
---
6. Don't over-stress!
I know this is a nerve-wracking situation, but frown lines are not something you would want to see in your wedding pictures! As much as we would want to tell ourselves that everything is going to go just as planned, we know very well that there is a great possibility of potential goof ups! So why worry? If it's going to happen despite you bursting your nerves about it, so be it! Sit back and take a chill pill! Have faith in your wedding planner, bridesmaids, maid of honor, your DJ for the occasion, and your caterer! There will be someone who will cope with these hiccups to ease your worry! Most vitally, smile… you will be marrying the man of your dreams, the love of your life in just a few hours. So enjoy the whole deal!
7. Don't drink like a fish!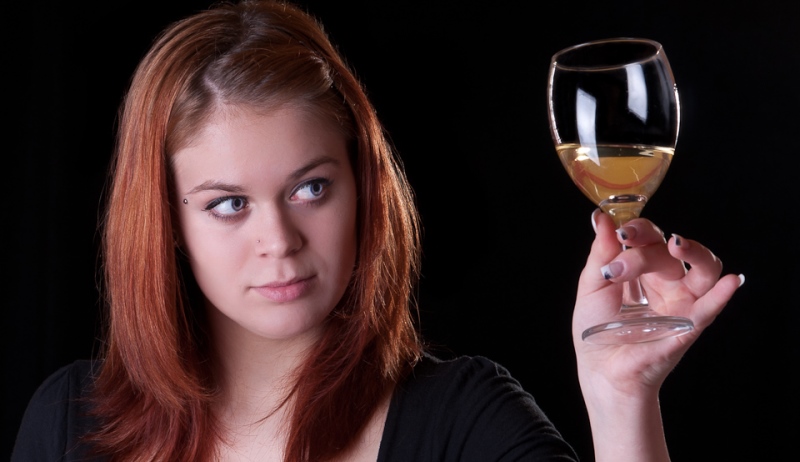 Image source: Google, copyright-free image under Creative Commons License
The Hangover was a great movie! But in reality, it can be a nightmare, if not worse! Do not drink as if there is no tomorrow, on your wedding day. Because tomorrow will come and you will have to attend your post-wedding brunch!
A flute of champagne does not hurt anyone, but drinking too much booze too early in the day, is a highway to hell! I am sure you don't want to be one of those couples who vomits all over the dance floor. And imagine the wedding pictures. How cute are they going to be?! Avoid it!
8. Don't be cruel to your bridesmaids!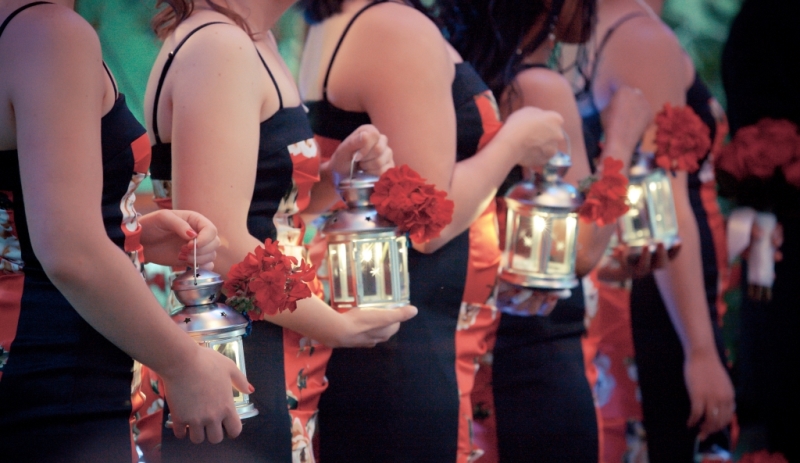 Image source: Google, copyright-free image under Creative Commons License
Being bossy with your bridesmaids is a no-no! In the traditional sense, I hope you know that your bridesmaids, most importantly, your maid of honor, are standing up for you while you take your wedding vows. They will act as witnesses to the sacred event. They are your sisters, cousins, and your friends. Do not try to belittle them or act like this day is yours and so everyone must bow down to you! There is something extremely sweet about the whole ritual of the bridesmaids gathering around you, dressed up in the attire you picked for them, helping you as you brace yourself for the bustle, and holding pretty flowers to brighten your day! Don't expect them to shell out for unnecessarily extravagant outfits, to run never-ending errands, and to attend all the parties you throw pre-wedding! Be sensitive to them. Think about what happens when the tables are turned! A little kindness and care will go a long way than any monogrammed trinket or even a pashmina shawl!
9. Don't plan an impossible destination wedding!
That exotic faraway wedding, who does not love that idea?! Exchanging your vows atop a volcano in Hawaii or in a gondola in Venince or even on the majestic slopes of the Alps! Oh! I can picture the whole thing! Great! But will Gran be up for the trip? Can your college buds drain their savings accounts to reach the destination (and come back, of course!)? Does not look so favorable now, does it? Remember, your wedding is your special day, but it is also important to a host of other people. You have to care about your guests if you want them to come and witness your happiness. Make it convenient for your folks:
Choose a well-traveled site
Plan in advance
Provide the info
Help your guests secure group rates
Bon voyage!
---
Suggested read: 7 reasons why you don't need a theme to have a memorable wedding
---
10. Don't forget about your husband-to be!
Image source: Shutterstock
Why would I do that? you might think. Yes, it does not occur to women but most of the time they surprise themselves! You have got your head trapped in a glossary of different floral designs (anemones?!) when all your man knows is that there must and will be flowers on your wedding day. You are neglecting your TV sleepovers and your pizza nights just because you don't want to mess with your dress fittings! Hey! Listen to me: It is not only about the wedding ceremony, you are getting married! Yeah, to that fella over there, sitting cross-legged on a couch, chomping on a  day-old pizza slice! This is that big transition that you will both be dealing with, together. Talk to him. Talk to him about how he's feeling, tell him about the butterflies in your stomach, and speak about random stuff, from the color of the curtains in your room to what you will be naming your new pup! Whatever, but not flowers and crab-cake appetizers!
Hope these help!
I know this is a list on what not to do on your wedding day, but I also have a suggestion on what to do: Click plenty of pictures, because it's all that remains… and the memories of the day itself, of course!
Featured image source: Shutterstock
Summary
Article Name
10 Things You Must NEVER Do On Your Wedding Day
Author
Description
Granted that your wedding day would be a stressful one, you must resolve to NOT do these things on your wedding day - at any cost!