Today, oatmeal has become a key food for all those trying to lose weight. If you are striving to shed some fat, counting all the calories diligently as you consume them, and working out harder than ever before, then you should consider eating oatmeal for breakfast on a regular basis.
Moreover, you should be aware of the benefits that you will reap from this up-and-coming diet food, as that will only motivate you to stick more strongly to your new diet. Thus for motivation, if not for anything else, we suggest that you check out the following facts that will make you realize how essential it is for you to include oatmeal in your breakfast plan.
---
Suggested read: How to watch your weight during this holiday season
---
1. Science encourages it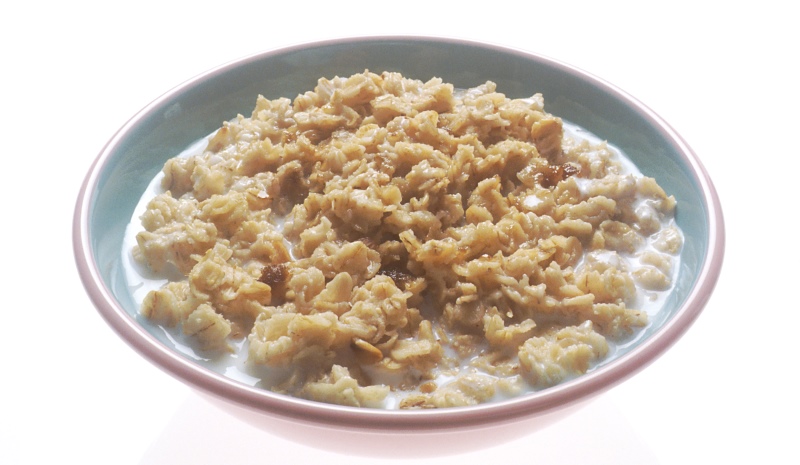 Image source: Google, copyright-free image under Creative Commons License
Well, if nothing else convinces you, then here's a fact that is backed by science itself. During a study, one group of people was given noodles, the second, carb-heavy foods for breakfast, while the third group was given oatmeal. They stuck to these food assignments for a whole week, and the results were staggering. Those who ate oatmeal continuously saw a huge decrease in the level of their cholesterol and their waist size. Can't argue with science!
2. Oatmeal keeps you full for longer
Ahhh… another one of those many vital reasons why you should seriously take up eating oatmeal for weight loss. Many prescribed low carb food leave you with irrepressible hunger pangs, which cause you to reach for your favorite junk snacks as a result. You munch on just a little of those junkies, but little do you know, this becomes an unhealthy habit that will eventually make you gain a lot of weight. The solution lies in oatmeal, the perfect food that will satisfy your hunger for a long time. It has a lot of fiber and healthy calories that you need to keep yourself full and nourished for hours, as they are digested. Furthermore, these nutrients keep us feeling energetic and drive all kinds of hunger pangs away.
3. Oatmeal offers all the right kinds of carbs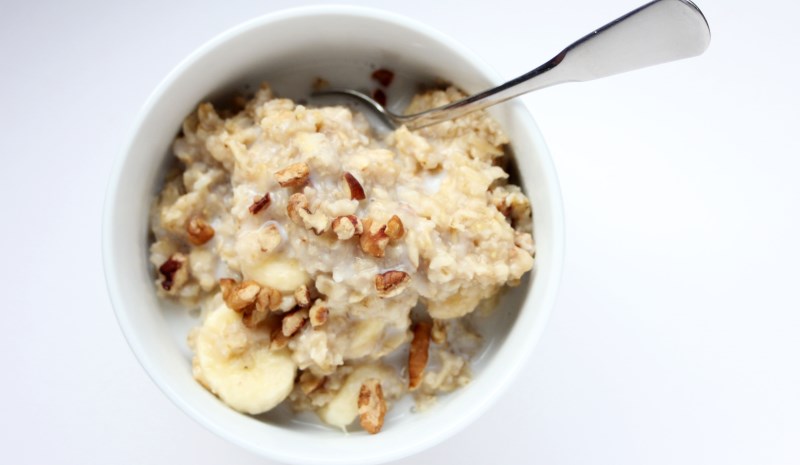 Image source: Google, copyright-free image under Creative Commons License
Oatmeal for weight loss is just perfect because it is loaded with a lot of healthy carbs. Many celebrity trainers and diet experts say that carbs are something that you must eat for breakfast if you want to lose weight, since they have the chance to be burned throughout the day. On the other hand, if you have carbs at night, you will have trouble burning them as you sleep. So to make sure that the carbs that you eat don't get stored in your body as fat, go with a steaming bowl of oatmeal right in the morning. Yum!
---
Suggested read: 10 easy exercise tips on how to get slimmer thighs
---
4. Oatmeal is easy to make
When you are about to leave for work, you hardly have the time to gulp down some decent breakfast, let alone prepare it. But if you can take out just five minutes to make your breakfast, then oatmeal is definitely something that you will be able to pull off. For an even quicker preparation, you can opt for overnight oats, which needs to be prepared the night before and then can be eaten straight from the fridge in the following morning.
5. Oatmeal never gets boring
There are endless ways for you to make oatmeal: by adding brown sugar, raisins, cinnamon and more. You can cook it with the help of different recipes that will make your breakfast taste more flavorful and healthier than ever. Breakfast will never again be boring.
6. Develop a good habit
Image source: Google, copyright-free image under Creative Commons License
We all know how experts keep stressing on how important it is for us to never skip breakfast, no matter what the situation. So if you have plans for long-term weight control, you should definitely have oatmeal for weight loss. If you develop the habit of making oatmeal in the morning, you will also develop the related habit of eating breakfast on a regular basis. In the long run, you will lose a lot of weight if you stick to this habit and start your day in this healthy and positive manner.
Dieticians and nutritionists have come up with many different ways of cooking and making oatmeal to make it a tasty and healthy breakfast option. The recipes that they have come up with are not only delicious but also uses ingredients that will help you be on the right track that will help you reach your weight goals. Here are some of the most innovative and mouthwatering oatmeal recipes that will make you want to eat oatmeal every morning!
1. Carrot cake protein oatmeal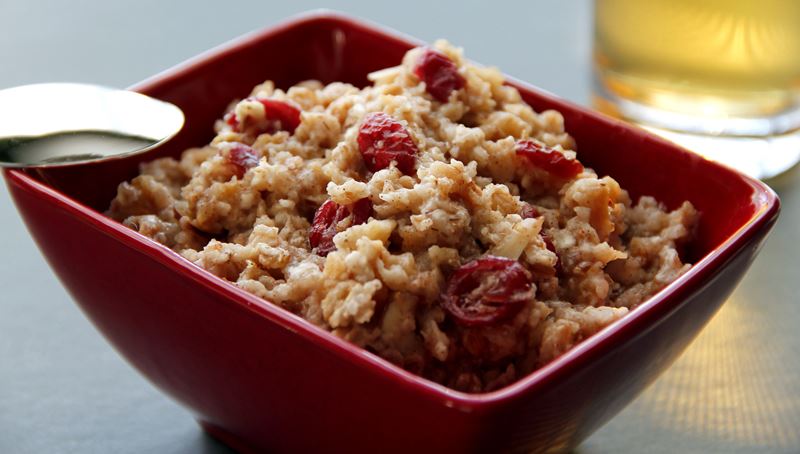 Image source: Google, copyright-free image under Creative Commons License
For each serving of this yummy breakfast, you will only add 265 calories, 6g fiber, 5g fat, 23g gluten, and 6g sugar to your body. This cake is packed with proteins and the vegetables make it highly recommendable to all those who are aiming to eat healthy and lose some weight.
To make this cake, you will need the following ingredients:
¾ cup of almond milk. Make sure that it is unsweetened
½ cup of Greek yogurt that is both low fat and plain. However, if you don't have yogurt in your stock, you can easily opt for mashed banana, pumpkin or applesauce instead
½ cup of finely grated carrots. One large carrot should suffice
¼ tsp. of salt or according to taste
½ tsp. of cinnamon
½ tsp. of apple pie spice
¼ cup of sweetener
1 cup of oats. Make sure that it is the old-fashioned type and not instant mix
¼ cup of protein powder
To make this delicious recipe, mix all the ingredients in one bowl and then divide the entire contents into two separate bowls for eating later. Now, take these two bowls and put them in a refrigerator, covering them well. After at least an hour, though preferably a whole night, take them out and top them with chopped nuts, sugar syrup or Greek yogurt and cinnamon. You can have it cool or you can warm it for 30-60 seconds in a microwave and then enjoy its delicious taste!
2. Oatmeal made with lemon, thyme, and honey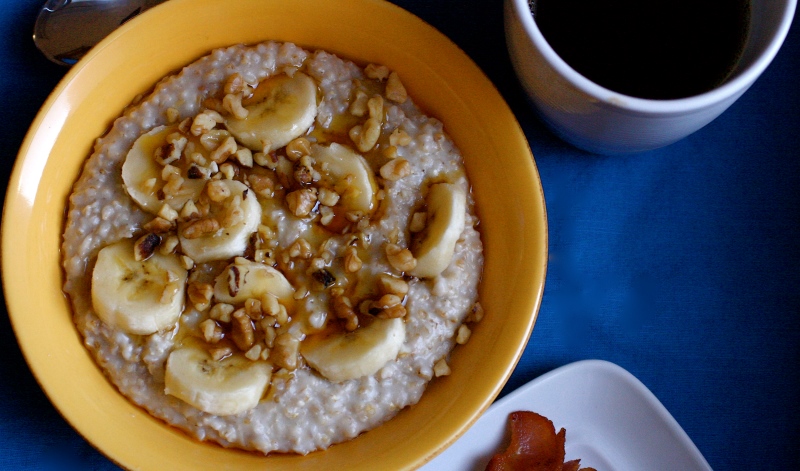 Image source: Google, copyright-free image under Creative Commons License
In every serving of this oatmeal there will be 310 calories, 4.3g fiber, 5.9g fat, 15.1g protein, 18.8g sugar. So this is one of those very healthy oatmeal recipes that will turn your breakfast into a much-awaited affair.
To make this oatmeal, you will need the following ingredients:
¼ tsp. of vanilla extract
1 tsp. of lemon
½ cup of oats
½ cup of yogurt
½ cup of milk
Some sprigs of thyme
1 tsp. of honey
To make this oatmeal dish, you have to mix of all the ingredients together in a bowl. Now take a plastic wrap and cover the oatmeal with it. Put the bowl in the fridge and leave it like that for a whole night. On the next day, take the oatmeal and place it on a pretty serving dish. You can put some more honey on the oatmeal and enjoy your homemade concoction.
---
Suggested read: How to get toned abs like Taylor Swift and rock crop tops
---
These two recipes mentioned above have been personally tried, tested, and loved by myself. I can attest that they satisfy the dieter's trifecta: delicious, healthy, and quick to make! So, if you can spare just ten extra minutes in the morning to make your breakfast, then go ahead and opt for oatmeal. You won't regret it!
Featured image source: Google, copyright-free image under Creative Commons License
Summary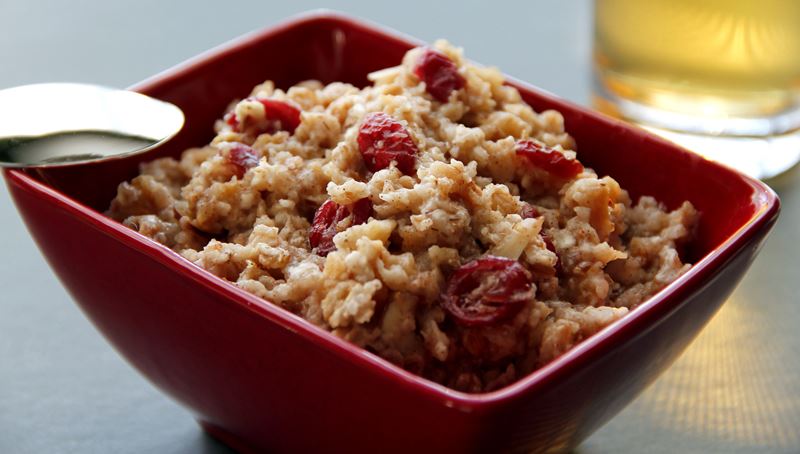 Article Name
How To Use Oatmeal For Weight Loss
Author
Description
Oatmeal is a very healthy, low-caloric breakfast option that will help you achieve your weight goals faster. Here's you can use oatmeal for weight loss.