Jake Parker, an artist, created the Inktober challenge in 2009. As the name suggests, the challenge runs through 31 days of October every year. The challenge started out with a traditional medium, that is paper, and ink. However, over the years, people have brought digital art into the circulation.
Parker issues 31 prompts to help guide the inspiration of artists. However, it is not mandatory to follow them. Artists partaking in the drawing challenge, have to create an artwork every day of October, and post it with the hashtags #inktober and #inktober2018
---
Suggested read: Illustrator Cécile Dormeau Nails What It Is To Be A Modern Woman
---
Day 1: Poisonous
This artwork reminds me of the Mirror of Erised from the Harry Potter series. Dumbledore said that it showed "the deepest, most desperate desires of our heart". I wonder then, if the entity in this artwork is soliciting the presence of somebody they lost, or just coming home to themselves.
Day 2: Tranquil
The artist refers to Walden, in the caption, saying, "This is Thoreau's way of communicating with nature and represents his transition from one who imposes his meaning on nature to someone asking nature to respond to him." David Thoreau penned this novel is the fervor of American Romanticism, but it holds true till this date. Our souls will always have a void that only Nature can fill.
Day 3: Roasted
There exists such an axiom as "the things which you love, are the ones that hurt you the most". The perfect example for that is coffee. Our venture into caffeine always begins with innocent baby steps. However, it soon moves from a liking for the flavor, to an addictive dependency on the high. But like all things we love, let us continue to be blind about how it ruins us.
Day 4: Spell
Yubaba is a character from Hayao Miyazaki's Japanese Animated film, 'Spirited Away'. She guards and is the proprietor for The Bathhouse, and some argue, the main antagonist in the feature film. 'Spirited Away' is one of Studio Ghibli's finest, most detailed productions.
Day 5: Chicken
This prompt found a barrage of role-reversal responses. This goes to prove that humans are incredibly aware of an alternate Universe where they are the ones being fried and eaten. In fact the interest in human flesh as a culinary delight is almost here, and almost legal.
Day 6: Drooling
This could have two possible explanations: a) The possibly feral child has found a button-eyed companion that makes them human, or, b) The little bunny has been trapped by a demon and will be eaten flesh, bones, and all. I want to believe in the first possibility, but the second one seems more accurate.
Day 7: Exhausted
This is a self-portrait. The daily drudgery of a monotonous routine, is soul-crushing, to say the least. We should have a longer weekend, a better system of education, and be allowed to sue firms over the complete lack of work ethics. The 21st century is tiring, and I cannot wait for it to be over.
Day 8: Star
In this artwork, I particularly like the element of color in the lone spaceship. To me, it signifies hope in the limitless expanse of vacuum. The dot work in ink sketches is unforgiving, and this one must have taken relentless effort. Minimalist art, even though it covers a smaller subject, or surface area, is very difficult to execute.
Day 9: Precious
Food will never betray you. Irrespective of what mood I am in, snacks are always my solution to everything. Got fired from the job? Let's go eat at that café. Got your heartbroken? Let's order some takeout. As unfeeling as this sounds, it has helped me when nothing else could.
Summary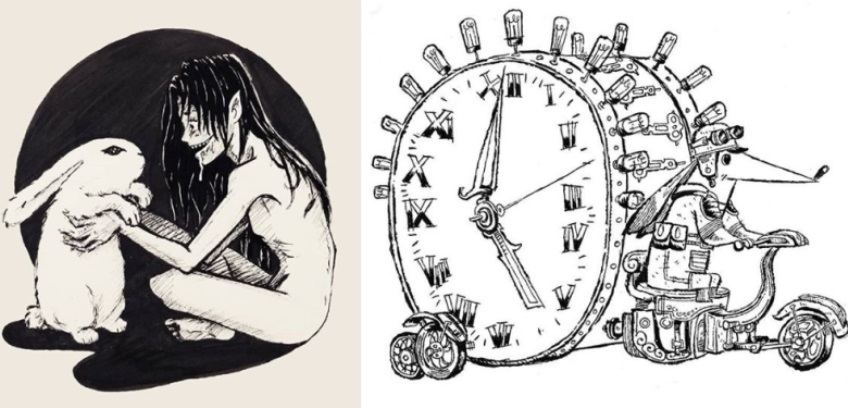 Article Name
Inktober 2018: Compilation of the Best Artwork from 31 Prompts
Author
Description
Here's a compilation of our favorite Inktober illustrations of this year!
Read the rest of the article:
Next