If you have not been spending 2018 under a rock then, at some point, you must have heard of Queer Eye. It is the reboot of the 2000s show Queer Eye for the Straight Guy, with a new ensemble, the "Fab Five," and a revamped style. Essentially the show is about helping people take control of their lives by providing them with essential fashion, grooming, beauty and design advice. However, the reboot of the show has proven to be much more than that. In this show, you are not only able to see a change in the people's lifestyle choices, but some of their stereotypical beliefs as well. Hence, there are moments of social commentary woven in between the "make-better" sequence. The show has been able to create a special place in their audience's lives, and is critically acclaimed as well, winning two Emmy awards in 2018!
---
Suggested read: Fashion Couples Are Serving Up Some Major #CoupleStyleInspo This Valentine's Day
---
With an ensemble of five, it is difficult not to pick a favorite. Although all of the cast members together help make the show what it is and have their charms, sometimes you lean a little bit more towards someone. For many people, it would be the grooming expert Jonathan Van Ness.
JVN is the man in charge of making sure that the people of the United States are taking good care of their skin, and hair. His long, silky and luscious hair is a testament to his prowess in this field. But, what many people love about Van Ness is his ability to turn heads with his glamorous and unconventional outfits. Although he is not the fashion expert among the five, his style choices have left several people in awe of his confidence, and his ability to make anything work for him.
How JVN has changed the game!
Jonathan Van Ness is not afraid to bend the gender norms. He is bringing gender fluidity into the mainstream media and is looking stunning in his high heels while doing it. His confidence in himself is continually encouraging us to be more true to ourselves and care less about what people think. JVN is not afraid to own the stage with his bold fashion choices, and his determination not to give in to the haters. Here are a few times when JVN left us in awe of his style choices!
The Emmy 
Okay, let's get this over with because people will most likely be talking about this for months to come. JVN slayed his red carpet look with his black dress and created a big splash on the internet. People loved the sheer mesh top and the sparkly black skirt paired with a pair of high-heeled black boots. He styled his hair in a slicked back half-updo, and according to most (or all), he was one of the best-dressed celebrities of the day. Although there seemed to be some haters on the internet, Van Ness didn't spare a single moment to shut them down!
The Platform Boots
Van Ness wore his leopard print boots on two occasions, and it was beautiful. He shared a sneak peek of ahead of his Emmy look with his printed boots on along with his sheer top and the most adorable smile on his face. The Gay of Thrones actor also shared a video of his fashion walk practice session on Instagram with these stylish boots on.
The Vintage Kaftan
For Netflix's FYSee kick-off Jonathan Van Ness proved once again that he was effortlessly beautiful when he wore a black, silk kaftan to the premiere. His sleek up-do and gold boots gave it some additional glamour, but honestly, it was not required at all!
The White Suit
Van Ness did not bring his A-game only to the Creative Arts Emmy, but to the Primetime Emmy Award Show as well. For his outfit o the red carpet, he wore a white suit paired with a silk see-through turtleneck top. His outfit featured a hard to miss purple handbag, and well –placed hair brooch which helped tie the look together. Suffice to say, JVN was hard to miss in both of his Emmy outfits!
The Over the Knee Boots
Some people may think that over the knee boots are going out of fashion, JVN says no. During the live taping of JVN's podcast called "Getting Curious," he shared this look with his fans. However, it wasn't JVN's luscious locks which caught the eye of many instead; it was his grey over the knee boots which were almost mid-thigh high. Paired with the cozy looking red sweatshirt and short shorts, JVN proved once again that he could make casual look glamorous.
The Bright Pop of Color
JVN showed us that leg days in the gym do pay off when he strutted onto the stage with this monochrome outfit with a pair of bright pink and purple boots. The outfit emphasized his well-toned legs, and everyone was here for it. The femme beard and braided hair was the perfect hairstyle for this look!
---
Suggested read: [Insta-celeb Series] Let Olivia Palermo's Style Diary Fashionspire You!
---
The Ultraviolet
Pantone may be the one choosing the color of the year, but Van Ness is the one who showed us just how fierce it could look. He posted a picture of himself on Instagram with a purple eye-look and purple highlights on his hair; a look that the internet is not likely to forget any time soon.
Link: https://instagram.com/p/BnB6nwyB_a5/?taken-by=jvn
The Clear Heels
For Beautycon LA, JVN made a casual outfit look fit for the fashion streets of LA with just one innovative addition. He paired a white cropped top and blue jeans overall with a pair of clear high heeled shoes and slicked back hair.
The Beanie and Boots
JVN makes his everyday outfit look enchanting, and makes us wish that we had such awesome styling powers. He paired black high heeled boots with a black beanie, a black tee and black short shorts. He looked so flawless that even the Sun couldn't help but cast a spotlight on him!
The Sparkling Boots
Even his first paparazzi picture did not catch Van Ness by surprise. He was snapped wearing an olive green long top with black shorts. While the rest of the outfit screamed casual, JVN added his usual flair with the help of a pair of purple sparkly boots and a braided hairstyle. Can we ever catch him off-guard?
The Mustard Yellow
The color mustard yellow is all the rage nowadays, and Van Ness pulled it off effortless. He posted a picture of himself on his Instagram wearing a mustard yellow and short white top paired with a pair of black gym shorts and blue sneakers. He posed casually in front of a mirror with his hair tied into a bun and made us wonder how he made gym clothes look stylish.
The Flower Crown
Remember the time when flower crowns were all the rage? Well, JVN brought it back with a simple picture on his Instagram during Pride month in LA. He wore a simple grey tank top with a rainbow color flower crown on adorning his hair.
The Silver Boots
It seems that JVN has a fascination for eclectic shoes, and no one is complaining at all. On his Instagram, JVN posted a picture of him wearing a maroon sweater top with blue jeans and a pair of shiny silver boots to top it all off!
Queer Eye has become an important show for today's youth. There are many people who, while watching the show, find themselves connecting with the Fab Five on a personal level, and many still who enjoy the light-hearted moments of the show. It is not just the show, but the people behind it, too, who have been able to win the hearts of the people. It seems that JVN is determined to let the message of the show be evident to all, even in his own time: be true to yourself. He is never afraid to bend the gender norms according to his will, and he is not afraid to use his platform to express how you do not have to conform to society's orthodox mindset.
---
Suggested read: 15 Stunningly Stylish Ways To Wear Thigh High Leather Boots
---
While many people may roll his eyes at his 'whimsical' style, and many more who may hate him for his style, he has never let that take away from expressing his true self. When faced with rude comments from trolls and haters in the internet, JVN is not afraid to answer back. However, most of the time, he does not let such people bring him down and seems to be busy doing his own thing.
Looking at JVN inspires many to express who they are. Whether it is in the way they dress, or activities that they enjoy. When you see stars use the platform that they have to send a more significant message out into the world, it shows you that some people truly care about the people of the world who, sometimes, feel a little different from the rest.
Featured image source: Instagram 
Summary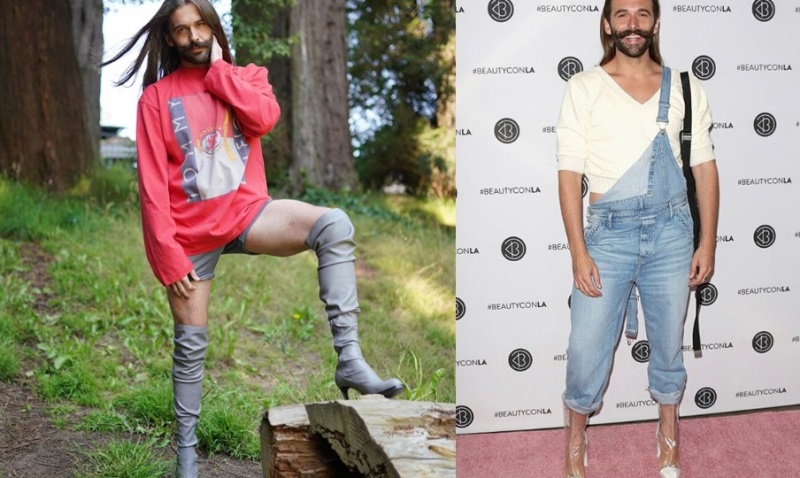 Article Name
Slay The Style Game The Jonathan Van Ness Way!
Author
Description
Jonathan Van Ness is bringing gender fluidity into the mainstream media and is looking stunning in his high heels while doing it.