I started watching Brooklyn Nine Nine earlier this March upon being recommended by multiple friends, and I am so grateful to them for making me watch this gem of a TV show. The show has the characteristic charm of a Mike Schur show with its quick witted humor, lovable characters with some of the best character development seen on television, and a storyline that doesn't bore you for  even a fraction of a second.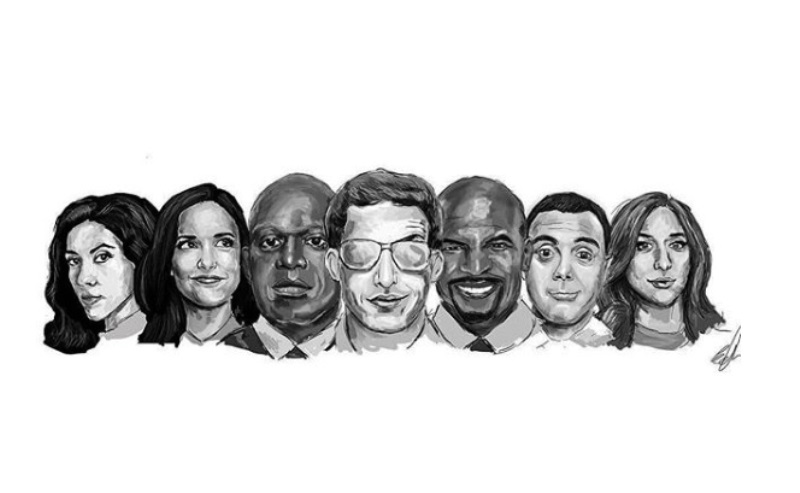 Image source: Instagram 
Like The Office, Parks and Recreation, and The Good Place, this show too is driven by all its characters. Every single character has a significant contribution in every episode. Each character has traits that are unique to them that make them lovable and memorable for viewers. Mike Schur's undivided attention to detail is visible in this show too. We see the characters grow from their initial stages in the first season to individuals with layered characteristics, who are much more than just their dominant comic traits.
Brooklyn Nine Nine is set in a police precinct in New York City, and like Parks and Recreation, that was set in a small town government parks department, presents an ideal image of what an American social institution ought to be like. At present, this show is possibly one of the few running  shows on television that offers a critique of the current police system, attacks oppressive social institutions, while also delivering the perfect punchlines and getting a genuine laugh out of every viewer.
---
Suggested read: When Science Took Over: A Dystopian Fiction Tale
---
Recently in May, the show was cancelled by Fox and the news was received with phenomenal outrage and grief pouring out from every corner of Twitter. Even celebrities like Mark Hamill, Lin Manuel Miranda, Seth Meyers and Guillermo del Toro expressed their surprise and dismay at Fox's decision. Millions shared GIFs and tweets and posts, and within an hour of the announcement the show was trending #1 on Twitter. Such intense was the backlash from fans that within a day the show was picked back up by NBC. Robert Greenblatt, NBC Entertainment's Chairman said in a statement, "Ever since we sold this show to Fox I've regretted letting it get away, and it's high time it came back to its rightful home."
It is honestly no surprise that the show garnered such unprecedented support and love even though Fox stated its low viewership (less than two million in the fifth season) as one of the principal reasons for cancelling it. B99, as fans affectionately call it, is perhaps the most diverse and inclusive show airing on prime time television at the moment. The main cast of the show has two black men and two Latina women, something that has never been seen on any other show before. Even five years ago when the show aired, the fact that it had two Latina women was surprising even for the cast members themselves.
---
Suggested read: 12 Comedy Sketches You Cannot Miss From Saturday Night Live
---
Stephanie Beatriz, who plays the character of detective Rosa Diaz, who recently came out as bisexual in the show, was herself surprised that she was cast even after Melissa Fumero (who plays detective Amy Santiago) was already given a role. Later in an interview, Beatriz explained how, even though she was happy for her, she cried when she heard that Fumero got casted because she knew this meant they wouldn't cast another Latina woman. "There's only one of us ever, you know?", she'd said, bringing to light that minorities continue to remain underrepresented in the showbiz industry. Most shows just do the bare minimum in ensuring minority representation to appease fans and critics. But B99 has, in every step of its five year long journey, fought for recognition of ethnic, sexual, racial minorities and stood up against several oppressive stereotypes, institutions and customs of society.
The show has taken many popular sitcom tropes and subverted it deftly by not giving in to stereotypes. Amy Santiago is what you would call the "nerd" of the squad. She makes color coordinated binders for everything, solves the New York Times crossword puzzle every day, is physically incapable of breaking any rules and considers her pen to be her best friend. If this was any other typical American sitcom, Amy would have been the butt of many sarcastic and sometimes even cruel "nerd jokes", wherein these traits would be displayed as things one should ideally be embarrassed of. Instead, here in spite of the many jokes that Gina cracks about Amy and her pantsuits; or Rosa making fun of her for being a prude; every single character acknowledges and appreciates Amy's intelligence and even relies on it in times of need. When she gets into a relationship with Jake, who can only be described as her antithesis, he doesn't try to change Amy's nerdy way of life and make her "cooler" and more carefree like him. Instead, her embraces her for who she is and even adopts her love for binders and clean towels. In fact, the moment he realizes he wants to spend the rest of his life with her is when she's complaining about a typo in a crossword puzzle. The show, along with its characters, celebrates the archetype of the Nerd instead of dismissing it as simply the punchline of cruel jokes. 
The 99th precinct is headed by Captain Raymond Holt, with assistance from Sergeant Terence (better known and loved as Terry) Jefferson. The fact that both these men who are at the helm of affairs in the precinct are black is a testament to the show's inclusivity. They are both in positions of authority and as far away from the realm toxic masculinity as possible.
Captain Holt is an openly gay man and has faced discrimination all his life on account of being a black and gay man in the police force. Throughout the show, he candidly speaks of his unpleasant experiences and how unfairly difficult it was for him to rise to the top in comparison to his straight white coworkers. And now that he is in a respectable position where he can exercise power, Holt uses it to help those like him in the police force. He understands what it is like to be discriminated against, and thus during his campaign for becoming the Commissioner he comes to an understanding with one of his opponents Olivia Crawford, the only female candidate. Instead of breaking out into a comic rivalry which would have guaranteed some laughs, the two realize that they are both fighting to end the legacy of straight white men in the NYPD. In this way, the show reveals its passion for social justice and also creates a space for conversation on minorities being forced to compete against each other while the opportunity goes to the straight white cis men anyway.
Sergeant Terry, on the other hand, is a big black straight man who loves his wife and children very much. But he too, in spite of being the "Muscle Guy" of the squad, subverts several tropes of toxic masculinity found in TV sitcoms. Terry maybe the most muscular and physically fit character on the show, but he is shown to be as much affected by his emotions as any other character. He loves yogurt and spending time with his family and keeping them safe. He cries easily and does not hide his emotions under a garb of hyper-masculine strength. His character is also much more than just his physical agility and prowess. He once described himself as a "Mother Hen" who was proud of her baby chicks, i.e. his squad at the Nine-Nine. Terry is fiercely protective of those he considers his family, but is also the most non violent character in the show. However, this does not stop him from standing up for what is right. An entire episode was dedicated to the issue of racial profiling by policemen where Terry was mistreated by a white police officer in his own neighborhood. Once again, instead of resorting to Nine-Nine style antics to make light of the situation, the gravity of the situation was portrayed with sincerity and the show successfully condemned the racism that is often involved when cops deal with "suspects".
There are countless other instances where Brooklyn Nine Nine has voiced its opinions on serious issues without breaking away from the lighthearted and playful tone of the show. Charles Boyle is, not once, shamed for his lack of physical agility. His references to his "feminine hands", his infertility are all landmines for toxic masculinity jokes; but they are never made. Instead Boyle is perhaps the most hardworking detective in the squad. He is portrayed to be an excellent friend and a compassionate individual. In fact, compassion and kindness are the greatest traits exhibited by every character in the show.
Rosa's character is what one would call the "Tomboy" archetype of the show. She always dresses in black, carries an axe at all times, hates expressing her emotions and dislikes hugs. At the same time, Rosa loves Nancy Meyers movies, she falls in love, she breaks down and cries when things get rough,and is always there for her friends. She is also one of the two LGBTQ+ characters in the show, something that is rarely seen on a TV show. The show has continued to be an ally for the LGBTQ+ cause and with the episode where Rosa confronts her family and defends her sexuality, it really struck a chord with several members of the community.
---
Suggested read: The TV Shows That Rocked The Idiot Box This Year
---
This show is a living proof of the fact that you can make people laugh without putting other members of a community down. It does not condone cheap, offensive gimmicks in the name of humor. It does not base its jokes on stereotypes, but rather seeks to go beyond them by redefining the status quo and allowing minorities an opportunity to lead from the front.
Featured image source: Instagram
Summary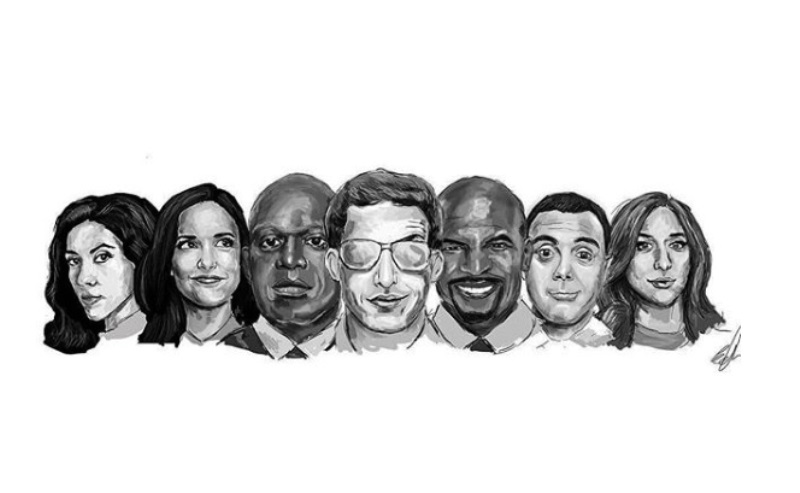 Article Name
Brooklyn Nine Nine Does Inclusivity Like No Other Sitcom
Author
Description
I started watching Brooklyn Nine Nine earlier this March upon being recommended by friends, and I am so grateful to them for making me watch this gem.