Women have always been subjected to different rules than men. Despite being born equal to a man, a woman doesn't ever enjoy the same kind of freedom and rights as a man. But this one everyday lady has braved odds to become an unconventional role model for women.
---
Suggested read: Actress Jamie Brewer of TV series AHS created history at the NYFW!
---
Meet Krishna Devi – a middle-aged Indian woman, who poses nude for art students every day. An ordinary woman and mother of two, she has worked as a muse for art students for seventeen years now.
Image source: Youtube
---
Suggested read: An Indian bride walked out of her wedding. Here's why…
---
Thrown into this unusual profession by familial responsibilities and unfortunate circumstances, she was not always comfortable with her job. She recalls the initial days as being extremely uncomfortable. Stripping off in front of a group of students and sitting still in a pose for hours can be unsettling. However, she avers that the respect she received from the students led her to shed all her inhibitions. Not the owner of a perfect figure, she defies conventional standards of beauty and is proud of her body. She has come into her own and commands respect from a society that deems her job as promiscuous and shameful. She is happy to have found people who do not make her feel ashamed of her nakedness and is hopeful of a generation that shall break free of existent stereotypes and the prevalent patterns of judgment.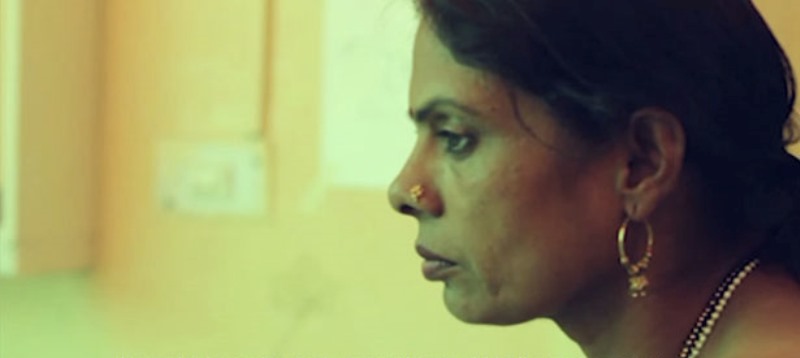 Image source: Youtube
Although there is no denying that her circumstances forced her into the profession, she is now a happy woman, proud of her work. She has broken free of the shallow fetters that have kept most prisoners, and is also a proud archetype of one who has pinned down the ever-elusive job satisfaction, in a laudable, unconventional manner. Maybe this uncommon story of a common Indian woman, who has set out to defy the existent stereotypes and the consequent judgment, is India's cue to translate the uncommon into the routine.
---
Suggested read: Lebanese TV host shuts down interview with sexist 'scholar'
---
Isn't it time we challenged the norm and made empowering exceptions the rule?
Featured image source: Youtube
Summary
Article Name
Krishna Devi poses as a nude model for a living
Author
Description
Meet Krishna Devi, the woman who is proud of the job that pays her to be naked! Why? Read to find out.