Farhan Akhtar has become the first MARD to join the lofty ranks of prominent UN Women's Goodwill Ambassadors, the likes of which include actresses Nicole Kidman and Emma Watson, tennis player Sania Mirza and Princess Bajrakitiyabha Mahidol of Thailand. Akhtar was appointed as a UN Women Goodwill Ambassador to South Asia in November last year. At the 59th Commission on the Status of Women Conference held in Manhattan last week, he spoke about the imperative need for ending violence against women. He told the media that he considers his role as a Goodwill Ambassador as an efficacious means to promote the cause of gender equality and bring about awareness. He added that he is committed to the 'serious responsibility' that his role entails and shall strive to work as hard as possible to bring about positive change. The talented MARD was also found singing at an event attended by former secretary of state Hillary Clinton and Academy Award-winning actress Patricia Arquette.
Image source: UN Women/Susan Markisz
Also an advocate for the UN's HeForShe campaign, the 'actor-singer-filmmaker-and-more-rolled-in-one' is the Bollywood beacon of gender equality. Back home, he had succeeded in bringing the pivotal discussion on gender centre stage by founding MARD, Men Against Rape and Discrimination, in 2013. Given his massive 4.8 million Twitter following and even larger fan base, it was but a matter of time that this initiative directed at spreading awareness about women's rights and forging a positive change in the domain of equality between the sexes picked up like wildfire.
---
Suggested read: Farhan Akhtar is a MARD – Man Against Rape and Discrimination
---
Of course, there's a long way to go and the 41-year-old has been working hard to awaken the nation to the need for (M)engagement for (F)empowerment. His vision for social change and the importance of instilling 'respect for women' in all hearts had been applauded by many. It was Farhan's solid determination to diffuse the fast-ticking gender disaster bomb that Dr. Phumzile Mlambo-Ngcuka, Under Secretary General and Executive Director, UN Women, sought to utilize Farhan's drive to fuel change on a global platform,
"Farhan started his own campaign MARD – Men Against Rape and Discrimination that aims to sensitize men and create awareness about the safety of women. That kind of engagement is essential. We need creative and committed men like Farhan to push the gender equality and women's empowerment agenda. I am convinced that Farhan's passion and conviction for the cause will galvanize a multiplier effect and reach the hearts and minds of men and boys in South Asia and beyond."
Image source: UN Women
---
Suggested read: UN Goodwill Ambassador Emma Watson is a feminist, not a man-hater
---
Since Farhan believes in sowing the seeds of change at an elemental level and transmitting it 'as a pyramid effect through you,' the versatile hottie has begun the 'good work' at the grass roots level. Besides spreading awareness through films like 'Positive' (a short film starring Boman Irani, Shabana Azmi, and Arjun Mathur) to spread awareness about HIV as a part of the 'Jaago' series that was funded by the Bill and Melinda Gates Foundation, he has also worked with 'Magic Bus,' a Mumbai-based organization that helps Indian families send their daughters to school. A major part of MARD's focus is to engage young men in critical dialogues about the existent definitions of masculinity, challenging them, and opening up newer, 'equal' avenues for definition.
"More often than not, the concept of manhood is a lot more aggressive. Aggressive values of being able to achieve, to go get things, to not take no as an answer," says Farhan, "[MARD] helps them find the balance [and says] that it's OK to be sensitive, it's OK to cry, it's OK to take no for an answer." 
---
Suggested read: Convict Mukesh Singh mouths off about brave 'Nirbhaya'
---
This is the kind of dialogue that Farhan aims to start at a global level, in his new capacity as the UN Women's Goodwill Ambassador. In the wake of the recent ban on BBC's documentary, India's Daughter, based on the horrific Delhi gang rape incident, the convention couldn't have come at a more opportune time. Farhan speaks up about the needless ban on the documentary.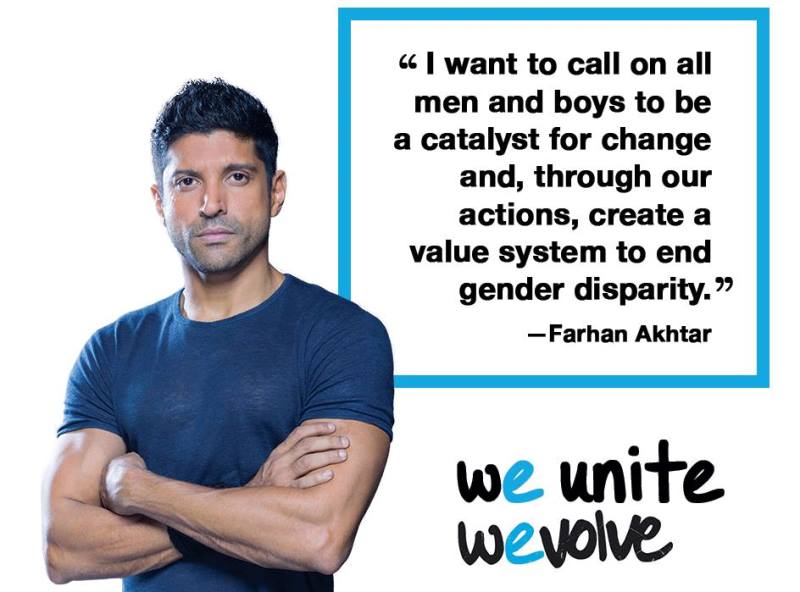 Addressing the need to end violence against women across the world, Farhan ties the cause to the 'morphed' definitions of what it means to be a 'man,' as handed down by patriarchal dictates. This rather-damaging idea of masculinity, as a construct, is something that needs to be undone and reshaped into a conducive, symbiotic thriving ground for promoting gender equality. He believes that the documentary can open up an expansive and potent possibility for bringing the discussion mainstream, in a powerful manner.
"There are men in India and in the rest of the world who, whether you want to call it traditional, whether you want to call it twisted, whether you want to call it outdated, have ideas of masculinity that need to be changed. By exposing this mindset we can start talking about it."
---
Suggested read: Is the documentary 'India's Daughter' fake?!
---
Akhtar also took part in a Q&A session on Twitter last week during which people could use the hashtag #AskFarhan, to get the actor's answers to questions about advancing women's rights in their own countries.
The MARD team at the UN with @ravikarkara .. Thank you Ravi, for your effort & enthusiasm. #Beijing20 @UN_Women pic.twitter.com/GfHtKw1JXD

— Farhan Akhtar (@FarOutAkhtar) March 11, 2015
With a mixed progress report revealed at this landmark convention, which marked 20 years of the Commission on the Status of Women, we only hope to see a REAL shift in numbers in the coming years. Of course, in the positive direction. After all, 'with great power comes great responsibility,' to take a leaf out of Uncle Ben from Spiderman. And we wish dear Farhan all the luck for a cause that's close to our hearts as well!
Featured image source: UN Women/Susan Markisz
Summary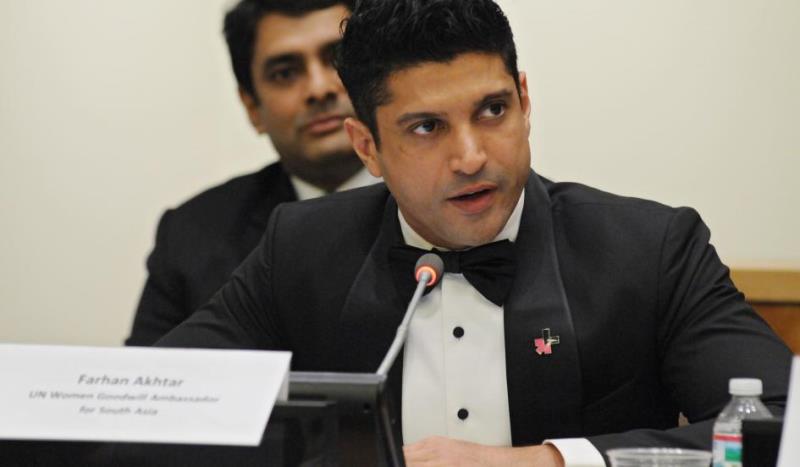 Article Name
Farhan Akhtar first man to be UN Women Goodwill Ambassador
Author
Description
Farhan Akhtar has become the first man to be made UN Women Goodwill Ambassador. Here's a toast to the actor who is trying to bring about a positive change.