From the time I attained puberty, I have had issues with my body. Since then, I have always been self-conscious about the real or perceived love handles I carry around every day. Before then, I never really gave much thought to it. I was content in my own little world where I didn't have to think about how I looked in every moment of every hour of every day. I guess that was the age where I really became aware of the changes in my body, and how I felt about it. Not good, that's for sure.
I have always felt different, disparate, from my female acquaintances and friends. I wasn't pretty enough, or slim enough, or tall enough when I compared myself to them. I know it sounds ridiculous when I admit it, but I guess every woman on the planet either secretly or openly acknowledges the fact that they don't see themselves as perfect the way they are. That given a chance, they would change something or the other in their looks.
And the advertisements that are given primetime spots on the telly aren't any help either. They blatantly advertise the fact that there is something inherently wrong with having a dark complexion, or if you're not slim enough to fit into a size zero outfit. That you won't succeed in this world if you're not fair. That you're never going to get that promotion if you're not slim and fair. These advertisements make a case that using their products alone will guarantee your success in this world – whether it's in your personal life, while trying to catch a guy's eye, or in your professional life, where you're trying your damnedest to get that promotion you've worked your ass off for.
Image source: cbc.ca
When this is the reality, where women aren't comfortable in their own skin – including me (I have no qualms admitting to that fact) – why is one of the biggest names in the lingerie industry, Victoria's Secret, allowed to go on with their latest ad campaign?
Here's the story.
Victoria's Secret recently launched an ad campaign entitled "The Perfect Body," which features a row of ten underwear-clad women, at least three of whom have visible ribs. The perfect body campaign is part of the 'Body' by Victoria line of lingerie. And this ad has come under fire and drawn flak from every corner on the social media.
And when three young women from Britain, Frances Black, Gabriella Kountourides, and Laura Ferris, students of Leeds University, came across this poster on one of their visits to the mall, they were outraged by the wrong message that the lingerie company was sending out – that a woman's body is perfect only if it resembles that of a lingerie model, with flat stomachs and chiseled legs. The girls decided to change this by starting an online petition, asking for an amendment of the campaign.
Image source: nydailynews.com
The petition in its entirety reads:
We would like Victoria's Secret to apologize and take responsibility for the unhealthy and damaging message that their wording 'The Perfect 'Body'' sends out to society about women's bodies and how they should be judged. These words are featured in your new advertising campaign for your range of bras Body.
We would like Victoria's Secret to change the wording on their advertisements for their bra range Body, to something that does not promote unhealthy and unrealistic standards of beauty, as well as pledge to not use such harmful marketing in the future.
The petition had collected more than 30,000 signatures within a few days. And twitter has been abuzz with the hashtag #iamperfect, with the lingerie company receiving backlash from all quarters.
Take a look at some of the tweets:
Must be one of the worst ads in history @VictoriasSecret. By body shaming the majority of us women? #iamperfect pic.twitter.com/NYzcuoDCUh

— Imogen Lloyd Webber (@illoydwebber) October 31, 2014
#iamperfect Victoria's Secret should be ashamed of themselves! You don't have to be skinny to be perfect!

— mads (@MADDYGERR) October 30, 2014
I don't have 2b anorexic to have a perfect body #iamperfect Why does #VictoriaSecret think it has to educate us on it's distorted views?

— Beautylicious82 (@Beautylicious82) October 30, 2014
The Victoria's Secret "The Perfect Body" campaign makes me wanna throw up. Their idea of a "perfect" body is unrealistic. #iamperfect

— emily✭scarfman (@Emily_Stikeman) October 30, 2014
While some are taking to Twitter to express their indignation and anger over the campaign, still others have taken to explaining their reasons for signing the petition on change.org itself.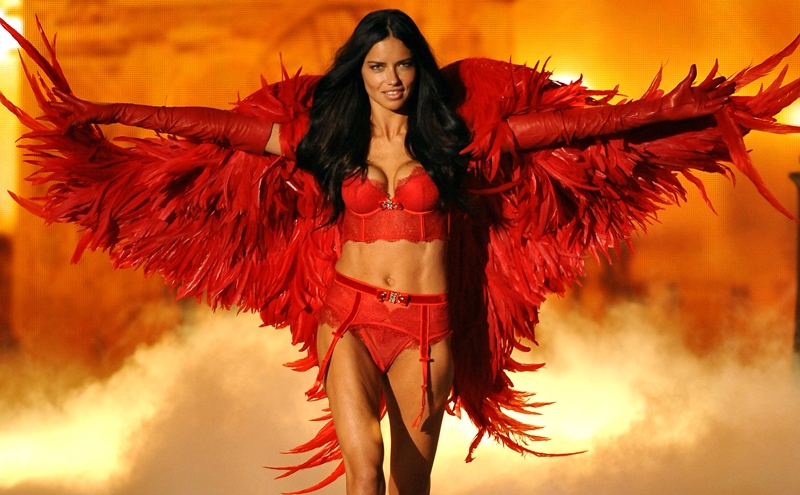 Image Source: Shutterstock via Anton Oparin
Amanda Snyder, a former Victoria's Secret employee wrote, "Society needs to change the way they view a woman's appearance. As a former Victoria's Secret employee, I know that the company was developed to design lingerie to make women feel better about themselves. The marketing team apparently didn't get the memo."
Another lady, Hannah Welby wrote, "Body shaming is irresponsible and damaging. As is setting a specific standard of beauty and perfection. As women, we need to be encouraged and celebrated in all our appearances and not pigeonholed. For male campaigns this can also be an issue that needs addressing."
Even celebrities like Lady Gaga have come out in support of amending Victoria's Secret's ad campaign.
Victoria's Secret "The Perfect Body" campaign is absolutely ridiculous. Because #iamperfect and #youareprefect the way you are.

— Lady Gaga (@ARTPOPUpdate) October 31, 2014
Not to be left behind, Dove indulged in some guerrilla marketing and posted this pic with a tweet:
Today we celebrate the perfect REAL body and all the women who have said "#IAmPerfect the way I am." #TBT pic.twitter.com/CFD2GfokGE

— Dove (@Dove) October 30, 2014
The message that this kind of campaign sends out that women aren't perfect the way they are, is damaging to women's self-esteem. They promote unrealistic expectations in men about what a woman should look like to be considered perfect and beautiful. Not to mention driving numerous young women towards eating disorders in their unhealthy quest for a size zero figure. It subtly manipulates women into thinking that they are somehow a failure if they don't look like the women in those photos. That somehow they are less than the women who have the 'perfect' bodies.
When will the media and the clothing industry – as a whole, wake up and see that they have so much power in their hands, and that when they are not careful about the responsibilities that come with that power, they can be a detriment to the society? That they are, in the end, responsible for perpetuating such body shaming and low self-esteem in women in our society?
Story update: Victoria's Secret has changed the campaign slogan to 'A Body For Every Body' bowing down to public pressure.
Featured image source: Shutterstock via Anton Oparin