Alison Teal is a buccaneer in a bikini; someone, whose first best friend was a monkey in the Amazon jungle!
I have been following the female Indiana Jones on Instagram for a while now, and if you have been doing the same, I am sure you are aware and in awe of her adventures around the world.
But does she travel for the sake of traveling alone? No. She travels the world to film environmental and cultural phenomena, in an attempt to educate through entertainment. Her films are available to the public for free, to help the youth be better leaders of tomorrow.
---
Suggested read: Angela Nikolau is the world's riskiest selfie-taker EVER!
---
Teal is a graduate from the University of Southern California theatre and film school and the University of California Berkeley. Her short film, "Rita", was a Himalayan escapade that showed how Teal got her first taste of being in a school. "Rita" won international praise at a number of film festivals, the most noteworthy being Telluride. It also was nominated in 2007 for an MTV award. Her next film, "Snakes!", which was a Moroccan Surf Adventure Film was shot, directed, produced and hosted by Teal herself.
When Teal turned twenty-three, she produced a documentary, "INCANtations" that earned her international recognition. She also teamed up with topnotch sportspersons in the movie, "Nature Propelled", which was narrated by none other than, Patrick Stuart of the Star Trek franchise.
In Steven Spielberg's show, "On the Lot", Teal went on to become one of the finalists. She has also been honored by the great Meryl Streep as a leading female artist. Alison Teal also worked in the movie, "Eat Pray Love". And remember the house in Bali where Julia lived for a while? Teal spent her childhood years there. Now how cool is that?
Teal gives her parents all the credit for who she is and what she does. And so, we need to…
Meet the Parents
Alison talks about her "wild parents" who she thinks, "are secretly from another planet", in her website, Alison's Adventures. She says,
"My papa, David Blehert, is a world-renowned adventure photographer for companies such as NATIONAL GEOGRAPHIC MAGAZINE, PATAGONIA, EAGLE CREEK, and TEVA. He is famous for going after, and always getting, and bringing back the impossible "extreme shot" from some of the most primitive, inaccessible, wild, and often dangerous wastes, jungles, and wilderness areas on the face of the earth."
"My mother, Deborah Koehn, is a naturalist and internationally acclaimed yoga devotee and teacher (Patabi Jois & family). And together, as a family, we formed a company called YOGA ADVENTURE and have guided trips around the world for as long as I can remember."
Baby Indiana Jones
Alison's kid-hood has been very different, and has played a pivotal role in her making. The "Oprah of Adventure" as the Huffington Post and the O Magazine call her, says,
"When I was two months old, my parents took me skiing on Ausangate, the highest peak in Southern Peru, and since then my life has been a continuous whirlwind of high adventure; I have explored and lived in the most remote, strange, colorful, and bizarre corners of this planet and gotten to know, like and become friends with all manner of indigenous people, and by doing so become part of an ever growing global family."
"… And as you might have guessed, my ad-lib, free-form, on the move, literally homeless version of "home schooling" took place on the back of, or under, an elephant, in a tent in a blizzard on the flanks of Mt. Everest, on a camel safari across the Rajasthan desert, and wherever else my adventure and nature photographer parents' job took them."
I am sure you are already very excited about the woman's films and documentaries, but since I love building up the anticipation, here's a sneak peek into some of her adventures through her Instagram feed.
Pink is the new green
The new film series
Alison's Adventures Maldives goes with the haunting tagine: One person's trash is another woman's bikini.
Watching the most spectacular sunset from the tallest dune in Europe
Putting her back into banning plastic
---
Suggested read: 9 inspiring and exotic travel destinations for soul-searching
---
Don't just seize the moment, soak it
Aren't you envious already?
Here's wishing Alison Teal all the best and the craziest in her endeavor to bring people closer to their environment so that they empathize with it, rather than exploit it!
That's a wrap from us! For more on people who are changing the world, one stroke at a time, sign up for our newsletter today. So long!
Featured image source: Pinterest/ Oprah.com/ Oprah
Summary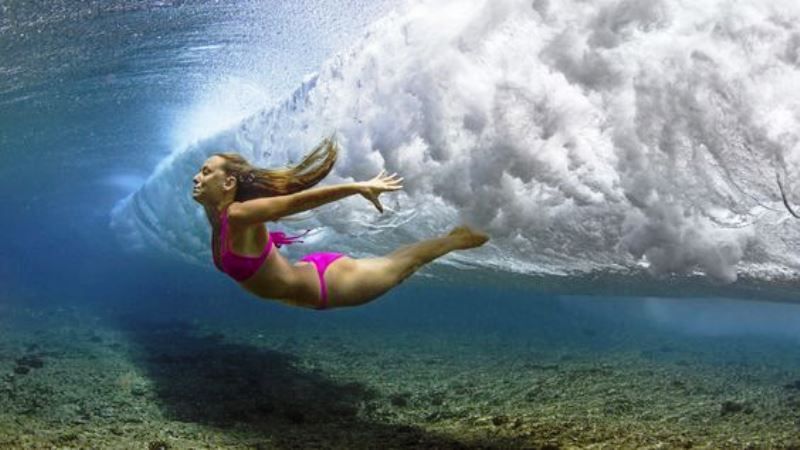 Article Name
Meet Alison Teal, The Female Indiana Jones With A Cause
Author
Description
Alison Teal is a buccaneer in a bikini; someone, whose first best friend was a monkey in the Amazon jungle! Here's all you need to know about the explorer! A word of caution: The pictures in here can make you REALLY ENVIOUS!