In the second half of April, we will be celebrating the poetry of modern poets for #NaPoWriMo.
Today, we have compiled a list of 8 of the best poems by Sara Teasdale. This, however, isn't an exclusive list, but just a list of our favorites.
We hope you will love going through these beauties, just as much as we did curating them for you.
---
Suggested read: #NaPoWriMo W.B. Yeats And His Beauties
---
Best poems by Sara Teasdale
I Know The Stars
I KNOW the stars by their names,
Aldebaran, Altair,
And I know the path they take
Up heaven's broad blue stair.
I know the secrets of men
By the look of their eyes,
Their gray thoughts, their strange thoughts
Have made me sad and wise.
But your eyes are dark to me
Though they seem to call and call-
I cannot tell if you love me
Or do not love me at all.
I know many things,
But the years come and go,
I shall die not knowing
The thing I long to know.
I Am Not Yours
I am not yours, not lost in you,
Not lost, although I long to be
Lost as a candle lit at noon,
Lost as a snowflake in the sea.
You love me, and I find you still
A spirit beautiful and bright,
Yet I am I, who long to be
Lost as a light is lost in light.
Oh plunge me deep in love — put out
My senses, leave me deaf and blind,
Swept by the tempest of your love,
A taper in a rushing wind.
If I Must Go
IF I must go to heaven's end
Climbing the ages like a stair,
Be near me and forever bend
With the same eyes above me there;
Time will fly past us like leaves flying,
We shall not heed, for we shall be
Beyond living, beyond dying,
Knowing and known unchangeably.
Faces
PEOPLE that I meet and pass
In the city's broken roar,
Faces that I lose so soon
And have never found before,
Do you know how much you tell
In the meeting of our eyes,
How ashamed I am, and sad
To have pierced your poor disguise?
Secrets rushing without sound
Crying from your hiding places-
Let me go, I cannot bear
The sorrow of the passing faces.
-People in the restless street,
Can it be, oh can it be
In the meeting of our eyes
That you know as much of me?
---
Suggested read: #NaPoWriMo These Poems Will Break Your Heart In The Most Beautiful Of Ways
---
May Wind
I said, "I have shut my heart
As one shuts an open door,
That Love may starve therein
And trouble me no more."
But over the roofs there came
The wet new wind of May,
And a tune blew up from the curb
Where the street-pianos play.
My room was white with the sun
And Love cried out in me,
"I am strong, I will break your heart
Unless you set me free."
Since There Is No Escape
SINCE there is no escape, since at the end
My body will be utterly destroyed,
This hand I love as I have loved a friend,
This body I tended, wept with and enjoyed;
Since there is no escape even for me
Who love life with a love too sharp to bear:
The scent of orchards in the rain, the sea
And hours alone too still and sure for prayer-
Since darkness waits for me, then all the more
Let me go down as waves sweep to the shore
In pride; and let me sing with my last breath;
In these few hours of light I lift my head;
Life is my lover-I shall leave the dead
If there is any way to baffle death.
Triolets
Before a lonely shrine
Of foam-born Aphrodite,
Ungarlanded of vine,
Undyed by dripping wine,
I brought green bay to twine,
And prayed to her, almighty, –
And lo, the prayer of mine
Was heard of Aphrodite.
I sang of answered prayer,
And now before the goddess,
The maids lay flowers rare,
And she has ceased to care
For bay that I might bear.
To heal my heart's distress,
My feet must wander where
There waits some lonelier goddess.
In A Garden
THE world is resting without sound or motion,
Behind the apple tree the sun goes down
Painting with fire the spires and the windows
In the elm-shaded town.
Beyond the calm Connecticut the hills lie
Silvered with haze as fruits still fresh with bloom,
The swallows weave in flight across the zenith
On an aerial loom.
Into the garden peace comes back with twilight,
Peace that since noon had left the purple phlox,
The heavy-headed asters, the late roses
And swaying hollyhocks.
For at high-noon I heard from this same garden
The far-off murmur as when many come;
Up from the village surged the blind and beating
Red music of a drum;
And the hysterical sharp fife that shattered
The brittle autumn air,
While they came, the young men marching
Past the village square….
Across the calm Connecticut the hills change
To violet, the veils of dusk are deep-
Earth takes her children's many sorrows calmly
And stills herself to sleep.
---
Suggested read: #NaPoWriMo Best Poems By Ronald Koertge That Celebrate The Ordinary
---
This is all we have on today's post on the Best Poems by Sara Teasdale. This is, however, not an exhaustive list, and if we have missed out on some of your favorites, then please feel free to add them in the comment section below.
Until next time!
Featured image source: Instagram 
Summary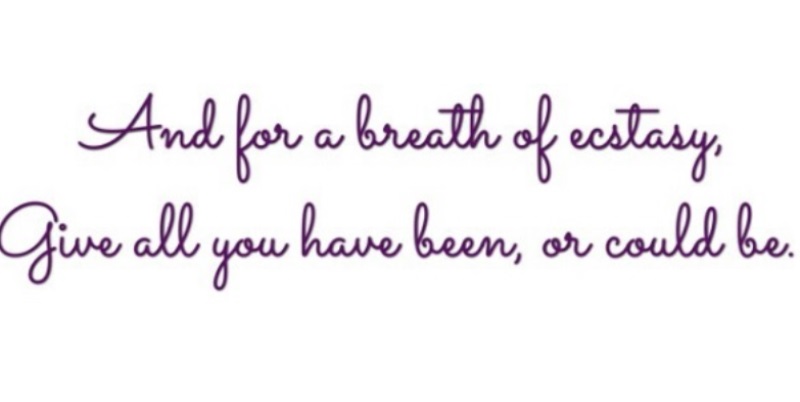 Article Name
#NaPoWriMo 8 Best Poems By Sara Teasdale
Author
Description
Today, we have compiled a list of 8 of the best poems by Sara Teasdale. This, however, isn't an exclusive list, but just a list of our favorites.