My first encounter with a Nicholas Sparks novel was back when I was in my late teens. Actually, I read the book A Walk to Remember, only after watching the movie starring Mandy Moore and Shane West. Anyway, the novel appealed to my hormone-riddled young self on a level that I couldn't quite put my finger on, than anything I'd read till then. Since then, I have read only one of his books – Message in a Bottle – which, I'm sorry to say, didn't appeal to me at all. I guess I grew up. Meh.
Anyway, I was surprised to read the news that he and his wife of 25 years, Catherine aka Cathy Sparks have separated. According to news reports, it seems like it is not a sudden revelation either. The couple apparently filed a post-marital agreement back in August 2014, agreeing that neither would seek alimony from the other.
The 49-year-old Sparks told People, "Cathy and I have separated. This is, of course, not a decision we've made lightly. We remain close friends with deep respect for each other and love for our children. For our children's sake, we regard this as a private matter."
How sad that one of the most popular peddlers of mushy romance and everlasting love has had to bid goodbye to his happily ever after with his wife of 25 years, whom he married in 1989.
The love story of the man who gave us touching romances of the likes of The Lucky One, The Longest Ride, et al, reads like a novel in itself. In one of his older interviews with the relationship website eHarmony, Nicholas said, "I met my wife on a Monday night on spring break in Florida. On Tuesday night, I told her that we would get married." He further added, "We met in March, then we went back to our respective schools. I wrote her about 100 letters, graduated in May, she visited a couple of times, moved out of California in August, I proposed in October, we married the following July, and it's been 23 years."
In another interview he did on HuffPost Live back in 2013, he extolled his then-wife's many virtues, saying, "I married a woman who loves a lot. Certainly every female character I've ever crafted is a lot like my wife. They're intelligent and loyal, they're funny. And most of all, they're not wishy-washy women. They're good, solid women."
The couple who have five children aged between 12 and 23, of whom three are sons, and two are daughters, seem like they were fine even as recently as 2013. Whatever the reason for their separation, the couple needs privacy to go through this difficult time, and not be made into a media circus.
Image source: Google, copyright-free image under Creative Commons License
Nicholas Sparks has had quite an interesting literary career so far. He wrote his first novel while he was still in school, in 1985, called The Passing. In 1989, the same year he got married to Cathy, he wrote his second novel, The Royal Murders. Both of these initial attempts went unpublished. Later, when his attempts to seek work with publishers didn't pan out, he tried his hand at a series of careers from real estate appraisal to selling pharmaceuticals.
In 1993, while working as a pharmaceuticals sales rep, he wrote another novel in his spare time, The Notebook. In 1995, his manuscript was salvaged from the slush pile by literary agent Theresa Park, who liked it and offered to represent him. In October of 1995, the Time Warner Book Group gave an advance of $1 million for the manuscript, and the novel was eventually published in October 1996. In its first week of release, the book made the New York Times best-seller list.
And the rest, as they say, is history.
Nicholas Sparks has till date written 18 romantic-drama novels, among which 10 have been adapted into major motion pictures, the latest one, The Longest Ride, slated for an April release. The notable movie adaptations include Message in a Bottle, A Walk to Remember, The Notebook, Nights in Rodanthe, Dear John, The Last Song, The Lucky One, Safe Haven, and The Best of Me.
Summary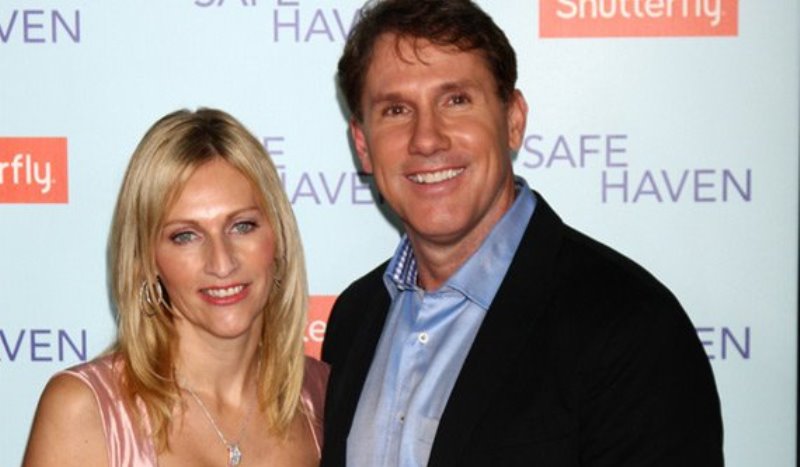 Article Name
Best-selling romance author Nicholas Sparks separates from his wife of 25 years
Author
Description
Best-selling romance author Nicholas Sparks is in the news for a sad announcement. He has apparently split from his wife of 25 years.