Who doesn't enjoy watching beautiful heartfelt romantic movies? It's good to escape into the world of romance sometimes, and what could be better than romantic movies that have hot steamy scenes in them. After all, sex does play a major role in the blossoming of love and romance. These steamy scenes spice up our rather mundane lives which desperately need that extra push.
These movies help rekindle the spark of love and romance in our lives which have died down with time. They are our guide to the fantasy world of romance and love where all is rainbows and butterflies! These movies help us reconnect with our romantic side and make us feel the power of love again!
---
Suggested read: Top 10 female charmers from Hollywood movies
---
Here's a list of steamy romance movies that is sure to bring out the Romeo or the Juliet in you!
1. Dirty Dancing
What could be more romantic than going on a vacation and stumbling upon a perfect stranger who turns out to be one hell of a dancer and sweeps you off your feet! A holiday turns into a full-fledged love affair with a lot of dancing (ahem ahem… a lot of dirty dancing!). It is beautiful to see how these two characters fall in love; the sizzling chemistry between the two on the dance floor is guaranteed to give you goosebumps! This timeless summer love story is a classic and will never be dated; it's exhilarating to see this passion and commitment between the two characters.
2. Titanic 
Yes, the tragic story of Jack and Rose is known to the whole world, but it is their unbreakable bond and commitment to each other that captivates the audience. The thought of a rich girl leaving behind all the luxuries to be with a poor man makes her all the more admirable. And the man's fight to save her till his last breath shows us the power of love and how it can bring two people together for life, and at times even end up saving a life. This movie is a breathtaking portrayal of true love (and let's not forget the extremely steamy scene with the hand running down the vapored glass of the car window; oh lala, who can ever get that out of their heads!).
3. Love and Other Drugs
What happens when a womanizer pharmaceutical sales rep befriends a young woman with Parkinson's disease? A whole lot of hot sex is what happens! Anne Hathaway and Jake Gyllenhall showcase extraordinary chemistry that pretty much heats up the entire screen as you watch! But this movie doesn't only portray the physical bond between the two, it also explores the emotional connection as they both fall in love. And despite her terrible condition, how this man who was once pretty much a player, gives up his ways and vows to stay by her side through her illness and take care of her – now that's called a true soul mate.
4. Notebook
This is one film that shows audiences that love never dies. If you truly loved someone with all your heart, you will always find a way back to them because even after years of separation, these two characters were reunited once again in such a way that they even ended up dying in each other's arms when they were old and grey. This movie literally leaves you all teary-eyed at the end when you see the love these two shared for each other. The entire journey from the first kiss to the separation to the reunion till their death, is a masterpiece of an epic love story filled with love, lust, angst, anger, and ultimately, death. The first part is all steam and heat thanks to the real-life relationship between Ryan Gosling and Rachel McAdams during the filming of the movie. It is one steamy romance movie which is a must-watch!
5. One day
Anne Hathaway works her magic again, this time with Jim Sturgess, in this unforgettable movie where these two characters play the role of two friends who decide to meet every year on 15th July and see where they stand in life. Over a period of twenty years, they realize that they are in love, and hence embark on the journey of a lifetime filled with love, laughter, and a whole lot of sex, but alas, their happiness ends all too fast with Emma's (Anne Hathaway's) death, which leaves Dexter (Jim Strugess) broken. A magnificent story of how sometimes we don't see it but our soul mate has always been right there with us the whole time!
6. Friends with benefits
What starts off as a casual fling with a whole lot of steamy sex ends up in love after all. This movie is a perfect example of how this whole concept of friends with benefits doesn't always work out, as feelings do get in the way of it. This film is a funny romantic comedy packed with humor, sexy scenes, a whole lot of fun, and ultimately love!
7. The Holiday
This movie tells the tale of two different women from different countries who swap homes for the holidays to get away from their relationship issues. But the twist comes in when they meet local guys and unexpectedly fall in love which changes their lives forever. While one relationship showcases the more subtle sweet romantic flow of things, the other portrays the steamy, passionate side of romance.
---
Suggested read: 15 movies that will make you want to cuddle up with your pet
---
8. Pretty woman
This is one of the unexpected and totally mind-blowing steamy romance movies. A rich, successful entrepreneur falls for a common hooker! He doesn't care about her past and the bad choices that she has made, he loves her nonetheless; now if that ain't a gentleman, I dunno who is! The remarkable chemistry between Julia Roberts and Richard Gere brings this story to life and captivates audiences as they fall in love with these two extraordinary characters!
9. No Strings Attached
Here is an example of another steamy romance movie which plays on the concept of friends with benefits, no emotions, just sex. Despite the ravishingly hot sex between the two protagonists, the duo does end up falling in love by the end. There seems to be no escaping love, is there ?
10. 27 dresses
"Always a bridesmaid, never the bride," was the story of Jane (Katherine Heigl) up until she ended up hammered with Kevin (James Marsden) in a car. Let's just say they didn't do a whole lot of driving in there, if you can catch my drift. Very steamy indeed! Their big night was followed by a whole lot of drama, after which their love for each other finally came to light and saved the day, and they lived happily ever after!
11. Fifty Shades of Grey
Nothing spells steamy romance than this movie; the explicit scenes here are seriously spine-tingling with all that heat scorching the screen! This is sure to bring back the hot romance in your lives! The burning desire the two protagonists have for each other pushes the boundaries of love, lust, and desire in this movie. Throw in some kink, and you have one steamy romance movie on your hands!
12. Mr and Mrs Smith
Ok, this movie has it all: the thrill, the action, the love, and the crazy steamy scenes which brings to life the fiery onscreen chemistry between Brad Pitt and Angelina Jolie, which later undoubtedly turned into an off-screen affair. Not a surprise considering the intense and electrifying lovemaking scenes in this movie (poor Jen)! Nonetheless, this story aimed at reviving a staid marriage, sure manages to do so!
13. Shakespeare in Love
This movie speaks the language of love as it narrates the passionate love story between Shakespeare and his lady love. Joseph Fiennes and Gwyneth Paltrow hold the ensemble together perfectly, with their spectacular chemistry showcasing love, passion, and desire with lustful delight! It is one of the must-watch steamy romance movies guaranteed to leave you wanting more!
14. The Lucky One
A magical love story of a soldier who returns from war to find the woman who he thinks is his lucky charm – absolutely charming, delightfully romantic, and passionately pleasing. This movie is a blend of sweet romantic gestures mixed together with a sensual erotic ardor which gets audiences hooked to it instantly.
---
Suggested read: 15 Hollywood movies where friendship turned into lasting love
---
15. Pearl Harbor
In the backdrop of World War II, there blooms a newfound love between Army Air Corps pilot Rafe (Ben Affleck ) and a nurse, Evelyn (Kate Beckinsale). Later, after Rafe's alleged death, Evelyn finds herself at a loss and slowly falls for Rafe's best friend, Danny (Josh Hartnett). Their chemistry is a titillating fantasy which ultimately makes them fall in love only to discover Rafe is alive. His return sure complicates matters. A very complex love triangle knotted up with love, lust, and desire.
All these wonderfully steamy romance movies transport us to a world where love conquers all and those steamy romances help fulfill our desires in real life. These movies are a breather for us to escape from reality and come back with the feeling of bringing back the lost love and steamy romance which we so terribly miss!
Featured image source: Google, copyright-free image under Creative Commons License
Summary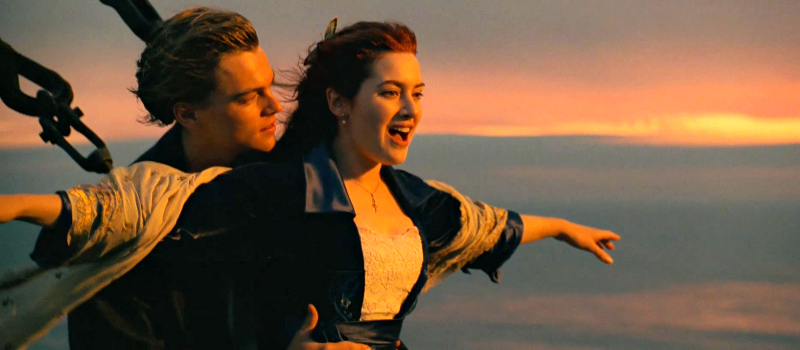 Article Name
15 Steamy Romance Movies That Scorched The Screens
Author
Description
Onscreen romances have the power to bring back the spark in your relationship, and these steamy romance movies promise just that. Check out the list! :)