Nothing is better than a pick-me-up pampering on an exhausting and stressful day, which is kind of every day for expecting mothers! Pregnancy is a beautiful experience, without a shadow of a doubt. But, let us be honest; it is demanding on the body and the mind of expectant mothers. These mothers-to-be need to indulge themselves with different pleasures if they wish to remain sane throughout this pregnancy period. However, they must also be cautious and learn about what is safe and what is not when it comes to preggie-primping. There are a lot of myths doing the rounds about the same, and because of such rumors, you may carefully avoid something that is actually good for both you and your baby. Today, we will outline which ones are facts and which are fables, so that you can go about your pregnancy pampering without any fear of hurting the precious life that you carry in you.
Image source: Shutterstock
So, before you lock yourself in a tower like Rapunzel (a little oversized one, though!) for the coming nine months, you must know that babies to be born are amazingly tenacious. That must be right because otherwise Homo sapiens would have shrunk into extinction a long time ago! So stick to what is safe and what is not. Plus, be a little selfless at times, since nine months is not all that long a time to avoid the things you love!
---
Suggested read: 10 cute ways to tell your husband you are pregnant!
---
What is safe?
Hair color
No one is born with sun-kissed highlights, but almost everyone wants them! Expectant mothers usually want to try out different things because they tend to get bored real fast. Keeping yourself entertained by experimenting with different hairstyles and hair colors can be tempting. But is it safe? According to Richard Beigi, who is an assistant professor of obstetrics, reproductive sciences and pregnancy at the University of Pittsburg Medical Center, "There are a lot of chemicals used in hair dye, but no well-designed studies have found any direct link to birth defects or childhood cancers. While you don't want to be exposed constantly, dyeing your hair once or twice is unlikely to be a major problem." Experts suggest that you don't take a chance 'til the second or third trimester because by then the fetus will have developed its major organs fully. At that point, it is safe for you to choose highlights, though still only single-process color. As highlights are not spread over the scalp directly, the chemicals will not enter into your bloodstream.
Massage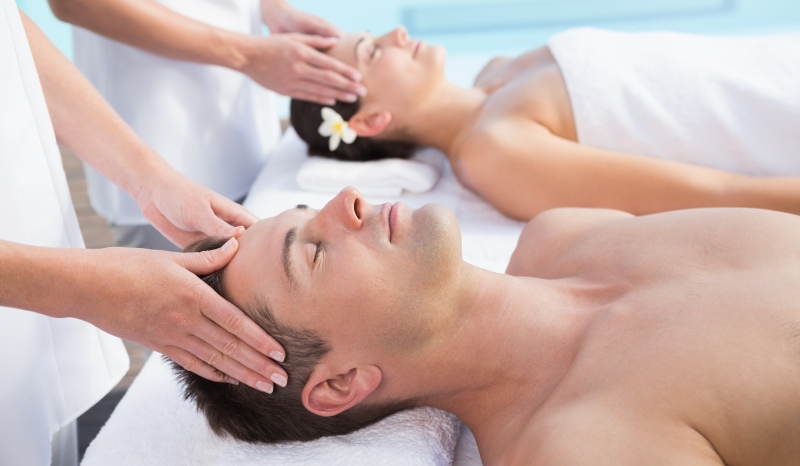 Image source: Shutterstock
Professionals dealing with expectant mothers hold that massage is a brilliant thing to try during pregnancy, whichever trimester you may be in. It not only soothes stress, but it also improves blood circulation and relieves expectant mothers of the usual aches and pains. However, it is necessary for the therapist to be aware of body changes during pregnancy. If you prefer lying on your belly, go for spas with special cut-out massage tables. If you are prone to nausea, your therapist must apply unscented oils. Finally, beware of an important red flag: spas that ask for a doctor's note. This might be a sign that the therapists here are not comfortable treating expectant mothers.
Manicure and pedicure
All of the experts we spoke to believe that it is completely alright to schedule your mani-pedis in any trimester. Your nails are likely to grow and get strong now, and you must take advantage of that. Although nail polishes are known to have trace quantities of harsh chemicals, our nail beds don't absorb them. Also, nail polishes have never been associated with birth defects in infants. A possible problem, however, is 'sickness' that may come on if the parlor is not properly ventilated. Some of the fumes may be quite strong. Thus, we advise that you call your beautician before going, so that they can air out the place for you!
Facial 
You are not satisfied with the 'pregnant glow' alone? Or you didn't get any? There is no means by which you could guess how your skin will transform over these 9 months. A facial can be a fabulous idea to help you modify these differences in quality and moisture. Your complexion, however, will be very sensitive right now and so you should skip harsh peel-offs. Also, when it comes to face massages, your masseur must be informed about your major smell allergies, if any. Once you are done with the first trimester, you must ask them to prop you up with pillows so that you don't lie flat on your back since that might slow blood circulation and make you dizzy.
Waxing
Image source: Shutterstock
No Shave November is not for women and yes, we don't intend to be a part of it either! Whether you are planning to sneak in one session before you start off on the 'babymoon' or you want to be certain that everything down under looks good for the D-day, waxing for expectant mothers is completely alright, provided you can take the occasional pain. Lillian Schapiro, an Atlanta-based gynecologist suggests, "Very intense pain — especially late in pregnancy — can prompt contractions, which is not good if you're not yet past 37 weeks. So I certainly would not book a Brazilian for the first time if you've never had one before." Also, in case you have sensitive skin, it may be prone to irritation. If you are planning to hit the beach, pencil your waxing appointment a few days in advance.
---
Suggested read: I was 19 when I chose to terminate pregnancy
---
What is NOT safe?
Teeth-whitening
Planning to brighten your grin? I say, you take a pregnant pause! Mickey Bernstein, President-elect, American Academy of Cosmetic Dentistry advises, "Because of the lack of available subjects, teeth whitening has never been studied for safety during pregnancy, so dental scientists do not know if whitening is safe or unsafe for pregnant women." Whitening may further be a hassle if you have sensitive gums that are prone to bleeding from your hormonal shifts. We suggest expectant mothers skip it.
Sauna and hot tubs
If dipping yourself in warm water relaxes you the most, you can skip the jacuzzi and instead dunk your baby bump in a warm (mild, not hot!) bathtub. Susan Hollander, CNIM and a nurse practitioner says, "We know increased core temperatures is linked to birth defects, especially in the first trimester." Most of the hot tubs are over 100 degrees F and you need to completely immerse from neck down. "But baths aren't as hot to begin with, and at least your arms, knees, and shoulders are sticking out, so your overall temperature doesn't climb to those dangerous levels," adds Hollander.
We suggest that expectant mothers avoid saunas too, since the excess heat may make you feel wobblier than usual and your balancing skills are not as good as they were pre-pregnancy.
Tanning beds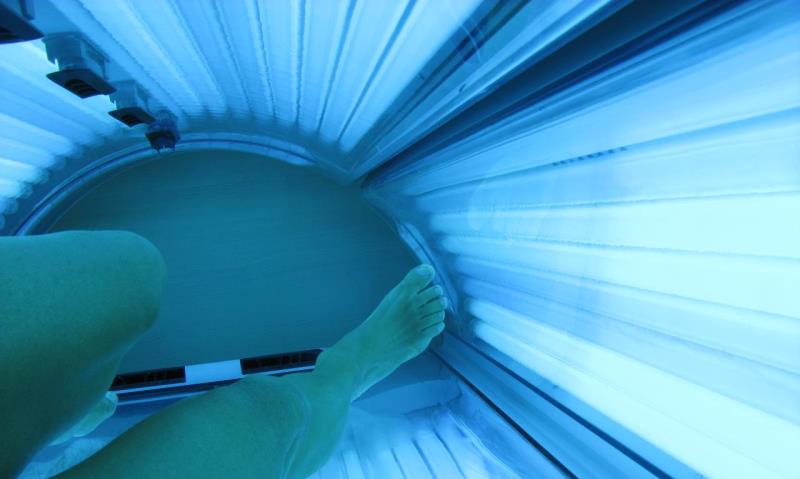 Image source: Google, copyright-free image under Creative Commons License
Tanning beds must top your no-no list of pregnancy pampering. But if it does not, we would recommend that you take an extended vacation from this habit of yours. If skin cancer does not scare you off your tanning bed, you must know that intense ultraviolet exposure can speed up skin discoloration for expectant mothers, thanks to the hormonal changes! Also, it gets quite hot below those lamps, which you know can be risky for your baby. If all you are craving is a little sunshine, you may step outside for some natural light, of course, covered in sunscreen! In short, expecting mothers must avoid tanning beds at all cost.
Body wraps                        
Body wraps are advised against when pregnant. They increase the body temperature and as such are not recommended for expectant mothers. "Body wraps are not for pregnancy and can increase your core temperature quite a lot. When you think about it – the wrap is trying to sweat the toxins out. Leave extra heating until after baby is on the outside. Especially in the first three months, even really hot baths aren't recommended while baby goes through early development," advises Simon, a gynecologist. He also says that you must stick to pure oils such as almond and olive and not scented ones, unless you are following the suggestion of an aroma therapist.
---
Suggested read: Study says, having a baby before marriage doesn't increase divorce risk
---
You might sport a superb flush on the outside, but there are days when pesky preggie symptoms make you feel quite shabby on the inside. Now, for starters, you have morning sickness to deal with in your first trimester and horrible heartburns in your second! So I feel that these, along with several other reasons, are absolute justification to turn to pregnancy pampering ideas. Go for it and spoil yourself plenty. But yes, follow what we have advised above for the safety of the life you are carrying.
Also, there are easier and safer ways of pampering yourself, like wearing something pretty. If you have been surviving your days in your spouse's oversized sweatshirts, you are suffocating your inner goddess! Comfy can also be fashionable, and accessorizing the same can be fun too. With a statement necklace (not too tight), an arm full of bangles or armlets, and a lovely new bag, no one's hurt and you feel awesome too! Be a pregnant diva!
Featured image source: Shutterstock
Summary
Article Name
Pregnancy Pampering For Expectant Mothers: What Is Safe And What Isn't
Author
Description
Expectant mothers need to be careful about what is safe and what isn't. But if you keep these pointers in mind, you can indulge in some pregnancy pampering.