If one were to ask an outsider to paint the present-day Afghanistan in words, the picture would probably spell out dilapidated ruins left behind by a barrage of bombings by American forces. To be honest, Afghanistan, still recovering from the onslaught of Operation Iraqi freedom, is a country in shambles. However, a few creative souls in the land are taking it upon themselves to cast the ruined landscape of the city into artistic molds so that the land they call their own emerges artscaped- healed and renewed.
One name that stands out prominent among the lot is that of Shamsia Hassani, the country's first female street artist, who has been painting the city walls in order to fill out the wounds and help them heal. Dressing the city walls in pictures of women wearing hijabs, Hassani wishes to send out messages of hope, peace, beauty, art and of course, feminism to her land and its people.
---
Suggested read: Why it still sucks to be a woman in 2016
---
Born in 1988 in Tehran to Afghan parents, Hassani moved to Kabul to pursue her bachelor's and master's degrees in visual art. She currently resides in Kabul, where she is turning the city's walls into a colorful tapestry of powerful messages on issues close to her heart.
Image source: Facebook/Shamsia Hassani
When asked to define an overarching motive that shapes her artwork, she said she is doing it to project a different view of Afghanistan- one that isn't equated with war and violence but with beauty and art.
"I want to cover all bad memories of war from people's minds with colors," she said in an interview with Street Art Bio.
However, the actual challenge of Hassani's artwork isn't just in rendering her visions alive- it is in encountering and fighting the majority of people in her land who still believe that a woman's rightful place is within the ambit of the familial, inside the walls of 'home.' While she has found a way out by bringing her concepts and ideas alive vis-à-vis 'dreaming graffiti' – a method whereby she paints on digital images of city structures, Hassani hasn't cast aside the possibility of painting outside. However, her challenges do not just include opposition from the aforementioned conservatives but also other logistical obstacles such as landmines beneath a lone wall or sudden bombings at night.
Image source: Facebook/Shamsia Hassani
Identified as the woman who is painting powerful images of women in hijabs all across town, Hassani believes that her work is not just representative of a subtle subversion of dominant gender roles but also a token of peace, renewal, growth and happiness.
"Usually I am painting women with burqas in modernism shape on walls, I want to talk about their life, to find some way to remove them from darkness, to open their mind, to bring some positive changes, trying to remove all bad memories of war from everybody's mind with covering sad city's walls with happy colors," says Hassani.
Image source: Facebook/Shamsia Hassani
---
Suggested read: Husband's emotive sketches for his wife capture ordinary love in all its glory
---
When asked about how she wishes to counter the gender stereotypes, braced with her artwork that displays women wearing a proud contradiction (the burqa- that is a subject of an incendiary debate all over the world), she says,
"There are a lot of people around the world who think that the burqa is the problem. They think that if women remove the burqa, then they have no problems. But this is not true. I feel that there are lots of problems in Afghanistan for women. For example, when women cannot have access to education, this is more of a problem then wearing a burqa."
Image source: Facebook/Shamsia Hassani
Shamsia Hassani's artwork clearly debunks the idea of the traditional headgear as a contradiction but outlines how the subject in her artwork wears the contradictions by being amidst ruin, among hordes of people, among a never-ceasing swathe of motion but never ceasing to be strong in her vulnerability. In an interview to Art Radar Journal, Hassani explains,
"I have changed my images to show the strength of women, the joy of women. In my artwork, there is lots of movement. I want to show that women have returned to Afghan society with a new, stronger shape. It's not the woman who stays at home. It's a new woman. A woman who is full of energy, who wants to start again. You can see that in my artwork, I want to change the shape of women. I am painting them larger than life. I want to say that people look at them differently now."
She explains how the burqa and hijab do not simply reflect customary Islamic garments in her work but help her toy with shapes, lines and colors to lend her visions a modernist grace. Also, the images refute the Western assumption of freedom by showing how freedom is perfectly attainable within the bounds of tradition.
Image source: Facebook/Shamsia Hassani
Currently, the artist-in-residence at the Hammer Museum in Los Angeles, California, she creates a new work of graffiti approximately once every two to three months. She has created a series of graffiti named Secret, Birds of No Nation, and Once Upon a Time respectively featured at the Hammer Museum itself.
She describes Secret as:
Image source: Facebook/Shamsia Hassani
"I began this series by outlining the figures of women in burqas with straight lines and sharp edges, conveying a feeling of strength. Still, I wanted to show the secret beneath the burqa, which is that there is a real person inside. I wanted to remove the restrictions on women and the guitar represents her ability to speak up and express herself. It is red because the color is used to draw attention to important things in Afghanistan."
Birds Of No Nation as:
Image source: Facebook/Shamsia Hassani
"Birds are constantly migrating to find food and shelter, they have no nationality because they find comfort in any safe place. I see this in the Afghan people as well, they are moving from country to country in search of peace and safety. It seems as if they have no nation like those birds. In this series, the woman is in a new area and she is feeling displaced because nothing is hers and so she does not fit in."
And Once Upon A Time, in her own words, is
Image source: Facebook/Shamsia Hassani
"The title comes from the traditional way of telling a story. My tale is of a woman living in the past and present at once. This woman has tried to free herself from her unhappy situation and so she is sitting above it all, looking in from the outside. The city view is in black-and-white, representing the way that we see the past, while she is in full color and in the present."
---
Suggested read: Czech woman travels the world in her wedding dress after leaving unhappy marriage
---
Here's some more of her amazing work:
Image source: Facebook/Shamsia Hassani
Image source: Facebook/Shamsia Hassani
Image source: Facebook/Shamsia Hassani
Image source: Facebook/Shamsia Hassani
Image source: Facebook/Shamsia Hassani
Image source: Facebook/Shamsia Hassani
Image source: Facebook/Shamsia Hassani
Hassani also teaches graffiti at the University of Kabul, where most of her students, in their 20s, are around her age. She is even listed for the Artraker Award, which seeks to support artists working in conflict zones or whose works deals with issues of conflict.
We wish Shamsia Hassani all the luck in life.
Featured image source: Facebook/Shamsia Hassani
Summary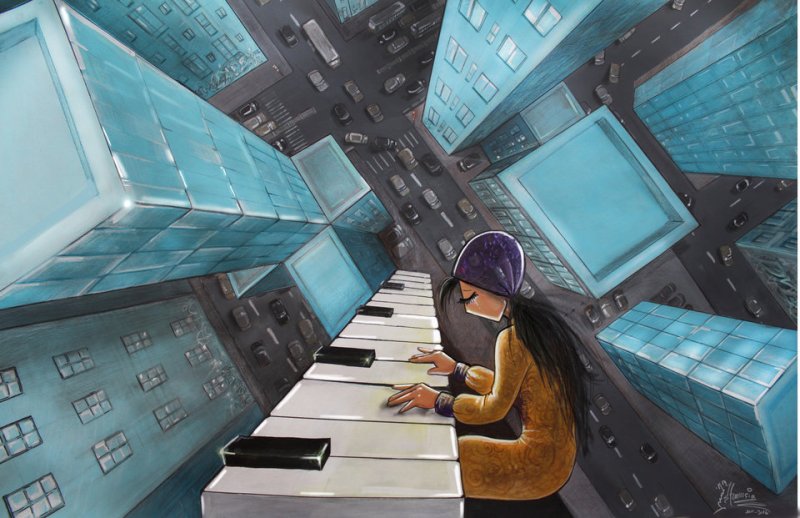 Article Name
Shamsia Hassani, Afghanistan's First Female Street Artist, Is Painting The City Walls In Colors Of Hope And Strength
Author
Description
Shamsia Hassani is the street art queen we've been waiting for!