Guys, we live in a world where social media can decide if someone is famous or not. You can become famous for the most random reasons. There is a whole new group of famous people known as "influencers" who are legit famous for influencing people to buy certain products or use certain products, and it is still blowing my mind.
---
Suggested read: 15 Celebrity Adoptions That Gave Kids Better Lives
---
However, these famous celebrity kids that I am going to talk about in a while have done even little in order to be some of the richest, most talked about people on earth. All they had to do, was be born to important people, and they are constantly in the news for it. Whether it is for the ostentatious presents that they keep getting from their OTT parents, or it is because of their cute airport looks, we see these kids everywhere, and I am going to talk about the top 8 famous celebrity kids in the world, who are richer, more famous and more important than you or I ever could be.
1. North West
There is no way that we could start this list with anyone else, other than the first child of possibly the two most famous people on earth- Kim Kardashian and Kanye West. While Kanye is a rapper, Kim has always been notoriously called "famous for being famous" which I don't believe because she is one of the smartest businesswomen out there.
But let's talk about North. North West has her own line of clothes, and she is the owner of obscene amounts of money that we couldn't possibly begin to think about. She is also one of the best dressed kids out there, with a better fashion sense then most adults in the tabloids. She also has the paparazzi wrapped around her tiny baby fingers.
Celeb baby fact: Kim and Kanye gave North a diamond tiara worth $62,000 for Christmas, last year.
2. Saint and Chicago West
You thought just because North is the first child, Kim and Kanye's other two children would be any less famous or privileged? People literally started gambling when Kim announced that she was pregnant a second time with Saint, and people were desperate to find out what they would name him.
Chicago West was born via surrogacy, and is one of the most talked about babies in the entire world. Funny thing is, Chicago isn't even 3 months old.
Celeb baby fact: Kim Kardashian, like every other regular mom carried a diaper bag for each of her babies- Saint and Chicago. Except, her diaper bags cost $23,000. We wonder what could possibly be in them (apart from their customized Yeezy shoes, of course).
3. Blu Ivy
So the Kardashians might be famous, but is it possible to not include one of the most famous children on earth, begotten of Beyoncé herself, and husband Jay-Z? She accompanies her famous as hell parents to all important events, is religiously photographed by the paps, which she has learnt to handle like a pro, and despite having two younger siblings, she manages to shine as one of the most famous kids ever.
A lot of people compare her to North West because they are the same age and their fathers are supposedly friends, but Blue Ivy has swagger of her own, and we can't even begin to imagine what a diva she is going to be when she is older.
Celeb baby fact: For her first birthday, Blue Ivy received a customized diamond encrusted Barbie doll from her parents, that cost them a cool $80,000 dollars. Yup. No biggie.
---
Suggested read: 20 Most Expensive And Ostentatious Celebrity Weddings Ever #OTT
---
4. Luna Stephens
When you have an incredibly talented singer for a father and a hilarious, beautiful and talented person as a mother (who also used to be a supermodel), your life is bound to be exciting. Since the moment Luna was born, Chrissy Teigen and John Legend have lovingly shared her growing up stories with their fans and we are here for it.
Chrissy is expecting another baby, this time a boy, with John, but we think it is super difficult to upstage the cuteness that we are blessed with in the form of Luna Stephens.
Celeb baby fact: For her first birthday, Chrissy and John baked Luna a sweet, two-tiered cake, but others were more ostentatious with their presents. Kris Jenner gave Luna one Barbie-themed Cadillac (for real) and another Mickey Mouse Themed SUV that she is seen riding around, we're guessing without a license.
5. Stormi Webster
It's not our fault that the Kardashian clan has an incessant number of children, who are all privileged and more well-known than we will ever be, like ever. Stormi Webster is the child of Kylie Jenner and Travis Scott, and even if you haven't heard of the father (it's a matriarchal clan folks), you must have heard of Kylie Jenner. If you haven't, get out of the rock you have been living under, because for the last 5 months, people have ONLY been talking about Kylie's super hush-hush pregnancy.
We don't really know much about Stormi, except that her impending birth drowned out a lot of other important news, and people collectively lost their sh*t when Kylie released an 11 minute home video about her pregnancy.
Celeb baby fact: A picture of her finger that Kylie posted on Instagram is the most liked picture on the social media platform at the moment. Look at us hanker for a 100 likes.
6. Prince George
I don't think you have a choice in whether you want to be famous or not when you are casually born into the royal family of England. Great-grandson to Queen Elizabeth II, George is 4th in line to the throne, and is going to become King if by some strange circumstance his entire family is wiped out. But none of that concerns us.
It's been 4 years since he was born, and he also has a baby sister, and another sibling on the way, but we still can't get over his cuteness. He knows how to handle his press well, and the cameramen love the faces he makes and the tantrums he throws and we are here for it all.
Celeb baby fact: Last year, Prince George met then U.S. President Barrack Obama during the latter's official visit to England. No big deal, right? Celeb babies do it a little differently, since the young prince met the President in his bathrobe, right before bedtime.
7. Asahd Khaled
Asahd Khaled is the son of DJ Khaled. DJ Khaled became a household name after his album- Grateful went platinum, and since then his son Asahd has become America's favorite toddler. I mean, imagine the kind of fame you have to have, in order for Queen-of-the-whole-entire-universe Rihanna to call you a legend?
He has been featured in a number of magazines, including the cover of Paper magazine and on some of the biggest, most important billboards in the world, such as the ones in Times Square. His fan base includes names like Gucci Mane, Zac Efron, Naomi Campbell and Nicki Minaj.
Celeb baby fact: Not only does every big celebrity ever know his name and appreciate his beauty, but he also has a single of his own. Let me remind you, that this child is not even 2 years old. Oh and also, said single features Beyoncé and Jay-Z.
---
Suggested read: 15 Cringe-Worthy Cases Of Celebrity Plastic Surgery Gone Wrong
---
8. Harper Seven Beckham
The Beckham brood is teeming with children, all of whom are famous in their own right. Brooklyn Beckham is turning into a superstar himself, taking after his father David Beckham and mother Victoria Beckham (for God's sakes). He has his own photography book and is dating actress Chloe Grace Moretz and doing other great things.
But we are here for the youngest of the lot, which is their only daughter- Harper Seven. Even though she was the last to be born out of all their other three children, she has certainly been the center of attention. After all, when two of the most beautiful people in the world create a daughter, people are bound to lose their sh*t. Harper is now 6 years old, and is already sitting on front row seats in places like Milan Fashion Week.
Celeb baby fact: Even though her parents have tried to keep her out of the spotlight. She is growing up and her siblings and doting father share enough for us to have intel on the goings on of Harper's life. She celebrated her 6th birthday at…wait for it…BUCKINGHAM PALACE, where she was greeted by an actual princess. She got to dress up like Princess Elsa and parade around the palace with her friends and excuse me while I go eat cake out of a box.
We don't have much to say about these famous celebrity kids except that we are willing to give away a kidney and maybe half a lung to have half the lives these children do, so if you have info on where we can apply, let us know in the comments section below!
Featured image source: Instagram 
Summary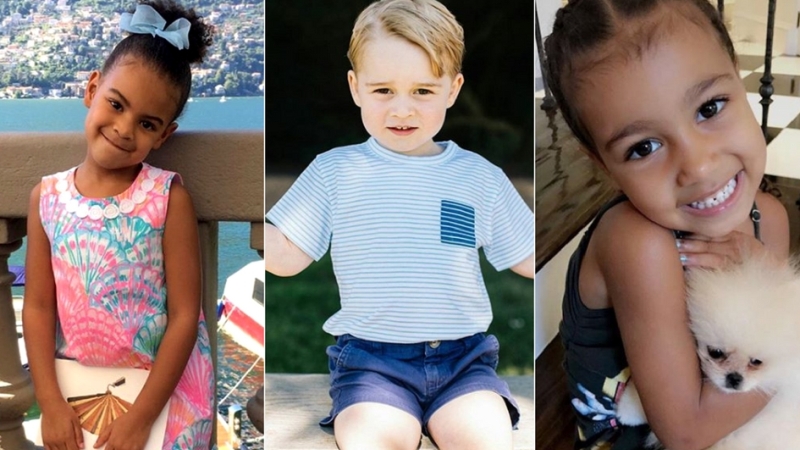 Article Name
8 Of The Most Famous Celebrity Kids In The World
Author
Description
Famous celebrity kids seem to do things a little differently from regular kids. Here are our top 8 celeb babies, and a few outrageous facts about their lives that give us major FOMO.