Hi folks! Today we bring you the complete guide on how to choose the right concealer for your skin tone. If you have stumbled upon this article while looking for a post that covers everything you need to know about concealers, then thank you for choosing us. We will try not disappoint you.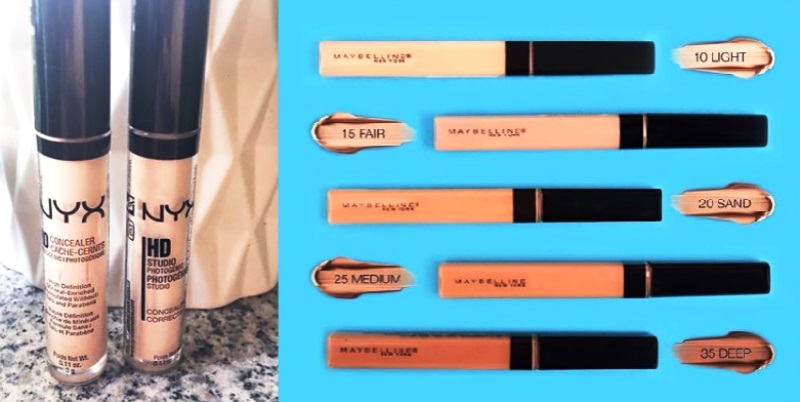 Let's begin with why it is important to choose a good concealer? A top-notch concealer is the most essential beauty investment that one needs to make after a foundation. These not only help achieve flawless makeup application, they also lighten dark areas, cover skin discolorations, mask blemishes and team up with the foundation to help you achieve an even skin tone.
---
Suggested read: How To Put On Makeup Like A Pro
---
Now let's compare these results with the results you are likely to achieve if you use a poorly formulated concealer or one that does not help you apply makeup flawlessly. These concealers instead of masking the marks, actually make them look obvious; they highlight the problem areas, and create a white cast around your fine lines (around the eyes and the lips).
I hope this has convinced you of the truth that a good concealer is key to all your makeup woes.
Now, let's talk about how to choose the right concealer, and how to apply it well, in detail.
Choosing the right concealer
Before choosing a concealer for yourself, determine your skin type. Also, you need to focus on your concern areas to know better which concealer will serve your need. People with dry skin, for example, should never go for a liquid concealer that lends a matte finish. This is because this concealer will, contrary to its actual function of concealing, make obvious the dryness of your skin.
For people with oily skin and enlarged skin pores, creamy concealers are a complete no-no. Also, you guys need to avoid stick concealers as the texture they offer tends to further clog your skin pores, making them appear larger. Also these concealers will add to the oiliness of the skin. You might think these points are super basic makeup facts, but you will be surprised at how often people, despite knowing these details, go for the wrong concealer.
To cover minor skin discolorations, people should pick a concealer that offers light to medium coverage. These concealers also create an even finish.
For those troubled by the dark circles around their eyes, go for a shade of concealer that is two shades lighter than your skin tone. The concealer will even out the tone, while not whitening the area around the eyes.
To pick the right concealer one has to also match it with the shade of the foundation that they use, or else you might add to the unevenness of your skin tone. Select a concealer shade that is a replica of your foundation shade. When you go for tinges like pink, or peach or copper or yellow, the concealer shade shows through the foundation ruining the overall makeup completely. Unless you are dressing up as ET for this Halloween, try not to do this, please!
These details might seem minor, but following them correctly will lend you the look that you desire. Also, remember to find the prince, one does have to kiss numerous frogs. Similarly, do not be afraid to experiment different shades that offer different textures, yo see for yourself if the concealer suits you and makes your makeup application easier.
You can always take help from an expert MUA to learn the right application techniques. When you do that, also ask him or her about the correct makeup tools you ought to invest in and how to use these tools to create the makeup look that will make heads turn.
Liquid Concealer
If you ask me which is the most versatile concealer, then my answer's got to be liquid concealer. These offer a buildable coverage and the best part, they work for all skin types, apart from the very dry skin type; don't worry, we have a lot of options for you too.
Liquid concealers are easy to apply; they cover pimples like a pro; they DO NOT cake up (do not even get me started on how important that is!)l they do not clog the skin pores (yay! Oily skin people); and they are just the best!
For those who have wrinkles or are developing wrinkles, the liquid concealer is your go-to product. You can apply it on that thin texture effortlessly. It will glide smoothly and hide those fine lines. If you are confused about whether to go for a liquid concealer that offers a matte finish, or one that lends a satin finish, then I would definitely recommend the former. These last longer, and also do not bleed into the fine lines.
The liquid concealers that offer satin finish do tend to bleed more than the matte finish ones, but they do give you a more natural look. So, depending on what your priority is: Non-bleeding or Natural-looking, choose your liquid concealer.
Why choose liquid concealers then? Because they,
Offer great coverage which is buildable
Work for all skin types, except extremely dry skin
Offer numerous textures, such as, dewy, satin, matte, radiant and shimmer
---
Suggested read: These Powder Foundations For Your Acne-Prone Skin Will Alter The Way You Look At Makeup
---
Stick Concealer
Next up is the stick concealer that offers a semi-solid texture and is richly pigmented usually. The texture it lends is creamy and thick, and so a complete NO for people with oily skin type. You can apply it by first drawing dots or even lines, whatever you are more comfortable with.
The key to apply a stick concealer well is to blend it into the skin like a pro. For this, you can use a clean finger, or better still, a small concealer brush. Remember to feather the edges into the skin around the spot you are trying to conceal.
The only problem with a stick concealer is that the ingredients that have been used to make sure the product remains in the stick, tend to contribute to the clogging of one's skin pore, and that is highly undesirable for oily and combination skin.
Cream Concealer
The coverage provided by cream concealers range from medium to full. These are usually packaged in small pots. They also come in palettes or in the form of a compact. For the people whose main area of concern are the dark circles, the cream concealer is a miracle product. It also works like magic when it comes to hiding discolorations and evening out the skin.
The slip this product offers is superb. You can apply it using your finger or even a sponge. But again, using a concealer brush is always the best way to apply a concealer. This ensures two things: one, you do not over apply the concealer, and two, you hit the spot the needs the product.
You can use a pressed powder to set the concealer after application. The finishes it offers is satin and creamy.
How to match your spot concealer to your skin tone?
To cover your pimples, blemishes that are red and obvious, you need a concealer that matches your skin color. And how do I go about the skin tone? Simple. If you have a light-to-medium skin tone, go for a yellow-based concealer. However, those with medium-to-dark skin tones, should stick to a product that gives an orange undertone.
Now that we have covered the different types of concealers, let us tell you about some very important tenets that one needs to adhere to while applying a concealer.
1. Different colors cover different blemishes
Before applying the product, here's what you need to know about the colors. The concealers that have a yellow tone, balance out the under eye circles, which are usually bluish in tone. The best product for this is the Addiction NV Cosmetic Stick To It Cover-UP Stick.
For dark circles that are brown or even yellowish, you should go for a concealer that has a peachy base. The best product for this is undoubtedly the Bobbi Brown Corrector.
To cover blemishes that are reddish, go for a concealer that replicates the color of your skin.
2. Factor your skin
You need to know what you are covering to get the best product,w hich basically means, one product won't do.
If dark circles are your concern, go for a hydrating concealer like the CoverGirl + Olay Concealer Balm is the best thing one could ever ask for.
If you want to add a touch of brightness to the inner corners, then select the Yves Saint Laurent Touché Éclat.
Those who are desperately trying to hide zits and blemishes that are red hot, you need a pigment-rich formula that neutralizes these flare-ups in the most natural way. Try the Smashbox Camera Ready Full Coverage Concealer.
---
Suggested read: Here's The Best Foundation For Combination Skin
---
That is all we have on today's post on everything you need to know about how to choose the right concealer for your skin tone. Was this helpful? Will you be recommending it to others too? If you have makeup queries that you would like to share with us, then please do so in the comment section below. Our experts will get back to ASAP.
You can also subscribe to our newsletter to receive these articles in your inbox every day.
See you again tomorrow!
Summary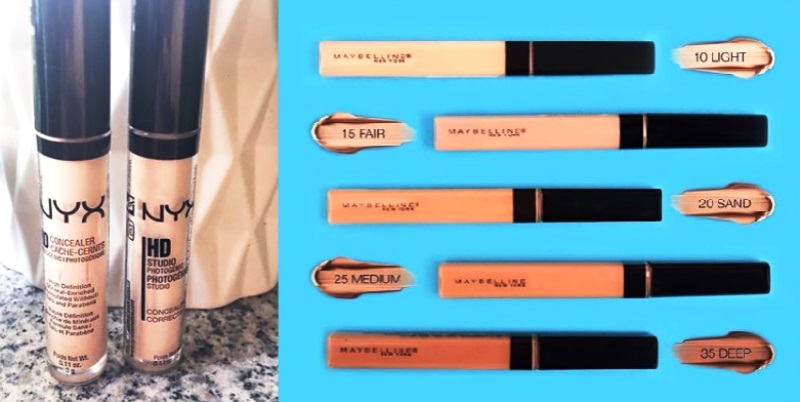 Article Name
The Complete Guide On How To Choose The Right Concealer For Your Skin Tone
Author
Description
Today we bring you the complete guide on how to choose the right concealer for your skin tone. Not just that, we will also tell you how to apply the product for a flawless makeup.