People with acne-prone skin have a tough time applying makeup. Though many posts promise quick fixes, honestly, there isn't any. To get flawless makeup on acne-prone skin, you need to work on your skincare ritual, and begin by improving that. When your skin is looked after and well-nourished, it is bound to look good. The other important thing is to invest in the right beauty products. Once you have got your hands on them, you will be applying makeup like a pro in no time.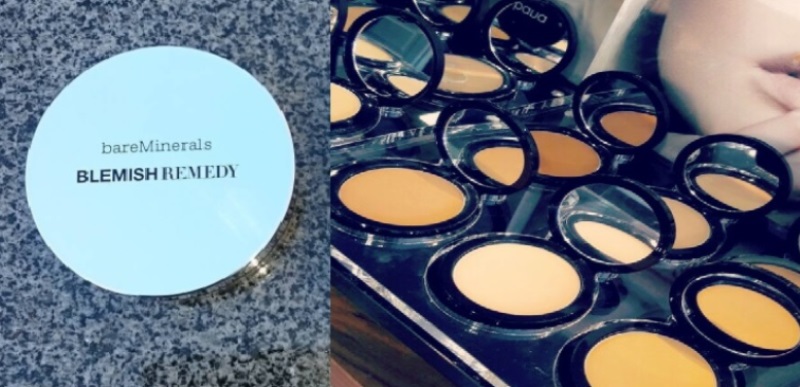 In today's post, we will be helping you choose the best powder foundation for acne-prone skin. But before diving into that, let us take you through a makeup tutorial designed particularly for acne-prone skin, so that you know you are not making any rookie mistakes.
---
Suggested read: This Is The Best Foundation For Acne-Prone Skin
---
You will be able to conceal your acne marks with the tips we share, and if you use the right products, over time, you will notice that the marks and spots are disappearing.
Makeup for acne-prone skin
1. Prepare your face
You need to begin by prepping your face. Use a priming moisturizer for this. It is advised that you purchase an acne-fighting moisturizer, in case you don't have one. Be very careful of the cleanser and toner you use. You need to make sure these are formulated for acne-prone skin too. Before applying any makeup, we suggest that you get a few tests done by the dermatologist. He or she will be able to tell you better about which products to use, and more importantly, which to stay away from.
You need a moisturizer that contains SPF factors to prevent your skin from getting burnt and thus getting further aggravated.
2. Apply the foundation
Once we help you pick the best foundation for your acne-prone skin, you need to apply it gently on your face. According to the makeup artists all over the world, people with acne-prone skin should get themselves two shades of foundation. The lighter shade should be applied on the blemishes, and the darker one on the chin, the nose, along the forehead and the cheeks.
Now gently blend in the formula all over your face. DO not forget to apply some on your ears and your neck to even out the skin tone.
Always apply the foundation using a brush that is specifically designed as a foundation applicator. The reason is three-fold: one, you don't want to end up apply excess of the powder; two, using the brush, you can apply the formula on the target areas, without messing up; and three, if you rub the powder on your skin with your fingers, then you might end up further irritating and aggravating your skin condition. To prevent all of this, get yourself a foundation brush.
Be sure to blend it in gently until it evens out, or else you might run the risk of looking unnatural or chalky.
The advantage that powder foundation gives over liquid foundation is that it also works as pressed powder compact and sets the makeup. This saves your skin from another layer of powder.
3. Add some rose to your cheeks
To add a hint of rose to the apple of your cheeks, you need to invest in a blush that is specifically designed for your acne-prone skin. You should stick to the conventional shades of rose, pink or bronze, for the no-makeup makeup look. You can even swipe all the three shades onto your cheek bones to bring out the best in them.
Extra tips for makeup application on acne-prone skin
Find below some tips that will help you in applying makeup like a pro on your acne-prone skin.
Just getting yourself makeup products formulated for acne-prone skin is not enough. Usually these products render the skin very dry, and when you apply makeup on such dry skin, it is bound to look ashy. So, invest in some nourishing moisturizer that will replenish all the lost oils and skin nutrition.
To pick the right foundation formula for your acne-prone skin, the key factor you need to consider is that it should be oil-free. The other necessary conditions it must fulfill is that it should be acnegenic and should also not be comedogenic. These factors remain the same for other makeup products too.
You should always apply your beauty products with the brush that is particularly designed for that product. Also, before every application, you need to make sure the brushes are clean and sterilized, to avoid further worsening of the skin condition.
Each time after you pat yourself dry after a shower or after you have washed your face, wait for at least 5 minutes before applying makeup. Our skin tends to be very sensitive when wet, and the same becomes truer for people with acne-prone skin. Since the skin is sensitive during this time, it is like to absorb quickly, thus further irritating your acne.
Before you go to sleep at night, you need to remove your makeup. This has to be something that you do not miss out on a single night. It should be treated as a holy ritual, because if you give in to laziness or tiredness, then you might wreak havoc on your skin. Sleeping with makeup on is the ultimate recipe to destroying your sensitive skin beyond repair.
Use should use toner pads to remove your makeup in order to reduce your blemishes and red spots. These pads will also help you do away with your black heads, clogged pores, dead skin cells, excess moisture, grease and oil, and dirt.
Even if your acne seems to get cured, you should not stop using products formulated for acne-prone skin. This skin condition has a tendency to reappear.
If you believe in a holy grail of products, the for your sunscreen needs to be on the top of that list. If you do not want to use a cream with SPF factor, then you can purchase a foundation powder that also protects from harmful UV rays. Acne-prone skin reacts to UV rays very quickly, and can worsen all the progress you have made with your proper skincare and makeup routine.
---
Suggested read: Do You Know Which Is The Best Powder Foundation For Combination Skin? Find Out Here!
---
The best powder foundation for acne-prone skin
1. BareMinerals Blemish Remedy Mineral Powder Foundation
The first product on our list is from BareMinerals, and is a feather-light product, which creates a flattering, almost-natural look. The foundation covers the acne scars, and conceals the red spots like a pro. As you keep applying the product on a regular basis, it treats the skin condition effectively.
You will need a concealer to help the foundation offer you a full coverage. The best part about the product apart from the fact that it covers angry patches like an expert, is that it comes in 11 different and amazing shades!
2. CoverGirl CG Smoothers AquaSmooth Compact Foundation
The CoverGirl CG Smoothers AquaSmooth Compact Foundation is a moisturizing formula that is built with an innovative technology. It comes in 12 shades, and it will not be hard for you to find a shade that will suit your skin tone requirements. Since it is packaged in an airtight compact, it not only stays fresh, but is also travel-friendly.
3. Mineral Wear Talc-Free Mineral Face Powder SPF 16
The next product is a formula particularly designed for a skin type that is sensitive to acne and breakouts quite often. This formula lends a natural looking finish, by gently absorbing the excess oil, though not drying the skin. Also, the formula has been observed to minimize the appearance of wrinkles and fine lines around the eyes and the lips.
The Mineral Face Powder comes with a built-in mirror as well as a applicator. The powder also has an SPF factor of 16, thus protecting the skin from the harmful UV rays.
It goes without saying that the product is hypoallergenic, free of fragrance and oil. It is also free of talc. This non-comedogenic formula is dermatologist approved.
4. Cover FX Total Cover Cream Foundation
This formula come sin, wait for it,40 shades! It is an antioxidant-rich formula which works both as a foundation as well as a concealer. It lends in a radiant overall look by offering a full coverage.
The Cover FX Total Cover Cream Foundation contains 32 per cent pigment, and therefore, offers a long-lasting coverage. This product is loaded with emollients, like vitamin E and C, and so protects the skin from free radicals. The foundation blends into the skin amazingly well, and offers great contouring.
5. Younique Touch Mineral Cream Foundation
The Younique Touch Mineral Cream Foundation is a lightweight foundation that comes in 10 delicious shades. Also, the coverage this product lends is ultimate. You need to try this, to believe me!
---
Suggested read: Everything You Must Know About Choosing The Best Foundation For Oily Skin
---
That is a wrap on today's post on choosing the best powder foundation for acne-prone skin. Did you find this useful? Let us know in the comment section below. If you have any recommendations of your own, then do share them with us!
To receive these posts in your inbox, sign up for our daily newsletter today. Our posts come wrapped in love!
See you again tomorrow.
Summary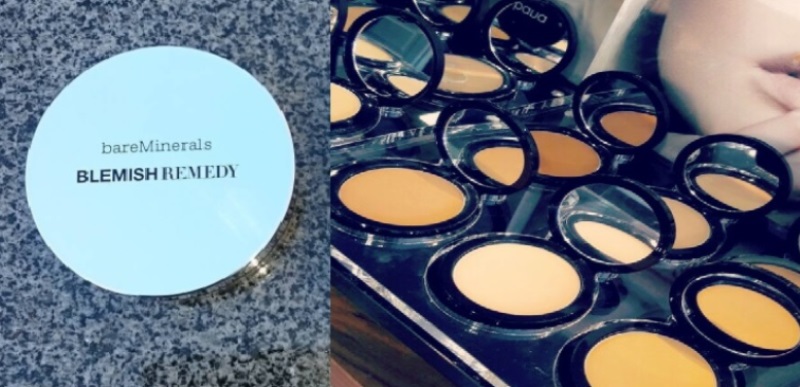 Article Name
Essential Tips For Finding The Best Powder Foundation For Acne-prone Skin
Author
Description
In today's post, we will be helping you choose the best powder foundation for acne-prone skin. We will also discuss how not to make rookie makeup mistakes!