A concealer's primary function is to conceal blemishes and spots, if any. However, every skin type has a distinct set of requirements, which means that they require different kinds of concealers. Choosing the best concealer for oily skin can be very tricky, unless you follow the tips we are about to share with you, closely.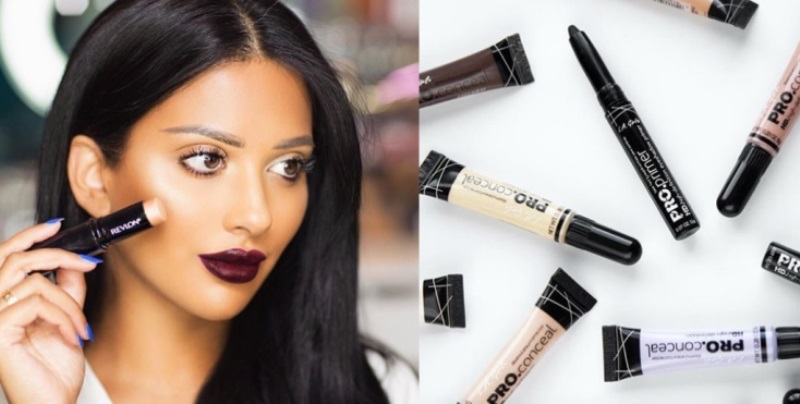 Why pay so much attention to choose the right concealer? Because if you choose the wrong one for your oily skin, it will leave crease marks, and might even highlight the blemishes and problem areas instead of concealing them.
The general rule of thumb while choosing a concealer for oily skin is to stay as far away as you possibly can from cream and stick concealers. These will only add to the undesirable oil and shine.
If you have a blemish-prone oily skin, then go for liquid concealers. These offer a buildable coverage that spans from sheer to full.
How you apply your product also plays a major role on how the ultimate makeup look will come about. Applying the concealer with a flat concealer brush or a wand is much better than using your fingers, for three reasons:
You will be targeting the problem areas alone and blending the rest into the skin.
You will not over apply.
Applying the product with your fingers can cause a rubbing motion, which might further stimulate your sebaceous or oil-producing glands.
Only go for a color-correcting concealer if your problems are much deeper than regular blemishes and marks; if your skin tends to get red or there are bluish discolorations on your skin, then only go for the color-correcting product. Picking a lavender-based concealer can correct yellow discolorations. And for purple undertones, choose yellow-based concealers.
For those with skin redness, green-tinted color correcting concealers can come in handy. People with blue cast, which is quite common in light skin tones, you should go for a pink-based concealer. Finally, blue casts in darker skin can be corrected with orange or salmon based concealer products.
Making concealers last longer on oily skin
Choosing the right concealer for oily skin is important if you want the concealer to last long. Since the base of an oily skin is greasy, the product tends to bleed. So you need to go for a concealer which will hold on no matter how oily your skin may be.
Choosing the concealer which suits oily skin might seem simple, but it isn't. To know you have found a match, you need to kiss several frogs along the way. Also it is not true that you will find a concealer that will serve all your needs. You need to keep different types of concealers handy for different situations and requirements. For example, a concealer with buildable coverage allows you to cover up the marks and spots better, which a color correcting product will neutralize your skin tone and conceal dark circles better.
Keep your skin clean and healthy. Develop a good ritual for your skin. This will allow you to cure your skin naturally, and lower your reliance on makeup and concealer, because makeup might hide these spots, but taking care of your skin will allow to you solve these skin woes, once and for all.
 If you want to make sure your makeup stays in place, then you should never dodge primers. Use them on the areas that you oil more, may be the T-zone. Also, pay extra attention to the area under the eyes and the sides of your nose; these tend to get reddened really fast.
You should also keep blotting papers handy, as that will help you quickly get rid of the excess oil. This will also prevent the makeup from getting smudged or your skin from drying up.
While choosing a setting powder for your oily skin, you need to make sure it helps your makeup last longer. The lower the number of touch ups needed, the better. This is because overdoing powder will cause your skin pores to get clogged, and that can wreak havoc on your sebaceous glands, thus stimulating them to produce more oil.
Here are the five best products that we have rounded up for you. Each of these offer a good coverage; they prevent clogging of pores; they do not require constant touch ups; they conceal all the problem areas; and, they do not leave crease marks on the skin.
The best concealer for oily skin
1. Fit Me! Concealer by Maybelline New York
The first product on our list is the Fit Me! Concealer by Maybelline New York. It has a translucent base, which makes it ideal for people with oily skin. It is also the perfect product if you are looking for a concealer for your acne-prone skin. Though the concealer covers the blemishes and the acne marks like a pro, it still lets the real shine of the skin come through, so that you don't look dull, but instead look naturally glowing.
The concealer has no waxes or oils. This is a yay point for this product if you have oily skin. The lightweight pigments that the concealer contains, gives you a natural coverage, yet allowing your skin to look and feel fresh. It does not clog the pores, thus letting your skin breathe freely.
This Maybelline concealer comes with a wand applicator, which makes the application under the eyes easy. Also, the application is more precise thanks to the wand.
2. Conceal + Perfect 2-in-1 Foundation + Concealer by Milani
This is a two-in-one product; it is both a concealer and a foundation. It is packed with pigments which offer full coverage. As a result, the concealer covers the problem areas, including the redness and the dark under eye circles, effectively.
The product is also water resistant, and can lasts really long. You do not have to constantly run to the loo to fix your makeup or to touch up on your makeup.
This concealer cum foundation is also a pump dispenser, which means you can expect that there will be no mess while applying the product. Also, it is super economic and does not cause your purse strings to stretch or break.
3. HD Pro Concealer by L.A. Girl
The long-wearing formula is what makes a concealer the ideal concealer for oily skin. And that is what makes this HD Pro Concealer by L.A. Girl find a place on this list. This product is perfect when it comes to hiding the blemishes. Though it covers the imperfections like a pro, it still leaves a smoky coverage.
The product is crease-resistant. You can bid adieu to the fine lines around your lips and your eyes for a while, after applying this formula. If you have pulled an all-nighter, and have a presentation this morning, then grab this product and you have nothing to worry about.
The product comes with a soft brush tip to make the application easier and more precise. If you are a believer of hygiene like me, then I suggest you use a concealer brush that you can clean regularly, instead.
4. Photoready Concealer by Revlon
If you are looking for an over the counter, economical product, then you most certainly should go for the Photoready Concealer by Revlon. It blends in like magic, and reflect light, which gives your oily skin a natural glow. Due to the photo-chromatic pigments in the formula, you need not worry about looking greasy through the day.
If a concealer is noticeable, then it isn't a concealer at all. You need a product that hides all the blemishes, makes you skin look vibrant, and yet one cannot even guess you have applied concealer. That is what this product from Revlon does; it stays completely undetectable.
The product also has an SPF factor, which means you need not worry about the YV rays, and can have fun in the sun without any restrictions.
5. Maximum Coverage Concealer by e.l.f.
This is the most long-lasting concealer on this list. It hides the blemishes so well that you will consider adding it to the holy grail of your makeup products, and why shouldn't you. It is perfect for even hiding tattoos and birth marks.
The formula is highly pigmented, and the coverage it provides is amazing. The concealer lasts for longer than most relationships of today (Ouch!), and yet, it is lightweight, gliding on the skin like honey on bread.
The formula does not leave crease lines, and it also does not cake up. The coverage is buildable, in case you were worried.
That is all we have on today's post on the best concealer for oily skin. Was this helpful? Will you be recommending it to others too? If you have makeup queries that you would like to share with us, then please do so in the comment section below. Our experts will get back to ASAP.
You can also subscribe to our newsletter to receive these articles in your inbox every day.
See you again tomorrow!
Summary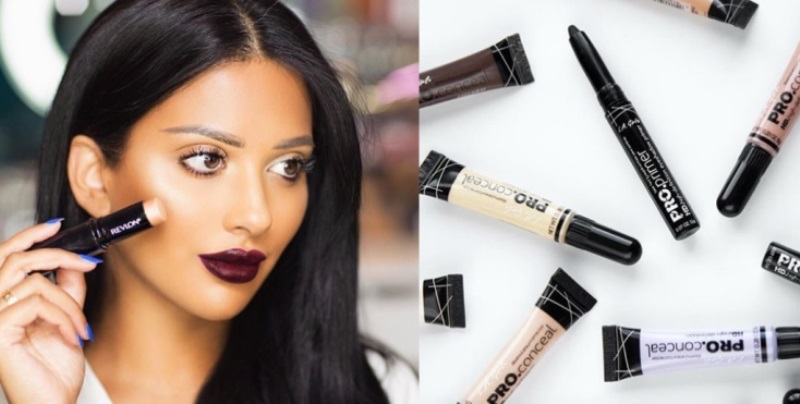 Article Name
The Ultimate Guide On How To Pick The Best Concealer For Oily Skin
Author
Description
Choosing the best concealer for oily skin can be very tricky, unless you follow the tips we are about to share with you in this ultimate guide.