Having olive skin is a bit like having the best of both worlds. You're fair but not really, and you're dark, but not really. So the chances of you getting your foundation shade are pretty good. Also, you probably get a LOT of longing stares for "that gorgeous tan ugh". However, it can get a bit difficult finding the best blush for olive skin because most shades seem perfect for either fair skin or for dark skin and are marketed as such. So, to boost your confidence, look at some pictures of olive skinned beauties looking like total goddesses (wearing blush of course).
---
Suggested read: Everything You Need To Know About Choosing The Best Lipstick For Olive Skin
---
You know that little "spring in your step" (Elle Woods, Legally Blonde 2) that you get when you find the most perfect lipstick shade? Well, finding your perfect blush can have a similar effect on your mood. A good blush not only adds a pop of color to your entire look, but in fact ties the whole thing together. You can have the most amazing eye-makeup day, but if you wear an awful chalky blush, then your entire look gets ruined. The perfect blush should complement our skin tone, add the perfect amount of color (depending on the occasion) and blend beautifully, without any chalkiness or patchiness.  Here are some necessary tips to find the best blush for olive skin.
1. Know your Undertones
At the risk of sounding like a broken record, let me educate you, one more time, about the importance of undertones. There are a gazillion colors in the world and most of them can be divided into three main groups – warm (yellow-based), cool (blue-based) and neutral (grey-based). Similarly, our skin tone also belongs to one of these groups. While olive skin tends to be either neutral or warm toned, you may have cooler undertones as well, because everyone's skin is different.
If your skin has an almost yellowish hue to it, then you have warmer undertones. In that case, you could opt for warm toned blushes that will complement the almost bronze shade of your skin. Instead of a stereotypical baby pink blush, go for shades of peach, coral, fire red, rose pink and even pink-beige. Here are some of our favorite warm-toned blushes for olive skin.
NARS Blush in Outlaw
NARS Blush in Liberte
Clinique Cheek Pop in Peach
MAC Blush in Peaches
If your skin has a bluish feel to it, chances are, you have cooler undertones. You can try out blushes that lean towards shades of purple, fuchsia, dusty rose or even greige (if you're really feeling it). Here are some of our top cool toned blushes for olive skin.
NARS Blush in Matahari
MAC Blush in Mocha
MAC Blush in Full Fuchsia
Finally, if your skin has a slight grey or even pink undertone, then it is probably neutral toned. If your skin has a grayish shade to it, then it can often look a bit dull. In that case, a lovely neutral toned blush will add a pop of color to your face and make your skin look bright and fresh. Opt for neutral toned bright colors like pink, rose, mauve, etc. Alternatively, if your skin has an almost pink hue to it, using a blush may seem a bit counterintuitive as it may amplify the pink-ness of your face. In that case, ditch your pink blushes for shades of bronze, beige, and dusty rose. Here are some of our favorite neutral toned shades for olive skin.
MAC Blush in Desert Rose
NARS Blush in Oasis
Urban Decay Blush in Fetish
---
Suggested read: Great Tips For Choosing The Best Concealer For Acne-prone Skin
---
2. Know Your Skin Type:
While everyone's skin is different, we can broadly classify most skin-types into three different groups — oily, dry and combination skin. While most blushes are made to work with all skin types, there are a few tips and tricks that you can follow to get the perfect blush for your skin type.
If you have predominantly oily skin, then it is pretty difficult to keep your makeup on for long periods of time because the oil tends to melt it all away. There are certain items that you can use to make your makeup last longer, like primer and setting spray, but blushes tend to fade away faster than any other makeup item. So, if you have an oily skin problem, then go for heavy duty blushes that last long. Also, using powder blushes will make the color really pop against your cheek as the oil from your skin will help the powder blush really melt into your skin and look like you've been airbrushed. Here are some of our top powder blushes for oily skin.
NARS Blush in Orgasm
Summary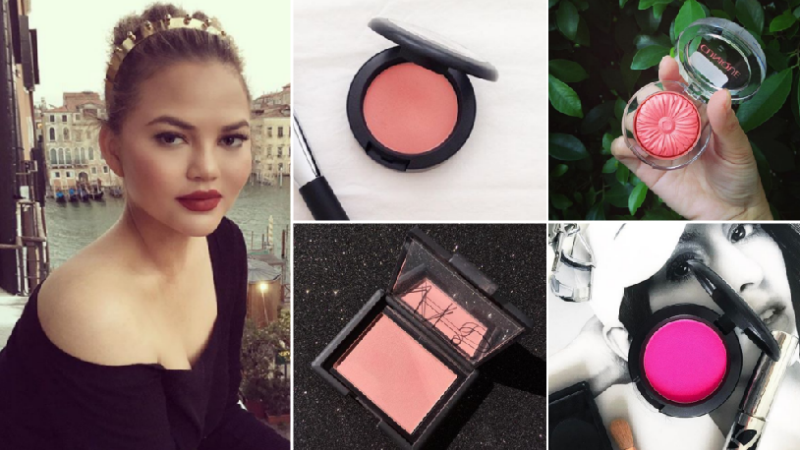 Article Name
Vital Tips To Find The Best Blush For Olive Skin Tone
Author
Description
If you think there is no proper makeup out there for olive-skinned people, check out these essential tips to choose the best blush for olive skin.
Read the rest of the article:
Next