Hello world! Welcome to our page. Thank you for choosing us to guide you to pick the best concealer for combination skin. If you read one post on finding the right concealer for your skin type, then you have come to the right place. By the end of the post, you will be provided with enough ammunition to see you through this war on finding the perfect makeup formula for yourself.
First, in case you still have few doubts in our mind about why one needs to choose a good concealer, let us help you with that. Investing in a good, if not great, concealer for your combination skin, will be the biggest investment you will make when it comes to your makeup. The concealer will not only help you hide the flaws, but will also even out your skin tone, cover the T-zone to prevent the grease from melting the entire makeup, cover skin discoloration, if any, and match up well with your foundation to get the ultimate makeup look you are trying to achieve.
---
Suggested read: Everything You Need To Know For Picking The Best Setting Powder For Combination Skin
---
Now if you would invest in a bad or unsuitable concealer (I wouldn't really call that an investment!), then the concealer would highlight your flaws. It would make the makeup look chalky and artificial. Instead of masking your blemishes, the concealer would make them more obvious. It would create a white cast around your wrinkles and the fine lines around the lips.
Now that we know we need a good concealer for your combination skin, let us tell you a little about how to choose the right concealer and also how you can apply it like a pro.
To find the perfect makeup formula, you need to determine your skin type. Are you sure you have a combination skin? Get a few tests done and let a dermatologist analyze your reports. He or she will be able to tell you about your skin type. Many a times, people tend to judge their skin poorly. You might think you have dry skin and invest in a truckload of products for that skin type. And if in reality your skin type is acne-prone or sensitive and not dry, the you know what havoc those products can wreak on your skin and your makeup, right? So find out what your skin type is.
Those who have combination skin, need to take care of two areas separately, the oily T-zone and the rest of the face which is extremely dry. In the oily section, you will notice that the skin pores are pretty enlarged, and so it becomes the duty of your concealer to hide these pores. On this area, therefore, creamy concealers are an absolute no-no. Also dodge stick concealers; the texture they provide might clog your skin pores and this will cause the sebaceous glands to over stimulate oil. Also they will make the pores look even bigger.
If you have minor discoloration on your skin, then you need a concealer that will provide sheer to medium coverage. Do not go for a formula that gives heavy coverage or full coverage, lending an unappealing finish
If you have dark circles around your eyes, you need to invest in a concealer which is about two shades lighter than the color of your skin. This will help even out your skin tone and not whiten the area around your eyes.
Matching your foundation shade to the shade of your concealer is also essential when picking the right concealer for combination skin. The concealer shade should be a replica of the foundation. Do not go for concealers that give pink or yellow or copper undertones as they shine through the foundation.
Try to experiment with different formulae while purchasing a concealer to determine which one suits you the bets. You also need to pay attention to the texture it offers. It should absorb the excess moisture from the T-zone nourish he rest of the face, and give your makeup and overall matte finish.
To know how to apply the concealer, seek help from a makeup artist. Ask him or her about which applicators you must purchase and which you can duck. Then ask them to instruct you how to use these applicators and brushes correctly.
---
Suggested read: Do You Know Which Is The Best Powder Foundation For Combination Skin? Find Out Here!
---
Best concealer for combination skin
1. Clé de Peau Beauté Concealer
What makes Clé de Peau Beauté Concealer a good concealer for combination skin? Well, according to people who have invested in this beauty of a formula, this product is "parfait"!  It conceals all the imperfection seamlessly, and blends into the skin like magic. According to some reviewers, this product is absolutely worth the dollars you will have to relinquish to make this formula yours.
2. NARS Radiant Creamy Concealer
The next product is NARS Radiant Creamy Concealer which needs to be a part of your daily makeup routine. It conceals redness, spots and scars, and yet lends a natural glow to the face.
3. Yves Saint Laurent Touche Eclat
This product is a miracle. Used by almost all famous MUAs of the world, the Yves Saint Laurent Touche Eclat works really well on combination skin. It not only conceals the blemishes, but also highlights your best features. Yes, the highlighting pen is a multi-tasker.
4. Laura Mercier Secret Camouflage
The Laura Mercier Secret Camouflage is a cult classic, to say the least. It is something I can swear by. If you have a shoot coming up, then do not forget to carry this in that vanity bag of yours. The coverage this formula offers is fantastic; the finish is great; and if you are worrying about how long it will last, then stop worrying right now!
5. Bare Minerals SPF 20 Correcting Concealer
The Bare Minerals SPF 20 finds a place on this list of best concealers for combination skin, because of the richness of the formula. The product effortlessly covers the blemishes and yet does not leave your face cakey and unnatural. The product also has an SPF factor of 20, so it protects your face, neck and the skin around your eyes. Also, the correcting concealer evens it the skin tone, hides discolorations, and last the entire day.
6. NYX Concealer In A Jar
This is a budget makeup product, so you need not worry about the dough you will be spending on this. Also, it is the best product which should be on every one's holy grail of products, so think of this as an investment and not an expenditure.
The concealer is a cream-based concealer, and it comes in a jar, obviously. The best thing about the formula is that it hydrates the skin, and makes it look and feel healthier. It will not contribute to drying the skin further, unlike other makeup products. Getting the right shade of the concealer, to make best of it.
7. HD Pro Concealer by L.A. Girl
The long-wearing formula is what makes a concealer the ideal concealer for combination skin. And that is what makes this HD Pro Concealer by L.A. Girl find a place on this list. This product is perfect when it comes to hiding the blemishes. Though it covers the imperfections like a pro, it still leaves a smoky coverage.
The product is crease-resistant. You can bid adieu to the fine lines around your lips and your eyes for a while, after applying this formula. If you have pulled an all-nighter, and have a presentation this morning, then grab this product and you have nothing to worry about.
The product comes with a soft brush tip to make the application easier and more precise. If you are a believer of hygiene like me, then I suggest you use a concealer brush that you can clean regularly, instead.
8. Ecostay Spot Cover All-in-One Make-up Stick
A natural formula, the Lotus Herbals Natural Blend Swift Makeup Stick offers medium coverage, and can be easily applied over the blemishes and spots. It is travel-friendly and compact, and renders a matte finish on your skin. It makes the skin look healthy by offering a natural glow and radiance.
The product claims to be a highly effective shield against the harmful rays on the sun. It is made from botanical extracts, and so, is not harsh on the skin.
---
Suggested read: The Complete Guide On How To Choose The Right Concealer For Your Skin Tone
---
That is all we have on today's post on the best concealer for combination skin. Was this helpful? Will you be recommending it to others too? If you have makeup queries that you would like to share with us, then please do so in the comment section below. Our experts will get back to ASAP.
You can also subscribe to our newsletter to receive these articles in your inbox every day.
See you again tomorrow!
Summary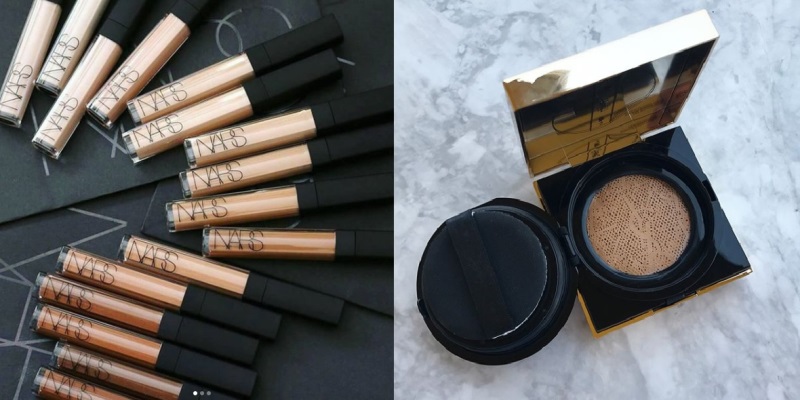 Article Name
All You Need To Know About Picking The Best Concealer For Combination Skin
Author
Description
Hello world! Welcome to our page. Thank you for choosing us to guide you to pick the best concealer for combination skin.