In the year 1936, when India was just shy of getting independence from the British Raj, women were barely allowed to participate in public life, unless they had powerful connections, or belonged to powerful families, or were social reformers. The patriarchal system was the norm, and the place of the woman was still largely the kitchen.
In the midst of these circumstances, there emerged one shining beacon of energy, inspiration and motivation, in the form of Sarla Thakral- the first female pilot of India to fly solo and get her pilot's license at the incredibly tender age of 21.
---
Suggested read: #WonderWomen Homai Vyarawalla: The Story of India's First Female Photojournalist
---
Women in Aviation
We all know the story of Amelia Earhart. We all know how she attempted to fly around the world in an aircraft and went missing, but not before leaving behind the incredible legacy of being the first woman to man an aircraft on her own, and attempting a feat that monumental.
While the world still celebrates and mourns Earhart, there are a number of names that come up in the world of Indian aviation, that people often tend to overlook. This is especially worth mentioning because despite patriarchy and restrictions on women in a country like India, several women beat the odds and created history in the field of flying. For example, in 1956, Durba Banerjee joined Indian Airlines as the first woman pilot, in 1947, Prem Mathur was the first woman ever to fly a domestic flight in India and Padmavathy Bandhopadhyay created history in 2002 when she was promoted to the position of Air Vice Marshall after being a top ranking IAF officer, the first woman to achieve such a feat.
However, when we talk of all these women and their inspirational achievements, we cannot miss out on talking about the trailblazer who started it all in the face of the most incredible hardships, and the most powerful naysayers-Thakral. Here is everything you need to know about her.
The Story of Sarla Thakral
Sarla Thakral was born in 1914 in New Delhi. She was married to P. D. Sharma at the young age of 16. It was then that she decided to pursue aviation, because her husband too, was a pilot. In fact, he was the first to be granted an airmail license, with which he could fly between Karachi and Lahore.
For a while, Thakral flew with a 'B' license, and only after she gained over 1000 hours of flight time, she became the first woman in India to be granted an 'A' license for flight and aviation. This was when she turned 21 years old, and by this time, she also had a 4 year old child with her husband.
The first time Thakral flew as a commercial pilot was in a Gypsy Moth, which led to this iconic picture. If you are wondering whether she flew in a saree, then you should know that she did fly in a saree, which officially made her one of the most badass people ever.
Unfortunately, her husband, P. D. Sharma died in 1938 in a plane crash which signaled the end of aviation career. Even after the death of her husband, she tried to apply for a commercial license, and while her experience would have guaranteed her a license and would have made her the first female commercial pilot, the circumstances didn't work out. All civil aviation exercises and training were stopped because of the onset of World War II, and she gave up flying altogether.
After the death of her husband, she moved back to Lahore with her two daughters, and she married her second husband- R. P. Thakral. While she was in Lahore, she enrolled herself in Mayo School of Arts, and passed out with a degree in Fine Arts. After that, she took up the role of an entrepreneur, where she designed and made sarees and jewelry for several important Indian and international clients, and also established herself as an avid painter.
She passed away on 16th March, 2008.
---
Suggested read: #WonderWomen Edith Wharton:The First Female To Win The Pulitzer Prize
---
Her Legacy
Not all legendary stories have to end in glory and success. Even though Thakral's aviation career lasted only a few years, and was just short of making her one of the greatest women in all of aviation history, she still served as a marvelous example for every single other aspiring pilot who came after her, men and women alike. Despite her inability to fly a commercial plane, she maintained a positive attitude and made her life successful. Such are the simple, but valuable lessons that we take away from the women who inspire us the most.
Not only was Thakral brave enough to take a giant leap of faith when she pursued the profession off flying at that age and during a period when women were simply disallowed from actively participating in such activities. She is also remembered for standing strong in the face of immense tragedy and hardship, and living a fulfilling life, despite her initial passions being thwarted by the hands of fate. NLT salutes the indomitable spirit of Sarla Thakral.
Featured image source: Instagram 
Summary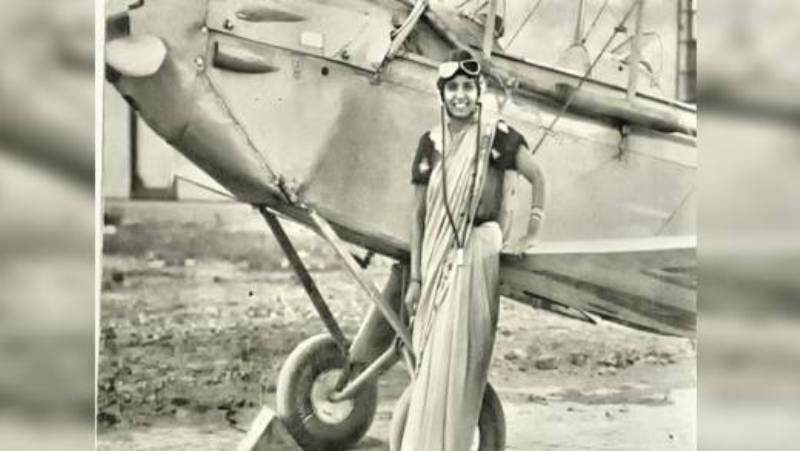 Article Name
The Story Of Sarla Thakral: The First Woman Pilot Of India
Author
Description
Did you know there are several stalwart aviators, right here in India. Here is the story of Sarla Thakral, the first woman aviator of India.