How to tell a shattered story?

By slowly becoming everybody.

No?

By slowly becoming everything.

The Ministry of Utmost Happiness takes us on a journey of many years – the story spooling outwards from the cramped neighbourhoods of Old Delhi into the burgeoning new metropolis and beyond, to the Valley of Kashmir and the forests of Central India, where war is peace and peace is war, and where, from time to time, 'normalcy' is declared.

Anjum, who used to be Aftab, unrolls a threadbare carpet in a city graveyard that she calls home. A baby appears quite suddenly on a pavement, a little after midnight, in a crib of litter. The enigmatic S. Tilottama is as much of a presence as she is an absence in the lives of the three men who love her.

The Ministry of Utmost Happiness is at once an aching love story and a decisive remonstration. It is told in a whisper, in a shout, through tears and sometimes with a laugh. Its heroes are people who have been broken by the world they live in and then rescued, mended by love – and by hope. For this reason, they are as steely as they are fragile, and they never surrender. This ravishing, magnificent book reinvents what a novel can do and can be. And it demonstrates on every page the miracle of Arundhati Roy's storytelling gifts.
Arundhati Roy's second novel, The Ministry Of Utmost Happiness, is my favorite book from this year's reads. Here are some quotes that I loved the most.
---
Suggested read: The Perks Of Being A Wallflower: Did The Books Charlie Read Help Him With His Mental Health?
---
Who writes like this?
"The moment I saw her, a part of me walked out of my body and wrapped itself around her. And there it still remains."
Don't we all know this?
"Enemies can't break your spirit, only friends can."
To recognize loneliness when you see it
"She knew he'd be back. No matter how elaborate its charade, she recognized loneliness when she saw it. She sensed that in some strange tangential way, he needed her shade as much as she needed his. And she had learned from experience that Need was a warehouse that could accommodate a considerable amount of cruelty."
The quietness of her into the quietness of him
"They had always fitted together like pieces of an unsolved (and perhaps unsolvable) puzzle- the smoke of her into the solidness of him, the solitariness of her into the gathering of him, the strangeness of her into the straightforwardness of him, the insouciance of her into the restraint of him. The quietness of her into the quietness of him."
The cruel ways in which life prepares you for life
"She wondered how to un-know certain things, certain specific things that she knew but did not wish to know"
Choose carefully
"Even in the most uneventful of our lives, we are called upon to choose our battles…"
Normality like a boiled egg
"Normality in our part of the world is a bit like a boiled egg: its humdrum surface conceals at its heart a yolk of egregious violence. It is our constant anxiety about that violence, our memory of its past labors and our dread of its future manifestations, that lays down the rules for how a people as complex and as diverse as we continue to coexist – continue to live together, tolerate each other and, from time to time, murder one another. As long as the center holds, as long as the yolk doesn't run, we'll be fine. In moments of crisis it helps to take the long view."
Comforting a building struck by lightning
"In a while he reached across the table and took her hand in his. He could not have known that he was trying to comfort a building that had been struck by lightning."
Pretending to be hopeful is the only grace
"I don't know where to stop, or how to go on. I stop when I shouldn't. I go on when I should stop. There is weariness. But there is also defiance. Together they define me these days. Together they steal my sleep, and together they restore my soul. There are plenty of problems with no solutions in sight. Friends turn into foes. If not vocal ones, then silent, reticent ones. But I've yet to see a foe turning into a friend. There seems to be no hope. But pretending to be hopeful is the only grace we have . . ."
Starlight travels through the universe long after the stars have died
"She could hear her hair growing. It sounded like something crumbling. A burnt thing crumbling. Coal. Toast. Moths crisped on a light bulb. She remembered reading somewhere that even after people died, their hair and nails kept growing. Like starlight, travelling through the universe long after the stars themselves had died. Like cities. Fizzy, effervescent, simulating the illusion of life while the planet they had plundered died around them."
Souls of the present and the departed world mingle
"And yet, the burden of perpetual apprehension that she had carried around for years – of suddenly receiving news of death – had lightened somewhat. Not because she loved him any less, but because the battered angels in the graveyard that kept watch over their battered charges held open the doors between worlds (illegally, just a crack), so that the souls of the present and the departed could mingle, like guests at the same party. It made life less determinate and death less conclusive. Somehow everything became a little easier to bear."
When you are exhausted by yourself
"It was herself she was exhausted by. She had lost the ability to keep her discrete worlds discrete—a skill that many consider to be the cornerstone of sanity. The traffic inside her head seemed to have stopped believing in traffic lights. The result was incessant noise, a few bad crashes and eventually gridlock."
Discarded constellations, patterns on the sky
"She thought of the city at night, of cities at night. Discarded constellations of old stars, fallen from the sky, rearranged on Earth in patterns and pathways and towers. Invaded by weevils that have learned to walk upright."
The comedy in tragedy
"I saw a man on a bridge about to jump. I said, 'Don't do it!' He said, 'Nobody loves me.' I said, 'God loves you. Do you believe in God?' He said, 'Yes.' I said, 'Are you a Muslim or a non-Muslim?' He said, 'A Muslim.' I said, 'Shia or Sunni?' He said, 'Sunni.' I said, 'Me too! Deobandi or Barelvi?' He said, 'Barelvi.' I said, 'Me too! Tanzeehi or Tafkeeri?' He said, 'Tanzeehi.' I said, 'Me too! Tanzeehi Azmati or Tanzeehi Farhati?' He said, 'Tanzeehi Farhati.' I said, 'Me too! Tanzeehi Farhati Jamia ul Uloom Ajmer, or Tanzeehi Farhati Jamia ul Noor Mewat?' He said, 'Tanzeehi Farhati Jamia ul Noor Mewat.' I said, 'Die, kafir!' and I pushed him over."
Embrace nightmares like old friends, manage them like old foes
"There was no tour guide on hand to tell her that in Kashmir nightmares were promiscuous. They were unfaithful to their owners, they cartwheeled wantonly into other people's dreams, they acknowledged no precincts, they were the greatest ambush artists of all. No fortification, no fence-building could keep them in check. In Kashmir the only thing to do with nightmares was to embrace them like old friends and manage them like old enemies."
Ah!
"Women are not allowed. Women are not allowed. Women are not allowed. 
Was it to protect the grave from the women or the women from the grave?"
Unsoundness of mind and perilous sanity, are they the same thing?
He sensed she was drifting on a tide that neither he nor she could do much about. He couldn't tell whether her restlessness, her compulsive and increasingly unsafe wandering through the city, marked the onset of an unsoundness of mind or an acute, perilous kind of sanity. Or were they both the same thing?"
To never run out of despair
"Fiercely competitive TV channels covered the story of the breaking city as "Breaking News." Nobody pointed out the irony. They unleashed their untrained, but excellent-looking, young reporters, who spread across the city like a rash, asking urgent, empty questions; they asked the poor what it was like to be poor, the hungry what it was like to be hungry, the homeless what it was like to be homeless. "Bhai Sahib, yeh bataaiye, aap ko kaisa lag raha hai…?" Tell me, brother, how does it feel to be…? The TV channels never ran out of sponsorship for their live telecasts of despair. They never ran out of despair."
In some countries, some soldiers die twice
"Not everyone in the village was happy with the idea of having an Untouchable man's statue put up at the entrance. Particularly not an Untouchable who carried a weapon. They felt it would give out the wrong message, give people ideas. Three weeks after the statue went up, the rifle on its soldier went missing. Sepoy S. Murugesan's family tried to file a complaint, but the police refused to register a case, saying that the rifle must have fallen off or simply disintegrated due to the use of substandard cement- a fairly common malpractice- and that nobody could be blamed. A month later the statue's hands were cut off. Once again the police refused to register a case, although this time they sniggered knowingly and did not even bother to offer a reason. Two weeks after the amputation of its hands, the statue of Sepoy S. Murugesan was beheaded. There were a few days of tension. People from nearby villages who belonged to the same caste as S. Murugesan organized a protest. They began a relay hunger strike at the base of the statue. A local court said it would constitute a magisterial committee to look into the matter. In the meanwhile it ordered a status quo. The hunger strike was discontinued. The magisterial committee was never constituted.
In some countries, some soldiers die twice."
At magic hour
"At magic hour, when the sun has gone but the light has not, armies of flying foxes unhinge themselves from the Banyan trees in the old graveyard and drift across the city like smoke. When the bats leave, the crows come home.
Not all the din of their homecoming fills the silence left by the sparrows that have gone missing, and the old white-backed vultures, custodians of the dead for more than a hundred
million years, that have been wiped out. The vultures died of diclofenac poisoning. Diclofenac, cow-aspirin, given to cattle
as a muscle relaxant, to ease pain and increase the production of milk, works – worked – like nerve gas on white-backed vultures. Each chemically relaxed, milk-producing cow or
buffalo that died became poisoned vulture-bait. As cattle turned into better dairy machines, as the city ate more ice cream, butterscotch-crunch, nutty-buddy and chocolatechip, as it drank more mango milkshake, vultures' necks
began to droop as though they were tired and simply couldn't stay awake. Silver beards of saliva dripped from their beaks, and one by one they tumbled off their branches, dead.
Not many noticed the passing of the friendly old birds. There was so much else to look forward to."
---
Suggested read: #50BooksInAYear The Museum Of Innocence By Orhan Pamuk
---
This is all we have on today's post on my favorite quotes from The Ministry Of Utmost Happiness. This is, however, not an exhaustive list, and if we have missed out on some of your favorites, then please feel free to add them in the comment section below.
Until next time!
Featured image source: Instagram 
Summary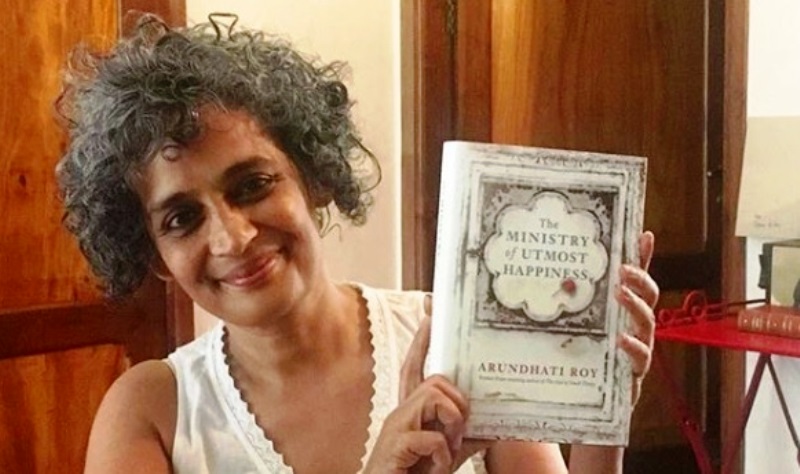 Article Name
The Ministry Of Utmost Happiness: Telling A Shattered Story By Becoming Everything
Author
Description
Arundhati Roy's second novel, The Ministry Of Utmost Happiness, is my favorite book from this year's reads. Here are some quotes that I loved the most.