When, as happened recently in France, an attempt is made to coerce women out of the burka rather than creating a situation in which a woman can choose what she wishes to do, it's not about liberating her but about unclothing her. It becomes an act of humiliation and cultural imperialism. Coercing a woman out of her burka is as bad as coercing her into one. It's not about the burka. It's about the coercion. – Arundhati Roy, Capitalism: A Ghost Story, p. 37.
The issue of the Muslim swimwear has been making headlines this month. The idea that staying covered up at the beach is a threat to secularism, is a typical example of French political lunacy.
But before we go into the details and the absurdity of the ban on the burqini (or burkini) in the Republic, let's dig a little into the origin of this mode of attire.
---
Suggested read: Seeing through the lies of feminist men who ONLY claim to be feminist
---
What is a burkini?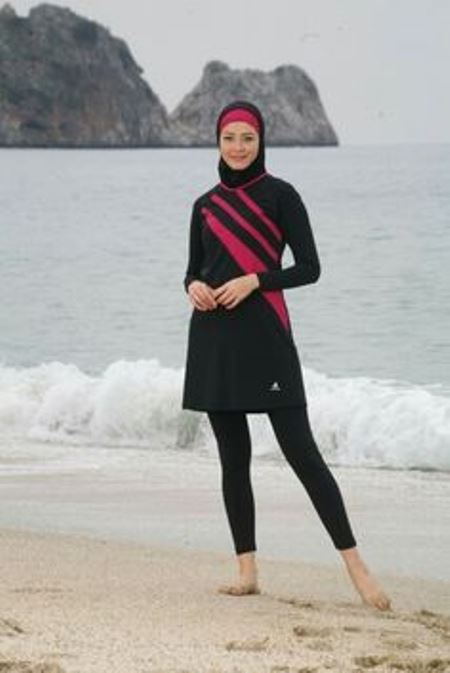 Image source: Pinterest 
The burkini is a type of women's swimsuit, designed by Lebanese-born Australian fashion designer, Aheda Zanetti. The design of this clothing is intended to agree with Islamic traditions of modest dressing. The bathing costume covers the entire body except the face, the hands, and the feet, while still being light enough to enable swimming. Though it resembles a full-length wetsuit, it is slightly freer and made from swimming suit material instead of neoprene. Zanetti's company, "Ahiida," owns the brand names "burqini" and "burkini," but today, they have become generic terms, and are being used for similar Islamic swimwear, like veilkini and My Cozzie.
Quite ironically, 40 percent of burkini's customer base, according to Zanetti, is non-Muslim. She says,
"We've sold to Jews, Hindus, Christians, Mormons, women with various body issues. We've had men asking for them, too."
Criminalizing a woman's choice of clothing?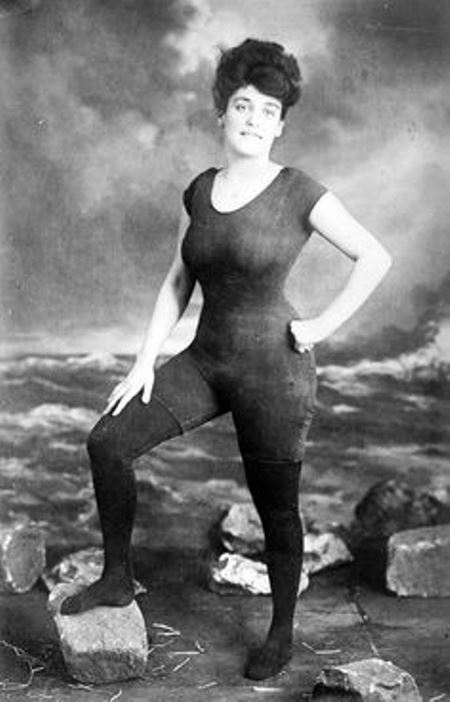 Image source: Pinterest 
A woman's right to decide her own beachwear has been an area of controversy for quite some time now. In 1907, for instance, the record-breaking Australian swimmer, Annette Kellerman, was detained on Revere beach, Boston, for slipping on a sleeveless one-piece swimsuit, uncannily similar to a burkini. At that time, Kellerman's swimsuit was considered so revealing that it was tagged obscene! Believe it or not, she was allowed to wear the 'revolutionary swimwear' only when she promised to stay covered by a cape until submerged!
Bikini vs. Burqini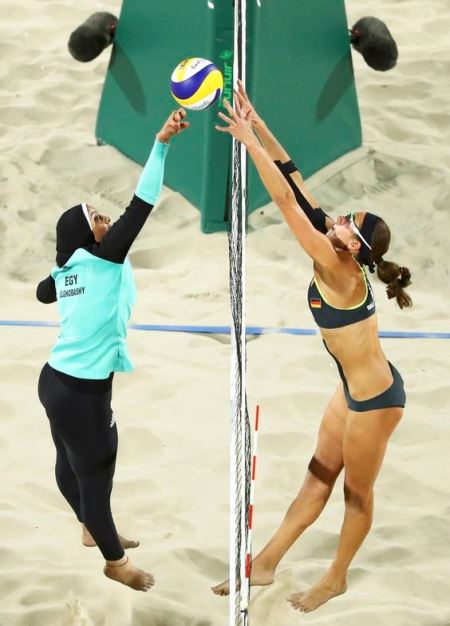 Image source: Pinterest
Just a couple of weeks back, we saw Egyptian and German beach volleyball players face off at the Olympics net in Rio. The Egyptian, Doaa Elghobashy, was fully-clad, complete with hijab, while the German, Kira Walkenhorst, wore a two-piece. The Olympic association had already specified that no more than 7 cm at the hip (from top to bottom) could be concealed by the bikini, a ruling attacked as a clear bid to sex up the sport.
The clash at the net is seen by many as an example of how women's bodies are controlled in the East and the West, by rules, not made by them: While the Egyptian is constrained by a patriarchal belief's description of female modesty, the bikini works as a symbol of the West's abusive sexualization of a woman's body.
Why are the Western feminists quiet?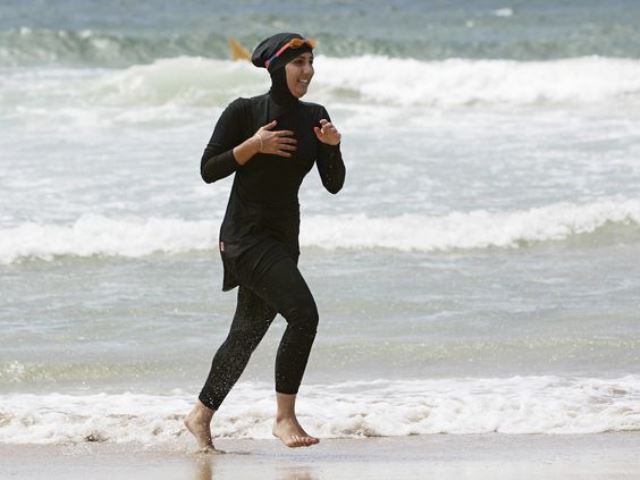 Image source: Pinterest 
The burkini ban threatens and criminalizes the beachwear choice of women. The problem is that Western feminists are turning a blind eye to this! Laurence Rossigno, the French minister of women's rights, believes that wearing as little as possible at the beach is being feminist!  
"[The burkini] has the same logic as the burqa: hide women's bodies in order to control them."
This statement of the Minister is troublesome since it seems she is unaware of the contradiction of forcing women out of their clothes and showing their bodies instead! Strong-arming a woman out of a piece of clothing is as against women liberation as is coercing her into one!
The silence of western, mainstream feminists hurts because their voices would have had a major impact on how these issues are being framed and enunciated. Their solidarity would mean a lot, not just to their Muslim sisters in Europe, but around the globe.
The obsession (almost fetishism) with Muslim women's choice of clothing and covering hinders a person's most basic human right, that of self-determination and freedom of expression. We can never honor liberté, egalité, and fraternité if we don't stop treating women's bodies as commodities to score points in ideological wars, stripping them of control over their own bodies!
---
Suggested read: Why I am not a feminist…and why that does not make me a sexist or a misogynist
---
The secular bikini?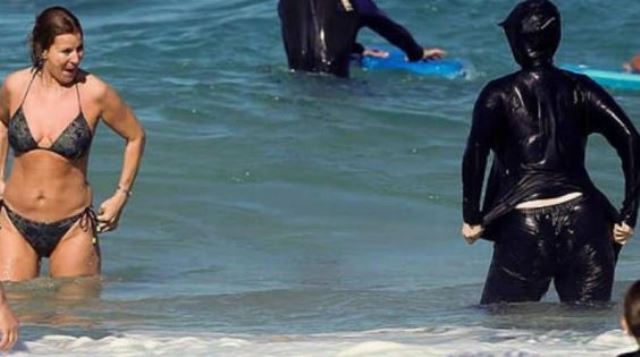 Image source: Pinterest 
Looking at the burkini ban only through the feminist spectacle, would be an inappropriate, and moreover lazy, analysis. We need to understand that French secularism is not only blinded to its misogyny, but also its racism! To put it in a more eloquent way, France's policies of discrimination show how Islamophobia is being manifested in a gendered way, targeting women uniquely, thereby adding to their chauvinist oppression and religious persecution.
The problem is that it fuses an attire, inspired by culture and religion, and put on by women to feel safe from the sexual gaze of society while still taking part in an ordinary amusement, with a terrorist group, as the defense of the West! Since when did donning a burkini become an act of adherence to terrorist movements? Nigella Lawson, the famous gourmet and food writer, for instance, wears a burkini, not even as a religious observance, but to protect her skin from UV rays!
The tricks of the French mayors on the Riviera intimidate to turn something as fundamental as beachwear choice into a defense of the West against Islamic extremism!  
David Lisnard, the daft mayor of Cannes, has declared that burkinis are a symbol of Muslim fanaticism. He has banned them from the beaches of Cannes till the end of August as it isn't "respectful of good morals and secularism." Burkinis, according to him, pretentiously display affiliation to a religion in a place like France, which today, is the target of terrorist attacks. He says that the Muslim swimwear is likely to disrupt public order, and consequently, has been banned.
So, according to these arguments, chilling at the beach while being visibly Muslim is dangerous! The Muslim swimwear is not respectful of the moral and secular principles of France, and thus, one should not wear it at the beach to display one's religious convictions. But it doesn't stop here. To make their repression appear even-handed, the mayors suggest that even the sari, may be banned in the future since it hampers rescue efforts of lifeguards!
French secularism or Laïcité is a socio-political attempt to create a public sphere removed from the influence of organized religion. As a project, Laïcité dates back to the French Revolution when a law was passed separating the State and France's churches. However, the problem with Laïcité is that the historical experience of a relatively homogenous Christian population during the French Revolution, is being applied as a prototype to control the behavior of an immensely diverse modern society.
In 1905, when Laïcité was passed, women who visited the beaches were more covered up than women wearing burkinis! In the early 20th century, French women at the beach wore a knee-length wool dress and dark-colored stockings, under which they wore bloomers. Their hair too, was hidden under a bathing cap. So, a hundred years ago, the burkini would have been dubbed revealing and too daring to be allowed!
But today, the habits of majority of French bathers have changed. The idea of a secular beachwear has changed. To go naked on a beach in France is in agreement with "good morals and secularism" for those in power, while being covered up is a provocation that cannot be tolerated. This is nothing but a bid to force immigrants into French molds. It is Majoritarianism under the guise of Laïcité. It is anti-Semitism and Islamophobia under the garb of secularism.
The heroic commitment to ignore diversity doesn't advance secularism, but insensitivity and petty intolerance. Policies that encroach on the swimsuit choices of a minority is not secular, but nuts!
---
Suggested read: Why Mia Khalifa's hijab video controversy might just have been clever marketing
---
Do such bans perpetuate a colonized majoritarian mentality by enforcing western idea of freedom? Let us know what you think in the comment section below.
For more on what's trending around the globe, sign up for our newsletter today!
Featured image source: Pinterest 
Summary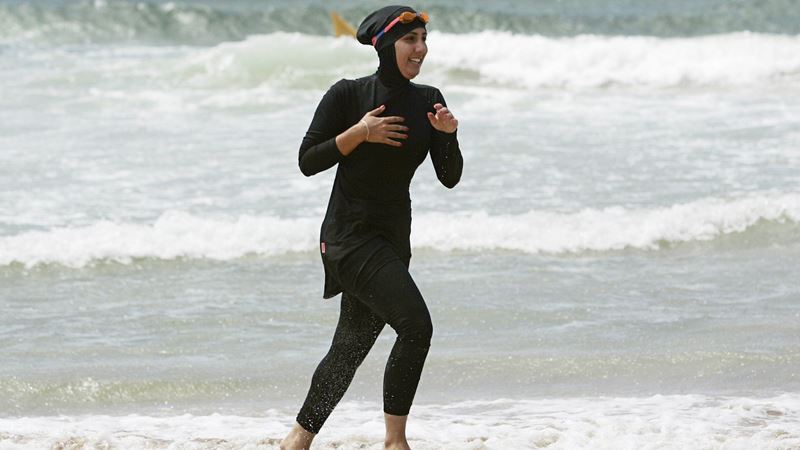 Article Name
The "Naked Truth" About The Burkini Ban!
Author
Description
The issue of the burkini ban has been making headlines this month. Secularism or Islamophobia? Read on to find out.