If Cupid is the busiest guy in B-town corridors, his evil twin (Ruepid, I call him!) isn't playing poker either! While our cherub of love is raving about hitting our favorite celebs with his love-tipped arrows, Ruepid is aiming the split-darts at as many as he can find! This year has seen one of the most intense competitions between the twins and as such tinselville is reverberating with as many love songs as the harsh sound of heartbreaks!
While we dished out the top 10 Indian celebrity link ups of 2014 for you yesterday, here is the ugly side of the love-game. Check out the ten Indian celebrity breakups of 2014 that broke our hearts a bit:
1. Hrithik Roshan and Suzanne Khan
The most heart-rending separation of the year, this one has made the entire country shed tears. The fairy-tale romance that began when the hazel-green-eyed Roshan scion saw the gorgeous Suzanne at a traffic signal has screeched to an abrupt halt, by jamming on the brakes too hard. While there were rumors about irreconcilable differences between the couple, it was hard to believe that the loving hubby and wify duo (Remember Koffee with Karan seasons 1 and 2?) would not be able to mend matters.
Image source: Google, copyright-free image under Creative Commons License
However, the worst fears of the country came true and the couple was granted a divorce by the Mumbai family court last month. The parenting team share custody of their handsome sons – Hrehaan and Hredaan. Seventeen years was the only 'forever' the lovers could live. Any chance they'd say 'yes' to 'Kaho naa…yeh jhuth hai' still?
2. Freida Pinto and Dev Patel
The LA-based Hollywood couple met during the shoot of the Oscar-winning film Slumdog Millionaire. They have been inseparable ever since…err, until now. After six wholesome years of companionship, this incredibly hot couple (a 100 points for the sapiosexual quotient alone!) has called it quits.
Image source: Google, copyright-free image under Creative Commons License
While neither of them have been available for comment, Freida has been frequently spotted with Siddharth Mallya since her 30th birthday bash two months ago. We are wondering if there is any chance we'd see their million-dollar smiles together again?
3. Anurag Kashyap and Kalki Koechlin
While the announcement had come in last year, Anurag's public proclamations of love never quite made us believe that all was over between this rare couple. He told the media that they were just taking a break and that he hasn't given up on Kalki.
Image source: Google, copyright-free image under Creative Commons License
His appearance on Koffee with Karan only confirmed that there would surely be a 'Break Ke Baad' for this lovely couple. However, this year saw Kalki move out of Anurag's home in Mumbai. There is no news of a divorce yet and the couple maintain that they are taking time off each other to figure things out. We are keeping our fingers crossed!
4. Harman Baweja and Bipasha Basu
When the Bong beauty bonded with Harman Baweja after a long time since her breakup with former beau John Abraham, we were hoping to hear the wedding bells ring! However, the couple has confirmed the split and gone their separate ways.
Image source: Google, copyright-free image under Creative Commons License
Accompanying the news of separation have been several paparazzi bytes about their link-ups with other people but we aren't contesting their validity here. All we know is that for Bipasha, Harman ain't her-man anymore!
5. Karan Singh Grover and Jennifer Winget
The reel-life couple who met on the sets of Star One's Dill Mill Gaye made their leap to a real-life romance in a matter of months. 2012 saw the popular couple tie the knot and the following year saw their marriage plagued by infidelity rumors. While the couple rubbished such news in the past, this year brought in an official announcement of their separation.
Jennifer has moved out of their Mumbai home and is currently shooting for Kunal Kohli's next. She has asked for 'implicit privacy at this stage of her life,' and Karan has sent out tweets about the separation being a mutually-agreed-upon decision.
6. Gauhar Khan and Kushal Tandon
Bigg Boss 7 winner Gauhar Khan had found more than the trophy in Bigg Boss house. She found love in Kushal Tandon, a fellow contestant and housemate of the Bigg Boss house. Named 'Gaushal' by their fans, the couple had gone on to participate in Khatron Ke Khiladi and starred in a music video as well. However, the reel-turned-real romance seems to have run its course (nine months) and the couple has parted ways.
Image source: Google, copyright-free image under Creative Commons License
Sources cite that the split is due to religious differences. While Gauhar has remained mum about the separation, Kushal has taken to Twitter to announce the news. While such publicity gimmicks, scripted romance tales, and after-the-show-splits aren't uncommon in the numerous Bigg Boss seasons, we have only one question for this couple – Zaroori tha??
7.  Chitrangada Singh and Jyoti Randhawa
Chitrangada, the dusky model-turned-actress built her own paradise with golfer Jyoti Randhawa in 2001. However, their Eden has seen a lot of rough patches since then. As such, news of their separation kept doing the rounds until the divorce finally came through this year.
The couple has a five-year old son, Zorawar, over whom they are now fighting for custody rights. Another celebrated couple who have been married for more than a decade brought down by Ruepid!
8. Uday Chopra and Nargis Fakhri
Of all the affairs Bollywood has seen, this one was all over social media for the world to see. The younger Yash Raj scion made no attempt to keep his mushy match under wraps and Nargis wasn't too unresponsive either. Spotted at several events and parties together, the couple had been dating for quite a while. However, the lovebirds have flown out in different directions from their nest this year.
Image source: Google, copyright-free image under Creative Commons License
The reported reasons range from Nargis' proximity to her 'Spy' co-star Jude Law to Uday's need for commitment and an increased inability to cope with the trials and tribulations of a long-distance relationship. Whatever the reason, the couple hasn't gone as vocal about the split as they were with the PDA. All we hope is that the silence means it is 'fixable.'
9.  Pooja Bhatt and Manish Makhija
Another decade old marriage that ended this year was that of Pooja Bhatt and Manish Makhija. While the couple chose to announce the news of their split over a micro blogging site last month, they had been living separately for quite some time.
Pooja stayed in their Mumbai home while Manish lived in Goa for business purposes. Pooja asserts that this is an amicable parting of ways and that they still hold each other in high regard.
10.  Tanisha Mukherji and Armaan Kohli
While rumor mills never really stopped buzzing about this Bigg Boss couple, the latest news is that the couple (nicknamed 'TanMan' by fans!!) has called it quits.
Image source: Google, copyright-free image under Creative Commons License
Tanisha's PR team has confirmed the split and Armaan tweeted: "Guys, it's been hard but it's the truth, nothing is worth being unhappy, there is no tan man, wish happiness to all." Well, what can we say save hope your 'mann' is at peace!
That's the list of Ruepid's conquests of 2014. Signing off, until next time! J
Summary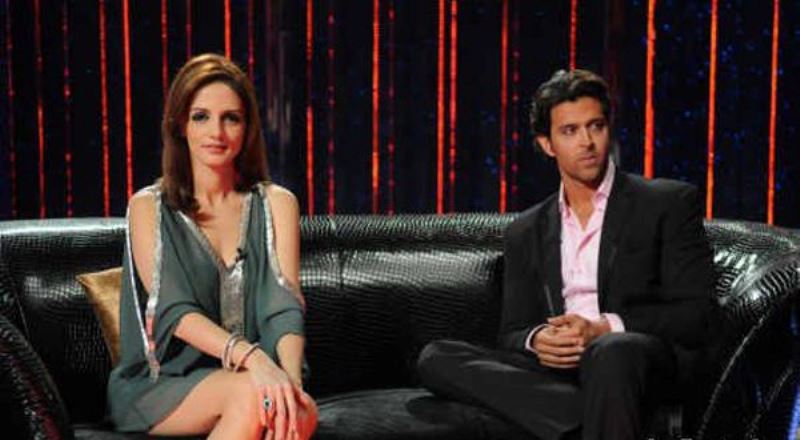 Article Name
Top 10 Indian celebrity breakups of 2014
Author
Description
While Cupid strikes at his unsuspecting 'victims,' there is Ruepid, who breaks up couples. Here's a list of top 10 Indian celebrity breakups of 2014.